Dallas Cowboys:

Joe Montana
February, 5, 2014
Feb 5
9:00
AM ET
October, 20, 2012
10/20/12
3:41
PM ET
»
NFC Final Word
:
East
|
West
|
North
|
South
»
AFC
:
East
|
West
|
North
|
South
Five nuggets of knowledge about Week 7:
Blasts from the past:
Yes, it's a passing league, as you hear all the time. But the
Washington Redskins
haven't got the memo. Rookie quarterback
Robert Griffin III
(379) and rookie running back
Alfred Morris
(538) have combined for 917 rushing yards in Washington's first six games. That's the highest combined rushing yardage total by two rookie teammates through six games in the Super Bowl era, according to ESPN Stats & Information. And it goes back further than this for the Redskins. Washington as a team has rushed for at least 100 yards in each of its last 12 games. The second-longest such streak in the league is two games, by the
New York Giants
and the
St. Louis Rams
. In conclusion, the Redskins like to run the ball, and for many reasons pose a different game-planning challenge than any other team the Giants have faced or will face this season.
[+] Enlarge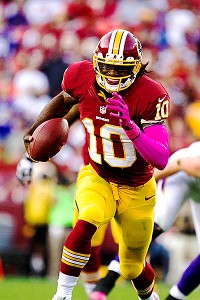 Paul Frederiksen/US PresswireWashington QB Robert Griffin III has a chance to earn a rare achievement with a win over the Giants on Sunday.
Upstart vs. champ:
If the Redskins win, Griffin would be the fourth rookie quarterback to defeat a defending Super Bowl MVP quarterback head-to-head. Really interesting list.
Colt McCoy
of the Browns beat
Drew Brees
and the Saints in 2010. Dieter Brock of the Rams beat Joe Montana and the 49ers in 1985. And of course, Kent Nix of the Steelers beat Bart Starr and the Packers in 1967. But seriously, no way you clicked on this blog today expecting a Dieter Brock note. Guy was 34 in 1985, but it was his only year in the league.
Burgundy kryptonite:
In two games against the Redskins last year (both losses), Giants quarterback
Eli Manning
threw four interceptions and no touchdowns. ESPN Stats & Information tells us that Washington is one of six teams against which Manning has thrown more interceptions than touchdowns in his career. The others are Tennessee, Minnesota, Chicago, Baltimore and Buffalo.
Giants can run, too:
Giants running back
Ahmad Bradshaw
is the only player in the league who has rushed for at least 100 yards in each of his last two games. The last Giant to rush for 100 or more in at least three games in a row was
Tiki Barber
in 2006. Bradshaw has 16 rushes of at least 10 yards so far this year, in 92 attempts. Last year, he had 16 such rushes in 171 attempts. The Giants' offensive line is a much better run-blocking unit than it was a year ago. Their average yards per rush before first contact is 2.75, which is the fifth-best figure in the league. Last year, the Giants' average yards per rush before first contact was 1.89, which was second-worst in the league.
Got to go deep:
Last year, on throws that traveled 20 or more yards downfield,
Dallas Cowboys
quarterback
Tony Romo
posted a 53.2 completion percentage, 21.6 yards per attempt, 10 touchdowns and only one interception. This year on such deep throws, Romo is 4-for-18 (22.2 percent) for 8.5 yards per attempt, one touchdown and one interception. The two bits of good news on this are that the Cowboys' offensive line looked much better last week in Baltimore and could start to give Romo more time to throw, and that Carolina's pass defense is allowing a 54.5 completion percentage on throws 20 or more yards downfield -- the second-worst such mark in the NFL.
April, 4, 2012
4/04/12
9:20
AM ET
Continuing our team-by-team series on the history of the specific draft picks each NFC East team has this year, we take a look today at the
Dallas Cowboys
, who have eight picks in this year's draft.

Turning up some interesting trivia in these. For instance, the Cowboys have the 186th pick, which produced Deacon Jones, and the 152nd pick, with which the
Houston Texans
last year took a quarterback who a few months later started their first two playoff games in franchise history.
PICK 14
(14th pick, first round)
Last five players taken
2011 --
Robert Quinn
, DE, Rams
2010 --
Earl Thomas
, S, Seahawks
2009 --
Malcolm Jenkins
, DB, Saints
2008 --
Chris Williams
, T, Bears
2007 --
Darrelle Revis
, CB, Jets
Cowboys' history of No. 14 picks
The Cowboys have never had the No. 14 pick.
Hall of Famers picked No. 14
Jim Kelly (1983), Gino Marchetti (1952), Len Ford (1948, AAFC)
Other notables
Jeremy Shockey
(2002), Eddie George (1996), Dick Stanfel (1951)
PICK 45
(13th pick, round 2)
Last five players taken
2011 --
Rahim Moore
, DB, Broncos
2010 --
Zane Beadles
, G, Broncos
2009 --
Clint Sintim
, LB, Giants
2008 --
Jordon Dizon
, LB, Lions
2007 --
Dwayne Jarrett
, WR, Panthers
Cowboys' history of No. 45 picks
1968 -- Dave McDaniels
Hall of Famers picked No. 45
Dave Casper (1974)
PICK 81
(19th pick, third round)
Last five players taken
2011 --
DeMarcus Van Dyke
, DB, Raiders
2010 --
Earl Mitchell
, DT, Texans
2009 --
Roy Miller
, DT, Buccaneers
2008 --
Early Doucet
, WR, Cardinals
2007 --
Jay Alford
, DT, Giants
Cowboys' history of No. 81 picks
1984 -- Fred Cornwell
1982 -- Jim Eliopulos
1981 -- Glenn Titensor
1977 -- Val Belcher
Hall of Famers picked No. 81
None, though Art Shell was the 80th pick in 1968 and Joe Montana was the 82nd in 1979.
PICK 113
(18th pick, round four)
Last five players picked
2011 --
Chimdi Chekwa
, DB, Raiders
2010 --
Aaron Hernandez
, TE, Patriots
2009 --
Vaughn Martin
, DT, Chargers
2008 --
Dwight Lowery
, CB, Jets
2007 --
Brian Smith
, DE, Jaguars
Cowboys' history of No. 113 picks
1989 -- Keith Jennings
1984 -- Steve Pelluer
1975 -- Kyle Davis
Hall of Famers picked No. 113
None. But Steve Largent was picked 117th in 1976 and George Blanda was picked 119th in 1949.
PICK 135
(40th pick, fourth round)
Last five players picked
2011 --
Ricky Stanzi
, QB, Chiefs
2010 --
Dominique Franks
, DB, Falcons
2009 --
Troy Kropog
, T, Titans
2008 --
Josh Sitton
, G, Packers
2007 --
Joe Cohen
, DT, 49ers
Cowboys' history of No. 135 picks
1983 -- Chuck McSwain
Hall of Famers picked No. 135
None. Closest were Jackie Smith and Roger Staubach, who were picked No. 129 in 1963 and 1964, respectively.
PICK 152
(17th pick, round 5)
Last five players picked
2011 --
T.J. Yates
, QB, Texans
2010 --
Otis Hudson
, G, Bengals
2009 --
James Casey
, TE, Texans
2008 --
Letroy Guion
, DT, Vikings
2007 --
Antonio Johnson
, DT, Titans
Cowboys' history of No. 152 picks
1984 -- Eugene Lockhart
1969 -- Rick Shaw
Hall of Famers taken No. 152
None. Closest I found was Arnie Weinmeister, No. 166 in 1945.
PICK 186
(16th pick, round 6)
Last five players taken
2011 --
D.J. Smith
, LB, Packers
2010 --
Clifton Geathers
, DE, Browns
2009 --
Robert Henson
, LB, Redskins
2008 -- Colt Brennan, QB, Redskins
2007 --
Thomas Clayton
, RB, 49ers
Cowboys' history of No. 186 pick
2003 -- Zuriel Smith
1976 -- Greg Schaum
Hall of Famers picked No. 186
Deacon Jones (1961)
PICK 222
(15th pick, round 7)
Last five players taken
2011 --
Anthony Gaitor
, DB, Buccaneers
2010 --
Marc Mariani
, WR, Titans
2009 --
Pat McAfee
, P, Colts
2008 -- Chester Adams, G, Bears
2007 -- Derek Schouman, FB, Bills
Cowboys' history of No. 222 picks
1984 -- Mike Revell
1978 -- Homer Butler
Hall of Famers picked No. 222
None. Closest was Andy Robustelli, picked 228th in 1951
January, 10, 2012
1/10/12
10:35
AM ET
Thirty years ago, 'The Catch' happened.
Dwight Clark leaped high in the corner of the end zone to snare a
Joe Montana
pass to give San Francisco a 28-27 win in the NFC Championship Game on Jan. 10, 1982. It was the second of three straight losses in the conference title game for the Cowboys under Danny White.
But is it the most painful memory in Cowboys' history?
Would it be the Ice Bowl loss to Green Bay in the 1967 NFL Championship game?
Would it be Jackie Smith dropping a touchdown pass in Super Bowl XIII against Pittsburgh?
Would it be the day Tom Landry was fired when Jerry Jones took over as owner and general manager?
Would it be the 38-28 loss to the Niners in the 1994 NFC Championship Game that negated a possible three-peat?
Would it be the wild-card loss to Seattle in 2006 when a potential game-winning field-goal try slipped through
Tony Romo
's fingers?
PODCAST
On the 30th anniversary of Dwight Clark and "The Catch", Ben and Skin ponder the worst sports moments in DFW history.

Listen

Would it be the divisional round loss to the
New York Giants
in 2007 when the Cowboys gave up homefield advantage?
Maybe you'd like to pick the season finales in 2008 and 2011 when the Cowboys lost win-and-make-the-postseason games against Philadelphia and the Giants?
Or maybe it's something not on this list. Have at it.
February, 6, 2011
2/06/11
11:09
PM ET
ARLINGTON, Texas -- Had the Steelers marched 87 yards in less than two minutes, they would have had to make room for a fifth face on the Super Bowl quarterbacks' Mount Rushmore.
But
Ben Roethlisberger
and Co. didn't come close on that drive. That's fitting, because Roethlisberger doesn't belong in the company of Terry Bradshaw,
Joe Montana
,
Troy Aikman
and
Tom Brady
, who remain the only quarterbacks with three or more Super Bowl rings.
Roethlisberger didn't perform up to the standards of that exclusive club in the Steelers' Super Bowl XLV loss to the Packers. He numbers weren't bad – 263 yards and two touchdowns on 25-of-40 passing with two interceptions – but he missed on several throws, including one that should have been an easy touchdown to
Mike Wallace
.
"Personally, I feel like I let a lot of people down," said Roethlisberger, offering a blunt, accurate assessment of his play.
Big Ben would have been the ugly duckling in a group with four of the best quarterbacks of all time anyway. He may well end up being inducted in the Hall of Fame, but his Super Bowl performances pale in comparison to the quarterbacks with three-plus rings.
The Steelers won despite Roethlisberger in Super Bowl XL, when he threw for no touchdowns, two interceptions and had a pitiful passer rating of 22.6. He had a spectacular game-winning series in Super Bowl XLIII, but that was his only touchdown pass of the game.
Roethlisberger has thrown three touchdowns and five interceptions in his three Super Bowl appearances. That ratio looks ridiculous compared to Montana (11-to-0), Bradshaw (9-to-4), Aikman (5-to-1) and Brady (7-to-1).
Roethlisberger's Super Bowl passer rating is 70.9. That's quite a long shot from the legends – Montana's 127.8, Bradshaw's 112.8, Aikman's 111.9 and Brady's 95.1.
Aikman said this week that Roethlisberger is a quarterback who can't be judged by his statistics. The numbers make it clear, however, that Roethlisberger is a few rungs below the four quarterbacks who have more rings than him.
January, 28, 2010
1/28/10
10:47
AM ET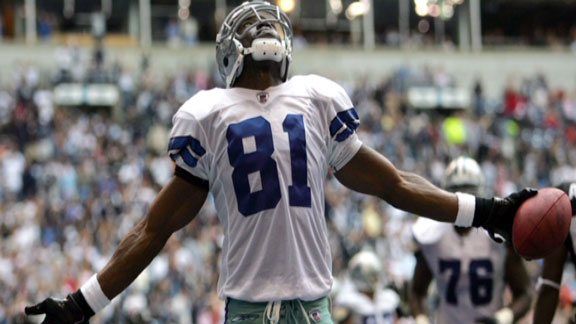 Terrell Owens
believes he coulda been the greatest ... if only he had better quarterbacks.
Never mind that T.O.'s starting QBs were all multi-Pro Bowlers, at least until he was banished to Buffalo after he couldn't get along with his (sniff) quarterback in Dallas.
"I know hands-down I'd be close to
Jerry Rice
's records if I had been with quality quarterbacks like he had,"
T.O. told USA Today
. "He had
Joe Montana
and he finished with
Steve Young
. That wasn't a dropoff.
"Say I had been with a guy like
Tom Brady
,
Peyton Manning
or
Drew Brees
all of my career. Are you kidding me?"
T.O., who is 7,944 yards and 53 touchdowns behind Rice on the all-time receiving lists, made these comments as his previous two quarterbacks were preparing to play in the Pro Bowl along with their No. 1 receivers.
Tony Romo
missed T.O. so much that he set a franchise record for passing yards this season.