Dallas Cowboys:

John Madden
May, 9, 2014
5/09/14
12:31
AM ET
IRVING, Texas -- Forget everything you think you know about Jerry Jones.
When faced with the chance to take
Johnny Manziel
and all that the Texas A&M quarterback would have brought to the
Dallas Cowboys
, Jones opted for offensive lineman
Zack Martin
.
And to hear Jones tell it, it was not a hard decision. Till death do him part, Jones is married to
Tony Romo
.
[+] Enlarge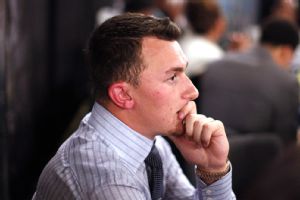 AP Photo/Jason DeCrowJohnny Manziel would have brought a bright spotlight to Dallas, but the Cowboys opted for an offensive lineman instead.
Jones said he was surprised Manziel was still available when the Cowboys picked at No. 16. He was more surprised that having Manziel available did not bring about a "bonanza" of offers to make a trade.
"Romo, by contract as well as by commitment, is going to be certainly the quarterback for several years to come," Jones said. "Don't care who we drafted, that's the way it was going to be. So that's what was going through our minds. That's why we didn't spend a lot of time considering Manziel."
It might be surprising to many. Jones has long been known for wanting a buzz around his team. Manziel would have offered more buzz than any player the Cowboys could have drafted. The marriage of Jones, the NFL's king of marketing, and Manziel, the Heisman Trophy-winning quarterback from Texas A&M, would have kept the Cowboys in the news from May through whenever Manziel took over for Romo.
"John Madden once told me when I was telling him about this idea of personalities and being involved with the
Dallas Cowboys
," Jones said. "He said, 'Jerry, the Cowboys have all the flash, have all the visibility that you could ever conjure up. Make your decisions, get the best players and coaches that win the games. You got all the rest you'd want. You don't need to have big-time flash to be involved in the NFL and be successful in the league.' I've always remembered that. No, frankly that [picking Manziel] wasn't even a thought. This was such an obvious football … decision."
Jones might not have always remembered Madden's words during his time as the Cowboys' owner, but they came to his mind on Thursday when nobody really thought they would.
In 1998, Jones passed on
Randy Moss
and took
Greg Ellis
instead. Moss tormented the Cowboys for years. Every time the Cowboys played the
Minnesota Vikings
, Ellis had to answer questions about Moss.
Coach Jason Garrett, who gets to avoid the circus that would have followed had Manziel become a Cowboy, described Martin as the right kind of guy. Martin was a four-year starter at Notre Dame. He was a two-year captain. He epitomizes Garrett's "right kind of guy" ethos.
"He's everything you want," Garrett said. "Someone referenced him as one of the safest picks in the draft. And that's a compliment, but we don't see him as safe. We see him as a damn good football player."
Manziel wasn't safe. He would have come with risk. Good and bad. Maybe he develops into a franchise quarterback, using the disappointment of slipping so far in the first round as fire the way Moss did when he fell to the Vikings.
Sixteen years after Ellis had to do it with Moss, Martin now steps into that shadow of being the guy the Cowboys took instead of Manziel.
"That's fine by me," Martin said. "I can live up to that."
July, 31, 2013
7/31/13
11:30
PM ET
OXNARD, Calif. – As he sat with opposing players before they had to play against
Larry Allen
, John Madden could notice the dread.
"You didn't sleep easy the night before, hoping you get to play against Larry Allen," Madden said. "They knew it. There's no pro football player that has a fear of another guy that plays on that level, but he was so doggone strong and there wasn't much you could do against him."
Allen will be the 14th Cowboy inducted into the Pro Football Hall of Fame on Saturday, and Madden, a Hall of Famer himself, can't wait to see him in Canton, Ohio. He shares northern California ties with Allen and got to know him over the years.
Madden remembers Joe Greene praising Allen, even if Greene never played against him. He recalls the respect
Reggie White
had for Allen. And he remembers the words coaches like Mike Holmgren and George Seifert had for Allen.
Even Allen's teammates were amazed at what he could do.
"When
Nate Newton
played he came in at 300 pounds, and that was a number that you didn't want to exceed," Madden said. "I remember those days because I coached and those 300-pound guys would be 299, and Nate always fought his weight. He said he always had to be under 300 pounds and he said, 'Then this Larry Allen comes in and he weighs 330 pounds and they're all bragging about it. They never let me weigh 330 pounds, and then we got this guy and I saw him and he was a different 330 pounds than I (had) ever seen.'"
What made Allen so great?
"He had everything," Madden said. "That was the thing he had. He had strength and knew how to use it. There are a lot of guys that have strength and power and don't use it. There are other guys that don't have it and go and get beat. He was the type of guy that could use it at the line of scrimmage and use that in space. He could pull and get at defensive back downfield and he could block at the point of attack and pass protect. That's what makes a great player. You don't say he had one thing. He had everything."
Allen made offensive line play cool, and few were cooler or better than Allen, according to Madden.
"He has to rank right up there at the top," Madden said. "I think you have to go by the ones you've seen, and I've always put John Hanna up there as that guy. I had Gene Upshaw and he's a Hall of Fame guard, and I put Larry Allen right there with that group. There was never a question with me whether or not he was a Hall of Famer. He's one of the all-time great NFL players at his position, and you could make an argument that he's the best, but you'd have to wrestle some other guys for it."
April, 16, 2013
4/16/13
6:03
PM ET
Pat Summerall was famous before the whole world knew what his voice sounded like. As the kicker for the 1958
New York Giants
, he delivered a game-winning 49-yard field goal in the final two minutes of the last game of the regular season to beat the
Cleveland Browns
, 13-10. The win brought the Giants a division playoff game with the Browns a week later, which they would win to advance to the championship game that would come to be known as "The Greatest Game Ever Played." (Which they would lose, to the Baltimore Colts.)
[+] Enlarge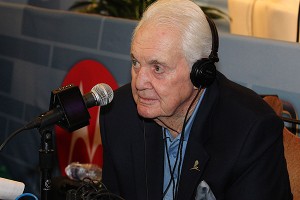 Matthew Emmons/USA TODAY SportsPat Summerall's broadcasting career spanned six decades and included a record 16 televised Super Bowl broadcasts.
Summerall was the Giants' kicker for the final four of his 10 professional seasons. But what ended up making him truly famous was that voice, which would become one of the iconic voices in sports history during a broadcasting career that spanned six decades and included a record 16 televised Super Bowl broadcasts. He lived in Dallas, which meant he called a lot of
Dallas Cowboys
(and, therefore, NFC East) games during his career with CBS and Fox. But he rose to the very top of the football broadcasting industry and became the play-by-play voice for his networks' biggest games.
He was the on-air broadcast partner of John Madden for 22 years, and it's possible that team stands as the most well-known pairing in NFL broadcast history. A generation has come to know Madden as the name of a popular football video game, but those of us who grew up watching games on Sunday afternoons in the 1980s and '90s knew Summerall's smooth baritone and Madden's gravelly exclamations as the soundtrack of the biggest game of the week, no matter which week it was.
Summerall also broadcast golf and tennis and college football along the way, because he had a voice that worked for anything and a brilliantly subtle touch for narrating the action without making himself a part of it. He was the kind of guy who could say more than almost anyone in his profession while saying as few words as possible. If you were a fan of the NFC East (or of any team in the NFL, really) during the 1980s and '90s, his was the play-by-play voice you thought of when you remembered watching the great moments of the great games in your living room on Sunday afternoons.
The Dallas Morning News reported Tuesday that
Summerall has died
at the age of 82. He had the kind of career those of us who cover sports dream of having -- omnipresent at the biggest moments and asked to deliver them to the masses as best he could. He always managed to do it as coolly and naturally as possible. Today his voice is gone, but not forgotten. For countless sports fans who recall it along with some of the great games and plays they've ever seen, that voice is not forgettable.