Dallas Cowboys:

Jonathan Goff
November, 18, 2013
11/18/13
4:00
PM ET
IRVING, Texas -- With
Sean Lee
and
Justin Durant
out at least two more games because of hamstring strains, the
Dallas Cowboys
took a look at two veteran free agent linebackers on Monday.
Durant
Jamar Chaney
, who was cut by the
Atlanta Falcons
last month, and
Jonathan Goff
, who has not played since 2010, worked out for the Cowboys at Valley Ranch. Chaney spent three seasons with the
Philadelphia Eagles
before his release over the summer. He was cut by Atlanta last month.
Goff had his 2011 and '12 seasons ended after tearing his right anterior cruciate ligament twice. In 2011 he was with the
New York Giants
. In 2012 he was with the
Washington Redskins
.
With three division games left in the final six weeks, it can't be a coincidence that both players have NFC East ties.
The Cowboys added linebacker Taylor Reed to the practice squad to provide some depth in case of emergency. He was among the Cowboys' final cuts over the summer.
Coach Jason Garrett would not rule out Lee from Sunday's game against the Giants, but that's more because of how he deals with injuries than a significant improvement by Lee. Garrett acknowledged that
Ernie Sims
would play inside linebacker in Lee's absence.
"He had a productive weekend," Garrett said of Lee. "When everyone else was on a bye, he was working hard to get himself back. He was in good spirits today. We will see how he does as the week goes on."
April, 2, 2012
4/02/12
4:00
PM ET
One of the most popular questions you get this time of year is about salary cap space -- as in, how much does each team have left? So it's worth it every now and then to check in and see where those situations stand. I'm using the figures from the
NFL's web site
, figuring they're as close to official as it gets. So here's their cap room figure for each NFC East team as of March 30:
Dallas Cowboys: $2,164,189
The Cowboys did their free-agency work early, and I wouldn't expect too much more. This figure would be $7,164,189 if not for the penalties the league imposed for the way the Cowboys spent in the uncapped 2010 season. But I still don't think they'd have plunked down big dollars to compete with Jacksonville to sign receiver
Laurent Robinson
. They'll bargain-hunt for their No. 3 wide receiver again, as they did last year when they turned up Robinson. And while there may be another signing or two -- bargain receiver, second tight end, veteran safety -- the Cowboys' attention right now is on the draft.
New York Giants: $3,431,050
This gives the Giants a little bit of room to address their needs at linebacker, offensive line and running back, though they don't seem in much of a hurry to do any of those things. Up tight against the cap for the second year in a row, the Giants continue to maintain their prudent, patient approach to the offseason. They'll probably bring back linebacker
Jonathan Goff
and add a veteran running back, but I think they address their tackle need at some point in the draft, if not in the first round.
Philadelphia Eagles: $16,255,888
Lots of money, and there's plenty the Eagles can do with it, starting with signing a free-agent tackle to replace the injured
Jason Peters
and working out a new deal for running back
LeSean McCoy
. The Eagles also are in the market for a veteran safety, a veteran running back and some more linebacker help. But they're not spending like sailors this offseason, mainly because they did last year and most of those same guys are still on the team.
Washington Redskins: $7,681,338
Yeah, and think about it. It'd be $25,681,338 if not for their salary-cap penalty. This figure still gives the Redskins plenty of room, if they want, to sign linebacker
London Fletcher
, running back
Tim Hightower
and a new right tackle. But especially in Fletcher's case, they need to get more creative than they expected they would have to be. Fletcher turns 37 this year and isn't going to get the kind of long-term deal that allows the team to spread out the cap hit over a period of years. The Redskins have been active in free agency and can continue to address their needs, but the penalty has forced them to adjust the way they're going about their spending.
November, 12, 2010
11/12/10
9:02
AM ET
By
Bryan Broaddus
| ESPNDallas.com
This season's second game of this longtime series takes a new twist.
Jason Garrett
takes over for a departed Wade Phillips, who was unable to deliver the hopes and dreams of a Cowboys Super Bowl in the home stadium. Garrett out front has appeared to alter the culture of the franchise that struggled with issues throughout this 1-7 start to the season.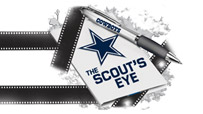 Make no mistake about it, the Giants are the last team the Cowboys need to be facing right now. When I study this squad, the first thing that comes to mind is how physical they are on offense. This is not a pretty offensive line in the way they sustain their blocks, and it's not a group of running backs that are fleet afoot, but they beat up on you. If you are not ready to handle that, they can make you look poor playing defense.
The one advantage that the Cowboys have is that beating along the front is fresh in there minds. The Giants were able to rush the ball for 200 yards in the last meeting between the two clubs.
Ahmad Bradshaw
and
Brandon Jacobs
both are down hill runners and provide little relief for those in their path.
Bradshaw is the perfect back in this offense for Kevin Gilbride because this line likes to push and shove opponents around the field.
Shawn Andrews
has been added to the mix and he will play at left tackle this week for
David Diehl
, who hurt his hip blocking for an extra point.
Kevin Boothe
moves inside to left guard off the physically unable to perform list and
Rich Seubert
moves from left guard to center to play for the underrated Shaun O'Hara.
The Giants wear you out with the size they bring at you at the point of attack.
Kevin Boss
and fullback
Bear Pascoe
are difficult to separate from once they get their hands on you.
The receiving crew has been super productive not only this season but games in the past against the Cowboys.
Steve Smith
was hurt in practice on Thursday and has shown up questionable on the injury report, which would be a huge break for the Cowboys. He has been a killer in the last three meetings with 25 catches for 345 yards and two touchdowns.
Hakeem Nicks
has had his share of production as well. Three of his 11 catches against the Cowboys have been for touchdowns. He has 14 catches for 20 yards or more this season.
Offensively, the one player who can derail the Giants or keep them on the track is the quarterback
Eli Manning
. With this offense, Manning doesn't need to be great but steady works nicely. This team has the ability to run the football effectively and with purpose. The tight ends are dependable and the receivers are some of the best in the league. Manning just needs to be steady and not make the mistakes that have plagued him in years past.
It will be interesting to see how the Cowboys attack Manning to make him feel rushed. Will you see more zone coverage against these receivers that appear to eat up man coverage?
If the Cowboys are going to have any success on defense on Sunday, it will take a huge effort. If they don't match the physical play of the Giants offense, then this will be a difficult opening trip to the new Meadowlands Stadium.
At the halfway mark, the Giants have the top-ranked defense in the NFL. It's not by luck or playing against weak opponents, but a complete and total team effort of using talent and scheme to physically handle opponents each week.
Its starts up front with defensive ends
Osi Umenyiora
and
Justin Tuck
. Defensive coordinator Perry Fewell likes to give you different looks up front and the Giants do a nice job of working Umenyiora and Tuck around the defensive front to create different mismatches. The pass rush has been outstanding this season for the Giants and it's helped them in the secondary as well.
Cornerback
Terrell Thomas
and
Corey Webster
both do a nice job in zone coverage of playing their responsibilities but have been equally as good when playing in man. There is not much room in this Giants secondary because of their ability to play tight and stay in route position, but the safety help has been solid too.
Antrel Rolle
has been an outstanding free agent signing for the Giants and
Kenny Phillips
can play up or back to help in the running game or work deep with these corners and offer support. When the Giants go to their nickel package, it's
Aaron Ross
that comes into the game.
Of the three Giants linebackers,
Michael Boley
is the one that can really run. Boley plays all over the field and he has the speed to be an effective blitzer as the Cowboys learned in the first meeting with the Giants. Longtime Tennessee inside linebacker
Keith Bulluck
now plays the strong outside linebacker and is a hard guy to move in the running game. It's been his physical play that has helped the Giants control the opponents' running game. The inside three of
Jonathan Goff
at middle linebacker and defensive tackles
Chris Canty
and
Barry Cofield
play with more power than quickness.
It will be a difficult task for the Cowboys to run the ball against this front and we all know the pitfalls if this turns into a passing game for them. The Giants on defense will put a great deal of pressure on the Cowboys and challenge their ability to move the football.
Jason Garrett has to be smart mixing his play calls and not allowing Fewell to put his defense in attack mode.
The strength of this Cowboys offense has been its receivers and their ability to make plays. Protect and get the ball into your playmakers' hands.
Miles Austin
, Roy Williams and
Dez Bryant
can put pressure on the Giants secondary.
Again, the Giants don't give you much room back there but when given the opportunity, they need to convert on the chances they have.
Jason Witten
is going to have to play well. When Fewell puts coverage to the outside, it's Witten working against linebackers that allows
Jon Kitna
an opportunity to deliver the football for a positive play.
If the Cowboys have to consistently play behind the chains, this offense will suffer too many three-and-outs, which puts their defense in harm's way. Garrett needs to be aggressive, but he needs to put his players in the best possible situations to make plays.
More importantly, he needs to find a way to have his team play a physical game on both sides of the ball. They will need to match the intensity of their opponent this week down after down. If not, this Giants team will put a physical beating on them.
July, 2, 2010
7/02/10
9:30
AM ET
We end our five-day NFC East Beat Writers series by talking to The Beast, Matt Mosley, who does ESPN.com's NFC East Blog. Matt took some time from his crazy schedule (yes, I'm being disingenuous) to breakdown the entire division for us.
Five things you should worry about in the NFC East:
Marion Barber.
Sorry, but I haven't bought into the Marion Barber bounce-back storyline this offseason. He looks leaner and quicker, but I'm afraid he already has the body of a 30-year-old back. This whole quadriceps tear revelation from running backs coach Skip Peete seems like a way of covering up Barber's lack of production in '09.
Eagles secondary.
I think the Eagles have to be worried about this. You have the non-tackling
Asante Samuel
paired with
Ellis Hobbs
, who is coming off a neck injury. I think this team will miss the reliable
Sheldon Brown
. And while rookie safety
Nate Allen
has a promising future, he's about to get thrown into a tough situation.
Giants middle linebacker.
Who are the Giants going to start here?
Phillip Dillard
's a talented rookie, but this would be a big leap for him.
Jonathan Goff
has some ability, but he's still an unknown at this point.
Michael Boley
will be the only starting linebacker with a lot of experience. I think Giants fans have cause for worry.
Redskins running backs.
The Redskins have a backfield composed of players who peaked in '06. Mike Shanahan has always valued veteran players, but he's outdone himself with the combination of
Clinton Portis
,
Larry Johnson
and
Willie Parker
. What, was
Mike Anderson
not available?
Cowboys kicker.
The Cowboys are rolling the dice with
David Buehler
as the placekicker. Why do they have so much confidence in this kid? I would not break camp without
John Carney
or
Matt Stover
hanging around.
Five things not to worry about in the NFC East:
Kevin Kolb.
Stop worrying about the Eagles quarterback from Stephenville, Texas. He's already earned a ton of respect in the Eagles' locker room and he's surrounded with big-time talent at receiver. The former Houston Cougar isn't afraid of the moment. I expect him to have an excellent season.
Doug Free.
As I've tried to tell ESPN 103.3's Randy Galloway over and over, it's OK to trust Free. Longtime Cowboys left tackle
Flozell Adams
had an excellent run, but I don't think you'll see a big drop in production. Scouts tell me Free's an excellent "foot athlete," so I have a good feeling about this one.
Donovan McNabb.
McNabb will put up big numbers in Mike Shanahan's offense. If this offensive line can give him a little time, McNabb will be able to elevate the play of wide receivers
Malcolm Kelly
and
Devin Thomas
. Shanahan will commit to the running game, and that's not something McNabb's used to. I think he'll benefit in a big way.
Osi Umenyiora.
I think folks are spending too much time worrying about Umenyiora's state of mind. He's too talented to take a back seat in Perry Fewell's defense. I smell a 12-sack season for Osi.
Alan Ball.
I've been on the fence about Ball, the Cowboys projected starter at safety, this offseason, but coaches and scouts have finally convinced me that he's going to be fine. He's much more of a ballhawk than
Ken Hamlin
, and that's something this secondary sorely needs. But I reserve the right to change my mind before the season.