Dallas Cowboys:

Jonathan Stewart
May, 16, 2014
May 16
3:00
PM ET
IRVING, Texas -- The
Dallas Cowboys
made some roster moves during the first day of the rookie minicamp Friday.
The biggest was signing defensive tackle
Amobi Okoye
to a two-year contract.
Okoye
"We like a lot of things about him," coach Jason Garrett said. "He was a high draft pick a few years ago, a really young player coming out of school and he has a lot of talent. Rod [Marinelli] was around him in Chicago, we know him well, he's had an intimate-type relationship. So we think that's a real positive thing. He's had some health issues the last year or so where he lost a lot of weight. He's gained his weight back and we're waiting on some medical things. We feel like he has a chance to be a contributor on that defensive line."
Garrett said Okoye passed his physical Thursday but there are medical issues that need to be cleared up relating to an undisclosed health problem.
Okoye was the 10th overall pick by the
Houston Texans
in the 2007 draft and started 58 of 62 games in four seasons. He played 25 games for Marinelli in 2011 and 2012 with the
Chicago Bears
before a health issues cost him his 2013 season.
The Cowboys also signed defensive lineman Jerrod Black from Iowa State as a workout player. Black was one of the 30 national visits the Cowboys hosted during the draft process.
Also, the team released linebacker
Jonathan Stewart
.
May, 15, 2014
May 15
2:50
PM ET
IRVING, Texas -- The
Dallas Cowboys
will have 15 players at their rookie minicamp on a tryout basis.
They will join the nine draft picks and 24 undrafted free agents at Valley Ranch on Friday and Saturday.
The Cowboys could have included two players from last year's practice squad, wide receiver
Tim Benford
and linebacker
Jonathan Stewart
, in workouts as well but opted to hold them out.
The tryout players include: Oklahoma State cornerback Tyler Patmon, Colorado center Gus Handler, Citadel cornerback Brandon McCladdie, Oklahoma State linebacker Caleb Lavey, Lehigh wide receiver Lee Kurfis, Baylor linebacker Eddie Lackey, Louisiana-Monroe quarterback Kolton Browning, Wake Forest running back Josh Harris, Tennessee defensive tackle Maurice Couch, Texas A&M Kingsville wide receiver Robert Armstrong, Bowling Green defensive back Aaron Foster, Louisiana-Monroe running back Jyruss Edwards, Texas Tech defensive lineman Dartwan Bush and BYU tight end Kaeakua Friel.
Tackle Darius Moore, who went to camp with the
Houston Texans
in 2011, will also attend the minicamp.
December, 17, 2013
12/17/13
9:55
PM ET
IRVING, Texas -- With
Dwayne Harris
not likely to play Sunday against the
Washington Redskins
, the
Dallas Cowboys
have signed returned specialist Michael Spurlock.
Spurlock played in nine games with the
Detroit Lions
before he was released Dec. 9. He averaged 22.5 yards per kick return and 6.6 yards per punt return. He has played for special teams coordinator Rich Bisaccia at the
Tampa Bay Buccaneers
and
San Diego Chargers
.
Harris has been slowed with a hamstring injury. He is averaging 30.5 yards per kick return and 14 yards per punt return on the season. The Cowboys turned to wide receivers
Terrance Williams
(kickoffs) and
Cole Beasley
(punts) to replace Harris, but neither has been able to break long returns.
The Cowboys have one spot open on their 53-man roster, which could be filled by the time they practice on Wednesday.
Linebacker
Jonathan Stewart
has been added to the practice squad, replacing running back George Winn. The Cowboys also added
Orie Lemon
to the active roster to help with the injuries to linebackers
Bruce Carter
,
Ernie Sims
,
Sean Lee
and
Justin Durant
, who was placed on injured reserve on Tuesday with a hamstring injury.
The Cowboys hope Carter, who did not play last week against the
Green Bay Packers
because of a hamstring injury, can play against the Redskins. Lee is likely to miss his second straight game with a sprained neck.
October, 21, 2012
10/21/12
6:33
PM ET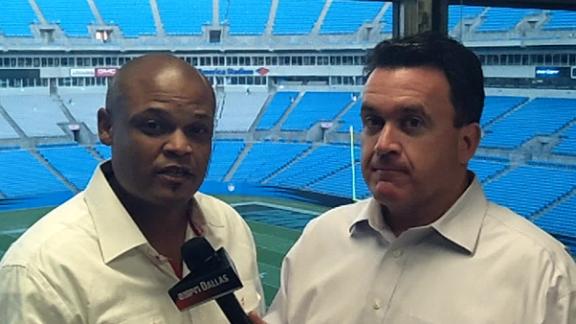 C-
Rushing Offense
The Cowboys ran the ball often, but they didn't run it well. Tailbacks Felix Jones and Phillip Tanner combined for only 74 yards on 28 carries. It's hard to fault them. The offensive line failed to get much push, especially after center Phil Costa suffered an ankle injury in the second quarter. Ryan Cook, Costa's replacement, hadn't practiced since before the bye due to a hamstring strain. Jones was especially ineffective in the second half, when he gained only eight yards on seven carries. It's interesting that the Cowboys relied on Tanner much more than Jones in the fourth quarter.

C
Passing Offense
Tony Romo (23-of-34 for 227 yards and a TD) didn't throw an interception for the first time this season, although he narrowly avoided one when Carolina linebacker James Anderson dropped a pass that he might have been able to return for a touchdown. The Cowboys did commit a turnover in the passing game on a Miles Austin fumble, but Austin (five catches, game-high 97 yards) made up for that mistake with a beautiful catch for Dallas' lone touchdown. Dez Bryant didn't make an impact, catching only two passes for 14 yards and dropping what should have been a touchdown pass. The Cowboys' pass protection prevented the Panthers from sacking Romo.

C+
Rushing Defense
The Panthers rushed for 112 yards and a touchdown on 21 carries, but those numbers are skewed by some long scrambles by Cam Newton. The Panthers were not able to line up and run the ball against the Cowboys with any sort of sustained success. Tailback Jonathan Stewart gained only 35 yards on 10 carries -- and that included a 20-yard gain when Carolina caught the Cowboys in a state of confusion. NT Josh Brent was a force despite being credited for only one tackle. LB Bruce Carter had two key stuffs. OLB Anthony Spencer (six tackles, one TFL) made his presence felt in his return from a strained pectoral.

B
Passing Defense
Miracles do happen. The Cowboys secondary came up with an interception. The first pick of first-round pick Morris Claiborne's career killed a 12-play, 74-yard Carolina drive. Claiborne came up with another big play when he broke up a fourth-down pass in the fourth quarter, although the Panthers screamed for a pass interference penalty on the play. Cam Newton went 21-of-37 for 233 yards and a touchdown, and he should feel like he left a lot of plays on the field. The Cowboys defense deserves some credit, but Newton had a lot of misses. The Cowboys only sacked him twice.

B
Special Teams
The Cowboys committed penalties on the first three special teams plays, but Dallas didn't have a killer mistake in the kicking game, as has been the case in two losses this season. Oh, Dez Bryant came awfully close, making an ill-advised, over-his-head catch on a punt inside the 10 and running around with the ball recklessly away from his body, but the play didn't result in a disastrous turnover. Dan Bailey bounced back from missing the potential game-winner last week by going 4-of-4 on field goals, including a 49-yarder. Brian Moorman had an outstanding day, averaging a net of 49.3 yards on four punts, including two inside the 20.

C-
Coaching
Jason Garrett coached scared in crunch time. He can talk about trusting his defense until he's blue in the face, but he looked like a coach who was afraid that his offense would make a catastrophic mistake. Why else call for a run up the middle on a third-and-9 in the red zone when your team trails by one point late in the game? The Cowboys got away with the ultraconservative play call, but it's a classic case of coaching not to lose. That approach blew up in Garrett's face last season in New England. The Cowboys' defense also looked confused way too often.
October, 17, 2012
10/17/12
2:52
PM ET
IRVING, Texas – The Cowboys have faced quarterbacks over the years that can run the football.
Michael Vick
comes to mind first, but
Cam Newton
is different, according to
DeMarcus Ware
.
"He's a whole different breed," Ware said. "He's a running back, a guy that can play quarterback. The thing is he doesn't make a lot of decisions. They're one of the least penalized teams in the league, so they're fundamentally sound and they run the ball well. I don't know the ratings, but they've got three running backs in
(Jonathan) Stewart
,
(DeAngelo) Williams
and then you got Cam Newton. It's a three-headed (monster). They'll stick all three of them in there."
Newton leads the Panthers with 209 yards on 40 carries. Williams has the most carries, but he's averaging just 3.6 yards a run. Stewart has 107 yards on 25 carries.
The Panthers will use the read-option that Newton perfected in leading Auburn to a national championship.
"He can read all he wants to," Ware said. "Just got to figure out who's got the ball and make the tackle. This game here is going to come down to what team can handle that circus offense, but secondly, can we tackle? Can we come down and tackle; the basic fundamentals of defense and that's making plays and getting turnovers?"
Newton's size (6-foot-5, 245 pounds) makes him one of the bigger quarterbacks, but he is also elusive. Ware, who leads the Cowboys with six sacks, said the pass rush has to take a different approach.
"You sorta got to know what you're getting into," Ware said. "You're not just going to rush him unfundamentally. You're going to have to cage him up because he's going to look around. If nobody's there he's going to beat you with his feet. You've got to sort of corral him a little bit and get a lot of picket push up the middle, and then the outside guys got to not let him get out and run because he'll do that and beat you for 30 yards, 20 yards, get big chunks."
August, 13, 2012
8/13/12
1:38
PM ET
FREMONT, Calif. –
Carolina
's decision to sign running back
Jonathan Stewart
to a five-year, $36.5 million deal that includes $22.5 million in guarantees is curious on a number of fronts, starting with the fact that the Panthers signed their other runner,
DeAngelo Williams
, to a five-year, $43 million deal with $21 million guaranteed last summer.
But it got me to thinking about the
Cowboys
and I understand I'm not comparing apples to apples when looking at the cornerback spot.
Owner and general manager Jerry Jones has said constantly that the Cowboys have enough money to sign
Mike Jenkins
to a healthy contract extension in the future -- provided Jenkins is healthy in 2012 -- even after shelling out for
Brandon Carr
,
Orlando Scandrick
and
Morris Claiborne
in the last 12 months.
Carr received $25.5 million guaranteed, Claiborne will get $16.26 million and Scandrick's deal calls for $10 million guaranteed. That's nearly $52 million in guaranteed coin.
The Panther committed $43.5 million in guaranteed money to guys who will be on the field together for only a handful of snaps a game.
It seems a little odd to pay running backs that kind of money, especially with
Cam Newton
as the quarterback, but cornerbacks are a different story.
You need all of them you can get with the way the game is played right now, so maybe Jones is correct.
Now it's up to Jenkins, who has yet to practice because of January shoulder surgery and might miss the season opener, to play well enough in 2012 to force Jones' hand.
October, 8, 2010
10/08/10
2:15
PM ET
IRVING, Texas -- There is this debate regarding
Felix Jones
, the Cowboys third-year running back, and whether he should have been drafted ahead of some other stellar players at his position.
In some ways we forget just what was said about the 2008 running back class.
In Mel Kiper Jr.s 2008 draft report, the top rated running backs in order was
Darren McFadden
,
Rashard Mendenhall
and Jones.
Here's what Kiper said about the Top 3.
On McFadden: "With his natural athleticism, determination and versatility, he is one tremendously talented performer who should turn heads immediately in the NFL this fall. You just don't have many RB's in the NFL that are capable of taking it 40-plus yards at any time."
On Mendenhall: "It's amazing how highly he's regarded right now, when you stop to consider that he had just 126 total carries in his first two seasons in the Big Ten." Later on, Kiper writes, "He'll keep offenses in the NFL on schedule, since he heads north-south at all times and is rarely in danger of being tackled for negative yards."
On Jones: "Like
Reggie Bush
, he can't take much of a pounding, so he's not going to step in and be a workhorse or feature back. With a complimentary performer in place, Jones presents one heck of a change of pace."
However,
Chris Johnson
, who was the 24th pick of the first round, has better career numbers than the top three with 703 carries for 3,588 yards and 27 touchdowns.
You could say the following players,
Jonathan Stewart
,
Ray Rice
,
Jamaal Charles
,
Matt Forte
,
Steve Slaton
and Johnson are better than Kiper's Top 3 players.
Which brings us to Jones.
Did the Cowboys make a mistake in drafting Jones, No. 22 overall in 2008?
Some would say yes, just based on what happened after Jones was drafted.
Five players drafted after Jones have more yards and carries than him.
And seven of the last eight running backs overall that were drafted between Jones and
Tashard Choice
, a fourth-round pick, who was selected at No. 122, have more yards and carries than Jones.
So what gives?
At the time the Cowboys were deciding between Mendenhall and Jones.
"More Felix than anybody," coach Wade Phillips said. "We discussed all the backs that year and how we wanted them and we picked the guy who would help us the best."
The Cowboys picked a player who would be a good No. 2 to
Marion Barber
. Jones was supposed to be a third-down back and a change of pace to make the defense off balance.
In three seasons, Jones has just 168 carries and only 25 receptions.
Jerry Jones said Friday afternoon he wants the Cowboys to give Felix Jones more carries, but not if it means messing up the entire offense.
Jerry Jones understands the issues here espeically this weekend with the Cowboys taking on the Titans, the team Johnson plays for.
"We feel that Felix has the ability to challenge the defenses and make the defenses think about what he's doing just as we're thinking about what Chris is doing, and believe yo me we're thinking about it," Jerry Jones said. "When you have to focus in on a back like Johnson then you have to adjust and take away from some other players at other positions. Well, we got other players at other positions that we would like a chance to get the ball to. So all of it puts a spotlight on Felix and Felix gives us a chance to have some of the kinds of plays that Chris Johnson does."
Jones could have a longer career than Johnson because running backs to take a pounding don't last in today's NFL. Jones can also do more things. He's a better blocker than Johnson and if given the chance is better at catching the ball. Johnson's speed and ability to make people miss gives him an overall edge on Jones right now.
In the short term, the Cowboys look like they made the wrong choice at running back. In the long-term, maybe Jones might pan out afterall.
"He was a smaller guy [and] nobody could catch him," said Phillips, who also liked Johnson coming out of the draft. "So, it was a great draft class. You can say Felix hasn't done well and I think he has."
May, 6, 2010
5/06/10
10:46
AM ET
The running back crop in the 2008 draft will probably go down as one of the greatest in NFL history.
The Cowboys feel good about
Felix Jones
, who is likely to take over as the lead horse after a season and a half as an electrifying change-of-pace back. But it's tough to argue that he was the best possible pick at No. 22 overall.
The debate at the time was Felix vs.
Rashard Mendenhall
, who was selected by the Steelers with the next pick. And that's still worthy of an argument after Mendenhall rushed for 1,100 yards last season, when Jones averaged 5.9 yards per carry, 1.3 more than Mendenhall with a workload half as heavy.
But two years and one 2,000-yard season later, there's no question that Tennessee's
Chris Johnson
is the best of the bunch despite lasting until No. 24 overall.
You could make a strong case that Baltimore's
Ray Rice
, who lasted until late in the second round, is the second-best back in class. All he did last season was account for more than 2,000 total yards for a passing-challenged playoff team.
Third-rounder
Jamaal Charles
, the Texas product picked by Kansas City, has to be somewhere in the conversation. He rushed for 1,120 yards despite getting only 190 carries, matching Jones' yards per pop. Carolina's Jonathan Stewart, who has rushed for 20 touchdowns in two seasons as a part-timer, also merits mention, although he was long gone by the time the Cowboys went on the clock.
At least the Cowboys didn't trade into the top five to get
Darren McFadden
, who has been a dud in Oakland.
If Jones stays healthy, the Cowboys have no reason for regret. But we can still play the what-if game on a slow day in May.
March, 19, 2010
3/19/10
4:24
PM ET
NFC South blogger Pat Yasinskas
has an interesting blog post
concerning
Carolina Panthers
running back
DeAngelo Williams
.
It seems Williams, who shares carries with
Jonathan Stewart
, is cool with getting fewer touches to prolong his career.
"I think the front office and coaching staff are single-handedly prolonging my career and [Stewart's] career,'' Williams said. "Thirty is like the new 50 in the NFL, especially when it comes to tailbacks."
Which brings us to Cowboys running back
Marion Barber
.
Barber has slowed down since he became the full-time starter in 2008. His physical way of attacking defenders might lead him to start breaking down. He turns 27 in June. He's missed time with toe and knee injuries and played with a busted hand for the bulk of 2009.
The Cowboys want
Felix Jones
to have an increased workload in 2010. This could mean several things for Barber:
* He could get upset and sulk.
* He could thrive in the role and produce solid numbers like he did in 2007.
* He might lose his starting job if Jones excels.
Barber is still young enough to become a productive back in the NFL. Yet his breakdowns the last two seasons raise questions about his ability to remain the starter.
If 30 is the new 50, like Williams says, expect the 27-year-old Barber to thrive this year.