Dallas Cowboys:

Jordan Black
October, 30, 2010
10/30/10
12:02
AM ET
By
Bryan Broaddus
| ESPNDallas.com
Jaguars running back Maurice Jones-Drew vs. Cowboys run defense:
The Jaguars have some offensive talent on their squad at wide receiver and tight end, but their best player is running back Maurice Jones-Drew.
Jones-Drew might be short on height, but he is not short on talent. He is a dynamic ball carrier and possesses the ability to score from anywhere on the field. He is a runner with outstanding physical gifts of balance, power and vision. He is a patient ballcarrier and he will let blocks develop then find a way through the hole.
[+] Enlarge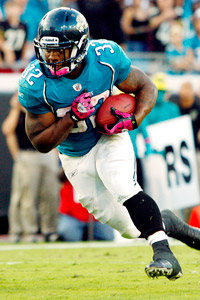 Kim Klement/US PresswireThe Jaguars offense runs through its explosive running back, Maurice Jones-Drew.
The offensive line that he plays behind is not the best one the Cowboys have faced this season, but his ability makes them better as a group. The Jaguars are playing with a new right tackle in
Jordan Black
. With the exception of left tackle
Eugene Monroe
, it's a suspect group overall.
The Cowboys allowed 201 yards rushing last week to the Giants and that went a long way in deciding the outcome of the game. Jones-Drew is a physical ball carrier and his-low-to-the-ground running style makes it difficult to get a solid shot on him. He also is an accomplished pass receiver. The Jaguars like to use him in the red zone matched up against linebackers that can't handle his quickness and elusive moves.
Offensive coordinator Dirk Koetter has studied what the last three opponents have done to the Cowboys in the running game and should tailor a game plan to run the football in a fashion that will give the Cowboys the most trouble. A successful running game starts with Jones-Drew, but it also could open up more opportunities to the tight end and receivers.
*Jaguars defensive end Aaron Kampman vs. Cowboys left tackle Doug Free:
The Jaguars struggle to rush the passer. When they do get pressure, it's usually because of Aaron Kampman providing it.
Kampman originally broke into the league with the
Green Bay Packers
but was a big-ticket signing for the Jaguars in April. Kampman is a high effort and motor guy. He is a relentless pass rusher that is always coming at you. Would not call him a powerful or strong player, but one that uses technique and smarts to his advantage.
He is a similar type of player that Free faced two weeks ago in
Jared Allen
at Minnesota. Kampman uses several different pass rush moves, so Free will need to bring his "A" game. Kampman likes to work wide up the field to the tackle's corner, then slap the tackle's hands to get around the edge. Kampman will do everything in his power to keep the tackle's hands from his body.
If Kampman has a weakness, it's that his lack of strength hurts him in the running game. Teams have had success running the ball to his side because he doesn't have the power to fight off the block. But if he gets the edge and keeps his feet working, he can get down the line and make the tackle. Kampman will usually line up as the right end, but in the nickel, he will move to left end and
Larry Hart
will rush from the other side.
[+] Enlarge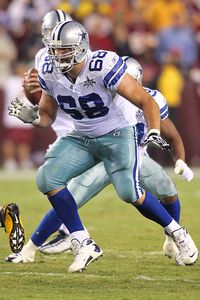 Jeff Fishbein/Icon SMICowboys left tackle Doug Free will have his hands full with Aaron Kampman and the Jaguars' pass rush.
*Jaguars safeties vs. Cowboys tight end Jason Witten:
With the change at quarterback with the Cowboys going to
Jon Kitna
, I have a feeling that tight end Jason Witten is going to become one of Kitna's best friends in this offense.
Kitna is unlike Romo in what he will do with the football. Romo will take chances down the field, while Kitna is more likely to check the ball down or attempt passes that move the chains.
In studying the Jaguars on defense, I did not come away with the impression that they had someone that could effectively match up with Witten. I always talk about Witten as this mismatch player that is too athletic for linebackers to deal with and too big for defensive backs to handle down the field. This Jaguars defense doesn't have anyone that can stay with Witten down after down.
If Kitna knows that, he will be more likely to look Witten's way, especially on third downs and in the red zone, which are two areas that the Jaguars really struggle in.
The Cowboys' offense will be different with Kitna at quarterback because he doesn't have the ability to make the loose or second-chance plays like Romo does. Kitna will be solid presnap and take what the defense will give him from his read. Don't be the bit surprised if Jason Witten plays a big role in the success of the Cowboys on Sunday.