Dallas Cowboys:

Jordan Najvar
July, 17, 2014
7/17/14
12:25
PM ET
IRVING, Texas -- The
Dallas Cowboys
did not wait long to fill
Kyle Orton
's roster spot, adding tight end Dallas Walker on Thursday.
Walker worked out for the Cowboys in June along with tight end
Dominique Jones
and guards
DeMarcus Love
and
Garrett Reynolds
, but the team passed at the time. Orton was officially released on Wednesday.
Walker spent time last season with the
San Diego Chargers
after going undrafted in 2012. He started his college career at Memphis as a quarterback and receiver but played three years at Western Michigan as a tight end.
The Cowboys were looking to add numbers to the tight end spot for training camp with only
Jason Witten
,
Gavin Escobar
,
James Hanna
and
Jordan Najvar
on the roster.
July, 17, 2014
7/17/14
9:00
AM ET
Constructing a 53-man roster is a difficult process, piecing together 10 positions groups and matching up present needs with future production of older and younger players. This week we take a look at constructing the Dallas Cowboys' roster.
Tight ends
Witten
Escobar
On the roster:
Jason Witten
,
Gavin Escobar
,
James Hanna
,
Jordan Najvar
Locks:
Witten, Escobar
Virtual lock:
Hanna
Need help:
Najvar
How many fit?
The Cowboys have carried four tight ends in the past, doing it last year with
Andre Smith
serving as the fourth, and they could do it again this year if they find the right fit from a player not currently on the roster.
As of today, they would go with three: Witten, Escobar and Hanna. Witten's catches were down last year (73 from 110), but his touchdowns were up (eight from three). He still remains a threat in the passing game and a focal point of defenses. Escobar will get more chances to prove he can be a factor this year. Hanna came to the Cowboys known for his speed but they have yet to put him in position to use it, serving mostly as the second tight end last year.
Hanna
The Cowboys have a need for a blocking tight end that would take some of the load off of Witten. That's not Escobar's forte and that's not Hanna's strength. They had the blocker they needed in Smith last year, but he barely saw the field before he was released. They need a Dan Campbell or Sean Ryan type in order to be able to move Witten off the line in situations to keep the playbook open.
If they add another tight end, then that would put an end having a fullback on the roster. There just aren't enough snaps to carry a fourth tight end or fullback to justify carrying both spots. The tiebreaker would be who can play special teams better.
The series:
Quarterbacks
Specialists
Running backs
Safeties
Wide receivers
Cornerbacks
July, 16, 2014
7/16/14
3:30
PM ET
IRVING, Texas -- The
Dallas Cowboys
' decision to part ways with backup quarterback
Kyle Orton
has opened up a spot on the 90-man roster for training camp.
Orton
Josh Brent's name has come up as a possible fill-in, but sources say there is nothing new on that front. Brent remains at a treatment facility after he was released from county jail for his involvement in a 2012 car accident that killed his friend and teammate Jerry Brown.
The Cowboys have not ruled out the possibility of re-signing Brent if he wants to re-start his NFL career, but they have more pressing needs to fill with training camp starting next week.
At this point in the summer, finding players is difficult. With teams carrying 90 players, there are only so many available. The pool is not filled with stars. It's filled mostly with guys you hope can get you through a few days of practice, limit the amount of snaps you give your regulars and perhaps develop into contributors.
Tight end remains a position of need. The Cowboys have
Jason Witten
,
Gavin Escobar
,
James Hanna
and
Jordan Najvar
. They need more of a blocker in the group, not only on the 90-man roster but perhaps the 53-man roster.
The Cowboys like to carry a high number of receivers and corners because of the amount of running they do in training camp. They have 10 receivers and eight cornerbacks under contract. Again, the idea isn't to sign a name veteran to make the masses happy at this point. It's about practice (said in best Allen Iverson voice).
The Cowboys could also gain a spot if
Amobi Okoye
is not fully cleared for drills. He spent most of the offseason with the team, working out, but he did not take the field as he attempts a return from a personal medical issue. Including Okoye, the Cowboys have 16 defensive linemen on the roster.
July, 2, 2014
7/02/14
10:45
AM ET
IRVING, Texas – When Jason Garrett said goodbye to us all after the Dallas Cowboys' minicamp ended on June 19, he was asked about the state of the roster.
"We'll continue to make evaluations of individual guys, where they stack up, if they belong on the roster, who else is on the landscape,"
Garrett said then
. "You're always trying to do that. Feel good about how guys have come in here and worked. A lot of young guys got a lot of work over the course of the OTAs and minicamp. A lot of veteran players worked hard, felt competition. That's a good thing for our team and we want to continue to do that. Whether the competition comes from within or without, it's our job to make sure we're always trying to put the most competitive situation available out there on our roster."
[+] Enlarge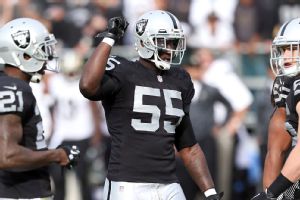 AP Photo/Paul SpinelliThe Cowboys hope recent acquisition Rolando McClain can help fill the void left by the injury to Sean Lee.
Since then the Cowboys have added two veterans: guard
Uche Nwaneri
and linebacker
Rolando McClain
.
The player acquisition business is 365 days a year. It never stops.
In Nwaneri the Cowboys have a veteran with 92 starts to his credit. The loser of the left guard battle between
Mackenzy Bernadeau
and
Ronald Leary
would be the top backup on the inside. The other backup candidates are inexperienced with
Brian Clarke
,
Andre Cureton
and
Ronald Patrick
. At the least, Nwaneri gives the Cowboys a lineman to help the backup quarterbacks have a chance in preseason games. At the best, he is a possible starter.
Trading for McClain is something of a gamble because of his past and his two forays into retirement. Does he truly want to play? If he does, then maybe the Cowboys have hit on a player who will be just 25 years old when training camp begins at a position of need with
Sean Lee
out for the year.
For all of the talk of
Brian Urlacher
joining the Cowboys, signing a 36-year-old with a bad knee after sitting out one year made less sense than adding a soon-to-be 25-year-old who sat out a season.
So where do the Cowboys look next for help before camp starts?
In the minicamp post referenced earlier, I mentioned they could look at linebacker, interior offensive line and tight end for help. Two of the three have been checked off. All that is left is tight end.
Why tight end?
They have a need for a blocker behind
Jason Witten
. That's not
Gavin Escobar
's forte.
James Hanna
is willing but that's not his strength either.
Jordan Najvar
is an undrafted free agent. There aren't many current candidates available to fit the bill in price or job description, but the Cowboys could spend time in training camp looking at other rosters for help.
May, 15, 2014
5/15/14
9:30
AM ET
IRVING, Texas – The
Dallas Cowboys
have not been shy in giving larger than normal signing bonuses or guaranteed money to undrafted free agents, but their 24 signings totaled $66,500 and no guaranteed money in base salaries.
Tarleton State cornerback Dashaun Phillips, a Duncanville, Texas, native, received the largest signing bonus at $7,500. Missouri wide receiver L'Damian Washington received $7,000 to sign. Running back Glasco Martin did not receive a signing bonus.
In 2012, the Cowboys guaranteed guard
Ronald Leary
$214,000. Last year, the Cowboys guaranteed linebacker
Brandon Magee
$70,000 and paid out a $10,000 signing bonus to
Jakar Hamilton
.
Here is the remaining breakdown of signing bonuses:
$5,000
QB Dustin Vaughan, West Texas A&M
DT Chris Whaley, Texas
OL Jarrod Pughsley, Akron
OL Josh Aladenoye, Illinois State
$3,500
WR Chris Boyd, Vanderbilt
$3,000
OL Andre Cureton, Cincinnati
$2,500
TE Evan Wilson, Illinois
$2,000
FB J.C. Copeland, LSU
RB Ben Malena, Texas A&M
S Marvin Robinson, Ferris State
P Cody Mandell, Alabama
LB Keith Smith, San Jose State
$1,500
S Ryan Smith, Auburn
OG Ronald Patrick, South Carolina
OG Brian Clarke, Bloomsburg
TE Jordan Najvar, Baylor
LS Casey Kreiter, Iowa
CB Jocquel Skinner, Bethel
DE Joe Windsor, Northern Illinois
DT Davin Coleman, Arizona State
$1,000
LB Dontavis Sapp, Tennessee
May, 13, 2014
5/13/14
10:15
AM ET
IRVING, Texas -- There are lots of things to wonder about after the NFL draft, but we're just wondering about five things right now.
It's always a good time for Five Wonders.
Away we go:
May, 11, 2014
5/11/14
8:00
AM ET
IRVING, Texas -- The
Dallas Cowboys
were busy after the draft, agreeing to deals with more than 20 college free agents, including Baylor tight end
Jordan Najvar
.

In a spread offense Najvar didn't get many opportunities, catching 35 passes in three years, but he has an NFL frame at 6-foot-5 and 256 pounds. The Cowboys have only three tight ends on the roster in
Jason Witten
,
Gavin Escobar
and
James Hanna
. The Cowboys also reached a deal with Illinois tight end
Evan Wilson
.
The Cowboys also added Baylor running back
Glasco Martin
and Texas A&M running back
Ben Malena
, who took part in the Cowboys' Dallas Day workout. He starred at Cedar Hill before going to A&M. The Cowboys also agreed to deals with defensive linemen
Chris Whaley
(Texas) and
Davon Coleman
(Arizona State) who were among the team's national visitors.
The Cowboys drafted players from Northern Illinois (
Ken Bishop
), Baylor (
Ahmad Dixon
) and Iowa (
Anthony Hitchens
), and also added players as free agents from those schools.
The Cowboys also added the following players:
Dustin Vaughan
, QB, West Texas A&M,
Ryan Smith
, S, Auburn,
Josh Aladenoye
, OT, Illinois State,
Joe Windsor
, DE, Northern Illinois,
Dontavis Sapp
, LB, Tennessee,
Ronald Patrick
, OG, South Carolina,
Jarrod Pughsley
, OT Akron,
Cody Mandell
, P, Alabama,
Marvin Robinson
, S, Ferris State,
Keith Smith
, LB, San Jose State,
Brian Clarke
, OG, Bloomsburg,
J.C. Copeland
, FB, LSU,
L'Damian Washington
, WR, Missouri,
Andre Cureton
, OL, Cincinnati,
Casey Kreiter
, LS, Iowa,
Jocquel Skinner
, CB, Bethel,
Chris Boyd
, WR, Vanderbilt.