Dallas Cowboys:

Justin Blackmon
December, 8, 2012
12/08/12
4:54
PM ET
For the second Saturday in a row, a terrible and avoidable real-life tragedy has shaken up the insular fantasy world that is the NFL. Dallas Cowboys nose tackle Josh Brent has been jailed on charges of intoxication manslaughter and teammate Jerry Brown is dead as a result of a one-car accident that happened early Saturday morning in Irving, Texas.
Tim MacMahon has the sad details
as they continue to come in:
Brent, a three-year veteran, was booked in the Irving [Texas] city jail at 4:14 a.m. Saturday morning.

Brown was signed to the Cowboys' practice squad earlier this season. He was also Brent's college teammate at Illinois.

"We are deeply saddened by the news of this accident and the passing of Jerry Brown," Cowboys owner Jerry Jones said in a statement. "At this time, our hearts and prayers and deepest sympathies are with the members of Jerry's family and all of those who knew him and loved him."

The Cowboys are flying to Cincinnati for Sunday's game against the Bengals and had no comment on the accident, other than to say Brent did not make the team's charter. The players were told on the plane just before takeoff of what happened after non-team personnel were asked to go outside.

In June 2009, Brent was sentenced to two years probation and 60 days in jail as part of a plea agreement stemming from a drunken driving arrest in Champaign County, Illinois.
Just awful, and the kind of thing that obviously makes football seem irrelevant. Nose tackle Rob Callaway was promoted from the practice squad and is likely to play Sunday because starter Jay Ratliff is injured and Brent is not with the team. But the real issue here deals with the life of Jerry Brown, which is incomprehensibly over at the age of 25, and the life of Brent, 24, which will never be the same after he apparently made one of the stupidest mistakes an adult human can make -- and made it for at least the second time.
Brent already did time while in college on drunken driving charges, which means the significance of the crime theoretically should have been impressed upon him. Drunken driving is as selfish, avoidable and inexcusable a crime as there is -- especially for high-profile professional athletes, who have myriad other options available to them by the time they decide to go home after having too much to drink. Every single player in the NFL has a "safe rides" program available to him courtesy of the NFL Players Association. Many teams also offer "safe rides" programs, which provide players with a phone number they can call for a ride at any time, anywhere in the United States. And if for some reason a player doesn't want to reach out for help from such a program, he certainly can always call a cab.
The decision to get behind the wheel of a car after you've had too much to drink is flatly irresponsible -- whether you play NFL football or not. But there were a number of NFL drunken driving cases this offseason, including the Giants' David Diehl, the Lions' Nick Fairley and the Jaguars' Justin Blackmon. And although none of those cases resulted in anyone getting injured or killed, this is not the first case in league history that has. It serves as a reminder of why it's so important for the league to make its players aware of the seriousness of the issue, and the number of drunken driving cases the league still deals with serves as a reminder that the message isn't sinking in.
This is an issue that doesn't get treated seriously enough -- by our sports leagues or by our society in general. Even after reading the story of Brent and Brown, people all over Texas and the rest of the United States are going to climb into their cars later tonight after having too much to drink. Some of those people will even be pro athletes with solutions available to them that aren't available to the rest of us. The majority will arrive safely home in spite of their irresponsible decision, and every such success unfortunately makes it more likely that the driver in question will do it again at some point in the future.
The NFL and the NFLPA would do well to make this issue a higher, more public priority going forward than they have in the past. Whether that means working harder to raise awareness, imposing stronger discipline for such violations or some other solution, it needs to be done. What the NFL and its players do gets noticed, and it's even possible that if the league made drunken driving a point of emphasis, the rest of our society would start to take it more seriously. There's nothing to lose by trying harder on this and taking the problem more seriously, and if nothing changes, then what happened Saturday morning in Irving, Texas, is just going to keep happening.
June, 6, 2012
6/06/12
4:51
PM ET
IRVING, Texas –
Dez Bryant
considers fellow former Oklahoma State receiver
Justin Blackmon
a close friend, but Bryant has not been in touch with Blackmon since the fifth overall pick's weekend arrest on an aggravated DUI charge.
However, Bryant expressed support for Blackmon on Wednesday, about the same time that Blackmon was holding a press conference at the Jaguars' complex in Jacksonville to
apologize for the early Sunday arrest
when his blood alcohol level was allegedly three times above the legal limit.
"He is a great guy," Bryant said. "If you knew him, you'd be like, 'I can't believe it.' At the same time, I just feel like it's just a lesson he's going to have to learn.
"I feel like he's going to get through it. I know he is just because of the type of guy he is. I wish the best for him. I know he's going to come through and he's going to bounce back and do what he has to do."
This is the second time that Blackmon has been arrested on a DUI charge after being pulled over for speeding. The first incident occurred in 2010 while Blackmon was driving back to Stillwater, Okla., after watching Bryant play at Cowboys Stadium.
Bryant, a top-10 talent, dropped to the 24th overall pick in the 2010 draft because of character concerns. He does not have a criminal record, but he has had a bumpy road off the field in his first two NFL seasons, particularly with managing his money. He admits that it was "overwhelming" at times making the transition from college to the NFL.
"Basically, it's decision making and what you do," Bryant said. "Some guys make the right decisions, some guys make the wrong decisions. When you make a wrong decision, it's your choice if you want to learn from it or not."
Bryant believes that he's learned from his bad decisions. He's optimistic that the same will be true for Blackmon.
February, 7, 2012
2/07/12
11:00
PM ET
This is the third in a 12-part series on the Cowboys roster.
[+] Enlarge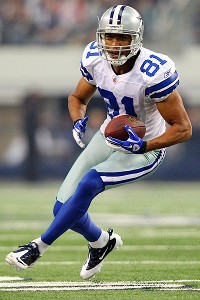 Tim Heitman/US PresswireThe Cowboys' biggest offseason decision regarding the receiving corps will be whether to re-sign Laurent Robinson.
Players:
Miles Austin
(signed through 2016),
Dez Bryant
(signed through 2014),
Laurent Robinson
(unrestricted free agent),
Kevin Ogletree
(restricted free agent),
Dwayne Harris
(signed through 2014),
Andre Holmes
(signed through 2013),
Raymond Radway
(signed through 2013), Teddy Williams (reserves/future contract)
Top free agents:
Wes Welker
,
New England Patriots
;
Marques Colston
,
New Orleans Saints
;
DeSean Jackson
,
Philadelphia Eagles
;
Vincent Jackson
,
San Diego Chargers
;
Dwayne Bowe
,
Kansas City Chiefs
.
Top draft prospects:
Justin Blackmon, Oklahoma State; Michael Floyd, Notre Dame; Kendall Wright, Baylor; Alshon Jeffrey, South Carolina; Mohamed Sanu, Rutgers.
2011 review:
Robinson, who was signed in early September after being cut by the Chargers, ended up being the Cowboys' most effective receiver. It took an injury to Austin and ineffectiveness by Ogletree for Robinson to get a significant role, but he led the Cowboys with 11 touchdown catches and was second among the team's wideouts in catches (54) and receiving yards (858). Bryant didn't have a 100-yard game all season, but he made significant progress, finishing his second year with 63 catches for 928 yards and nine touchdowns. Austin was a disappointment in the second year of a $54 million contract. He missed six games due to two hamstring strains, finishing the season with only 43 catches for 579 yards and seven touchdowns.
Offseason preview:
The Cowboys' biggest decision regarding the receiving corps will be whether to re-sign Robinson. He's made it clear that he wants to return to Valley Ranch and has indicated that the Cowboys wouldn't necessarily have to be the top bidders to keep him. What the Cowboys would be willing to pay for a No. 3 receiver who has proven he can be a quality fill-in starter isn't clear. If the Cowboys don't re-sign Robinson, they'll need to find another third receiver, whether it's in the draft or another free-agency bargain.
Bryan Broaddus' Scout's Eye:
The Cowboys will be set at starters with Austin and Bryant. The biggest question will be if the club makes the effort to try and re-sign Robinson or if it allows him to leave via free agency. I would not be surprised if the front office allows Robinson to walk. If that is the case, then his numbers will need to be replaced. Let's be honest, Ogletree can't do the job as the third receiver. Ogletree has been given every opportunity to step up and take that job, but he can't do it. If not Robinson or Ogletree, there is Holley, Harris, Radway and Holmes. Holley had some productive snaps but mainly on special teams. Harris was off and on the practice squad. Radway is an interesting player because if he didn't get injured on the last play of the preseason game against the Dolphins, there was a great chance he was going to make the roster. The plan will be to try and find another Robinson in free agency with the available receivers. I don't see them using a high pick on a receiver but taking the approach of looking at a height-weight-speed player later.
Need meter (0-5):
2