Dallas Cowboys:

Kareem Moore
December, 15, 2011
12/15/11
9:11
PM ET
IRVING, Texas -- The Cowboys had a busy Thursday, working out 17 players after practice, including tight end Harry Flaherty, the nephew of head coach Jason Garrett, passing game coordinator/tight ends coach John Garrett and assistant director of pro scouting Judd Garrett.
Flaherty went to training camp with New Orleans and can also be a long snapper.
The workouts were in part designed to scout players to sign to "futures" contracts for 2012 once the season ends, but several players have NFL experience.
Cornerback Phillips Adams recorded an interception in New England this year, where he was a teammate of tight end
Rob Gronkowski
, whose brother Chris played fullback for the Cowboys last year. Defensive end
Baraka Atkins
played for Seattle, San Francisco, Denver and Pittsburgh and has two sacks to his credit.
Safety
Kareem Moore
was cut this year by Washington after the Redskins decided not to activate him off the physically unable to perform list. He was with the Redskins from 2008-10. Defensive back
Kevin Payne
intercepted four passes for Chicago in 2008 and has played for St. Louis and Carolina. Wide receiver Dominique Ziegler, a Baylor-ex, played two years in San Francisco before injuring his knee last year.
The other players to workout were: QB McLeod Bethel-Thompson, WR Rod Harper, G Cord Howard, NT
Travis Ivey
, RB Jeff Link, WR ZaVious Robbins, LB Brashton Satele, DT Adrian Taylor, RB Rendrick Taylor and CB Donovan Warren.
September, 9, 2010
9/09/10
11:45
PM ET
By
Bryan Broaddus
| ESPNDallas.com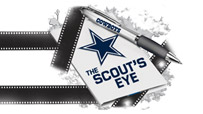 Sunday's has the makings of a difficult game for the Cowboys on several levels. It's a division opponent, it's on the road, and the Redskins have a new coach, which means new systems on offense and defense.
Coach Mike Shanahan has had a great deal of success in his NFL coaching career running a zone-blocking scheme with a mobile quarterback. Wade Phillips and the Cowboys staff have had to resort to other means to try and figure out what Shanahan might use in his game plan.
Dallas worked against Shanahan and the Broncos two seasons ago in practice and played a preseason game as well. The Cowboys can draw from that experience but also from the four games the Redskins played this preseason against the Bills, Ravens, Jets and Cardinals.
In studying those games, Shanahan has the offense working in that zone-blocking scheme. Rookie left tackle
Trent Williams
is a nice fit in this offense. He is mobile, plus he is able to play with a form of power. He shows the ability to play on his feet. You rarely see him on the ground.
A nice matchup to watch was when Williams went against
Terrell Suggs
of the Ravens. Suggs is a pass rusher similar to what he will face with
DeMarcus Ware
and
Anthony Spencer
. Suggs is an explosive player off the edge. Where he was able to take advantage of Williams was down inside on the rush.
The Redskins will put tight ends in the backfield to help with protection. Cooley and Davis did help in the preseason, but it wasn't always to Williams' side. Look for Ware to throw a wide variety of moves at Williams early in the game to gauge where he is.
Donovan McNabb
told the media Wednesday that his ankle was fine and he was ready for the start against the Cowboys. McNabb hurt the ankle in the preseason, and there was talk that he might miss the game, which you knew wasn't going to happen. Where McNabb is good in this offense is his ability to be a deceptive ballhandler, use his feet and deliver the ball on the move.
A large part of this offense is the use of the quarterback on boots and waggles. The Redskins want to pound the ball on the stretch play, then spin the quarterback away from the flow to work the ball to Cooley or Davis on the delay or Santana Moss down the field.
What the Redskins showed in their preseason games were routes down the field. Galloway and Moss both have speed and will stretch the field on vertical routes. Moss is dangerous is when he lines up in the slot and has the opportunity to run deep or crossing routes. He puts a great deal of pressure on the defense when he is allowed to do this because he is not afraid to take his route anywhere, plus he has the speed to create separation.
Cooley causes problems because of his ability to line up anywhere in the formation and complete routes. He has consistent hands and is a dependable player on third downs, much like a
Jason Witten
is for the Cowboys.
If the Cowboys are going to have success on defense Sunday night, it will have to be controlling the Redskins running game and not allowing McNabb to be effective in the play-action game.
*Throughout his NFL career as a head coach, Shanahan's teams have been of the 4-3 defensive type of scheme. In Shanahan's return to football -- after sitting out the 2009 season -- he is now working with a 3-4 look.
When asked about the switch, Shanahan said that in the 3-4, you can cause the offense more problems.
The scheme change presents challenges for the personnel staff. Do you have enough linebackers? Who is your nose man? The Redskins had a solid 4-3 group last season but now must move players around to handle the change.
Throughout his career,
Andre Carter
played as a wide 9 technique, with his hand on the ground rushing the passer. Now he is moved to outside linebacker, playing over the tight end and dropping in coverage.
Linebacker
London Fletcher
played with two big inside players at tackle to protect him. He now only has a nose man to do that.
Where this game can be won or lost is if the Cowboys do a poor job of handling the linebackers for the Redskins.
Brian Orakpo
, Carter and Fletcher can all make plays.
Across the defensive front,
Adam Carriker
, Ma'ake Kemoeatu,
Kedric Golston
are not dynamic players.
Albert Haynesworth
is the best player in this group but has struggled with his conditioning this preseason and at this time is not a starter. Haynesworth has played both nose and end in the preseason and did a much better job in the Jets game then he did in the others.
Where the Cowboys need to worry is if Haynesworth becomes motivated and decides he wants to be a dominant player.
The Redskins like to move Orakpo around in passing situations. There were times this preseason where he and Carter were rushing from the same side or Orakpo was coming from the inside linebacker spot.
In the preseason, I thought that cornerback
Carlos Rogers
has played better than
DeAngelo Hall
. Hall is a veteran player that understands how to play routes, but the physical side of the game will be a struggle.
Look for the Cowboys to try and find a way to attack safeties
LaRon Landry
and
Kareem Moore
. Landry has been a liability in coverage because of his aggressive play. Landry is a hitter but will struggle in space.