Dallas Cowboys:

Kenny Britt
April, 3, 2014
Apr 3
11:05
AM ET
IRVING, Texas -- We had another spirited chat on Wednesday in which we touched on a number of subjects.
One that I will delve further into here in a bit is why the
Dallas Cowboys
didn't sign
Kenny Britt
or
Hakeem Nicks
, and why I don't believe
Chris Johnson
will be coming here.
But we also discussed:
The Cowboys approach to free agency.
The possibility of signing DeMarco Murray to an extension.
If Anthony Barr is in play at No. 16 for the Cowboys.
The future of Morris Claiborne.
If you want to look at the whole chat, you can
click here
.
But let's get back to the Britt, Nicks, Johnson talk.
Here was one question:
Eric (Long beach):
Why didn't the cowboys have interest in guys like Hakeem Nicks or Kenny Britt that signed cheap one year deals? they could have been nice to go along with dez and injury insurance
Todd Archer:
Let me turn the question around -- why would Nicks or Britt want to come here when the Cowboys are committed to
Dez Bryant
and
Terrance Williams
? They are looking for opportunity too. They felt other teams were better opportunities for them.
To build off that subject:
I think far too often we forget the other side of interest in signing with a team. A player's agent is never going to shrink the market for his client, so they would never say never when asked if their guy would be interested in playing for the Cowboys.
Since I've been covering this team, you always hear agents say, 'Player X would love to be a Cowboy.' Some of that is true. Some of that is to drive up the price. And how many times have we heard players say they grew up Cowboys' fans?
Jeremy Mincey
, the new defensive end, said the 1994 NFC Championship Game loss was to the
San Francisco 49ers
was a painful day for him.
Players want opportunities to play. Maybe Nicks and Britt could have beaten out Williams for a starting spot opposite Bryant, but there was no guarantee that was happening here. Nicks signed with the
Indianapolis Colts
and should start at least at the start of the season with
Reggie Wayne
coming back from a knee injury. Britt chose the
St. Louis Rams
in part to reunite with coach Jeff Fisher, who coaxed him into his best years.
Johnson has been a starter since he got into the league. The Cowboys have their running back in Murray. When they are at their best, they ride Murray. They don't split carries. But why would Johnson want to split carries anyway? He will get a better chance to do that somewhere else.
The Cowboys made a mistake in passing on Johnson in 2008 when they took
Felix Jones
. Some thought Johnson was too slight to excel at the position. He's not the same player he was a few years ago, but he has something left. It's just not enough for the Cowboys.
October, 12, 2010
10/12/10
8:00
AM ET
By
Bryan Broaddus
| ESPNDallas.com
The squad meeting after a loss is never easy.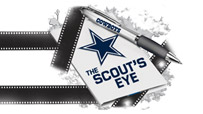 Coaches have been in early, graded the players, put their notes together and begin to prepare for how they are going to address the good and bad with their position groups in another round of film study. After a win, the mood is always better in the film room for the players. They joke, cut up and rib each other when they get knocked down or get a kill shot on an opponent, but a loss is a different story.
When the Cowboys study this tape, they are going to see poor adjustments on routes, missed blocks, and dropped passes. In other words, not much to cut up about. When you have 12 penalties, three turnovers, a missed field goal and go 2-of-4 in the red zone, you are going to struggle to win the football game.
*The Cowboys offensive line played well in the Texans game, but it was truly a struggle against the Titans.
When this club plays a defense that likes to twist, stunt and show movement, that presents the most problems. The Titans were undersized but just coming at the Cowboys throughout the game.
Leonard Davis
really struggled in this contest, but so did
Marc Colombo
and
Doug Free
.
The one that surprised me the most was Free. Through the first three games of the 2010 season, Free had been stable in his pass protection and in his run blocking. I really believed that Free would be able to hold up against the outside rushers of the Titans.
Free was beaten around the corner one time, then beaten inside another. On Tony Romo's interception that was tipped by end
Dave Ball
, Free was responsible for getting Ball on the ground, but he was unable to do it. On the play, Ball slow-played Free by not rushing quickly and hanging back, Free threw his cut block too early and Ball was able to stay on his feet and get his hands on the ball. When the pass got tipped, it allowed the corner to drive on the ball for the interception.
On the right side, Colombo struggled with
Jason Babin
. The biggest problem that Colombo has is when he gets overextended and ends up playing over the tops of his feet. Babin was able to take Colombo hard upfield to the outside for a sack. Colombo was unable to adjust to the speed and quickness of Babin. On his second sack, Babin took Colombo upfield again, then spun inside. Colombo was unable to adjust. Babin on the spin was on the same level as Romo and was able to bring him to the ground.
The bad day for Davis started on the first offensive snap. Romo tries to get the ball to
Miles Austin
but is unable to step into his throw because tackle
Jason Jones
beats Davis quickly inside. Davis struggled with his balance all the way until he was removed with two minutes left in the first half and replaced by
Montrae Holland
.
When Davis is bad, he doesn't move his feet and like Colombo he gets overextended. There was a play before he was removed that he hopped so badly inside that he ended up on one leg and Jones beat him again inside for pressure on Romo.
When Holland was put into the lineup, he did bring some stability to the position. The line protected better and they were able to move the ball in the running game.
What really was interesting was that when Davis was put back into the lineup, his play was night and day from his first half. He adjusted better and he was in better position in his run and pass blocking. He honestly didn't look like the same player.
With a trip to the Metrodome and a date with the Vikings on the horizon, the Cowboys don't need a repeat performance of what happened in the playoffs last season.
*With the score 17-17 and 2:12 left in the third quarter, the Titans have a first down on their own 20-yard line. The Titans open the drive in regular personnel. Tight end
Craig Stevens
moves from inline to behind the line, then starts back in forth in motion. The Cowboys secondary is lined up with
Terence Newman
,
Mike Jenkins
,
Alan Ball
and
Gerald Sensabaugh
four across, 9 yards from the line of scrimmage, like they were expecting something short and inside from
Vince Young
and the Titans offense.
Young takes the snap and play-action fakes to
Chris Johnson
on his left side.
Kenny Britt
is lined up wide left and runs at Ball, who has his eyes inside. Jenkins at right corner turns inside and begins to sprint deep as he sees Britt go by Ball. Ball still hasn't moved and continues to look inside. What he is looking at, I am not sure.
Keith Brooking
carries Johnson into the flat and the only threat to Ball is Britt, who just went by him.
Sensabaugh and Newman begin their pedal, finally Ball begins to move by turning inside, but Britt is 8 yards ahead of him and just inside Jenkins and able to get a little separation in the route. Young sees that there is no safety help in the middle of the field and he lets the ball fly. Britt makes an outstanding, adjusting finger tip catch at the 32-yard line with Jenkins touching him down there.
Again, what Ball was looking at during the snap and was he supposed to be helping Jenkins with deep coverage? It was one of several big plays that the Titans had down the field.
*In the fourth quarter, with the score 27-27, the Cowboys are forced to kick from their own 15-yard line after a penalty on Colombo for excessive celebration.
David Buehler
had a solid day of putting the ball deep in the end zone on kickoffs, but he was only able to get the ball to the 16-yard line.
The kick went deep right (Cowboys right) where
Marc Mariani
fielded the ball and starts to his right (Cowboys left). As Mariani starts up the field, there are eight Cowboys between the hash and the sidelines. The remaining players on the left hand side are
Kevin Ogletree
, Ball and
Jason Williams
. Williams then crosses the hash to make it nine on that side but is not aware that the ball is coming to his left.
Sam Hurd
, who is inside Williams, sees what is happening and tries to cross the face of his blocker to get into position to make the tackle but is unable to get it done Williams is now trapped inside and can't adjust. Ogletree doesn't see the ball coming his way but works further to his left and now really widens the hole between himself and Williams. Ball is caught in the middle and is being blocked well by
Nick Schommer
.
Mariani sees the hole and takes off for it. Ball is late to get off the block and tries to dive to make the play but is unable. As the ball spills outside, the kickoff team is in the trail, chase position. Buehler is able to run Mariani out of bounds but also gets a facemask penalty which takes the Titans half the distance to the goal, setting Tennessee up to score and take the lead.
The penalty on the offense put the kickoff team in a bad situation, but the execution of the coverage compounded the problem.
October, 10, 2010
10/10/10
9:55
PM ET
ARLINGTON, Texas --
Mike Jenkins
, a Pro Bowler last season, probably had the worst game of his professional career Sunday.
Jenkins committed two pass interference penalties on the opening possession of the game, accounting for 48 yards on the Titans' 80-yard touchdown drive. Jenkins got burned by
Kenny Britt
on a deep ball for a 52-yard gain, setting up a tie-breaking field goal in the third quarter.
Jenkins was credited with one pass breakup, but that's a nice way to say that he dropped what should have been an easy interception.
Britt's big play wasn't the first time Jenkins, an aggressive cornerback, got beaten deep this season. Chicago's
Johnny Knox
got behind him for a 59-yard gain to key a touchdown drive during the Bears win at Cowboys Stadium.
Jenkins at least gets credit for offering no excuses.
"I got beat deep. That's it," Jenkins said. "There's nothing else. You all saw it. There ain't no cleaning up. I've just got to make a play."
October, 10, 2010
10/10/10
7:07
PM ET
By
Matt Mosley
| ESPNDallas.com
ARLINGTON, Texas -- The
Dallas Cowboys
fought their way back into the game a couple times Sunday, but they could not overcome an enormous special teams play by the
Tennessee Titans
late in the fourth quarter. Let's break down Dallas'
34-27
defeat:


What it means:
The Cowboys are in desperation mode once again with a 1-3 record. The Redskins and Giants both pulled off upsets to improve to 3-2, so the Cowboys can no longer depend on their rivals' ineptitude. Quarterback
Tony Romo
had a huge day in the passing game, but he made a back-breaking mistake in the fourth quarter that allowed the Titans to take a 27-20 lead. This is a loss that will haunt the Cowboys the rest of the season, and they certainly earned it.
Right tackles shouldn't go to the ground during TD celebrations:
The Cowboys tied the score at 27 on a touchdown pass to
Jason Witten
in the fourth quarter. The tight end flipped the ball to right tackle
Marc Colombo
to let him spike the ball. The two of them then did a leaping chest-bump, which led to Colombo landing on his backside. According to an NFL rule, a player cannot go to the ground during a touchdown celebration. And I guess poor coordination isn't a plausible defense. The 15-yard penalty meant that kicker
David Buehler
couldn't get a touchback, which contributed to
Marc Mariani
's 73-yard return. The Titans quickly scored to make it 34-27.
Goat:
We have several candidates, but I think Cowboys cornerback
Mike Jenkins
walks away with the title. He was flagged for pass interference twice on the Titans' first possession, which resulted in a touchdown. He then gave up a 52-yard pass to
Kenny Britt
in the third quarter. This was supposed to be a Pro Bowl season for him, but he was not on his game Sunday. The Titans didn't show a lot of respect for him at all, and that was a smart move on their part.
What's next:
If the Cowboys lose in Minneapolis next Sunday, you can kiss this season goodbye. This was a crippling loss, and I'm not even sure playing in a weaker division than usual will help them in the end.