Dallas Cowboys:

Kevin Burnett
April, 15, 2014
Apr 15
2:00
PM ET
With free agency entering the final stages, we'll review the Cowboys' past five free-agency classes.
We'll continue with 2010.
Players signed:
None
Starts earned:
0
Analysis:
This was the first time the Cowboys didn't sign anybody in free agency since 2008. However, the Cowboys who lost six players the previous season in free agency, including two former draft picks (
Kevin Burnett
and
Chris Canty
), allowed safety Ken Hamlin and guard Cory Procter to leave. The Cowboys maintained the playing status of Keith Brooking (16 starts), Igor Olshansky (14 games) and Gerald Sensabaugh (15 games) from the previous free agency class. What is interesting about this class was the draft. The Cowboys snagged future starter
Sean Lee
in the second round and a quality backup defensive lineman in
Sean Lissemore
in the seventh round. The Cowboys also used their supplemental draft pick on defensive end Josh Brent. Dallas finished this season at 6-10 and coach Wade Phillips was fired after a 45-7 loss at Green Bay. Jason Garrett took over and the Cowboys had a strong finish, 5-3. It's the only time Garrett ended a season above .500 mark.
Grade:
Incomplete
November, 27, 2013
11/27/13
7:00
PM ET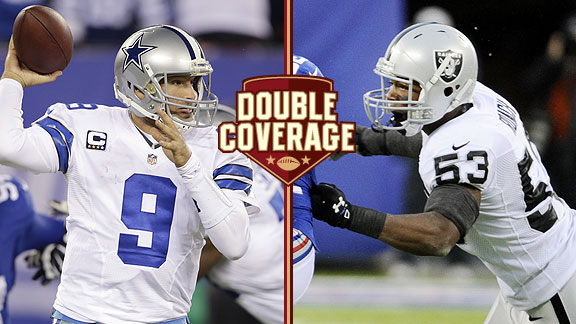 AP PhotoTony Romo's Cowboys host Nick Roach and the Raiders in a Thanksgiving Day duel.
IRVING, Texas -- For the second time in five years, the
Dallas Cowboys
and
Oakland Raiders
meet on Thanksgiving at AT&T Stadium.
The Cowboys won the 2009 matchup 24-7 with
Tony Romo
throwing for 309 yards and two touchdowns and
Miles Austin
catching seven passes for 145 yards. Since that game Austin has had more yards in a game just twice.
ESPN.com's Raiders reporter Paul Gutierrez and Cowboys reporter Todd Archer bring you this week's holiday version of Double Coverage.
Todd Archer:
The Cowboys are bad in most areas defensively, but they have given up 200 yards rushing in three games this season. The Raiders' strength, from afar, seems to be their running game. What makes it so good and how has it differed with
Terrelle Pryor
out?
Paul Gutierrez:
Hey, Todd, it's not just Pryor being out, but also
Darren McFadden
, who has missed three straight games and four overall with a strained right hamstring. He said Monday night he hopes to play after practicing (limited) for the first time since Nov. 1. The run game, though, has not missed a beat with underrated
Rashad Jennings
picking up the slack. In the past four games, he has run for 413 yards while averaging 5.7 yards per carry. In fact, the running game has been so surprisingly solid without McFadden and Pryor that the play-action pass game has picked up with undrafted rookie
Matt McGloin
under center.
Speaking of passing games ... no doubt Tony Romo can rack up stats, but has he decided to assume more of a leadership role yet as the QB of America's Team, or is that just not in his makeup?
Archer:
He has developed over the years as a leader, but there's no question that this has been "his" team the past three seasons. He is the veteran. He is the guy the Cowboys look to. The guys on this team now don't know of the Romo who burst on the scene in 2006 or had to deal with the
Terrell Owens
stuff. He's the guy who led the lockout practices and has been the big voice in the room. This year he has been given the added responsibility of being more involved in the game plan. The Cowboys' past two wins have come on last-minute drives led by Romo to beat Minnesota and the
New York Giants
. I don't think there's anybody questioning his leadership anymore. And if they did, well, the $106 million extension Jerry Jones gave him in the offseason should be more than enough proof to those guys that this is Romo's team.
Let's stick with the quarterback theme. Before the Cowboys lucked into Romo, they ran through a ton of guys after
Troy Aikman
's departure. Is there any reason to believe McGloin or Pryor can be a solution or do the Raiders need to go after one of these guys in next April's draft?
Gutierrez:
Well, the way I put it earlier in the season, before Pryor hit his purported ceiling and sprained his right knee, robbing him of his greatest strength (running) while accentuating his biggest weakness (passing), if Pryor was not the Raiders' Mr. Right, he was their Mr. Right Now. McGloin is a pure quarterback, a pocket passer whom Dennis Allen prefers for what he wants to accomplish offensively. It's hard to give Allen and GM Reggie McKenzie much credit for their evaluation of QBs, though, what with their misses on
Matt Flynn
and
Tyler Wilson
, not caring much for Pryor early on and then, similar to the Cowboys with Romo, stumbling upon McGloin. But it's hard to see them going all in with the undrafted rookie from Penn State, too. At least hard at the moment. Unless McGloin continues to improve and wins a few games, it would behoove the Raiders to draft another QB if they see one as a can't-miss prospect. I know, I know, they really wanted USC's
Matt Barkley
but Philadelphia traded in front of them so they traded back and selected Wilson. Oops. There is no doubt, though, that this Raiders regime prefers McGloin as a prototypical QB over the more electric Pryor.
No matter who is under center for Oakland, though, the Raiders' QB is going to have to keep an eye on
DeMarcus Ware
. Is he rounding back into shape as a dominant pass-rusher, or is he more decoy as he rehabs from his quad strain?
Archer:
I think he's still feeling his way through it. The fact that he made it through the Giants game healthy was a plus. He has been dinged up in just about every game with stinger and back strains earlier in the season before the quadriceps injury. We'll see how he fares on a short week, but the defense is a lot better with even the threat of Ware on the field.
Jason Hatcher
had two sacks against the Giants at least in part because of the attention Ware received. Ware has talked about wanting to make up for lost time. He has five sacks so far, his fewest this late in a season since his rookie year in 2005. Thursday would be a good time to look like the DeMarcus Ware of old.
This game is a homecoming of sorts for guys like
Mike Jenkins
,
Andre Gurode
,
Kevin Burnett
and Tony Sparano, but it's a real homecoming for Dennis Allen. How is he perceived in Oakland and will McKenzie be more patient with him than, say, Al Davis would have been?
Gutierrez:
The jury, so to speak, is still out on Allen in the streets of Silver and Blackdom. Of course, when the Raiders win a game, he's the man. When he loses, the fans turn on him and start pining for Jon Gruden ... again. But isn't that the nature of the beast? Even Allen himself said this was a results-oriented business. Of course, he was referring to the quarterback position at the time, but it still applies. Make no mistake about it, Allen is McKenzie's "guy" and he's going to roll with him and have patience with him. The plan coming in was to give Allen at least three years to right this ship and really, the only thing that could damage Allen's chances of lasting another year would be if the team quit on him, like it did last November before playing hard again at the end. Then again, it might not be McKenzie's choice. Owner Mark Davis is a more patient owner than his father and wants McKenzie to handle all football-related decisions. But a year after stating he was fine with just about anything but regression, Davis wants progress. Stagnancy won't cut it, either. So, stay tuned.
Sticking with the coaching theme, is Jason Garrett in Jerry World for the long haul, or was Jerry Jones' support merely the dreaded vote of confidence?
Archer:
Jerry has publicly backed Garrett, but he's also been a guy who's said, "Just because I say something, doesn't mean it's true." I do know this: He wants Garrett to be the guy. He desperately wants it to work. I really believe that. He believes in Garrett's approach and how he builds a team. Garrett will provide some blow-back to Jerry but not as much as, say, a Bill Parcells. Garrett knows what makes Jerry work and knows how to work around it to a degree or push Jerry in a certain direction. Honestly, Cowboys fans should want the Garrett deal to work out because it might be the best combination to mitigate the bad parts of Jerry and keep the good parts of Jerry.
October, 4, 2013
10/04/13
2:40
PM ET
IRVING, Texas -- The last time
Tony Romo
went against an undefeated
Peyton Manning
-led team he had only three starts under his belt as the
Dallas Cowboys
' quarterback.
On Thursday Romo was asked what he remembered about the week leading into the game against the 9-0
Indianapolis Colts
.
"Well, Bill (said to) me on Monday, 'I'm going to turn this game over to you,' and I said, 'Let's go,'" Romo said. "… And we ran it 36 times."
[+] Enlarge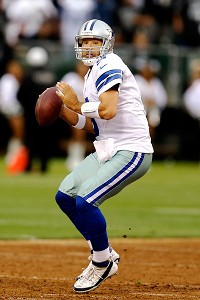 AP Photo/Ben MargotTony Romo has some experience leading the Cowboys to victory against unbeaten teams.
Bill would be Bill Parcells, and the Cowboys' coach was not ready to hand the game over to Romo, but the quarterback did complete 19 of 23 passes for 226 yards. He did not throw a touchdown pass, but he did complete 10 of his final 11 passes for 130 yards to deliver a 21-14 win at Texas Stadium, ending the Colts' perfect season.
Manning brings an undefeated
Denver Broncos
to AT&T Stadium. Romo will be making the 98th regular-season start of his career.
This will be Romo's fifth start against teams that have started at least 4-0. He beat Manning's Colts, lost to Tom Brady's 5-0
New England Patriots
in 2007, beat Drew Brees' 13-0
New Orleans Saints
in 2009, and lost to Matt Ryan's 7-0
Atlanta Falcons
last year.
"I think what you do is, you do what needs to be done throughout most of the football game, and as the game gets to a certain point in the game and the score dictates what you need to do to help your football team win," Romo said. "Before then, I just think as a quarterback you need to do what gives you the best chance to be successful on that play. If that's a deep ball, if that's a dump off, that's a handoff, whatever it might entail that gives your team the best chance to move the ball, that's what you need to do."
The Cowboys beat the Colts by holding the ball for 33 minutes, 42 seconds, and running the ball 36 times for 117 yards. On the second play of the game the defense recovered a fumble. On the fifth play,
DeMarcus Ware
sacked Manning. On the 11th play
Jay Ratliff
had a sack-fumble. Roy Williams had an interception near the Dallas goal line, and
Kevin Burnett
returned an interception for a touchdown.
Against the Patriots, the Cowboys were matching Brady, and the defense scored a touchdown on a
Jason Hatcher
fumble recovery. Trailing 31-24 early in the fourth quarter a fourth-and-1 conversion was overturned by a holding penalty, forcing a punt. Five plays later, Brady threw a 69-yard touchdown pass and the Patriots went on to win 48-27.
Against the Saints the Cowboys scored touchdowns on their first two drives and took a 24-3 lead on the opening drive of the second half.
Mike Jenkins
intercepted Brees near the Cowboys' goal line, and Ware, who was not supposed to play because of a neck injury, had two sacks of Brees and three hurries.
The Cowboys won 24-17, rushing 36 times for 145 yards and converting on eight of 15 third-down opportunities.
Last year at Atlanta, the Cowboys sputtered on their first two possessions inside the red zone and had to settle for two
Dan Bailey
field goals for a 6-0 lead. The Falcons took a 16-6 lead late in the fourth quarter, but Romo connected with
Kevin Ogletree
for a touchdown with 5:21 to play to cut the deficit to three points. The defense, however, could not get off the field on the ensuing drive (three third-down conversions) and Atlanta ate up all but 17 seconds on the clock.
"Teams get to 9, 10-0, 12-0 or whatever it might be, and they've obviously done a lot of good things right and Denver hasn't really played in a football game yet," Romo said. "It's a testament to their players. They're playing at a very high level. They deserve everything they've gotten. To beat a football team like this you have to play at a very high level, and you have to do a lot of things right. Saying that, there's a certain recipe and certain way to go about the process, and we're trying to do that."
March, 13, 2013
3/13/13
10:00
AM ET
The first day of free agency is over and things will probably slow down a little on Day 2. With that, we review what we heard, saw and talked about Tuesday night and preview what could happen down the line.
PODCAST
Randy Galloway and Matt Mosley discuss the latest free-agency moves going on around the NFL.

Listen

The loss of John Phillips:
The Cowboys lost their backup tight end to the
San Diego Chargers
on Tuesday. Phillips was part of that
dreadful 2009 class
that produced very little for the Cowboys. Only free agent linebacker
Victor Butler
remains, and he's drawn interest from the
New York Jets
. Losing Phillips isn't a big deal because
James Hanna
has more upside as a solid pass-catching tight end. The Cowboys are in need of a blocking tight end, and this is where drafting someone in the late rounds could be important.
Chase Blackburn vs. Kevin Burnett:
The Cowboys released backup inside linebacker
Dan Connor
because he refused to take a pay cut. The Cowboys are in
the market
for another one and like middle linebacker Blackburn, who started 15 games last season for the
New York Giants
at middle linebacker. He finished second on the Giants with 97 tackles and had eight tackles for loss and seven quarterback hits. He also had three sacks and six pass breakups. If signed, Blackburn, an eight-year pro, would be a nice backup for
Sean Lee
at the inside linebacker spot. But what about Burnett? The former Cowboys linebacker was released by the
Miami Dolphins
on Tuesday and might be a nice pickup to start at that vacant outside linebacker position. Burnett, who started 16 games for the Dolphins last season at one of the outside linebacker positions in the Dolphins' 3-4 scheme, would like a return to Dallas. He was credited with 109 total tackles (second on the team), picked up 2 1/2 sacks, five tackles for loss and five quarterback hits. Who would you rather have, Blackburn or Burnett?
Martellus Bennett goes to Chicago:
The tight end signed a four-year, $20 million deal with the
Chicago Bears
. He's come a long way since his days in Dallas, when he fumed at times for not getting enough passes thrown his way. Bennett had an excellent season for the Giants and, while they wanted him to return, the Bears had a need at the position. One of the biggest problems with Bennett in Dallas was his lack of maturity and the Cowboys' inability to know how to use him. Bennett's career is summed up this way in Dallas: He caught four touchdown passes his rookie season (2008) and none the next three seasons. He caught five TD passes during his one year with the Giants. He's a good blocking tight end, something the Cowboys need, and he's athletic enough to make plays on the field. We'll see how Bennett does with
Jay Cutler
.
Jenkins and Jones drawing interest:
Free agent cornerback
Mike Jenkins
and running back
Felix Jones
didn't have any visits the first day of free agency. But with the biggest day of this period over with, both are starting to draw interest. The former first-round picks, especially Jones, need to prove to NFL teams that they can stay healthy for an entire season and are willing to accept backup roles. It will be interesting to see if Jenkins, a former Pro Bowler, gets a two- or three-year contract to become a starter or maybe gets his role changed to possibly get snaps at safety, where he played some in 2012.
The good news:
The Cowboys couldn't participate Tuesday because they have just $175,000 in cap space.
Anthony Spencer
signed his franchise tender, and the team can continue having talks with their defensive end about a long-term deal. Also, if the team can finalize a new long-term deal with
Tony Romo
, it'll lower his salary cap number from $16.8 million and open the door for the Cowboys to sign some second-tier free agents.
August, 29, 2012
8/29/12
8:00
AM ET
It's finally coming to an end.
The
Miami Dolphins
visit the
Dallas Cowboys
at Cowboys Stadium on Wednesday to close the preseason.
Here's a preview.
Stephen McGee vs. Rudy Carpenter:
The Cowboys are thinking about going with two quarterbacks.
Tony Romo
and
Kyle Orton
have guaranteed roster spots. After that, McGee, the third quarterback since 2009, and Carpenter, who is trying to make the active roster, will get a shot Wednesday night.
McGee has been inconsistent
this summer in camp practices and in three preseason games. Carpenter has led the third unit on a touchdown drive. McGee is the better talent, but roster issues could force the Cowboys to go with just two quarterbacks, unless someone emerges.
Claiborne and Spears should play:
First-round pick
Morris Claiborne
and veteran defensive end
Marcus Spears
should play a little on Wednesday. Here's why. Claiborne, who missed the first preseason game with a knee sprain, needs to get more snaps before getting ready for the
New York Giants
on opening night. Spears is getting snaps with the second team and will most likely get a few snaps just to either keep him sharp or see if the Cowboys still want him on the team.
What's uncertain?:
The third quarterback for one thing. And in reality, it doesn't matter who the No. 3 receiver is.
Kevin Ogletree
,
Dwayne Harris
and
Cole Beasley
will make the team, but who gets the sixth receiver spot is the question.
Andre Holmes
?
Danny Coale
?
Tim Benford
? The swing tackle is
Jermey Parnell
, but who out of
Pat McQuistan
,
Daniel Loper
,
Derrick Dockery
and
Ronald Leary
make the team?
Orie Lemon
,
Shaun Chapas
,
Jamize Olawale
,
Adrian Hamilton
,
Lance Dunbar
and
Akwasi Owusu-Ansah
are competing for a some of the final three or four roster spots.
The series with the Dolphins:
The Cowboys lead the preseason series 4-2 and lost the last meeting 17-3 in South Florida. In that game, Sept. 1, 2011, receiver Raymond Radway fractured his leg on a pass in the end zone at the end of the game. Radway missed the regular season. He was cut this week by the Cowboys.
Connections:
Dolphins general manager Jeff Ireland was a former executive with the Cowboys, and Brian Gaine, the Dolphins' assistant general manager, worked in the personnel department with the Cowboys. At one point the Dolphins had many former Cowboys. Now, there are only a few. Linebacker
Kevin Burnett
, for one, plays for the Fins.
Parking, parking, parking:
For the second consecutive time, the Cowboys and Texas Rangers are playing at nearly the same time. Rangers first pitch is around 6:05 p.m. CT. Kickoff is scheduled for around 7:30 p.m. CT. Cowboys Stadium parking lots open at 2:30 p.m. East Plaza is open at 3:30 p.m. and stadium gates to all plazas open at 5:30 p.m. Fans who have pre-purchased parking in the Ranger Lots A-B and M will have their passes honored. Stadium officials ask fans to get their early due to the Rangers game.
By the way:
Regular season starters like Tony Romo,
DeMarco Murray
,
Brandon Carr
and
Sean Lee
won't play. Just telling you.
April, 28, 2012
4/28/12
12:41
PM ET
IRVING, Texas -- The last time Dallas picked three defensive players with its first three picks of the NFL draft was 2005.
Dallas selected cornerback
Morris Claiborne
(first round),
Tyrone Crawford
(third round) and
Kyle Wilber
(fourth round) with its first three picks this year.
Back in 2005,
DeMarcus Ware
(first),
Marcus Spears
(first) and
Kevin Burnett
(second) were the first three picks for then-coach Bill Parcells.
Ware and Spears are still with the team while Burnett played with the
Miami Dolphins
last season. Ware is considered one of the best pass rushers in the game, as evident by his 99.5 career sacks and six consecutive Pro Bowl selections.
Spears has been a solid performer for the Cowboys at defensive end. Burnett left the team in free agency following the 2008 season after spending four seasons as a backup linebacker.
January, 18, 2012
1/18/12
11:34
AM ET
By
Bryan Broaddus
| ESPNDallas.com
This is the third installment of Fixing the Cowboys:
When the final whistle blew on that chilly night at MetLife Stadium, the season ended for the
Dallas Cowboys
. The hope of a division title died with a roster that wasn't good enough to compete with the Giants for the second time in four weeks. If Jerry Jones and Jason Garrett are honest with themselves, they will look at this roster and say that it's just not good enough to compete with the Giants and the Eagles. We can talk about the Super Bowl all we want, but if you are not playing well in your division, there are going to be problems.

When I worked for the Cowboys, the biggest issues I had during our final meeting of the season was that we were not honest with the makeup of our squad. When you go 5-11 for three straight seasons and the coaches talk about the players like we were 11-5, there are going to be problems. Garrett and these coaches can't keep Jerry from believing his roster is better than it really is. I'm not going to say that there isn't talent on this team, but I will say there were players on this roster that Jones and Garrett were counting on that just weren't good enough.
Here is what I would try and do to help it:
1. As much as I want to overhaul this secondary, I am going to try and fix the left cornerback spot first.
Terence Newman
needs to be replaced immediately. His level of play has clearly slipped and he no longer plays with any confidence. When a corner lacks confidence you might as well be playing with a speed bump out there. There are two ways that Jones can attack this area. The first is to trust his pro scouting staff, which brought him
Laurent Robinson
and
Tony Fiammetta
. The big name corners on the market this spring will be
Cortland Finnegan
of the Titans and
Brent Grimes
of the Falcons. Both of these players are similar in age and will command top dollar. If I had to lean one way, I would probably go toward Finnegan because of his aggressive style and the nastiness in his play, which this team lacks. If there might be a hitch, it'd be that Jones and Garrett would like to have a corner with more size -- Finnegan and Grimes are both in the 5-9, 185-pound range.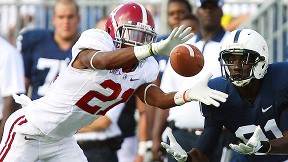 Matthew O'Haren/Icon SMIThere's no doubt that Alabama's Dre Kirkpatrick could instantly help the Cowboys' secondary, but can the team look past his recent arrest for marijuana possession?
The second way this area could be addressed is through the draft, which can either be feast or famine. Sitting in the 14th spot, Jones is still in decent shape because you usually have between 15 to 18 players that have first-round grades on your board. The second-best corner on the board will be
Dre Kirkpatrick
from Alabama. There is no questioning Kirkpatrick's ability or size (6-2, 192 pounds), but now character issues have been raised -- he was charged with possession of marijuana Tuesday and was released after paying a $120 fine.
When I worked for Bill Parcells, he put players with character flaws into "The Box" -- an area where you put players that you did not want to draft, period. I guarantee there will be teams that will take Kirkpatrick off their boards and into "The Box." The question for the Cowboys: Will Kirkpatrick be able to explain what happened, and will other examples of questionable behavior be uncovered? I would still consider Kirkpatrick an option for the Cowboys, but he really has to convince me that it'd be in my best interest to select him. I promise the Cowboys will turn over every rock to get to the bottom of this. He's that good of a player.
2. As much as I want to fix the interior of this offensive line with the addition of a free-agent guard like the Saints'
Carl Nicks
, I have to think about the amount of funds I wound have to allow for this to work. Don't get me wrong, it'd be money well spent, but there's also an opportunity to select the best guard in the draft -- Stanford's
David DeCastro
.
Jones and Garrett have to ask themselves if finding a replacement for OLB
Anthony Spencer
is more important than filling a position where you seem to have better options. Does
Kyle Kosier
,
Montrae Holland
,
Derrick Dockery
,
Kevin Kowalski
,
Bill Nagy
and
David Arkin
make you feel comfortable enough with the guard spot as is, whereas you just have
Victor Butler
and
Alex Albright
at outside linebacker? There is no doubt the Cowboys lacked a pass rusher that could help
DeMarcus Ware
on the other side. The Cowboys like Butler -- and he very well could be the starter going into 2012 -- but why not use the 14th pick to upgrade that spot with Alabama's
Courtney Upshaw
or South Carolina's
Melvin Ingram
? The Cowboys must do a better job of pressuring the quarterback because Ware can't do it alone. I have been critical of Ware, but a player on the other side could take pressure off him
and
help this defense tremendously.
[+] Enlarge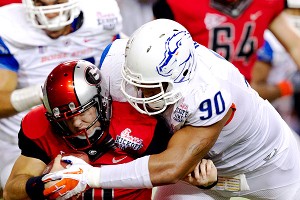 Bob Kupbens/Icon SMIBoise State's Billy Winn could be an interesting draft choice for the Cowboys as his physical presence could help them at the defensive end spot.
3. Sticking with the defense, I'm also taking a hard look at three spots -- defensive end, inside linebacker and safety. At defensive end, I'd move on from
Kenyon Coleman
, who wasn't nearly as good at the end of the season as he was at the beginning. I like
Jason Hatcher
, and I also think there is a role for
Marcus Spears
.
Sean Lissemore
proved to be a nice swing guy, but he looked better at nose tackle, so I'm tempted to keep him there. The scouts have hope for
Clifton Geathers
, but I don't share that. I would look to draft a productive player like Boise State's
Billy Winn
, who played tackle but should be suited more for play on the outside.
4. I'm also looking for help at inside linebacker, because there's really no depth. It's time to move on from
Bradie James
and
Keith Brooking
.
Bruce Carter
will be ready to play in 2012 and will be productive playing next to
Sean Lee
. However, behind those two, there's nothing. I'd try to add player in the fourth round that could be a quality backup but also help in the nickel, like
Kevin Burnett
did several years ago. Texas'
Emmanuel Acho
could be an interesting choice. Acho has a nose for the ball and is super active.
5. At safety, I'm moving on from
Abram Elam
because I need someone with more range. I have too many safeties on this roster that are forward players, such as
Barry Church
and
Danny McCray
. This defense needs someone that gets their hands on the ball and can help off the hash or middle of the field. I don't need safeties that can't adjust to
Victor Cruz
going down the field or
Riley Cooper
catching a jump ball from
Michael Vick
. If the Cowboys have a safety with range, it would be a step in the right direction in helping this secondary.
For all the problems that Garrett has had with game management, I feel he's got a good eye for talent and understands how you go about gathering players. Despite what people want to believe, the head coach does have a great deal of say in what players are signed and drafted. Bill Parcells took advantage of this; Dave Campo didn't. Chan Gailey convinced Jones that he wanted nothing to do with
Randy Moss
. Jason Garrett went to USC last season to see
Tyron Smith
work out and talk with members of the staff to get a feel for him.
You might not want to trust Jerry Jones, but you should trust Jason Garrett. I think he gets it.
November, 23, 2011
11/23/11
2:56
PM ET
By
Bryan Broaddus
| ESPNDallas.com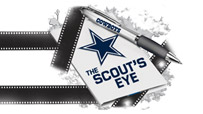 In the NFL, short weeks of game preparation are never easy. It's even more difficult having to play a physical divisional game on the road before an opponent that you see once every four years.
There will be nothing easy about this game against the Dolphins. It's a team that has quality players on both sides of the ball. We should not be fooled by the Dolphins' 3-7 record, because in the games I have studied, this could have very well been a team on a five-game winning streak going into this game.
The Dolphins will give the Cowboys trouble in this game in two areas offensively, wide receiver and running back.
Be wary of Dolphins' Marshall, Bess, Bush, Clay
Wide receiver
Brandon Marshall
can be a physical beast when it comes to having to defend him up the field. He is not afraid of using his body to create separation with the defensive backs. Have seen Marshall get into his route, then take both of his hands and push the defensive back away. Marshall will use his body on the slant to protect the ball.
Matt Moore
likes to try and get him the ball on the move whether that's up the field or on the quick screen. Hard man to bring down when on the move with the ball in his hands. Primary target in the red zone on jump balls or back-shoulder throws.
Terence Newman
and
Orlando Scandrick
will have to be ready for an all-day physical game with Marshall on the outside.
Davone Bess
will play the slot with quickness and the ability to adjust to the ball wherever it is thrown. Bess will need to be watched on third downs because he has a real feel for how to work inside routes and take advantage of coverage that might not be tight.
Running back
Reggie Bush
has proven that he can handle the workload as an every-down back. Bush makes this play-action game go for the Dolphins. Like the way that offensive coordinator Brian Daboll has taken advantage of his skill set with screens and plays on the edge in the passing game.
Bush can run the ball between the tackles, but he is most dangerous when he gets in space. The Cowboys defense has to be careful to not allow Bush to make to loose plays in space. Tackling on Bush will be key this week.
There is one other weapon I want to bring your attention to: fullback
Charles Clay
. We all understand now how important
Tony Fiammetta
is to the Cowboys running the ball. Clay is the same type of player, but he can really hurt you with his ability to get down the field and catch the ball. Clay is a converted tight end that is very athletic. He is a lot like Bess in that you don't cover him, he will make a big play down the field.
Cowboys should target riight side of Dolphins O-line
On the offensive line, the Dolphins have some nice pieces in left tackle
Jake Long
and center
Mike Pouncey
. The weakness of this line is on the right side with tackle
Marc Colombo
and guard
Vernon Carey
. I fully expect Rob Ryan to try and put as much pressure on these two with anything scheme-wise that makes them have to move and adjust. Neither Colombo or Carey move that well, and the more you make them have to do that, the better the chance for successful pressure.
Don't sleep on Dolphins' defensive front, linebackers
I really came away impressed with what the Dolphins' defense is doing scheme-wise and how physical the overall unit plays.
It really starts up front with guys like ends
Randy Starks
and
Jared Odrick
. These are powerful players and they are always working their way up the field, not only defeating single blocks. but handling double teams as well. Nose man
Paul Soliai
is difficult to move, much like what the Cowboys faced with the Jets and 49ers.
But the real strength of this defense is in its linebackers.
Koa Misi
, Carlos Dansby,
Kevin Burnett
and
Cameron Wake
are all outstanding. Misi and Wake are true pressure players. Misi is better against the run, but Wake will be a handful because of his ability to explode off the edge. Misi can get the edge too, but he will fight you more on the rush. Wake will slap, rip all while working his way up the field.
Wake will make
Doug Free
and
Tyron Smith
have to adjust on the move and reset their hands several times. They will need to find a way to anchor down on him.
On the inside, Dansby and Burnett will make plays in the running game. Last week against the Redskins, the Cowboys didn't do a good enough job of handling the linebackers on the second level. If the line has the same kind of problems this week, running the ball will be difficult again.
The Dolphins linebackers run to the ball and they are sure tacklers. If the Cowboys struggle running the ball it will be because these linebackers are going unblocked.
In the games that I was able to study, the Dolphins' front seven make their secondary better. Pressure has really helped this group make plays like they did last week against the Bills.
Safety
Yeremiah Bell
is a hitter. Cornerback
Will Allen
throws his body around. Cornerback
Sean Smith
is a much better cover man than tackler, and corner
Nolan Carroll
will force the run. There will be plays to be made against this secondary if -- and only if -- the Cowboys protection can hold up again Wake, Misi and the veteran
Jason Taylor
.
It's a defense that has found its way since the loss to the Giants and coming off a short week will be a difficult test for the Cowboys.
June, 28, 2011
6/28/11
9:08
AM ET
PODCAST
Warren Sapp shares his thoughts on Raiders free safety Michael Huff and new Cowboys defensive coordinator Rob Ryan.

Listen

Our free agent series continue with a look at
Michael Huff
. He's a popular name in the Dallas area because he's from Irving and went to the University of Texas.
And like yesterday's subject
-- Nnamdi Asomugha -- Huff has played for new defensive coordinator Rob Ryan.
MICHAEL HUFF, FS, Oakland
[+] Enlarge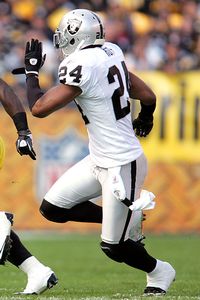 Charles LeClaire/US PresswireMichael Huff made great strides blitzing from the free safety position, finishing with four sacks and seven tackles for loss.
Why sign him?
He's coming off one of his best seasons, finishing third on the team with 84 tackles, four sacks, seven tackles for loss, three interceptions, three forced fumbles and seven pass breakups. Huff made great strides blitzing from the free safety position and improved his cover skills. Signing Huff could be an expensive venture, because one would think the Raiders would like to retain him. If the new salary cap rules take effect, NFL teams have to spend at least 90 percent of the $120 million cap -- and the Raiders are far below that.
Huff seems like an upgrade over
Alan Ball
, who at times looked lost while playing free safety last season, and he'll eventually move back to cornerback. The Cowboys have had problems signing safeties to big money deals in the past.
Roy Williams
and
Ken Hamlin
performed below the Cowboys' standards after inking huge contracts. It would seem Huff is in his prime and could be different.
Is there anybody else?
Eric Weddle
from the
San Diego Chargers
is a possible target. The Chargers coaching staff credited Weddle with 93 tackles, which led the entire secondary and was second on the team to former Cowboys linebacker
Kevin Burnett
(124). Weddle played well against the run this past season and is a good tackler as evident by his seven tackles for loss.
Key Stat:
Ball started the first eight weeks of the season without a pass breakup.
May, 10, 2010
5/10/10
9:03
PM ET
Let's be honest, inside linebacker
Bobby Carpenter
never fit in with the Cowboys.
Was he an inside linebacker?
Was he an outside linebacker?
Was he tough enough?
Was he physical?
Whichever, Carpenter was a good guy in the locker room that just wanted an opportunity to play. It didn't happen with the Cowboys. The Cowboys didn't have confidence in him to become a starter at inside linebacker.
Bradie James
has had two different inside linebacker partners,
Zach Thomas
and
Keith Brooking
, the last two seasons.
Carpenter couldn't beat out
Kevin Burnett
for the nickel linebacker job in 2008, and last season he did get the job. But it was clear the Cowboys were looking down the line for somebody else.
To Carpenter's credit he remained classy on his way out of town, telling the St. Louis media (via Profootballtalk.com), "I don't know if throwing mud at anybody does any good. I know I had the respect of a lot of my teammates down there in Dallas, and respect in the locker room, that's all that matters. What was said outside of the organization really wasn't important to me."
Carpenter was also good with the beat writers. He would talk about other things besides football -- money management and politics were some of the subjects. And on some mundane days in November, that's a good thing.
December, 13, 2009
12/13/09
12:18
PM ET
We'll look at one matchup from both sides of the ball:
Dallas Cowboys OGs Leonard Davis and Kyle Kosier vs. San Diego Chargers ILB Kevin Burnett:
If the Cowboys thought Burnett was a solid run-stopper, they would have re-signed him and made him a starter.
The Cowboys can't just get in a shootout with San Diego's explosive offense. Dallas' chances to win increase the more they control time of possession. That means they need to be able to run the ball against San Diego's defense, which allows 4.4 yards per carry.
Dallas ought to be able to establish the run right up the middle. Force Burnett, whose best asset is his coverage ability, to play smash-mouth football.
The Chargers don't have NT
Jamal Williams
plugging the middle. With Williams on injured reserve, Kosier and Davis ought to be able to get off combination blocks quickly. That means Burnett should have to beat a block of a much bigger man to make tackles. That's a matchup that favors the Cowboys.
Chargers TE Antonio Gates vs. Cowboys LB Bobby Carpenter and SS Gerald Sensabaugh:
The Cowboys have done a much better job covering tight ends this season than the recent past. That will be tested today by the league's most dynamic tight end.
Gates produces like a wide receiver. He has 67 catches for 994 yards (14.8 per reception) and four touchdowns. He has 16 receptions of at least 20 yards, which is tied for the league lead with a group of receivers that includes
Miles Austin
.
The Cowboys have had success with Carpenter jamming tight ends at the line of scrimmage. That worked especially well against Atlanta's
Tony Gonzalez
. But it's tough to do with Gates, who often lines up like a wideout.
Sensabaugh is good in man coverage, but it's probably asking too much to leave him alone against Gates, a 6-4, 260-pound former college basketball star who excels at going up and fighting for the ball.
December, 11, 2009
12/11/09
9:37
AM ET
IRVING, Texas --
Kevin Burnett
wasn't coming back to the
Dallas Cowboys
to be a backup. The Cowboys punched their 2005 second-round pick's ticket out of town when they signed
Keith Brooking
to start next to
Bradie James
.
Burnett called Brooking's arrival "a slap in the face" after he signed with the
San Diego Chargers
. He's a starter for the Chargers, and it's safe to assume he'll have a little extra motivation Sunday, although Burnett declined to speak with San Diego reporters this week.
The Cowboys have no regrets about letting Burnett go. That's no slight to him, but his old team hasn't missed him.
Brooking has been a beast at the "Mo" inside linebacker. He also quickly emerged as one of the Cowboys' emotional leaders.
Burnett was the Cowboys' best special teams player last season, but those units have improved under Joe DeCamillis' watch. Coach Wade Phillips said
Bobby Carpenter
has "done a really good job" in Burnett's former role as the coverage linebacker in the nickel and dime packages.
Burnett is better off in San Diego, but the Cowboys aren't worse without him.
November, 2, 2009
11/02/09
2:44
PM ET
If you judge Bobby Carpenter based on being drafted in the first round, he's a bust.

If you judge Carpenter based on his performance as a nickel linebacker, he hasn't been bad at all.

Teams don't pick players in the first round hoping they'll develop into solid nickel linebackers a few years later. Carpenter hasn't come close to justifying the decision made by Jerry Jones and Bill Parcells to make him the 18th overall pick in the 2006 draft.

But we knew entering the season that Carpenter wasn't a wise first-round pick. We didn't know if he could be a solid contributor to the defense after taking over departed free agent Kevin Burnett's role in the nickel and dime packages.

Carpenter has had his two best performances of the season in the last two weeks. He played a key role in containing future Hall of Fame tight end Tony Gonzalez in the win over the Atlanta Falcons. Capenter had six tackles and his first sack since his rookie season in the win over the Seattle Seahawks.

"The difference between perception and reality, I won't tell that one," Wade Phillips said when asked about the perception of Carpenter, which is that he's a soft underachiever. "But yeah, he's been solid in a lot of areas and now he's made some plays, and that's what you're looking for in any player. He had to fight to get a role. He's done that."