Dallas Cowboys:

Kevin Zeitler
April, 26, 2013
4/26/13
9:30
AM ET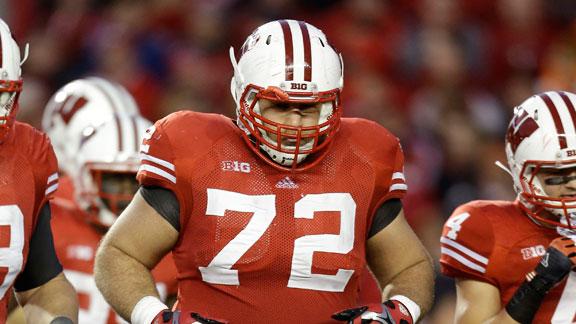 IRVING, Texas – The Cowboys are hoping
Travis Frederick
will continue a tradition set forth by Wisconsin offensive linemen in recent years.
PODCAST
Arkansas head coach Bret Bielema, who coached Travis Frederick at Wisconsin, joins Fitzsimmons & Durrett to discuss what kind of player the Cowboys got with their first-round pick in the NFL draft.

Listen

Joe Thomas
,
Gabe Carimi
,
John Moffitt
,
Kevin Zeitler
and
Peter Konz
have been high picks in recent years and have had different degrees of success.
"I think that having that tradition helps continue that tradition," Frederick said. "That tradition is one of the reasons why I chose to go to Wisconsin, just knowing that such great offensive linemen have come out of there and would probably or hopefully give me the opportunity if I worked as hard as I could to be in the situation that I'm in today. I'm excited to join that long line."
The Cowboys' recent history with Badgers offensive linemen isn't so good.
In 2003, the Cowboys drafted
Al Johnson
in the second round, and they took
Bill Nagy
in the seventh round in 2011. Johnson missed his rookie year because of a knee injury that subsequently cut his career short. Nagy won a starting job in part by default, but he suffered an ankle injury and was cut during training camp last summer.
"You certainly go case by case and evaluate the player," coach Jason Garrett said, "but there is no question there is a tradition of offensive linemen coming out of Wisconsin. There is a long-standing tradition, but there is also a recent tradition. What that does is allow you to talk to people that know these guys well and compare them to people, 'Hey, compare him to this guy, compare him to that guy. You had him two years ago, how does he stack up?' Those conversations are real because guys who've been around these guys day after day after day can make great evaluations."
December, 11, 2012
12/11/12
12:31
PM ET
IRVING, Texas – The Cowboys had 10 drives in Sunday's win against Cincinnati but they struggled for answers in most of them.
The different zone blitz looks that Bengals defensive coordinator Mike Zimmer gave the Cowboys had them confused. After the Cowboys' first drive, in which
Tony Romo
completed 5-of-6 passes, Romo had only one drive in which he completed more than one pass in the next six drives.
The Cowboys could not block
Geno Atkins
. Every offensive lineman had at least one breakdown in pass protection and they could not get a push up front.
On the eighth drive, which started at the Dallas 2, something started to click. It started with a slant to
Miles Austin
on five-man pressure. It was the first completion the Cowboys had against five-man pressure in the game as they started out 0 for 6. That drive ended with a punt, but it gave the offense a template off which to work on their final two drives.
On the ninth drive, Romo and Austin hooked up again when the Bengals came with five defenders. Romo was hit as he threw it, but he waited just long enough for Austin to clear the second window to make the grab on the run. The Cowboys had 15 yards and a first down. On the next play
Dez Bryant
had his 27-yard touchdown.
It came after Bryant made the wrong route read, going behind the cornerback on his crossing route, but Romo had enough time to wait for Bryant coming across the middle and threaded a throw in which Bryant was able to sprint into the end zone.
On that ninth drive the Cowboys found some success with 11 personnel runs (three wide receivers). On the 10th drive,
DeMarco Murray
was able to get the crucial first down on third and 5 on a 11-personnel run, bouncing to the right against an eight-man box.
Dwayne Harris
did just enough on the corner on the outside for Murray to cut inside to lunge for the first down with a defender on his back.
Romo's second biggest completion of the drive (the first was the third-down throw to
Jason Witten
) came when Zimmer brought five guys on first-and-10 from the Dallas 42 and he waited for a crossing Bryant for 9 yards.
After starting 0 for 6 against five-man pressure, Romo completed three of his final four vs. Zimmer's pressure.
Romo completed 19-of-28 passes against four-man pressure, 2-of-3 against six-man pressure and missed on both of his throws on three-man pressure. He had one goal-line throw.
How was the Cowboys' offense given a chance to make the comeback? The defense finally made plays when it needed to after failing to do so in six previous games.
Rob Ryan's unit has been criticized and deservedly so, injuries or no injuries, but
DeMarcus Ware
and
Anthony Spencer
came up with the two biggest plays in the fourth quarter.
Ware's 3-yard sack of
Andy Dalton
came on third-and-12 when Ryan chose to rush three guys. And everybody hates that, right? Running back
Brian Leonard
did not get a good enough chip on Ware, giving the Pro Bowl linebacker the chance to sprint by right tackle
Andre Smith
and track down Dalton for the first stop.
Spencer's sack came when he lined up at inside linebacker in the dime defense. I wonder if he was there because
Ernie Sims
was hurt. Most of the time when he lined up at inside linebacker in recent weeks, he dropped into an underneath zone. On this third-and-4 play, he was able to beat guard
Kevin Zeitler
up the middle to get into Dalton's face quickly.
Jason Hatcher's play in the final two drives should also be recognized. He had two pressures and drew a holding penalty.
March, 14, 2012
3/14/12
11:21
AM ET
IRVING, Texas – Cowboys owner and general manager Jerry Jones said helping the interior of the offensive line was a priority, but so far in free agency the team has not gotten into the action with the bigger names available.
Carl Nicks
signed with Tampa Bay, but the Cowboys made no attempt to sign the All-Pro. Some of it was cost, and Nicks cashed in with a contract from the Buccaneers worth $47.5 million over five years. Some of it was Bill Callahan, the new offensive coordinator and offensive line coach.
Callahan coached Nicks at Nebraska and suspended him at one point, so Nicks might not have wanted to play for his college coach either.
The Saints are looking at
Ben Grubbs
as Nicks' replacement. He is easily the second-best guard available, but as of yet the Cowboys have not made a play for the Baltimore veteran.
The price could be just too high to afford two big contracts for the Cowboys after the $10 million salary-cap sanction that came down from the league on Monday. With
Brandon Carr
meeting with the team Tuesday night at Cowboys Stadium, the team's top priority was getting a cornerback over a guard.
Some quality remains - Philadelphia's
Evan Mathis
, New England's
Dan Connolly
, Minnesota's
Steve Hutchinson
, who was cut – but there's no indication as of yet that the team will make a run at any of them. The key phrase is "as of yet," because things can change quickly in free agency.
So if the Cowboys can land a guard not named Nicks and Grubbs, then they could be in position to look at the position in the draft. Stanford's David DeCastro is at the top of every list regarding pro-ready linemen, but keep an eye on Wisconsin's Kevin Zeitler, who could be a second- or third-round pick.