Dallas Cowboys:

Kim Kardashian
August, 1, 2010
8/01/10
5:40
PM ET
[+] Enlarge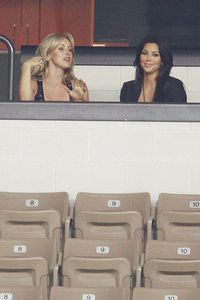 AP Photo/Eric GayCandice Crawford joined Kim Kardashian to check out their boyfriends at practice Sunday.
SAN ANTONIO – The celebrity girlfriend has arrived at Cowboys' training camp.
It was big news when Jessica Simpson visited
Tony Romo
in Oxnard, Calif., a couple of years ago even though she didn't attend any practices. Fans were still in a frenzy about the possibility of a Jessica Jinx.
There's no such concern about a Kardashian Curse, considering that Kim Kardashian dated
Reggie Bush
during the Saints' Super Bowl run. She has since hooked up with
Miles Austin
, which is why she was spotted at the Cowboys' practice Sunday.
Kardashian, a reality TV star recently photographed frolicking with Austin on a Cabo beach, watched practice from the comfort of Jerry Jones' suite in the Alamodome. She sat with Romo's current girlfriend Candice Crawford, a former Miss Missouri who works at a Dallas-Fort Worth TV station.
Romo, who also dated American Idol-ex Carrie Underwood early in his days as a starting quarterback, laughed when asked if he had talked to his go-to receiver about having a celebrity girlfriend.
"I'll let you guys handle that," Romo said.
July, 29, 2010
7/29/10
12:40
PM ET
[+] Enlarge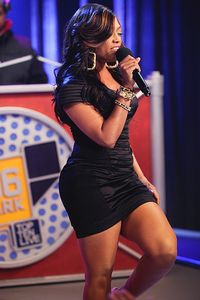 Jemal Countess/Getty ImagesDallas Cowboys rookie wide receiver Dez Bryant denies "reports" that he's dating rapper Trina.
SAN ANTONIO -- First it was
Tony Romo
dating Carrie Underwood and Jessia Simpson.
Then it was
Miles Austin
with Kim Kardashian.
Now it's rookie wide receiver
Dez Bryant
dating a celebrity.
Well, hold up. Several websites, mediatakeout.com and 24hourhiphop.com link Bryant with popular rapper Trina. There's a photo of them together at a club.
But we've been told it's not true.
"There is no truth to the rumors that Dez Bryant is dating rapper Trina," advisor David Wells said Thursday. "Dez is very much in love with long-time partner, Ilyne Nash, with whom he is looking forward to building a home."
Bryant just became a father for the second time. His son, Dez Bryant Jr., was born June 25.
"Additionally, as a proud new father of Dez Bryant Jr., it is important for him to defend the bond within his family," Wells said.
July, 22, 2010
7/22/10
2:27
PM ET
Here's some ammunition for
Miles Austin
's negotiations for a long-term contract with the Cowboys: KC Joyner, aka the Football Scientist, makes a strong statistical case that No. 19 already surpassed Houston's
Andre Johnson
as the NFL's best receiver.
For the details, check out the
ESPN Insider column
.
In other Austin news, he was spotted vacationing with good-luck charm/well-rounded gal pal Kim Kardashian in Cabo this week. (Hey, at least he's hitting the beach the week before camp, not during the pre-playoffs bye.) Check out
TMZ for photographic evidence.
June, 18, 2010
6/18/10
12:38
PM ET
There's no reason to worry about whether
Miles Austin
is playing press coverage on celebrity hottie Kim Kardashian.
In fact, Cowboys fan should be rooting for some Austin-Kardashian romance. Those Kardashian gals are the opposite of the Jessica jinx.
Hook up with a Kardashian, and a championship ring is sure to come. It worked for
Reggie Bush
, Kim's last football fun buddy. It worked for Lamar Odom, the happy husband of Khloe Kardashian.
Now, for a little bad news: An ESPN reporter informs us that Austin wasn't in one of the Kardashian seats at the Staples Center during last night's Game 7.
June, 16, 2010
6/16/10
3:08
PM ET
[+] Enlarge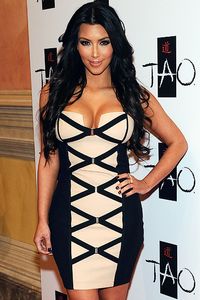 Denise Truscello/WireImageAccording to the National Enquirer, reality TV diva Kim Kardashian is dating Cowboys receiver Miles Austin.
Tony Romo
is out of the celebrity dating game, but his favorite receiver is reportedly romancing a Hollywood diva.
According to the National Enquirer,
Miles Austin
is dating Kim Kardashian, who apparently has a fondness for skill players. Kardashian, a well-rounded woman who is basically famous for being pretty and coming from a reality-show family, used to date
Reggie Bush
.
The Enquirer stretches the truth about as often as Austin stretches the field, so we can't say for sure whether the report is accurate. But it wouldn't exactly be stunning if a good-looking wide receiver who will soon have an eight-figure contract hooked up with a beautiful Hollywood starlet.
It's well known that Austin loves LA, spending a lot of his free time there. That included the first two weeks of the Cowboys' strength and conditioning program this spring.
There's no question that Austin at least has some interest in Kardashian. She's one of the 15 people he follows on Twitter. The favor has yet to be returned, so maybe Miles has work to do to win over Ms. Kardashian.