Dallas Cowboys:

kory lichtensteiger
March, 4, 2013
3/04/13
10:05
AM ET
I never feel comfortable predicting with any certainty what the
Dallas Cowboys
are going to do, but I consider it unlikely that they designate
Anthony Spencer
as their franchise player before today's 4 p.m. ET deadline. Franchising Spencer would cost the Cowboys $10.6 million this year, since it'd be the second year in a row in which he played under the franchise player designation, and they'd have to clear about $6 million more in cap room in the next six hours just to do it. And if they did it (say, by finalizing a
Tony Romo
contract extension), they really wouldn't be able to do much else once free agency started next Tuesday. So I do not expect the Cowboys to franchise Spencer or anyone else by the deadline.
In fact, I don't expect any team in the NFC East to use the franchise tag this year. To wit:
New York Giants:
They could use it on safety
Kenny Phillips
($6.916 million) or tight end
Martellus Bennett
($6.066 million), but I doubt they'll do it for either. They simply don't value the tight end position enough to pay Bennett that much money this season. They like him and could bring him back on a deal that features a lower 2013 base salary, but they don't have the cap room or the inclination to lock him in for a year at the franchise number. As for Phillips, you know I think they should keep him. And they might, but again, on a longer deal at their price. I think they'll let the franchise deadline go by and continue to try and use Phillips' knee problems and
Stevie Brown
's high 2012 interception total as leverage against Phillips in their negotiations -- and let him walk if he's determined to get more than they want to give him.
Philadelphia Eagles:
No way they're using a $10.854 million franchise tag on cornerback
Dominique Rodgers-Cromartie
. Even if they want him back, they'll be able to get him for less. And he's not a guy they can't afford to lose. The Eagles have the cap room to do whatever they want, but they don't have many free agents, and the ones they do have aren't so essential as to merit a franchise designation.
Washington Redskins:
I think they'd like to tag tight end
Fred Davis
but can't afford it because of their cap problems. Linebacker/special teams ace
Lorenzo Alexander
($9.619 million), guard
Kory Lichtensteiger
($9.828 million) and cornerback
Cedric Griffin
are all guys they'd like to have back, but not at those prices.
August, 20, 2012
8/20/12
12:30
PM ET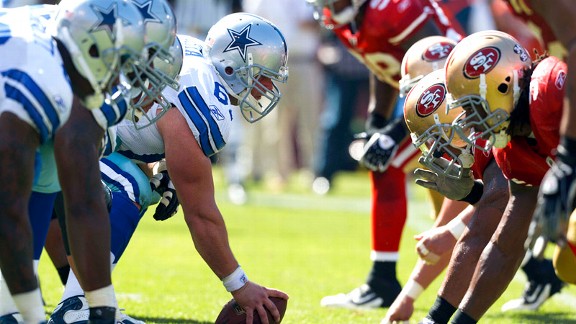 Jason O. Watson/US PresswireLike its NFC East rivals, Dallas is shuffling and searching for ways to solidify its offensive line.
The NFC East leads the league in hype. The huge media markets in which the teams play, the history of success, the rivalries ... all of it combines to create a perception that the NFC East is the best, most competitive and toughest division in the NFL. That the defending Super Bowl champion
New York Giants
play in it -- and are not the clear-cut favorites to win it again this season -- only adds to the perception, as does the growing excitement over an NFL regular-season opener between the Giants and the
Dallas Cowboys
16 nights from tonight.
But while Giants-Cowboys is fun, and each of those teams has something pretty intense going with the division's other two teams -- the Giants' recent struggles with the
Philadelphia Eagles
and the Cowboys' longstanding rivalry with the
Washington Redskins
-- the stats don't back up the NFC East as the league's toughest division anymore. The division is, by many measures, coming off its worst season ever. Last season was the first regular season in NFC East history in which no team won at least 10 games. Only the Giants finished over .500, and they gave up more points than they scored. Their Super Bowl run might have saved the division's honor, but it also disguised the troubling fact that the NFC East is no longer the Beast it used to be.
A large part of the reason for this, I believe, is the state of the division's offensive lines. We all know offensive line play is important, but in the NFC East these days, concern about the lines affects too many things. Teams that are strong on the line can control games. Teams that aren't cannot.
Eli Manning
and the Giants have been talking for months about wanting to not have to come back in the fourth quarter as much as they did last season, and the best way to avoid that is to control games from the start. Given the issues with their offensive line, they could find that a challenge once again.
But they're not alone. As we look ahead to 2012 and start assessing everyone's biggest questions, offensive line stands out as an issue for each of the NFC East's four teams. To wit:
The NFC has no shortage of star power. It has three great quarterbacks and one, Washington rookie
Robert Griffin III
, who's getting as much hype as any of the other three these days. It has some of the great wide receivers in the league in veterans such as
Hakeem Nicks
,
Miles Austin
and
DeSean Jackson
as well as rising stars such as
Victor Cruz
,
Dez Bryant
and
Jeremy Maclin
. The Eagles'
LeSean McCoy
ranks with the game's great running backs. And on defense, of course, the division is known for its great pass-rushers. Each team can rattle off names that give opposing quarterbacks heartburn.
DeMarcus Ware
.
Jason Pierre-Paul
.
Justin Tuck
.
Trent Cole
.
Jason Babin
.
Brian Orakpo
.
All of that makes the NFC East very exciting. But very often in the NFL, excitement and hype can conceal issues of quality. And if the NFC East really wants to be the best division in football again, it's not the quarterbacks or the wide receivers or even the pass-rushers that will bring it there. The NFC East's teams all need to start paying more attention to their offensive lines, because as those continue to erode, so will the division's annual claim to Beastliness.
October, 18, 2011
10/18/11
2:21
PM ET
»
NFC Stock Watch
:
East
|
West
|
North
|
South
»
AFC
:
East
|
West
|
North
|
South
FALLING
1. Rex Grossman.
Look,
Washington Redskins
coach Mike Shanahan
could
come out Wednesday and say Grossman's still the starting quarterback. It's clear the Redskins aren't fully comfortable with
John Beck
, and Grossman does seem to have the support of the locker room. But regardless of what Shanahan decides for this week, that four-interception mess Grossman made against the Eagles on Sunday is a clear sign that he's not going to have an easy time holding onto this job all year. The good news for Grossman is that if he does lose it, that's no guarantee he's lost it for the whole year, either. Things could be about to get ugly for the offense in Washington, which brings us to...
2. The Redskins' offensive line.
Season-ending injuries to left guards don't get a lot of national publicity, but the play of
Kory Lichtensteiger
and the offensive line were perhaps the main reason the Redskins' offense was functioning as effectively as it was through the first four games. They're not loaded with playmakers on offense, so they have to dominate in the trenches as they had been. But with Lichtensteiger now gone, left tackle
Trent Williams
out for a few weeks with an ankle sprain and tight end
Chris Cooley
out indefinitely with a broken hand, the Redskins are going to have a hard time with their run-first, ball-control offense.
3. Felix Jones.
Hurt again, and now possibly out two to four weeks with his own ankle sprain, Jones and the Cowboys' running game have been major disappointments this season. Coach Jason Garrett deserves blame for his unimaginative play calling when the Cowboys needed to pick up a first down or two to beat the Patriots on Sunday, but the fact is that the Cowboys haven't been able to rely on their run game all year. It'll be interesting to see if
Tashard Choice
or rookie
DeMarco Murray
can perform more effectively and reliably than Jones has as he's tried to play through shoulder and now ankle injuries.
RISING
[+] Enlarge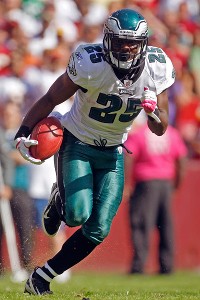 AP Photo/Evan VucciThe Eagles turned to LeSean McCoy when the team needed to protect its lead Sunday and the running back delivered.
1. LeSean McCoy.
You hear fans complain all the time that their team can't run the ball to run out the clock when it has a lead. Well, the Eagles have blown their share of fourth-quarter leads this year, but watching McCoy run Sunday it was hard to imagine how. He may not be the stereotypical big, bruising back that picks up those tough yards through sheer will and physicality, but McCoy is clearly an elite runner who loves to fidget his way through the tiniest spots and fight for extra yards that way. The Eagles' coaching staff should pay close attention to what McCoy gave them in the second half Sunday and learn to rely on it. He just might save their season.
2. Corey Webster.
Two absolutely huge interceptions by a guy who was just about the last defensive back standing for the Giants this year. And yeah, he got beat on the
Stevie Johnson
touchdown, but he made the big plays when he had to, which is what the Giants have been about so far this season. Webster is playing at a very high level, taking on the opposing team's best receiver every week in
Terrell Thomas
' absence. And while the Giants' defense is keyed around pressuring the quarterback, it has to be nice for them to get a strong, surprising contribution from Webster.
3. Eagles defense?
Yeah, still a question mark, but they said they were going to be able to build on some encouraging things they did in the second half of the Buffalo game, and they did. They tightened up their "Wide-9" formation to account for the Redskins' zone blocking run game, and it's encouraging to see that they're willing to adjust and adapt. Now, about those cornerbacks playing so far off receivers ...