Dallas Cowboys:

Kris Brown
August, 21, 2011
8/21/11
12:35
PM ET
ARLINGTON, Texas -- Kicker
David Buehler
most likely will not kick in Sunday's second preseason game vs. the
San Diego Chargers
with a strained right hip.
That means rookie kicker
Dan Bailey
will get a chance to prove himself in a kicking battle that is even through two weeks of training camp and a week's worth of practices at Cowboys Stadium.
One of the keys to this battle is consistency in making field goals and placing kickoffs in the end zone.
The Cowboys know what they have in Buehler in terms of kickoffs, but field goal-wise he's been inconsistent, which prompted the team to bring in
Kris Brown
in the last week of the 2010 season. But the Cowboys released Brown prior to training camp and signed Bailey, a rookie from Oklahoma State who was the Lou Groza Award winner in 2010 as the best kicker in the country.
Bailey had a fast start to training camp but has struggled at times. He went 1-4 during one practice session while Buehler went 3-4.
With Buehler out this week, Bailey made three kicks during the scrimmage against the San Diego Chargers. But the preseason game is his ultimate test.
"I think you're graded overall on your work ethic and stuff like that," Bailey said. "You get put in a game situation and they want to see how you perform. It's more pressure but little less coaching on their part. They really can't fix some things. You got to go out there and show them what you can do."
The new kickoff rules have caused some frustration among special teams coaches around the league. Cowboys special teams coach Joe DeCamillis hates the new rules because moving kickoffs from the 30 to the 35-yard line has meant more touchbacks in the early portions of the preseason. The NFL changed the rules to prevent injuries.
Bailey, who is trying to win a job, would have two areas to show his skills, field goals and kickoffs under the old set of rules.
"It goes against what you want to do," he said. "You just want to kick it to the back of the end zone. They want high kicks so they can cover and I understand the science behind it and I just do what they tell me and that's the best thing for me."
July, 27, 2011
7/27/11
10:00
AM ET
Of all the expected cuts we've told you about, here's one that might have slipped by you:
Kris Brown
.
The Cowboys signed Brown in the last week of the 2010 season with the goal of having the veteran compete with
David Buehler
for the starting kicker job.
Brown never got to kick for the Cowboys, allowing Buehler to seemingly move into the 2011 season without having to fight for his job.
But not so fast. The Cowboys agreed to a deal with undrafted free agent
Dan Bailey
(Oklahoma State), who won the Lou Groza Award as the best kicker in the country last year.
Bailey was the fourth-ranked kicker coming out of the draft by NFL Draft Bible, but wasn't projected as a draft choice. In his OSU career, Bailey converted 50-of-63 attempts, and he was 20-of-22 in 2010. He made a school-record 182 consecutive PATs and had only one blocked kick during his career, coming last year vs. Texas.
Bailey can also handle kickoffs.
It will be interesting to see if Bailey and Buehler get into a battle during camp that lasts until the first two preseason games. With NFL rosters expanding to 90 players, the team could bring in another kicker, so the main guy, whoever that is, won't get worn down.
In reality, this might be the best signing for the Cowboys of all their undrafted free agents because it creates competition at one of their most important positions on the field.
Buehler's first year as the full-time kicker can be described as inconsistent.
He made 24-of-32 attempts, but his missed PAT at Arizona resulted in a Cowboys loss. However, Buehler did make game-winning field goals at Indianapolis and vs. Washington.
Buehler was perfect from the 20-29 yards but struggled from 30-39 (4-7) and 40-49 (8-11) last season. He started and ended his season by missing field goals.
He's more than capable on kickoffs, as he has 51 touchbacks in his first two seasons.
Of course, field goals are the key. And adding Bailey to the mix creates a nice training camp battle.
July, 26, 2011
7/26/11
2:26
PM ET
The first thing the
Dallas Cowboys
had to do once the lockout ended was trim their roster so they could get under the salary cap. They appear to have wasted little time in doing so.
ESPNDallas.com
reports that the Cowboys have informed running back
Marion Barber
, guard
Leonard Davis
and receiver
Roy Williams
that they will be cut. After a phone conversation I just had with the one and only Calvin Watkins, I believe the total savings toward the 2011 salary cap represented by those three moves comes out to $15.7 millon -- $6 million for Davis, $5 million for Williams and $4.7 million for Barber.
None of the cuts qualifies as a huge surprise, though there was some thought that Williams might represent too big a cap hit. But as
Calvin reported Monday
, designating Williams as a June 1 cut makes him a $5 million savings this year instead of a $12.9 million hit as we had previously thought. The question, of course, is who replaces Williams, who's been the object of scorn in Dallas because he's underperformed so drastically after they gave up so much to get him? Regardless of his performance, he did appear to be a pretty good No. 3 receiver behind
Miles Austin
and
Dez Bryant
, and they may have to fill that spot in free agency now.
Barber appeared to be a goner once the Cowboys drafted running back
DeMarco Murray
in April. Murray will take Barber's place in the running back rotation with
Felix Jones
and
Tashard Choice
. And if they're not prepared to start
Montrae Holland
, they will need a guard to replace Davis. They still need to re-sign left guard
Kyle Kosier
as well.
We're hearing conflicting reports on
Marc Colombo
, who'd be a $2.4 million savings, so stay tuned on that. And the Cowboys also cut veteran kicker
Kris Brown
, whose only projected function was to put training-camp pressure on
David Buehler
.
The Cowboys had been projected to be about $17 million over the cap, so this brings them close to the number. Still some work to be done (most likely in the form of restructuring deals) to make room for them to sign the free-agent safeties and defensive linemen they need. But they're clearly working on it.
Dallas also announced that its preseason game against the Chargers, which had been scheduled for Saturday, Aug. 20, will instead be played Sunday, Aug. 21 at 8 p.m. ET.
July, 26, 2011
7/26/11
11:44
AM ET
IRVING, Texas -- Signed by the Cowboys in the final week of the 2010 season,
Kris Brown
will not get a chance to kick for them in 2011.
The Cowboys have informed the veteran kicker and Southlake native that he will be cut by Thursday. He was scheduled to earn $910,000 in 2011.
Brown was inactive for the season finale at Philadelphia but was viewed as a competitor to
David Buehler
for the kicking job. Brown made four of five field goal attempts in 2010 in three games with San Diego after he lost his job in Houston after spending eight seasons in Houston.
For his career Brown has made 256-of-331 attempts.
In his first season as the kicker Buehler made 24-of-32 attempts and had several costly misses, including a point after attempt at Arizona that ended up costing the Cowboys a possible win. He made game winners at Indianapolis in overtime and a 39-yarder vs. Washington with 50 seconds to play in December.
He is devastating on kickoffs with 51 in his first two seasons but has to become more consistent on field goals.
July, 8, 2011
7/08/11
9:00
AM ET
ESPNDallas is providing a daily breakdown on how the lockout has affected the individual position groups.
Position:
Specialists
[+] Enlarge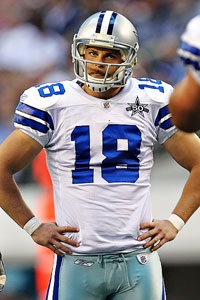 Ronald Martinez/Getty ImageDavid Buehler missed eight field goal attempts last season and will have to hold off Kris Brown.
Depth chart:
P –
Mat McBriar
; LS – L.P. Ladouceur; K –
David Buehler
,
Kris Brown
Not under contract:
N/A
Player hurt most by lockout:
Buehler
Player with most to gain:
Brown
Analysis:
Buehler had a frustrating 2010 season, his first as the Cowboys' field-goal kicker, missing eight of 32 attempts and a point after try that likely cost the team a win at Arizona. He made game-winners in December vs. Indianapolis and Washington to go with 22 touchbacks.
The Cowboys signed Brown in the final week of the season with an eye on 2011. Without an offseason, Buehler was unable to attempt to separate himself from Brown in a competition that should be much stronger than anything Buehler faced last year. Add in the move of kickoffs to the 35-yard line and Buehler's biggest strength is somewhat negated.
Brown, who lost the kicking competition a year ago in Houston, will have a shorter window to prove he can be the guy, but that might be a good thing for him. The Cowboys were patient with Buehler last year, but it would be something of a surprise if they are as patient this year. For his career, Brown has made 77.3 percent of his kicks, which is only a tick better than Buehler.
June, 23, 2011
6/23/11
2:42
PM ET
IRVING, Texas -- On Wednesday we had a post about who has been hurt by the lockout, so now we look at who has been helped by the lockout.
And like
Dez Bryant
on the negative side, we will skip quarterback
Tony Romo
on the positive side. Romo put his stamp on the team with his work setting up the player-run practices in May.
But who else has the lockout helped?
Left guard
Kyle Kosier
-- Kosier is an unrestricted free agent, but with the expected shakeup on the line with the drafting of
Tyron Smith
, his return is imperative. He is one of the most underrated signings the Cowboys have had. He is a key component to the group because of the calls he makes. He would be the perfect bridge to a younger player, like
David Arkin
, stepping in as a starter in the future.
Tight end
Martellus Bennett
-- Last year there was a school of thought that
John Phillips
was about to vault to the No. 2 spot behind
Jason Witten
after a great start to the preseasom. Then Phillips suffered a season-ending knee injury in the Hall of Fame Game and Bennett was safe. The lockout has prevented Phillips from continuing his rehab with the team, and he will have to be monitored whenever football begins again. That helps Bennett. But word has it that Phillips looked strong in the player-run workouts.
Linebackers
Bradie James
and
Keith Brooking
-- We'll combine the inside linebackers here. At this point in their careers the organized team activities and minicamps are more an annoyance. They don't really need them, even with having to pick up a new defense. But the time off has allowed James and Brooking to work on their conditioning and save their bodies from unnecessary pounding in May and June. They will be extremely fit and fresh.
Kicker
Kris Brown
-- I went back and forth with this spot but settled on Brown. He was signed at the end of last year to push
David Buehler
in 2011. The window to win a job will be a lot smaller once football returns and, to me, that benefits Brown, who has been through these kicking competitions before. Plus, the new kickoff rules seem to take away from Buehler's biggest asset.
(And if none of this makes sense, I blame it on the root canal I had this morning.)
March, 21, 2011
3/21/11
4:00
PM ET
NEW ORLEANS -- I caught up with Cowboys coach Jason Garrett as he was headed to a meeting Monday afternoon, and he spoke about the proposed kickoff changes.
"I like the intent," Garrett said. "You can't argue with the statistics. Now what's the best way to achieve the goal? I don't think it's all of the five components out there."
Here's what's being proposed:
Kickoffs would be moved up from the 30-yard line to the 35.
No member of the kicking team would be allowed to line up more than 5 yards back from the kickoff line to prevent sprinting starts at the kickoff.
Touchbacks would be moved to the 25-yard line instead of the 20, where it has been traditionally.
Kickoffs out of bounds would be give the receiving team the ball 25 yards from the spot of the kick instead of 30 yards, still placing the ball at the 40 to start a drive.
Wedges would be eliminated on kickoff returns, including the two-man wedge. The NFL outlawed three-man wedges last season.
We've been told some of these proposals might change before the owners vote.
There is an interesting debate about the new kickoff rules, because what's the point of having a kicker with a strong leg, such is the case with
David Buehler
, if you're going to have fewer kick returns.
"People will vociferously argue on both sides that it helps that guy because everybody says everybody can do it," Garrett said of a kicker who doesn't have a strong leg.
The new rules could eliminate the directional kicking style some teams like to use. Cowboys special teams coordinator Joe DeCamillis likes to directional kick sometimes to pin elite returners in a corner.
The league is thinking of getting rid of the two-man wedge for safety reasons.
"It's a momentum thing," Garrett said. "A two-man wedge, all those things. It's kinda mixed in a sense incentive wise, because they are talking about the touchbacks come out to the 25-yard line."
January, 25, 2011
1/25/11
12:00
PM ET

DAVID BUEHLER
Position:
Kicker
Height:
6-2.
Weight:
225
College:
USC
How acquired:
2009, fifth-round pick
[+] Enlarge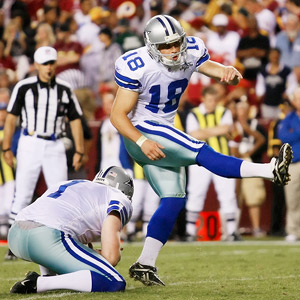 Geoff Burke/US PresswireDavid Buehler missed eight field goal attempts in 2010, ranking 13th in the league with a 75 percent conversion rate. The Cowboys signed Kris Brown to be his competition for 2011.
What he did in 2010:
David Buehler
converted 75 percent of his field goal attempts in his first year on the job, which tied for 13th among NFL kickers. Buehler continues to display his strong leg -- he made four of six kicks of 50 yards or more -- but his inconsistency shook the Cowboys' confidence in him. Of his eight misses, five were to the right. He missed a game-tying attempt vs. New Orleans, and his missed PAT vs. Arizona led to another loss. But Buehler won games vs. Washington and Indianapolis with fourth quarter field goals. He struggled on makeable kicks, missing three of seven tries between 30-39 yards. His kickoffs were strong once again and he's a good tackler, but he has to take the next step and become an accomplished field goal kicker.
What to look for in 2011
: Competiton. The Cowboys brought in
Kris Brown
to compete with Buehler for the field goal job. Brown is a veteran who has made big kicks in his career, but his struggles in 2009 forced the
Houston Texans
to open the job up to competition, which he lost to Neil Rackers. Brown will be given the chance to win the field goal job in training camp, and it's unknown if the Cowboys will go with two kickers in 2011.
Quotable:
"I'm obviously curious about my future but I haven't asked [about it] no. I hope they give me a chance. I've proven I can get the job done. I've been through some ups and down and learned from it. This season has definitely been a building year and I feel like I've been through pretty much every scenario a kicker can go through in one year. I've learned how to overcome them, how to take the positive out of negative situations." - David Buehler
Bryan Broaddus' Scout's Eye:
There is still that doubt with him. Yeah, you can put him out for a long field goal and you have a good opportunity to make it. But where kickers make their money is between 40-49 yards, and there is some concern there with him. That's the thing that bothers me the most. If you don't have a guy who is consistent between 40-49 yards, I don't know how you can live like that every week.
December, 31, 2010
12/31/10
8:30
AM ET
The signing of
Kris Brown
is a step in the right direction for the Cowboys. It means the team is finally doing something to its roster regarding inconsistent play, which it's seen from
David Buehler
, and making moves to that effect sends a message.
Buehler's missed point-after attempt on Christmas night was one of the reasons the Cowboys lost to Arizona and was just too much to handle.
Sure Jerry Jones and Jason Garrett offered support for Buehler after the game, but the reality is going forward the team can't trust him.
This has been a season of disappointment, and the front office needed to start making moves that tell the players and fans a double-digit loss season isn't acceptable.
Now we're only talking about a kicker here, but one who is unreliable causes headaches for teams.
Brown had his own problems last season. He made a career-low 65.6 percent of his field goals for the
Houston Texans
, which prompted a training camp battle with
Neil Rackers
.
Brown was the only kicker in Texans history until some critical misses cost his team games last year. It eventually cost him his job with the Texans. In a brief stint for San Diego this season, Brown went 4-for-5 on field goal tries.
The Cowboys, we believe, know what they're getting in Brown and the two-year contract he's going to sign on Friday means there will be a legit training camp battle with Buehler.
In the last two seasons, the Cowboys have made 44 field goals, tied for 23rd in the NFL, and their 71-percent field goal percentage is second to last in the league.
Buehler and the now departed
Nick Folk
, who is with the
New York Jets
, are the reasons for the poor field goal numbers. At a certain point, a team needs to solve it's problems, and the move for Brown is an excellent decision.
September, 19, 2010
9/19/10
4:41
PM ET
ARLINGTON, Texas -- As concerned as Jerry Jones is about the Cowboys' kicking situation, his gut tells him to stick with
David Buehler
.
For the second straight week, Buehler had a key miss that significantly affected the Cowboys' strategy late in the game. He was wide left on a 44-yard attempt midway through the third quarter that would have tied the score.
Buehler made a 48-yard field goal with 1:17 remaining, but that was too little, too late in the 27-20 loss. Buehler has missed half of his four field goal attempts.
Unlike a week ago in Washington, Jones didn't immediately dismiss the idea of signing another kicker. However, Jones did indicate that he wasn't quite ready to give Buehler the boot.
"It's not the time to do that right after a ballgame," Jones said of making that decision. "Certainly, the last two field goals have been very meaningful that have been missed, but my inclination is to be very patient there."
Why be patient with an unproven kicker whose misses have greatly contributed to an 0-2 start?
"Because I want to," Jones said. "That's what my instincts tell me."
There are proven options who are available.
Matt Stover
and
John Carney
are a couple of unemployed fortysomething kickers if the Cowboys opt to go the
Eddie Murray
route.
Kris Brown
, who lost the Texans' kicking competition, is a younger option with a proven track record.
Buehler understands that his misses have put the front office and coaching staff is position to make a difficult decision.
"They make those decisions," Buehler said. "I have to live with them."