Dallas Cowboys:

Kyle Long
February, 5, 2014
Feb 5
11:05
AM ET
IRVING, Texas -- The
Dallas Cowboys
will not know until a coin flip at the NFL scouting combine if they or the
Baltimore Ravens
will pick 16th or 17th in the
first round of the May draft
.
The only time the Cowboys used the 16th pick in the draft came in 1961 when they selected E.J. Holub in the second round. They have not taken a player with the 17th overall pick since cornerback Kevin Smith in 1992. Before that? In 1990 they took Emmitt Smith, who is now the NFL's all-time leading rusher.
What type of player has been available at Nos. 16 and 17? Here's a look at the past 10 years.
2013 –
EJ Manuel
, Buffalo;
Jarvis Jones
, Pittsburgh
2012 –
Quinton Coples
,
New York Jets
;
Dre Kirkpatrick
, Cincinnati
2011 –
Ryan Kerrigan
, Washington;
Nate Solder
, New England
2010 –
Derrick Morgan
, Tennessee;
Mike Iupati
, San Francisco
2009 –
Larry English
, San Diego;
Josh Freeman
, Tampa Bay
2008 –
Dominique Rodgers-Cromartie
, Arizona;
Gosder Cherilus
, Detroit
2007 –
Justin Harrell
, Green Bay;
Jarvis Moss
, Denver
2006 –
Jason Allen
, Miami;
Chad Greenway
, Minnesota
2005 –
Travis Johnson
, Houston;
David Pollack
, Cincinnati
2004 –
Shawn Andrews
, Philadelphia;
D.J. Williams
, Denver
2003 –
Troy Polamalu
, Pittsburgh;
Bryant Johnson
, Arizona.
Polamalu is by far the best player selected in either spot. He will be in the Hall of Fame. There are quality players in there like Williams, Greenway, Rodgers-Cromartie, Iupati, Solder and Kerrigan. Andrews had a pretty good short run as well. Kerrigan is solid and has done some good things versus the Cowboys. Coples has showed some pass rush his first two seasons. I expected more from Kirkpatrick, who was on the Cowboys' radar in 2012.
The Cowboys held the No. 18 pick in 2013 and traded down to No. 31 with the Niners where they took
Travis Frederick
. They felt they were in a position to trade down and still pick up a quality player. When they saw
Eric Reid
,
Justin Pugh
,
Kyle Long
and
Tyler Eifert
go off the board in the next four picks they were left sweating it out until they got Frederick.
April, 26, 2013
4/26/13
12:28
AM ET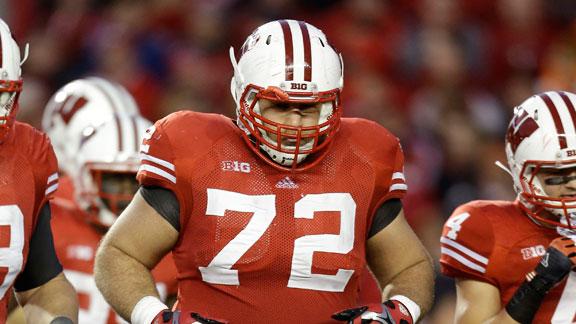 NEW YORK -- Well, I'm not going to rip the pick. I made a promise, and I'm keeping it. I wrote for weeks and weeks that the
Dallas Cowboys
needed to come out of the first round of this year's NFL draft with an offensive lineman, and they did. So I'm not getting on their case for it.
But man, did the Cowboys play the first round strangely.
PODCAST
Nate Newton joins Fitzsimmons & Durrett to discuss the first round of the NFL draft.

Listen

First of all, they traded their pick, No. 18 overall, to the 49ers for the 31st pick and the 74th pick (which is the 12th pick of the third round). Then, with the 31st pick, they selected Wisconsin center
Travis Frederick
, who was … not a guy anybody was talking about.
Who is Frederick? Well, Scouts Inc. ranked him the top center in this year's draft (which is good) and the 70th player overall (not so good, if he went 31st). Among offensive linemen, he ranked 12th in this draft, according to Scouts Inc., and he was the ninth one off the board. Those still on the board who got higher Scouts Inc. grades included tackles
Menelik Watson
and
Terron Armstead
and guard
Larry Warford
.
Couple that information with the fact that the traditional NFL trade-value chart says the Cowboys should have been able to get more than just an extra third-rounder for that No. 18 pick, and it's easy to say they overpaid for Frederick. You might even be able to argue that they could have had him in the second round if they'd waited.
But I don't know. Maybe it's the music here at Radio City Music Hall or the fact that the weather's getting nicer outside or that I finally feel like I'm getting back in shape after a couple of years of overeating and under-exercising. I'm looking at this pick, and I'm thinking these very positive things about it:
They needed interior offensive line help more than any team in the NFL needed anything in this entire draft, and this guy is an interior offensive lineman. He can challenge Phil Costa for the center's job or either starting guard for his.

He's a giant -- 6-foot-3⅝, 312 pounds -- and known as a physical presence in the run game. Run blocking might be a higher priority for the Cowboys in their ongoing hunt for line help than pass protection is, since left tackle is the one spot at which they're set and Tony Romo is pretty good at protecting himself and making plays on the run.

Just because Scouts Inc. ranked Warford 53rd and this guy 70th doesn't make the pick ridiculous. You pay your scouts to find guys who fit what you want to do, and then you trust them. All week, everybody told me the Cowboys needed to trust their board, and it appears what happened here was that they didn't have anyone they liked at 18 so they snagged an extra pick and moved down to take a guy they did like. If you think all that's left to you is second-rounders, then why not just start the second round two picks early and add a third-rounder that might help you maneuver into that second round Friday night?
As I always say, I can't predict the way these guys will play, and neither can the Cowboys or anyone else. And if you want to argue that they didn't get great value for their first-round pick, I really don't have a response. But this was a weird year for the first round. The top six offensive linemen went in the top 11 picks -- something that hadn't happened in the history of the NFL draft. Clearly, this was a year in which offensive linemen were being overvalued, so this pick kind of lines up with that.
Had they stayed put at 18 and picked
Justin Pugh
or
Kyle Long
, who went at 19 and 20, respectively, to the Giants and Bears, that might have felt like a reach, too. There was not a lot to like about this year's first round. And while they might have been clumsy about it, the Cowboys came out of it with something they apparently do like and definitely need. Can't rip it.
April, 25, 2013
4/25/13
9:46
PM ET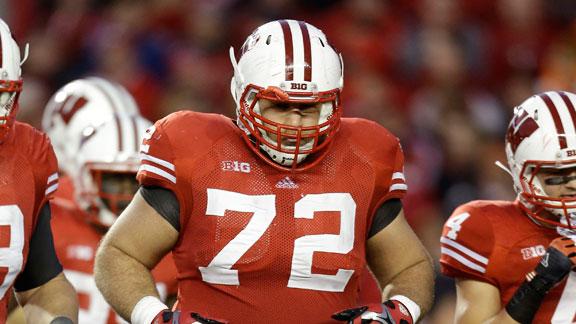 IRVING, Texas – Accumulating draft picks is not a bad strategy.

Passing on a player that was highly rated in the first round, like
Sharrif Floyd
, is perplexing. Clearly there is something about Floyd that has turned teams off or he would not have fallen this far.
But the Cowboys did not get equal value in return for their trade with San Francisco. They Cowboys dropped from No. 18 to No. 31 and picked up the 74th pick, the first of the Niners' two third-round selections.
The trade charts give San Francisco a big edge. The Cowboys could have received the Niners' second-rounder in return.
By moving down, the Cowboys passed on Floyd, who went to Minnesota at No. 23, but also lost out on three targets they liked in safety
Eric Reid
, whom San Francisco took, guard/tackle
Justin Pugh
(
New York Giants
) and guard
Kyle Long
(Chicago). They also liked tight end
Tyler Eifert
, who went to Cincinnati with the 21st pick.
The art of moving down didn't seem to favor the Cowboys here.
April, 25, 2013
4/25/13
11:00
AM ET
IRVING, Texas – Over the last few years, the Cowboys' top-30 visitors before the draft have been a good indicator into who they end up selecting.
PODCAST
Nate Newton went undrafted in 1983, but he still feels like he was part of one of the greatest draft classes in league history. Newton joins Fitzsimmons and Durrett to discuss his draft experience from 30 years ago and his journey to three rings.

Listen

Guys like
Dez Bryant
,
Sean Lee
,
Tyrone Crawford
and
Matt Johnson
, among others, visited Valley Ranch and ended up getting picked by the team.
Here is the list of this year's invites to keep handy for the next three days:
S
Kenny Vaccaro
, Texas
S Jonathan Cyprien, Florida International
S
Eric Reid
, LSU
G
Chance Warmack
, Alabama
RB Le'Veon Bell, Michigan State
RB
Joseph Randle
, Oklahoma State
DL
Sheldon Richardson
, Missouri
RB
Knile Davis
, Arkansas
G
Jonathan Cooper
, North Carolina
OL
Justin Pugh
, Syracuse
DT
Kawann Short
, Purdue
DT
Jordan Hill
, Penn State
C
Travis Frederick
, Wisconsin
S
Phillip Thomas
, Fresno State
WR
DeAndre Hopkins
, Clemson
LB
Sio Moore
, Connecticut
LB
Gerald Hodges
, Penn State
CB B.W Webb, William & Mary
WR
Charles Johnson
, Grand Valley State
RB
Giovani Bernard
, North Carolina
OL
Kyle Long
, Oregon
S J.J. Wilcox, Georgia Southern
LB
Brandon Magee
, Arizona State
TE D.C. Jefferson, Rutgers
TE
Dion Sims
, Michigan State
WR
Markus Wheaton
, Oregon State
S
Jakar Hamilton
, South Carolina State
DT
Bennie Logan
, LSU
April, 25, 2013
4/25/13
9:04
AM ET
PODCAST
Nate Newton went undrafted in 1983, but he still feels like he was part of one of the greatest draft classes in league history. Newton joins Fitzsimmons and Durrett to discuss his draft experience from 30 years ago and his journey to three rings.

Listen

IRVING, Texas – While most draftniks focus their mock draft on the first or first and second rounds,
the guys at Scouts Inc. have gone through the entire seven-round process.
For those of you wanting the Cowboys to go heavy on the offensive line, they didn't disappoint. Three of the team's six picks were on the offensive line.
Here you go:
1 – DL
Sheldon Richardson
, Missouri
2 – OL
Kyle Long
, Oregon
3 – S. J.J. Wilcox, Georgia Southern
4 – CB
Sanders Commings
, Georgia
5 – OT
Ricky Wagner
, Wisconsin
6 – C
Khaled Holmes
, Southern Cal
That would leave the Cowboys on the lookout for running backs, wide receivers and tight ends if the draft fell this way. Richardson, Long and Wilcox were among the team's national visitors. Holmes would be a good get in the sixth round.
March, 28, 2013
3/28/13
4:00
PM ET
Yes, ladies and gentlemen,
Todd McShay's latest mock draft

is out and it covers the first
two
rounds, which means Redskins fans get to play too! Here's what Todd projects, along with my thoughts on his picks for each NFC East team:
Philadelphia Eagles

4.
Eric Fisher
, OT, Central Michigan
35.
EJ Manuel
, QB, Florida State
Yes, even with cornerback
Dee Milliner
still on the board, I like Fisher for the Eagles at 4. I think they need to get a long-term building block at that spot, and an elite tackle is just that. As for Manuel at 35, I like it find if they think he has franchise quarterback potential. If not, they're just adding to a stable of caretaker backups and developmental guys, and the pick could be used better. I do know which of those categories fits Manuel, and I imagine if the Eagles are talking about him, they're trying to figure that out as well.
Dallas Cowboys

18.
Kenny Vaccaro
, S, Texas
47.
Kyle Long
, G, Oregon
I have no problem with the Cowboys coming out of the first two rounds with a safety and an offensive lineman. I just think they need to pick them in the reverse order. In Todd's mock, the top five offensive linemen go in the first 17 picks -- something that's only happened once in the last 15 drafts. But even if that happens, I'd have no issue with the Cowboys taking the tackle Todd projects to go with the very next pick to the Giants. They need elite offensive line talent more than they need this draft's top safety.
New York Giants

19.
D.J. Fluker
, OT, Alabama
49.
Jamar Taylor
, CB, Boise State
Got to be honest, I have no idea what the Giants will or should do in the first round, and it doesn't seem as though most of the draft analysts do either. Offensive line seems to make sense, but they don't like to draft offensive linemen in the first round. I keep thinking they'll take the highest-ranked defensive lineman on their board in the first round, or maybe a defensive back. But maybe I'm relying too much on Giants draft history and this is a year in which they'll go against it.
Washington Redskins

51.
Gavin Escobar
, TE, San Diego State
Obviously, this is a pick that assumes they don't re-sign
Fred Davis
. If they do, I have to think they look for a safety here like D.J. Swearinger or Jon Cyprien.