Dallas Cowboys:

Kyle Shanahan
March, 7, 2013
3/07/13
2:00
PM ET
So the Chiefs cut right tackle
Eric Winston
on Wednesday, probably because they've decided to
take a tackle
with the first pick in the draft. But this isn't a Chiefs blog. This is a Cowboys blog, peopled by fans of America's Team. So why are we talking about this?
Winston
Because whenever a player of whom fans have heard gets cut in the middle of his contract, one of the first questions fans immediately ask is, "Should [my team] try to sign [this player that was just cut in the middle of his contract]?" And if you cheer for the Cowboys, and the player in question is Winston, the answer is yes.
It amazes me sometimes, the similarities our four NFC East teams can share. They all need help in the secondary, for instance, and they all need help on the right side of the offensive line. So here's a quickie rundown of why the Cowboys should kick the tires on this 29-year-old offensive lineman who is allowed to sign any time.
Dallas Cowboys
Obviously, the
Doug Free
contract is a huge bust and the Cowboys need a right tackle. They need guard help, too, but a right tackle is a fine place to start. Sadly for the Cowboys, they're too tight up against the cap to really compete for a free agent if that free agent is going to draw interest from multiple teams. I still think they address this in the draft.
December, 29, 2012
12/29/12
10:00
AM ET
»
NFC Season Wraps
:
East
|
West
|
North
|
South
»
AFC
:
East
|
West
|
North
|
South
Five things to know and my 2012 all-division team:
Division MVP:
Interesting word, "value." The
Washington Redskins
decided that fixing their problem at quarterback by drafting
Robert Griffin III
was worth three first-round picks and a second-round pick. That's the "value" they assigned to Griffin as their short-term and long-term solution at the game's most critical position -- willingly not having another first-round pick until 2015. The first-year result is the current six-game winning streak that has delivered the Redskins' first winning season since 2007 and a shot Sunday night at their first division title since 1999.
[+] Enlarge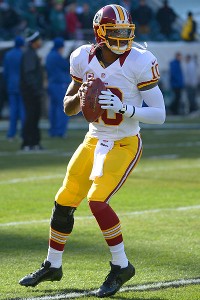 Jonathan Newton/Getty ImagesThe Redskins paid a steep price to acquire Robert Griffin III, but the move has paid off handsomely.
A number of things have gone right to help the Redskins to this point, but at the center of it all has been Griffin, who has delivered big plays with his arm and his legs, has thrown just five interceptions and piloted a Redskins offense that has the most rushing yards and the fewest turnovers in the league through 16 weeks. In their wildest dreams, the Redskins couldn't have imagined Griffin performing at this level in his first year, but the fact that he has is the biggest reason they're where they are at this point. Cowboys quarterback
Tony Romo
is having a big year, as are Cowboys wide receiver
Dez Bryant
and Redskins rookie running back
Alfred Morris
. But the award is for the Most "Valuable" Player, and the upgrade Griffin has provided for the Redskins at the most important position on the field has a value that surpasses anything anyone else in the NFC East has provided this year.
Biggest disappointment:
This one isn't hard. The 2011
Philadelphia Eagles
were a disappointment. That word isn't strong enough to describe what the 2012 Eagles turned out to be. They went into training camp with Super Bowl expectations and a chip on their collective shoulder after last year's flop, and they out-flopped even themselves. There was promise in their 3-1 start, in spite of the turnovers and the fact that they were barely winning. The defense was playing well,
Michael Vick
was leading them from behind in the fourth quarter and it made some level of sense to believe that they would play better and start winning more comfortably.
Instead, it went the other way. The eight-game losing streak that followed that 3-1 start doomed the Eagles to a sub-.500 season, and the 11 losses they already have with one game to go ties the most Andy Reid has ever had as a head coach. (He lost 11 in his first season there.) Injuries were a huge part of this, as 10 of the Eagles' Week 1 starters on offense have had to miss at least one game and the offensive line hasn't been together all year. But the problems go much deeper, and center on a poorly constructed roster that failed to adequately address holes at positions such as safety and a dysfunctional coaching staff mismanaged by the man in charge. Reid appears certain to pay with his job for failing to make good on his mulligan, and big changes are around the corner in Philadelphia.
No defense:
The NFC East hasn't had a repeat champion since the Eagles won it back-to-back in 2003-04, and it won't have one this year either. The
New York Giants
opened November with three more wins than any other team in the division, but their collapse following a 6-2 start has eliminated them from the division race with a week to go. The winner of Sunday night's game between the Redskins and the
Dallas Cowboys
will be division champs. If it's Dallas, it'll be the team's second title in four years and would be the second year in a row (and ever) that the division didn't produce at least one 10-win team. If it's Washington, it'll be its first division title in 13 years and would mean four
different
division champs in four years. This may not be the dominant, monster, "Beast" division it's been in some years past, but the intensity of the rivalries and the closeness of the quality of the four teams keep it the league's most competitive and entertaining year in and year out.
Each NFC East team had a turn in the spotlight this year. The Cowboys flashed greatness in their nationally televised victory over the defending Super Bowl champion Giants in the season opener. The Eagles got out to that 3-1 start. The Giants at one point stood 6-2, and their victories over San Francisco and Green Bay had folks talking about them as the best team in the league. The Redskins are on a six-game winning streak right now and one of the hottest stories in sports. Say what you will about this division or any of its teams, but you can't say it's not fun.
Better "corner" the market:
Looking ahead to the 2013 offseason, expect each of the NFC East's teams to make the secondary a high priority. The Cowboys like their corners, and they may be OK at safety if
Barry Church
comes back healthy, but they'll probably lose
Mike Jenkins
to free agency and could look to maintain their depth back there. The Giants need to figure out whether this is just a bad year for
Corey Webster
or if he's a player in decline, and at safety there are questions about
Kenny Phillips
' long-term status with the team after his injury-plagued season. The Redskins need all kinds of help in the secondary, where
Josh Wilson
has been fairly consistent but not great at corner,
DeAngelo Hall
is clearly in decline and they're getting by with backups at safety. And the Eagles have to figure out whether to keep one, both or neither of their veteran cornerbacks and whether it's time to cut bait with safety
Nate Allen
.
This division includes the No. 21, No. 28 and No. 30 pass defenses in the NFL, and the only NFC East team in the top half in the league in that category (Philadelphia, No. 11) has major question marks at cornerback and especially safety. Once known for its fearsome pass rushes, the NFC East learned this year that you can't always count on even that to be consistent, and it's time for this division's teams to prioritize their last lines of defense.
[+] Enlarge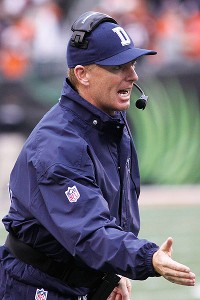 AP Photo/Tom UhlmanJason Garrett's Cowboys, winners of five of their past seven, can win the NFC East with a victory over the archrival Redskins on Sunday.
The men in charge:
You can expect wholesale coaching staff changes in Philadelphia, of course. But what of the division's other three teams, at least one and likely two of which won't make the playoffs? Head coaches Tom Coughlin and Mike Shanahan are clearly safe in New York and Washington, and Jason Garrett appears safe as well in Dallas after a year in which he's admirably led the Cowboys through injury and off-field tragedy into another Week 17 division title game. But that doesn't mean there can't or won't be changes at the coordinator level.
Dallas defensive coordinator Rob Ryan and Washington offensive coordinator Kyle Shanahan are both whispered about when head-coaching jobs come up, and the success of Griffin and the Redskins' offensive system could make Kyle Shanahan an especially hot candidate this offseason. Would he jump ship, or stay to see things through and possibly succeed his father down the road in D.C.? Redskins fans clamor for the head of defensive coordinator Jim Haslett, and I guess you never know, but I think Haslett's got this Washington defense overachieving, and I've heard nothing to indicate that the team is dissatisfied with the job he's doing. As for the Giants' Kevin Gilbride and Perry Fewell ... Fewell's no longer the head-coaching candidate he used to be for some reason, so it's likely a matter of whether they want to keep those guys around. The Giants tend to value organizational stability, and Gilbride and Fewell were coaching in and winning a Super Bowl less than 11 months ago, so it's hard to imagine they're in trouble. But I think the Giants are surprised at the way the last couple of weeks have gone, and I doubt they've seriously considered yet whether changes on the staff are warranted or necessary.
ALL-DIVISION TEAM
We do this every week, so you're used to a lot of these names in a lot of these places. There are some close calls, including at quarterback, where the Cowboys' Romo is as hot as anyone in the league and has thrown just three interceptions in his past eight games after throwing 13 in his first seven. Romo is third in the league in passing yards, and his responsible play and leadership are central reasons for the Cowboys' second-half surge. And if he beats Griffin and Washington on Sunday night, you can make the argument that he deserves the spot. I think it's that close right now. But Griffin's had the more consistent season and, as detailed above, the more dramatic impact. So he holds the spot.
The only other very tough call is at fullback, where
Darrel Young
and the Giants'
Henry Hynoski
are both excellent and worthy. Hynoski, for me, has been the slightly better blocker, but the Giants' recent struggles have hurt his case and Young, who actually touches the ball every now and then, takes the spot away from him. ... Kicker is a good race, as all four have had good seasons. And yes, I know
Kai Forbath
hasn't missed, but he's kicked barely half as many as
Dan Bailey
has. ... Philadelphia's
Brandon Graham
has made a strong case at defensive end with his second-half play, but
Jason Hatcher
's been a rock all season as a 3-4 end for Dallas. ... Dez Bryant and Alfred Morris are no-brainers as the division's best wide receiver and running back. What kind of odds could you have got on that in early September?
November, 16, 2011
11/16/11
10:29
AM ET
IRVING, Texas -- The Cowboys meet the Redskins on Sunday at FedExField, so we check in from The Other Side for a second time this year with Rick Maese of the Washington Post to tell us what has happened this year with Mike Shanahan's team.
Archer -
Dan Snyder hasn't been the most patient owner, so is there any chance that Mike Shanahan could be on the hot seat?
Maese -
I think that'd very doubtful at this point. For starters, Shanahan will have three years left on a contract that pays him around $7 million per season. While Snyder has certainly thrown away money on players, he hasn't been as eager to buyout coaches. But I think Snyder has also shown more patience as he's grown as an owner. Shanahan inherited a bad team in just about every way possible. The more likely scenario, I think, is for Snyder to bring in someone to beef up the personnel and scouting departments.
Archer -
From the outside the quarterback position has gone horribly wrong. Is that Mike Shanahan's fault? His son's? The players? Are fans calling for Andrew Luck yet?
Maese -
Ultimately, Mike Shanahan has final say in personnel decisions, so he has to shoulder the responsibility for the terrible quarterback play. Now, he's certainly taking into consideration what he hears from his coaches, including Kyle Shanahan, his son and offensive coordinator, but at the end of the day, it's his call. I think every human being in the Washington area would be shocked if either
Rex Grossman
or
John Beck
is somehow starting Week 1 in 2012. Unfortunately for them, the team's 3-1 start likely eliminated them from the Luck Sweepstakes.
Archer -
The Redskins have
Tashard Choice
on the roster and he said he's playing this week vs. his former team. What type of role is there for him there?
Maese -
As bad as quarterback play has been, the team's running game has been even less consistent. The offense is supposed to be built off the running game, and they're on pace to have the worst season running the ball in more than 40 years. So there's an opportunity for Choice. He'll have to show in practice this week that he's picked up Shanahan's system and deserves playing time this Sunday -- not to mention his hamstring needs to be 100 percent.
Archer -
It appears the defense is still playing pretty well. How has another ex-Cowboy,
Stephen Bowen
, done in his first year?
Maese -
Despite the Redskins' myriad problems, they feel like they beefed up their front-seven and that certainly seems to be the case through nine games. Bowen has held up well, despite an increase in snaps over last season. Depth is a problem along the defensive line and the Redskins can't afford to be without Bowen at this point.
Archer -
So much talk about how bad the season has been, what's been the best thing this year?
Maese -
There's been flashes of promise from young players. First-round draft pick
Ryan Kerrigan
should be in the running for rookie defensive player of the year. Rookie tailback
Roy Helu
set a franchise record with 14 catches in one game, breaking a mark set by
Art Monk
. Rookie
Leonard Hankerson
, who went on IR this week, topped 100 receiving yards last Sunday. Rookie
Niles Paul
is currently sidelined with a toe injury but has shown promise. Second-year linebacker
Perry Riley
had his first start last week and recorded four tackles for loss. So there are a few bright spots; they're just overshadowed by injuries.