Dallas Cowboys:

Lance Briggs
December, 9, 2013
Dec 9
1:00
PM ET
CHICAGO -- The
Chicago Bears
and
Dallas Cowboys
can feel each other's pain.
The Monday night game features a pair of defenses that rank among the worst in the league in large part because they have been decimated by injuries. In this case, the Cowboys arguably have a significant advantage.
The injury woes for the Dallas defense have been bad. There's no doubt that medical issues have played a major role in the Cowboys ranking last in the NFL in total defense (421.6 yards per game) and 21st in scoring defense (25.3 points).
That's especially true for the Cowboys' defensive line, with projected starters
Jay Ratliff
and
Anthony Spencer
playing a grand total of 38 snaps this season, all by Spencer in his one outing before going on IR. Key reserves
Tyrone Crawford
and
Ben Bass
have spent the entire season on injured reserve.
DeMarcus Ware
missed three games, the first time in his career an injury sidelined him.
Jason Hatcher
missed a game.
Four other key players -- linebackers
Sean Lee
and
Justin Durant
, cornerback
Morris Claiborne
and safety
J.J. Wilcox
-- have missed a combined 12 games due to injuries. The good news for the Cowboys is that all of those players except for Claiborne are available Monday night against the Bears, although star middle linebacker Lee is the only one who is still a starter.
The good news for the Bears? Um, Ratliff is ready to roll after chipping off some rust last week, having signed with the Bears after a miraculous recovery on the heels of being released by the Cowboys when he insisted he wouldn't be able to play this season.
Chicago's defense, which was dominant last season, is still in shambles. They Bears have fallen to 29th in total defense (386.0 yards) and 29th in scoring defense (27.7 points) after ranking in the top five of both categories last season.
The Bears are missing Pro Bowlers at each level of their defense. Defensive tackle
Henry Melton
has been on injured reserve since Week 3 due to a knee injury. Cornerback
Charles Tillman
, who has forced the most turnovers of any NFL defender the last decade, has been on IR since Week 10 due to a triceps injury. Outside linebacker
Lance Briggs
(shoulder) will miss his sixth consecutive game.
Middle linebacker
D.J. Williams
, who was signed to replace retired
Brian Urlacher
, has been on IR since Week 6. Nickel back
Kelvin Hayden
has missed the entire season due to a hamstring injury.
The Bears' leftovers have been pretty bad against the pass and awful against the run. Chicago's rushing defense ranks dead last in the league, allowing 153.6 yards per game. According to ESPN Stats & Information, the Bears have allowed 3.9 yards per carry with Briggs and 6.6 yards per carry without him.
The Cowboys' injury woes have been exploited often this season. It's time for them to benefit from another team's pain Monday night.
January, 7, 2013
Jan 7
12:30
PM ET
IRVING, Texas -- The Cowboys showed a remarkable ability to come back from double-digit deficits throughout the course of the season.
[+] Enlarge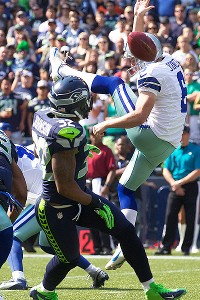 Stephen Brashear/Getty ImagesThe Cowboys' three disastrous opening drives in Week 2 at Seattle included a blocked punt, and Dallas found itself down 10-0 early on.
Unfortunately, they were mostly caused by their poor starts. Whatever Jason Garrett was selling before the game, the Cowboys were not buying at the beginning, especially early in the season.
In Week 2 at Seattle, the Cowboys fumbled the opening kickoff, allowed a blocked punt return for a touchdown and had an interception on their first three drives, which led to a 10-0 deficit and 27-7 loss.
In Week 4 against Chicago, the Cowboys found themselves down 24-10 thanks to interception returns for touchdowns by
Charles Tillman
and
Lance Briggs
.
In Week 8 against the
New York Giants
, they trailed 23-0 thanks in part to two interceptions, including a 28-yard pick-six by
Jason Pierre-Paul
.
On Thanksgiving, the Cowboys allowed 28 second-quarter points, falling behind by 25 at halftime against Washington.
For a team that had little margin for error, the poor starts were too much to overcome and played a big part in why the Cowboys finished 8-8 for the second straight year.
October, 16, 2012
10/16/12
10:30
AM ET
IRVING, Texas – While I'm still wondering how the Cowboys can run one offensive play in the final 26 seconds of a game like they did Sunday at Baltimore, it's time to move on to the weekly Five Wonders feature as Carolina awaits.
** I wondered at the time whether the Cowboys were making the smart move in improving their cornerback situation in the offseason instead of improving the pass rush. After five games, it seems pretty clear that in the long debate of whether a pass rush makes a secondary or vice versa, that the former is true. Five games into the season the Cowboys are waiting for their first interception by a defensive back. Last year, at least they had two in the first five games and those players,
Terence Newman
and
Alan Ball
, are gone. The defensive backs have only 13 pass deflections so far against 130 pass attempts. Blame the defensive backs if you want, but if a quarterback is not under duress, then he's not going to throw a ball up for grabs.
** I wonder if those who thought
Jason Witten
had lost it with his poor start to the season are starting to feel a little bit queasy. In the last two games Witten has 19 catches for 200 yards on 21 targets from
Tony Romo
. He is on pace for 86 catches for 883 yards, which puts the first three games in which he dropped five passes into some different light. If he caught the passes against Seattle and Tampa Bay, especially those down the field, Witten would be on pace for more than 1,000 yards again. If Witten had lost it, then he would not have been as open as he was getting. It was simply a case of the drops. In the last two games, he has been nearly flawless. The lone time he and Romo did not hook up on a pass came on Lance Briggs' interception return when Romo was hit as he attempted to flip the ball free. The only miss against Baltimore was on an overthrow on a waggle in which safety
Ed Reed
was lurking.
** Jason Garrett had a particularly strong comment about penalties on Monday and what he can do to rectify the issue. He finally mentioned playing time. "Certainly you have the option of saying, 'OK, if you continue to get penalized like this you're going to be out of the lineup or you're going to be of the football team," he said. Strong. But I wonder what action he can take. Yes,
Doug Free
had some penalties again, but do you want to see
Jermey Parnell
on a full-time basis? Parnell has played a handful of snaps this season in short-yardage situations and has a penalty and two missed assignments.
Kevin Ogletree
had some illegal shift troubles and his playing time might be in trouble going forward. But do you want to see more
Dwayne Harris
? If you're asking me, I'm putting
Cole Beasley
on the field in the slot and keeping
Miles Austin
outside all the time.
** The Cowboys dodged a bullet of sorts with DeMarco Murray's sprained foot. There was an initial fear that he had a Lisfranc injury that would have ended his season. He is not expected to play this week at Carolina and will be viewed as week to week after that. I wonder if the Cowboys look for a more experienced runner to help
Felix Jones
through however long this stretch is. The Cowboys signed
Sammy Morris
late last season after Murray was lost for the year and they were already without
Phillip Tanner
. On Sunday Tanner and
Lance Dunbar
did a nice job filling in when Jones needed to get an IV after Murray's day ended. But there is a trickle-down effect on special teams because if Tanner has to run more, then they might have to cut back on his special teams' snaps. Dunbar maybe as well. I don't think they'll go that route, but just something to think about.
**I wonder if we saw on Sunday a little bit of how the Cowboys would like to work their cornerbacks in the base defense.
Morris Claiborne
started and played the first two series.
Mike Jenkins
was in on the third series and I'd suspect he would have played the next series if he didn't need to get his right shoulder examined. Injuries, I think wrecked the plan altogether. Claiborne twisted his knee on the Ravens' last series of the first half and was called for a pass interference penalty that just defies logic. With Jenkins and Claiborne hurt to start the second half,
Orlando Scandrick
was in with the base defense. If Claiborne and Jenkins are healthy and the Cowboys are playing a team that does not use a lot of three wides, like Baltimore, I'm betting that rotation will return.
October, 4, 2012
10/04/12
1:00
PM ET
IRVING, Texas -- Officially, Tony Romo's five-interception game will remain a five-interception game.
PODCAST
ESPN NFL insider Chris Mortensen comments on the national perception of the Dallas Cowboys.

Listen

Elias did not change the official statistician's call from Monday night of Chicago linebacker
Lance Briggs
' 74-yard interception return to a 74-yard fumble return.
Replays appeared to show Bears defensive linemen
Henry Melton
poked the ball free as Romo climbed the pocket and was looking to flip the ball forward to
Jason Witten
, but the ruling at the time stands, to use the replay vernacular.
Monday's was the second five-interception game of Romo's career. He was also picked off five times on Oct. 8, 2007, at Buffalo, but the Cowboys managed to win that game, 25-24. Romo and Eddie LeBaron are the only two quarterbacks in team history with two five-pick games.
October, 2, 2012
10/02/12
12:55
PM ET
IRVING, Texas -- Raise your hand if you thought
DeMarcus Ware
would be able to make
Jay Cutler
cuss out his left tackle
J'Marcus Webb
even more than he did a few weeks ago on Monday?
PODCAST
Cowboys LB Sean Lee discusses the play of the defense, focusing on their mistakes during the bye week and more.

Listen

In this week's Look Back,
Chicago
did its best to make sure Ware would be contained.
Of the seven possessions by Chicago (not including the two kneel downs and a three-and-out when the score was 34-10), the Bears made sure they knew where Ware was and mostly made sure Cutler got rid of the ball. The one time he didn't Ware had his sack and fumble by chasing Cutler down from behind.
Ware has seen a backup tackle (Seattle was without
Russell Okung
) and a picked-on tackle in Webb and he has only been OK. His sack/fumble of Cutler on Monday was a huge play that gets lost when
Tony Romo
is intercepted (or fumbled) on the next play and is returned for a touchdown by
Lance Briggs
Ware was singled up with Webb or right tackle
Gabe Carimi
14 times in his pass rush. Seven times they gave some sort of help to the tackles with either a tight end or running back. Four times Ware was in coverage. He was off the field for one of Cutler's passes to take a rest.
On Cutler's long touchdown to
Devin Hester
, Ware was singled up by Webb but Cutler was throwing away from Ware and drifted away from any pressure. On Brandon Marshall's big third-down catch on
Brandon Carr
, Ware was able to pressure up the middle but it was a quick throw. On Marshall's 31-yard touchdown, Ware got caught in the wash as he looped inside.
For those of you wanting to believe Ware doesn't make impact sacks, take a peek at how the Bears made sure they took Ware out of the game with shorter drops and quicker throws.
The secondary struggled to say the least against the Bears. A lot of the attention will go on Carr, but the Bears took advantage of the
Cowboys
' safety play.
They were able to work the middle of the field against the Cowboys' zone coverage to near perfection, especially with Marshall but
Alshon Jeffery
had his moments too.
Gerald Sensabaugh
might not want to look at the first drive of the third quarter.
Jeffery worked underneath for 14 yards against Sensabaugh. Marshall got him for 10 more a play later. And on Hester's touchdown, Sensbaugh jumped an underneath receiver when
Danny McCray
was already apparently in position.
Hester uses a double move to break free from
Morris Claiborne
, but the rookie corner looks like he is playing outside leverage and expecting help inside to the post. It wasn't there.
It wasn't just Sensabaugh either.
Mike Jenkins
was beaten by
Kellen Davis
for a 21-yard pickup on third down with the score 24-10. Davis opened up the corner route by taking Jenkins inside for a few steps. Sensabaugh was in position for that but Jenkins lost contact with Davis, giving up the outside throw.
For those of you wanting Rob Ryan to blitz more, witness Marshall's 31-yard touchdown. The Cowboys sent seven guys at Cutler, including Claiborne off the corner, and could not get home. Carr got caught up with Davis and McCray underneath, giving Marshall the middle of the field for what could have been the easiest touchdown of his career.
As Jean-Jacques Taylor noted this morning, this was another brutal game for the offense.
Jason Garrett was right about one thing: they were able to pick up yards in the passing game. The protection of Tony Romo was not that bad overall but Henry Melton's forced pick/fumble that led to Briggs touchdown was a back breaker.
Right guard
Mackenzy Bernadeau
was beaten to his outside shoulder and caught off balance. He tried to push Melton by as Romo climbed the pocket but Melton was able to poke the ball free. I have a feeling this will be called a fumble after an official review of the play by the league and not an interception even as Romo was looking to flip the ball to
Jason Witten
.
That was a huge play, but the line's pass protection was good enough. The Bears brought five-man or more pressures nine times and Romo completed 8 of 9 passes.
Romo will want a couple of throws back and we're not talking about the interceptions in the second half. We're talking two touchdown throws.
The first came in the second quarter. He missed
Dez Bryant
on a deep ball down the seam on man-to-man coverage after Felix Jones' motioned wide to open up the throw. Romo either did not put enough air under the ball or threw it too early.
The second came in the third quarter with the Bears leading, 24-10. It was another deep ball down the seam, this time to
Miles Austin
. At the snap Austin beat the corner and the safety,
Chris Conte
, was late to cover up. Again Romo either didn't put enough air under the ball or threw it too early.
The running game was non-existent and it wasn't because the Bears were dedicating an extra defender to the box. They had only three eight-man fronts in the first half. The line could not get enough push. Simple as that.
But
DeMarco Murray
will lament a second-quarter toss play to the left. Jason Witten sealed the edge.
Tyron Smith
had Lance Briggs under control.
Kevin Ogletree
had safety Conte blocked and cornerback
Charles Tillman
took himself out of the play.
If Murray catches the toss from Romo, which was a good one, then he has a big gain. Maybe not a touchdown, but certainly a first down and perhaps his second-longest run of the season.
Making that hurt even more? Romo and Bryant had a miscommunication on the next play that led to Tillman's pick six.
April, 12, 2011
4/12/11
12:20
PM ET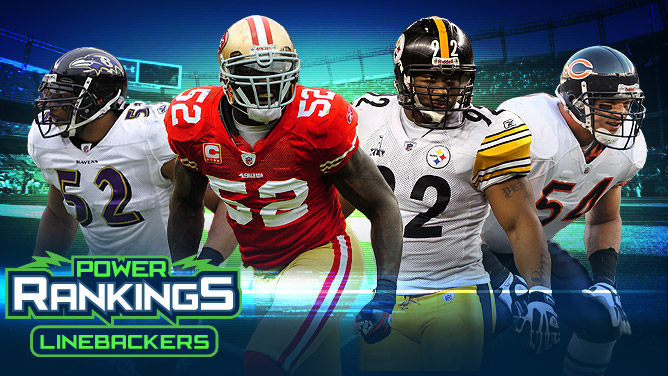 ESPN.com IllustrationSan Francisco's Patrick Willis ran away from the field in our voting for the NFL's best linebacker.
ESPN.com's NFL writers rank the top 10 linebackers in the league today. Next week: Top 10 cornerbacks.
San Francisco 49ers
linebacker
Patrick Willis
beat out a strong and diverse field for top billing in ESPN.com's latest positional power rankings.
All eight panelists ranked Willis among their top three, elevating the 26-year-old perennial Pro Bowler above
James Harrison
and
DeMarcus Ware
as our No. 1 linebacker in the NFL.
Even 12-time Pro Bowler
Ray Lewis
, the dominant linebacker of his era, pointed to Willis as
a worthy successor
to his undisputed reign. Not that Lewis is finished just yet. He placed fifth in the rankings behind Willis, Harrison, Ware and the
Green Bay Packers
'
Clay Matthews
. But there was no more complete linebacker than Willis.
"Nobody in the NFL plays their position better than Patrick Willis, and that is saying a lot," said Matt Williamson of Scouts Inc., whose insights helped shape my ballot. "He is as good a linebacker as
Peyton Manning
is a quarterback, as
Andre Johnson
is a receiver, as
Adrian Peterson
is a running back. He has no weaknesses."
Willis, a three-time Associated Press All-Pro first-team selection, is the first 49ers player since
Ronnie Lott
to earn Pro Bowl honors in each of his first four seasons.
Joe Thomas
and Peterson are the only other 2007 draft choices with four Pro Bowls.
Apples and oranges:
Comparing linebackers from 3-4 schemes to their 4-3 counterparts proved problematic for some panelists. AFC East blogger Tim Graham ranked Ware
first among pass-rushers
three weeks ago, but only ninth among linebackers.
"Patrick Willis,
Brian Urlacher
and Ray Lewis would be great linebackers in a 3-4 or a 4-3," Graham explained. "DeMarcus Ware and
Cameron Wake
might not even be linebackers if they played in Indianapolis, Tennessee or Minnesota. At some point, I had to value elite pass-rushing abilities on my list even though those players aren't universal-type linebackers."
There was room for differing views. ESPN.com's John Clayton and AFC North blogger James Walker ranked Ware first among linebackers and first among pass-rushers. AFC South blogger Paul Kuharsky ranked Ware first among linebackers and second among pass-rushers.
"Separating Ware, Willis and Harrison is like splitting hairs, because it really depends on what you want in a linebacker," said Walker, who went with Ware, Willis and Harrison atop his ballot. "Ware is a slightly better pass-rusher than Harrison, and Willis is a future Hall of Famer in his prime. Age also has to be a consideration if you're building a defense, and Harrison will be 33 in May. But they're all great."
First things first:
Graham and NFC North blogger Kevin Seifert joined me in ranking Willis first. AFC West blogger Bill Williamson had Willis second only to Harrison.
"When I think of linebacker play in the current day, James Harrison pops out," Bill Williamson said. "I think he's the gold standard of complete linebacker play. Look at
his signature play
in the Super Bowl against Arizona. That play will forever be part of NFL lore. Patrick Willis, who is also a great player, doesn't have that play on his résumé. Plus, Harrison is an ornery cuss on the field. The man was born to be a 'backer."
Willis can't match Harrison in Super Bowl memories -- he could use a quarterback, for starters -- but he's not hurting for signature plays:
Lewis pointed to Willis when ESPN's Dana Jacobson recently asked him which young linebacker reminded Lewis of himself.
"I just love the way he plays the game," Lewis said. "He plays the game with a fire. He reminds me of myself -- a lot, a lot, a lot."
Unanimous decisions:
The top five finishers received votes from all eight panelists. The gaps between highest and lowest votes fell between four and seven places for all but Willis, who ranked no lower than third.
Seifert ranked Lewis third. I had Lewis 10th and feared I might be measuring him against himself. No list of top linebackers would be complete without him, I thought, but a younger generation is taking over.
Hugs for Suggs:
Lewis' teammate,
Terrell Suggs
, finished just out of our top 10 despite getting a No. 5 ranking from Kuharsky.
[+] Enlarge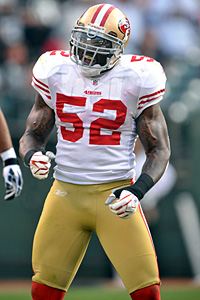 Kirby Lee/Image of Sport/US PresswirePatrick Willis has averaged nearly 149 tackles per season since joining the league in 2007.
"I unabashedly love Suggs, and frankly would have placed him higher if I thought there was any way he needed help to crack the top 10," Kuharsky said. "To me, there is a great deal of subjectivity in ranking this position when mixing guys from 4-3s and 3-4s, so I did a lot of know-them-when-I-see-them ranking. Suggs is absolutely a top-10 guy to me."
Clayton, Seifert, Graham and I did not list Suggs on our ballots while searching for the right mix of 3-4 and 4-3 talent.
Fit to be tied:
The players tied for ninth on our list illustrate the varied criteria for the position. Kansas City's
Tamba Hali
is a pure pass-rusher in the Chiefs' 3-4 defense. Carolina's
Jon Beason
is a traditional 4-3 linebacker with the versatility to play multiple spots. He changed positions twice in 2010.
Beason peaked at No. 5 on my ballot. NFC South blogger Pat Yasinskas had Beason sixth and considered ranking him higher.
"There was a time when I would have ranked Beason in the same echelon as Willis," Yasinskas said. "I think he has a chance to re-emerge if Carolina can put a better team on the field, particularly by getting better at defensive tackle and keeping blockers off Beason. If that happens, I think Beason can be as good as any linebacker in the league."
Youth on his side:
New England's
Jerod Mayo
appeared on six of eight ballots, ranking sixth overall between Lewis and Urlacher. At 25, Mayo was one of two linebackers younger than Willis to earn a spot among the top 10. Matthews, 24, was the other. Graham ranked Mayo third.
"Nose tackle
Vince Wilfork
might be the anchor of the Patriots' defense, but Mayo is the one who ties their defense together," Graham said. "Mayo is a tackling machine who compensates for shortcomings at outside linebacker and injuries along the defensive line. He would be a star in any system."
On an island:
Four linebackers received a single vote. That list featured
Brian Orakpo
(Clayton),
Lance Briggs
(Seifert),
London Fletcher
(Walker) and Wake (Graham).
Best doesn't mean most valuable:
Matt Williamson called linebacker the toughest position to evaluate. I'll close by passing along a few of his thoughts:
"Willis is so exceptional it would be a coin flip with Ware. Willis has no weaknesses, but if I were a general manager, I would take Ware because pass-rushers are so hard to find. You can get away with a C-level middle linebacker and still have a good defense. You can have a two-down run-stopper and pull him out in nickel."

"Ray Lewis would not be in my top five at this point. For his age, he is still exceptional and a borderline Pro Bowler, but he doesn't run like he did. I remember when I was with the Browns, I looked at every report the team had written since 1999 and Lewis had the highest grade ever given out. He was nearly perfect."

"Hali is a one-trick pony, a pass-rusher, but he is great at it -- as good as any pass-rusher in the league."

"Beason is like Patrick Willis, but he is 95 percent of him. He can play outside, inside, he's smart -- but there is so little around him that people don't realize how good he is."

"Pass rushing is Clay Matthews' greatest gift, but he is the prototypical outside linebacker. He's a great technician and way more explosive and athletic than people realize. He's good in coverage, not great, but they line him up all over."

"London Fletcher is underrated, but not in this conversation. How Beason is to Willis, Fletcher is to Lewis. He is smaller and slower than Lewis, good among older guys."

"Brian Urlacher is still a really good player, but the top 10 might be a stretch. I would take him ahead of Lewis, behind Beason and Willis among 'Mike' 'backers. He is good in coverage. People forget that he was a safety at New Mexico. He doesn't run like he used to and is just not as dynamic as he was in the day."

"The Steelers have the best linebackers in the league. LaMarr Woodley is very strong and in that conversation too. Definitely top 15. Harrison is great against the run, extremely strong and one of the few linebackers in the league that is a difference-maker from an attitude standpoint. He brings attitude to the table like a Jack Lambert or a Dick Butkus or a Ray Lewis type. He is feared. He is one of the best leverage players in the league, great in pursuit, tenacious as hell. The other guy to know about is Lawrence Timmons. He will be spectacular."
September, 21, 2010
9/21/10
8:00
AM ET
By
Bryan Broaddus
| ESPNDallas.com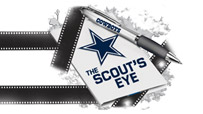 Had a feeling that this would be a difficult game for the Cowboys against the Bears because I had a great deal of respect for their front seven on defense and how they would match up against the Cowboys on offense.
Where I thought the Cowboys would have the advantage was their ability to put this Bears' offensive line in a bind and pressure
Jay Cutler
into mistakes, much like teams have done throughout his career. The Cowboys were able to do just that until a bust in coverage led to a huge play for the Bears on a "hot read" by Cutler to tight end
Greg Olsen
with 8:08 remaining in the second quarter.
Bears offensive coordinator Mike Martz calls for an empty backfield with four wide receivers and one tight end. The Cowboys counter with "0" coverage -- man across the board and no free safety help in the middle of the field. Usually when Wade Phillips dials up a blitz, he likes to play "man free," which is man across the board with a free safety in the middle of the field.
For the Bears, Olsen is lined up as the tight end on the right side of the formation. To his outside right is a receiver in the slot and Cowboys safety
Alan Ball
across from him in coverage. Outside of Olsen's right shoulder is
Anthony Spencer
, who is in a two-point stance and ready to rush up the field. Inside for the Cowboys at linebacker are
Bradie James
and
Keith Brooking
.
On his Monday night radio program on ESPN 103.3 FM Dallas, James told Ben and Skin that he made an adjustment check to the formation he saw, but not everyone heard the check. What was strange is James is usually very vocal and emotional with his actions. This time, he didn't appear that way.
When the ball was snapped, both James and Keith Brooking were rushing through the front side "A" gap until Brooking pulls back and jumps for the Cutler pass. The damage was already done with Olsen off to the races with ball in hand.
What had to be disappointing to the Cowboys coaches is that Ball, who has very good timed speed, was unable to bring Olsen down around the 11-yard line and Olsen was able to work his way into the end zone. From that point on, you did not see Phillips bring any all-out pressure like he did in the first quarter.
By my count, he blitzed only 10 more times the remainder of the game and never in the "all-out" style that he used in the first quarter, which was causing the Bears problems along the offensive front.
*It's a head coach's job to manage the game. It's not always about kneeling down to end a half, kick a field goal or go for the first down on fourth down. It's much more than that.
Wade Phillips made a decision along with Joe DeCamillis to try for a pooch kick to Bears defensive end Isreal Idonije, who plays as the left end in the second wedge on the kickoff return. I understand what Phillips was trying to do by making a player handle the football that is not accustomed to do that, but much like many things that have happened to the Cowboys in the 2010 season, the thought and idea might have been good but the execution very poor.
Instead of getting the ball to the 30-yard line where Idonije was standing and making him handle it,
David Buehler
pops the ball short to the 42 for the easy fair catch for
Tim Jennings
, giving the Bears the opportunity to work with a short field.
*The situation was third-and-5 from the Bears 26 with 7:32 left in the fourth quarter. The Bears were up three, 20-17.
Tony Romo
is in the shot gun and has
Tashard Choice
to his right with linebacker
Lance Briggs
in coverage lined up over guard
Leonard Davis
.
Jason Garrett
dials up the perfect play for the situation with Choice swinging out of the backfield to the right, into the flat then up the field. Because of where Briggs is lined up, Choice has an advantage in the route.
As the play develops, Romo sees what he has to the outside, takes the football and with solid protection tries to hit Choice on the move up the field. Choice has space on Briggs, who is trying to close from the inside. But Choice has to slow up because Romo is unable to deliver the football in front of him.
If Choice catches the ball cleanly, he has a chance for a touchdown or a first down at the very least. The ball is low and behind Choice and falls incomplete. The next play, Buehler misses a 44-yard field goal wide left.
Execution in coverage, special teams and offense spelled doom for the Cowboys in this 27-20 loss to the
Chicago Bears
.
September, 20, 2010
9/20/10
11:00
AM ET
IRVING, Texas – The Bears defensive backs are barking about intimidating Tony Romo's targets.
Cornerback
D.J. Moore
, who came up with a couple of interceptions on passes that went off Cowboys' hands, went so far as to single out Pro Bowl tight end
Jason Witten
.
"The second one, he was pretty much just scared to get hit,'' Moore told the Chicago Sun-Times (
via the ESPN.com NFC East blog
). ''He short-handed it like he was just about to get hit."
Those are harsh words for Witten, especially considering that he suffered a concussion on a catch that ended with him getting pinballed between a couple of Bears. It might have been more appropriate to call out
Miles Austin
, who coughed up the ball when crunched by
Charles Tillman
on Moore's first pick.
One receiver the Bears certainly couldn't accuse of being scared was Roy Williams. He twice held on to passes despite taking vicious hits across the middle of the field.
Bears linebacker
Lance Briggs
told reporters that he thought safety Chris Harris' hit on Williams after a 19-yard gain in the first quarter set the tone. That might be true, but Williams held on when Briggs unloaded on him after a 12-yard catch over the middle later in the game.
"Nobody intimidates me coming across the middle," Williams said. "I catch the ball, pop up and give you first down in your face."
September, 17, 2010
9/17/10
3:19
PM ET
IRVING, Texas -- Outside linebacker
DeMarcus Ware
, left guard
Kyle Kosier
and right tackle
Marc Colombo
are listed as probable on the official injury report.
Kosier and Colombo, who missed the season opener due to knee injury, have fully participated in every practice this week. Ware, who sat out Wednesday and had limited participation Thursday as a precaution due to a slight concussion, was a full participant Friday.
All three will start Sunday against the Bears.
Linebacker
Sean Lee
(hamstring), fullback
Deon Anderson
(knee) and tackle
Sam Young
(knee) are out.
Bears outside linebacker
Lance Briggs
is listed as probable with an ankle injury. He practiced the last two days after sitting out Wednesday. Reserve linebacker
Nick Roach
is questionable with a hamstring injury.
September, 17, 2010
9/17/10
8:00
AM ET
By
Bryan Broaddus
| ESPNDallas.com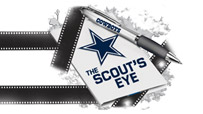 The Cowboys will face a defense that will present them a different set of challenges as opposed to what they faced last week in Washington.
Lovie Smith and former Lions head coach Rod Marinelli have once again hooked up and continue to put the Bears in the Tampa 2 scheme that they ran with great success for the Buccaneers under Tony Dungy.
In 2009, the Bears were a banged up defense and struggled without several key members in the lineup. This year, with the addition of
Julius Peppers
from Carolina, it gives them a much more dynamic pass rusher than you have to deal with off the edge.
Peppers tends to play the open side of the formation which is away from the tight end, so a matchup against just one of the offensive tackles is possible if the Cowboys want to set the formation to one side or the other. Peppers is one of those defenders that doesn't give you much of a hitting surface when blockers set on him. He has shown the ability to dip his shoulder and work underneath the tackle. He can be explosive from the backside as Lions quarterback Matthew Stafford learned.
Peppers does a nice job in the running game because he is difficult to hook or reach. He has very long arms and he uses them to keep blockers off him as he works down the line and into the backfield.
At the other end is
Mark Anderson
. Anderson is not a bulky player, but he is very quick. When Smith and Marinelli slant this line, Anderson is a problem to block on the move because he is a feel for how to beat blocks.
Anderson is the type of player that just keeps coming at you. He doesn't want to fight these tackles toe to toe, so he needs to be on the move.
The type of player that tends to give
Andre Gurode
and
Leonard Davis
fits are the ones with quick movement off the snap. Davis and Gurode will struggle because they have to move their feet and extend the blocks. It's the big inside guys that try to bull rush them that tends to be easier for them to block. The Bears have two of these types of players inside.
Tommie Harris
and
Anthony Adams
are both quick, up-the-field guys. Their game is based on movement more than strength.
The linebackers for the Bears are a veteran group.
Brian Urlacher
was throwing his body around.
Lance Briggs
was effective on the blitz, causing a turnover on the Lions' 1, and
Pisa Tinoisamoa
can really run. This group was very active attacking the Lions.
That's understandable because of a second-year quarterback at the controls for Detroit. It will be interesting if they try to blitz Tony Romo and allow this secondary the responsibility of playing coverage.
It's a Cover 2 look (safeties on the hash) with the corners playing short and the safeties behind. The Bears secondary will also use a technique of the corners turning their rears to the sideline and trying to funnel the receivers inside. In the Cover 2 look as well, you will a see deep drop by Urlacher in the middle of the field.
Romo always talks about patience when playing a Cover 2 team and taking what they give you.
Charles Tillman
is the better of the two corners. Zackary Bowman was picked on by the Lions. I would think that the Cowboys might do the same.
*The Bears on offense were able to move the ball on the Lions, but turnovers and red zone problems allowed to Lions to hang in the game and even have a chance to win it in the end.
The Bears will struggle to block the Cowboys' front. Tackles
Chris Williams
and Frank Omiyale will have a difficult job of blocking
DeMarcus Ware
and
Anthony Spencer
in the passing game.
Williams is the better player here because he plays with some strength. Omuyale just doesn't play with much upper- or lower-body strength at all. You see him come out of his stance then get worked back. He is always fighting just to sustain his block. The Bears will chip with their backs out of the backfield.
At center for the Bears is veteran
Olin Kreutz
, who is an old-school type of player. Kreutz is one of those guys who skills have left him, but he gets by because he has the ability to hold, trip and clip. Kreutz will have his hands full with
Jay Ratliff
. Ratliff just plays with too much quickness for Kreutz, who will have a hard time adjusting.
The Bears might not have big names at wide receiver, but what they do have is a group that can really run.
Johnny Knox
is a 4.29,
Devin Hester
a 4.41 and
Devin Aromashodu
a 4.35.
Knox is a smooth route runner that will go all over the field to catch the ball, Hester is outstanding in the open field with the ball in his hands, but the interesting player to me is Aromashodu. This player can cover some ground on the outside and does a nice job in the slot. In the Lions game, Cutler was going to him more than the other receivers.
It will be interesting if the Cowboys try to press these receivers and not allow free access in the routes. If the secondary can hold up on the outside, it will make Cutler have to face this pass rush and the possibility to creating turnovers. In the Lions game there were several times where Cutler was under pressure and just unloaded the ball.
Running back
Matt Forte
had two huge plays in the passing game for the Bears that resulted in touchdowns. Forte's running style is that of a slasher. If he had a problem in the Lions game, it was his inability to punch it in from the 1, but the Bears really didn't do a very good job of securing the hole. The Bears like to pull guards in short yardage, which was a big problem against the Lions. The Cowboys need to be careful in this game not to allow Forte to have a similar game to what he did against the Lions.