Dallas Cowboys:

Lance Moore
December, 23, 2012
12/23/12
9:00
AM ET
ARLINGTON, Texas -- The Cowboys play their final home game of the 2012 season Sunday when they host the
New Orleans Saints
at Cowboys Stadium. It's also the biggest home game of the season because a Cowboys victory keeps their playoff hopes alive. A loss doesn't end their season, but they would need help to keep their playoff fight alive.
Here are a few things to look for Sunday:
The series:
This is the 25th meeting between the Saints and Cowboys. Of the 24 previous meetings, 11 have been decided by two or more touchdowns. But 10 of the last 14 games were decided by 10 points or less. The last time the the Saints lost in Dallas was 1991. The Cowboys have lost their last three home games to the Saints.
No Sean Payton:
Saints coach Sean Payton is under suspension for his role in Bountygate and is banned from attending the game. In his place is Joe Vitt, who served a six-game suspension for his role in the scandal. Payton was a major influence in the development in Cowboys quarterback
Tony Romo
. Romo has downplayed the significance of Payton not attending the game.
DeMarcus Ware dinged up:
Most players are nicked up this time of year, and Ware is no different. The Cowboys' talented outside linebacker is dealing with a hyperextended elbow and a shoulder that pops out from time to time. It did last week. Ware, who hasn't missed a game this season, has had two multi-sack games and has had a sack in the same game with
Anthony Spencer
five times this season.
Defending the Saints:
The Saints have the third-best passing offense (397.9) in the NFL, but quarterback
Drew Brees
-- who leads the NFL with 4,335 passing yards -- is tied with
Andrew Luck
for the league lead in interceptions with 18. Will the Cowboys add to that total? The return of safety
Charlie Peprah
should help the secondary slow down the big plays and maybe force some turnovers. But the Saints have plenty of talent on offense. Receiver
Lance Moore
will be difficult to cover in the slot, and of course
Marques Colston
is a big-play threat with 13 receptions of 20 or more yards.
Romo's hot streak
: Sure,
Dez Bryant
has been on a tear (he's got a touchdown in the last six games), but Romo has been almost as hot. Romo has thrown 12 touchdowns the last six games with just three interceptions. Romo has also thrown for over 300 yards thee times and over 400 yards once.
December, 22, 2012
12/22/12
10:30
AM ET
IRVING, Texas – The Saints are averaging 27.8 points per game, which is good for fourth in the NFL.
PODCAST
How far away from elite quarterback status is Tony Romo? Tim MacMahon, Jean-Jacques Taylor and Landry Locker discuss on the Ben & Skin Show.

Listen

Drew Brees
has thrown 36 touchdown passes.
Jimmy Graham
,
Marques Colston
,
Darren Sproles
and
Lance Moore
all have at least five touchdown catches.
Mark Ingram
has four rushing touchdowns. In 574 pass attempts, Brees has been sacked just 24 times, so the line can block.
That should tell you defensive coordinator Rob Ryan has a tough task ahead of him.
But it also means something to Jason Garrett, as well, as the offensive play-caller.
"The best way to help the defense is to execute ball plays and drive the ball and score points," Garrett said. "A lot of people say, 'Do you want to play a slow down game and keep those guys on the sidelines?' You just want to be able to execute, make first downs, move the ball and score points. However you can do that is a good thing. Every week we try to do that. We game plan accordingly. We'll try to attack their defense."
More important than winning time of possession is scoring touchdowns inside the red zone because of the Saints' offense.
During the Cowboys' three-game winning streak they have scored touchdowns on five of their last nine possessions inside the opponents' 20. In their last six games they have scored touchdowns on 10 of their last 20 red zone drives.
"You must take advantage of the opportunities you do get in a game," Garrett said. "You don't get that many drives in a game. We've got to make sure we cash in on them."
December, 12, 2011
12/12/11
12:56
PM ET
IRVING, Texas -- If you regularly come back to the thought that, 'Man, the Cowboys sure come up with some inventive ways to lose games,' you're right.
Since 2005, I have come up with 13 head-scratching losses that seem to define this franchise. And that does not include the humiliating 44-6 defeat at Philadelphia to close the 2008 season, which knocked the Cowboys out of a playoff spot.
Three of those losses have come this year. Three came last year. Two each in '09, '08 and '06, and the one that kicked it off came on Sept. 19, 2005 (against Washington), when the Triplets –
Michael Irvin
,
Troy Aikman
and
Emmitt Smith
- were inducted into the Ring of Honor.
It has been quite a roller-coaster ride, but without the fun part.
Sept. 19, 2005 – Washington, 14-13.
The Cowboys lead, 13-0, with 6:01 to play, and the 65,207 in attendance, the largest crowd at Texas Stadium at the time following the 1985 renovations, was enjoying the moment. The Triplets were inducted into the Ring of Honor. The defense was dominating.
Then
Santana Moss
happened.
Moss caught touchdown passes of 39 and 70 yards in the final 3:46, bringing to light Roy Williams' deficiencies in coverage. The second touchdown came with 2:35 to play. Oh, by the way, the Cowboys missed the playoffs by a game that year.
Nov. 5, 2006 – Washington, 22-19
Tony Romo's second start was about to end with a fourth-quarter drive for a game-winning field goal, but
Troy Vincent
blocked
Mike Vanderjagt
's 35-yard try.
Sean Taylor
scooped up the loose ball and returned it 30 yards. Another 15 yards was added because of a
Kyle Kosier
facemask penalty.
With no time on the clock,
Nick Novak
kicked a 47-yarder to beat the Cowboys.
Jan. 6, 2007 – Seattle, 21-20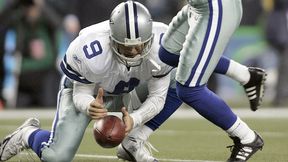 AP Photo/John FroschauerTony Romo bobbled the snap for the game-winning field goal versus the Seahawks, preventing Martin Gramatica from making the 19-yard attempt.
This one was the most heartbreaking because it was in the wild-card round of the playoffs. It was also Bill Parcells' final game as a head coach. The Cowboys maintain to this day that had they won that game, they could have gone to the Super Bowl.
Instead
L.P. LaDouceur
's snap for a 19-yard field goal try slipped through Romo's hands. Conspiracy theorists point to the slippery "K-ball" that was put in play before the snap. Others point to a
Jason Witten
first down that was overturned by the replay official, which negated the possibility to run the clock out or score a touchdown.
Oct. 12, 2008 – Arizona, 30-24 (OT)
The Cowboys somehow tied this game at the end of regulation on a 52-yard field goal by
Nick Folk
, but on the opening series of overtime, they lost
Tony Romo
to a broken pinky finger and punter
Mat McBriar
to a broken foot. On the play in which McBriar broke his foot,
Sean Morey
blocked his punt and
Monty Beisel
fell on the ball for a touchdown. The game started with a special teams touchdown (a 93-yard kick return) for the Cardinals, and ended with one.
Dec. 20, 2008 – Baltimore, 33-24
In what was a struggle for the offense for most of the game, twice the Cowboys pulled to within two points of the Ravens.
Terrell Owens
made the score 19-17 by scoring with 3:50 to play. Baltimore answered with a 77-yard touchdown run by
Willis McGahee
. Jason Witten cut the gap again with a TD grab with 1:36 to play.
Le'Ron McClain
answered with an 80-yard touchdown run.
It was not the way Jerry Jones wanted to see Texas Stadium close.
Sept. 20, 2009 – NY Giants, 33-31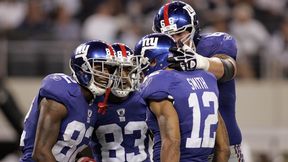 Tim Heitman/US PresswireMario Manningham, left, and Steve Smith, right, combined for 20 catches and 284 yards in the Cowboys Stadium opener.
If Jones didn't want to see Texas Stadium close that way, he didn't want to see Cowboys Stadium open this way.
Felix Jones
gave the Cowboys a 31-30 lead with a touchdown run with 3:40 to play.
Then
Eli Manning
happened.
Manning completed 7-of-9 passes for 64 yards, helping the Giants overcome a 1st-and-20 situation from their 15 and leading to a 37-yard game-winning field goal by
Lawrence Tynes
with no time left.
Oct. 4, 2009 – Denver, 17-10
The Cowboys blew a 10-0 lead when Broncos wide receiver caught a 51-yard touchdown pass from
Kyle Orton
with 1:46 to play. However, Romo had the Cowboys in position to tie the game after a 53-yard completion to
Sam Hurd
.
At the Denver 2-yard line with nine seconds to play, Romo went to Hurd (unsuccessfully) on back-to-back plays while the wideout was defended by Pro Bowler
Champ Bailey
.
Cowboys Pro Bowler Jason Witten did not even run a route.
Sept. 12, 2010 – Washington, 13-7
The Cowboys dominated defensively, but were done in by Jason Garrett's decision to call a play with four seconds left in the first half and a mile away from the Redskins' end zone. Romo flipped the ball to
Tashard Choice
, who fumbled while fighting for extra yards. Cornerback
DeAngelo Hall
scooped up the loose ball and ran it back for a 32-yard touchdown. It was the Redskins' only touchdown of the game.
In position to win the game,
Alex Barron
happened.
With three seconds left, Romo hit
Roy Williams
for an apparent game-tying touchdown with the point-after attempt being the difference in a win. Not so fast. Barron, starting in place of an injured
Marc Colombo
, was called for holding
Brian Orakpo
on the touchdown pass, wiping out the comeback.
Nov. 25, 2010 – New Orleans, 30-27
The Cowboys were not in the playoff chase, but they were fighting under Garrett, who took over for Wade Phillips as the interim coach. They led 27-23 and were in position to salt the game away as Roy Williams raced down the field toward the Saints end zone. As he switched the ball to his left hand away from a New Orleans defender, he allowed
Michael Jenkins
to strip it away for the turnover.
Five plays and 89 yards later,
Drew Brees
hit
Lance Moore
with the game-winning touchdown pass.
Dec. 25, 2010 – Arizona, 27-26
Stephen McGee
was shaping up as the hero, filling in for an injured
Jon Kitna
. He hit
Miles Austin
with a 37-yard touchdown pass with 1:41 to play to give the Cowboys the lead. Unfortunately
David Buehler
missed the PAT, giving Arizona hope.
John Skelton
converted a 4th-and-15 with a 26-yard pass to
Larry Fitzgerald
, and
Jay Feely
won the game with a 48-yard field goal.
Sept. 11, 2011 – NY Jets, 27-24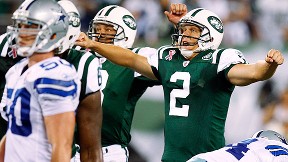 Ed Mulholland/US PresswireNick Folk kicked the go-ahead 50-yard field goal with 27 seconds left in the 2011 opener.
The Cowboys led, 24-10, two plays into the fourth quarter following a Felix Jones touchdown. They were in position to answer a Jets touchdown with at least a field goal when Romo fumbled while diving to the New York goal line for his first of two fourth-quarter turnovers.
On the Cowboys' next series,
Joe McKnight
blocked McBriar's punt and
Isaiah Trufant
returned it 18 yards for the tying touchdown.
Late in regulation, Romo was intercepted by
Darrelle Revis
on a poor throw to
Dez Bryant
. That was turned into a game-winning field goal by former Cowboy Nick Folk.
Dec. 4, 2011 – Arizona, 19-13 (OT)
Sensing a trend with Arizona here?
Tied at 13-13, Romo put the Cowboys in position to win the game with another
Dan Bailey
field goal. His 15-yard completion to Bryant had the Cowboys at the Cardinals' 31-yard line. Yet with two timeouts and roughly 25 seconds to go, the Cowboys did not stop the clock until Romo spiked the ball with seven seconds to play.
As Bailey lined up for the game-winner, Garrett called a timeout because the play clock was running out. Bailey's second attempt fell short, and in overtime the Cowboys would never get the ball.
LaRod Stephens-Howling
raced 52 yards on a short flip from
Kevin Kolb
for the game-winner.
Dec. 11, 2011 – NY Giants, 37-34
Bryant's 50-yard touchdown pass gave the Cowboys a 34-22 lead with 5:41 to play. All seemed well with the world.
Then Eli Manning happened. Again.
He shredded the Dallas defense on an eight-play, 80-yard drive that ended in a
Jake Ballard
touchdown catch and then directed New York on a six-play, 56-yard drive that ended in a Brandon Jacobs touchdown. The subsequent two-point conversion gave the Giants a three-point cushion.
During the second drive, Garrett let crucial seconds go off the clock again by failing to call a timeout until 1:00 remained.
Despite all that, two Romo-to-Miles Austin completions had the Cowboys at the New York 29-yard line with six seconds to play.
Before Bailey went in for the game-tying 47-yard try, Giants coach Tom Coughlin called a timeout, negating what turned out to be a good kick. Bailey's second attempt wasn't close to going through the uprights.
Defensive end
Jason Pierre-Paul
pushed between LaDouceur and
Montrae Holland
and deflected Bailey's kick.
July, 27, 2011
7/27/11
9:49
AM ET
SAN ANTONIO -- With
Roy Williams
gone, the Cowboys appear to be short in their wide receiver depth after
Miles Austin
and
Dez Bryant
.
Kevin Ogletree
will get a chance to be the No. 3 wide receiver.
Sam Hurd
could be an option to return. They took
Dwayne Harris
late in the draft and they have
Jesse Holley
, Manny Johnson,
Troy Bergeron
,
Teddy Williams
and some other guys in camp.
Should the Cowboys go out and get a No. 3 wide receiver?
The biggest question is Bryant's health. He missed most of his rookie training camp and all of the preseason with an ankle injury. He broke his ankle at Indianapolis with four games to go. He always seemed to have some nagging injury.
To me, that would be the only reason to get a No. 3 wide out; insurance for Bryant.
But if you're wanting the Cowboys to get a No. 3 wide out because you're not sure about Ogletree, Hurd and so many others, then I think you're off base.
With Austin, Bryant,
Jason Witten
and
Felix Jones
, you're looking at roughly 285-300 receptions among them. A No. 3 wide receiver would get about 30 catches, maybe. Economically speaking, to me, it would not make much sense to go grab a veteran, like a
Lance Moore
,
Steve Breaston
or
Derrick Mason
, for that type of production.
And, yes, I say all this realizing it is a big gamble to rely on Bryant.
November, 25, 2010
11/25/10
9:23
PM ET
ARLINGTON, Texas -- The go-ahead touchdown came on a fantastic throw from Saints quarterback
Drew Brees
.
Brees threw a 12-yard touchdown pass on a slant to
Lance Moore
with 1:55 left in the fourth quarter to give the Saints a 30-27 lead over the Cowboys.
Brees' throw went over the heads of safety
Gerald Sensabaugh
and cornerback
Mike Jenkins
. Moore ran a nice route inside, and Sensabugh bit slightly on the play action. Moore got behind both Sensabaugh and Jenkins, but it was still a difficult throw to make because an underthrown ball might have gotten picked off.
"Anything over would have been out of bounds," Jenkins said. "He made a heck of a throw."
Brees, who threw for 352 yards, said he was going to Moore the entire way.
"You could potentially get a lot of different looks and actually they gave us a look that really wasn't the ideal look," Brees said. "But that is where the trust factor comes in. I know that he is going to make a right [read], and he did a good job of getting open through traffic and gave me a place to get the ball through and get the touchdown."
November, 24, 2010
11/24/10
9:05
PM ET
By
Bryan Broaddus
| ESPNDallas.com
Thanksgiving Day begins a stretch for the Cowboys where they play three of the top-rated quarterbacks in the NFL in consecutive weeks as they try to dig themselves out of this hole that has become the 2010 season.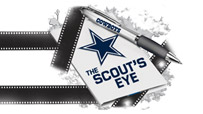 Since Wade Phillips was replaced as the head coach by Jason Garrett, the Cowboys have done a much better job of consistently making plays in all three phases of their games.
The running game, which struggled for the majority of the season, has shown signs of improvement in the last two weeks against the Giants and Lions. It has not been a dominant unit but as a whole is doing a much better job of running with a purpose. The balance is due to the offense playing with a lead or the game in a manageable position.
The secondary has been helped with defensive coordinator Paul Pasqualoni relying more on a zone-coverage scheme, replacing the man scheme that exposed the defensive backs to big plays when the pass rush was unable to get home. Pasqualoni is focusing more on sound principles than the high-risk and pressure style of Phillips.
Quarterback
Jon Kitna
has been more than adequate leading an offense that is in the process of developing one of the most exciting and explosive players in rookie receiver
Dez Bryant
. The Saints have been a middle-of-the-pack team when it comes to rushing the passer but are ranked second in the NFL is pass defense.
In studying the last game the Saints played against Seattle, cornerback
Jabari Greer
was beaten badly on two long completions, one on a "stutter-go" or double move. In the contest that these two clubs played last season,
Miles Austin
scored on a similar move to get the Cowboys on the scoreboard first.
Both
Tracy Porter
and Greer are aggressive corners but they can afford to play this way because the safety play of
Malcolm Jenkins
and
Roman Harper
has been outstanding. Harper likes to play close to the line and get in on the action while Jenkins is more of a true free safety.
The matchup with Harper and tight end
Jason Witten
will be interesting. To play Witten, you have to be physical and have strength but be able to run with him. Harper has those types of traits when you talk about safety play.
On the offensive side of the ball, the Saints have one of the most explosive attacks that you will ever see. Sean Payton does an outstanding job of using all of his players in this attack.
Quarterback
Drew Brees
is deadly accurate throwing the ball to a talented group of receivers led by
Marques Colston
. The Saints like to run a three-receiver package with Colston in the slot,
Devery Henderson
and
Robert Meachem
on the outside. On third downs, watch
Lance Moore
. He seems to be a favorite target of Brees when he needs a play.
Speaking of players to watch, tight end
David Thomas
is an interesting player. He really stands out when you are studying tape. The Saints like to line him up in the backfield, inline and outside. He really plays the role of what
John Phillips
did for the Cowboys last season. Thomas is not as stiff of an athlete as Phillips and requires the defense's attention anytime he is in the game. He can get down the field, work short or in the flat.
This week could mark the return of running back
Reggie Bush
to the Saints lineup. Bush is one of the most dynamic players in the NFL today, but how will his game conditioning be after such a long layoff?
The numbers say that the Saints are ranked 26th in the league running the ball, but rookie
Chris Ivory
is a player that I would love to have on my team. He is a physical load with the ball in his hands. He runs with power and brute force. If he can line you up in his sights, he will punish you.
The guards for the Saints are the best players along the offensive line.
Carl Nicks
and
Jahri Evans
are outstanding. Center
Jonathan Goodwin
is able to be a marginal player because these guards are so good.
If the Cowboys are going to attack an area of the Saints, it should be Jon Stinchcomb at right tackle. Stinchcomb is not as strong in the running game and will give ground in the passing game.
Jermon Bushrod
at left tackle is who the Cowboys went at last season, but he appears to be playing better in both the run and pass.
After the game last season, Payton spoke of his team's inability to protect in the game when it needed to the most. There is no doubt in my mind that the Saints will do all they can to help their tackles in this game against
DeMarcus Ware
and
Anthony Spencer
.
When these two teams met last season, the one area that really stood out for the Cowboys was their ability to make plays in their nickel defense. There is going to be a tremendous amount of pressure on the Cowboys secondary in this game.
Mike Jenkins
,
Terence Newman
and
Orlando Scandrick
will need to be at their best if the Cowboys are going to be successful in this game.