Dallas Cowboys:

Lane Johnson
May, 17, 2013
5/17/13
12:52
PM ET
╗
NFC Eight in the Box
:
East
|
West
|
North
|
South
╗
AFC
:
East
|
West
|
North
|
South
A look at key players for each NFC East team who are coming back from injuries:

Dallas Cowboys: LB Sean Lee
Lee has been a breakout defensive star for the Cowboys the past two seasons, but he hasn't been able to stay healthy. A wrist injury limited him after a raging hot start in 2011, and after another hot start in 2012 he injured a toe in Week 7 and missed the remainder of the season. The Cowboys' defense is different when Lee is on the field and at his instinctive, playmaking best, and it misses him terribly when he's not. Now set to play the middle linebacker position in Dallas' new 4-3 defensive alignment, Lee is more important than ever to the every-down success of the defense. We easily could have picked running back
DeMarco Murray
or even perpetually nicked-up wide receiver
Miles Austin
for this exercise, but the Cowboys' biggest question marks lie on defense, where six starters missed time last year because of injury. Improved health on defense is the surest way for the Cowboys as a whole to improve in 2013, and Lee is right in the middle of it all.

New York Giants: WR Hakeem Nicks
Nicks broke a bone in his foot during minicamp last year, and while he made it back in time for the start of the season, he was not himself all year. Foot and knee problems cost him three games and limited him to 692 yards and three touchdowns on 53 catches (10 catches and 199 yards of which came in a Week 2 game for which he was named NFC Offensive Player of the Week). Without his top wide receiver healthy for much of the year, Giants quarterback
Eli Manning
was unable to duplicate the Super Bowl-winning magic of the previous season. With Nicks hobbled, defenses were often able to focus more on
Victor Cruz
, whose production dropped from the previous year's dazzling yardage numbers. Nicks is a vital part of the Giants' passing game, which is the vital part of their offense. When he's at his best, he's among the top all-around wide receivers in the league. He needs to stay healthy for the Giants to function at peak levels.

Philadelphia Eagles: LT Jason Peters
Peters tore his right Achilles tendon twice during the 2012 offseason and was obviously unable to play at all as a result. He was the first of three Eagles starting offensive linemen to land on injured reserve last year, but after the year he had in 2011, his was the absence they had the greatest difficulty overcoming. Peters was essential to the Eagles offense in 2011 as a multi-level blocker who could take out his man at the line and then get upfield quickly and block a linebacker or a safety as well. Without him, the run game suffered, the screen game suffered, and quarterback
Michael Vick
's ability to succeed when he extended plays suffered. The Eagles need
Todd Herremans
and
Jason Kelce
back on the offensive line, and they need first-round pick
Lane Johnson
to play well at right tackle. But the most important offensive line recovery is that of Peters, who brings something to the equation no one else brings. He needs not only to be healthy, but to play like his old, spry self.

Washington Redskins: QB Robert Griffin III
If you've been living in a cave without access to TV or the Internet for the past six months, it will come as news to you that Griffin tore his ACL in the Redskins' playoff game (yes, they made the playoffs) and had reconstructive surgery in January. While the Redskins believe they have a capable backup in
Kirk Cousins
, much of their 2012 success was because of Griffin's unique talents and abilities. Even if Griffin is back to 100 percent, the Redskins probably will take greater care with how they use him in the read-option this year. But the threat he poses to defenses as a runner and a passer is not something Cousins or very many other quarterbacks in the league can replicate. The Redskins must be careful not to rush Griffin back from his injury, as he's their franchise quarterback and vital to the long-term success and health of the team. But their 2013 fortunes are tightly tied to the timing and extent of his recovery.
April, 30, 2013
4/30/13
2:15
PM ET
Still sorting out what went down last week in the NFL draft,
Todd McShay has selected

a "Best pick" and a "Questionable pick" for each team in the league. Here's what he came up with for the NFC East's teams:
Dallas Cowboys

Best:
Gavin Escobar
Questionable:
Travis Frederick
Todd says Escobar has the best hands of any tight end he evaluated for this draft. As for Frederick, as has been the case many places, Todd's issue is not with the player but rather how high he was picked. But I still don't know what any team saw Thursday night that would have made them comfortable with waiting a round or two for the offensive lineman they wanted.
New York Giants

Best:
Justin Pugh
Questionable:
Johnathan Hankins
Todd's opinion of the players is at the root of this evaluation. He likes Pugh a lot -- thinks he projects as a guard, but doesn't rule out tackle. He's less high on Hankins, saying he struggles with technique and offers little in the pass rush.
Philadelphia Eagles

Best:
Lane Johnson
Questionable:
Bennie Logan
Todd likes Johnson as a fit for the up-tempo offense Chip Kelly plans to run, because of his athleticism. He questions Logan as a guy who took plays off.
Washington Redskins

Best:
Phillip Thomas
Questionable:
David Amerson
Todd believes Thomas was undervalued and that Washington did well to find a potential 2013 starter in Round 4. He had a fourth-round grade on Amerson, and says the Redskins could have made a safer choice at 51. I agree, but safe doesn't appear to be what the Redskins were after. They were trying to hit home runs with their early picks, and they like Amerson's raw ability.
April, 29, 2013
4/29/13
10:30
AM ET
╗
NFC draft analysis
:
East
|
West
|
North
|
South
╗
AFC
:
East
|
West
|
North
|
South
The draft started off heavy in the NFC East, as the three teams with first-round picks this year used them on offensive linemen. And while there were a few little surprises and treats along the way, it never really got hot. All four of the division's teams had workmanlike drafts that balanced need and value and didn't stray into any of the juicy storylines. No
Manti Te'o
,
Geno Smith
or
Tyrann Mathieu
for us.
PODCAST
Chuck Cooperstein, Matt Mosley and Glenn "Stretch" Smith discuss the Cowboys' draft picks and who was influencing Jerry Jones' decisions.

Listen

There was a trade-down in the first round, as the
Dallas Cowboys
moved out of a No. 18 spot they didn't like and still managed to get their first-round offensive lineman, while adding a third-rounder to the mix. There were two trade-ups in the fourth round, as the
Philadelphia Eagles
and the
New York Giants
maneuvered to add quarterbacks in surprising moves. And there were the
Washington Redskins
, without a first-rounder but fine with it because they have
Robert Griffin III
, who waited it out and got two talented safeties in the late rounds for a secondary that needs rebuilding.
We'll be breaking this all down for days and weeks and months, but here's a quick early look at the way the 2013 draft went in the NFC East.
BEST MOVE
In the absence of any earth-shaking moves in the early rounds by NFC East teams, I'm going to have to go with the Eagles taking tackle
Lane Johnson
at No. 4. They probably could have traded down and out of the pick, but this was a draft in which six offensive linemen went in the first 11 picks, and the value of the third-best tackle with the fourth pick was worth hanging in there. After what happened to their offensive line with injuries in 2012, the Eagles were wise to load up there, taking an athletic player who can start at right tackle right away and maybe move to left tackle down the road once
Jason Peters
is done. It also helps that Johnson is the kind of lineman who can move. If Chip Kelly plans to run a lot of read-option, or even a lot of bubble screens, Johnson's ability to get out and block at the second level is going to be a big help.
Also considered: The Eagles' trade-up for quarterback
Matt Barkley
at the top of the fourth round. ... The Redskins' getting two quality safeties in the fourth and sixth rounds in
Phillip Thomas
and
Bacarri Rambo
. ... The Cowboys trading down in the first round and getting wide receiver
Terrance Williams
with the third-round pick they added in that deal.
RISKIEST MOVE
[+] Enlarge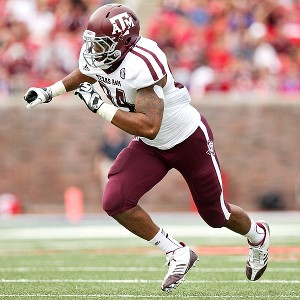 Thomas Campbell/US PresswireDamontre Moore put up impressive numbers at Texas A&M, but he has to disspell concerns over his work ethic and attitude at the next level.
There weren't any real big risks taken by NFC East teams with their most valuable picks in the first and second rounds, I didn't think. So I'm going with defensive end
Damontre Moore
, who went to the Giants in the third round. Moore is a big-time talent with big-time production numbers in college -- 12.5 sacks last year, 26.5 over the past three. But there are good reasons a player as good as he is was still there at pick No. 81, and in Moore's case those reasons include a marijuana bust and a reputation as a young man who struggles with attitude and work ethic.
Now, Moore is just 20 years old, and it's wrong to assume anyone that age will always be what he has been so far. But Moore is the player from this draft whose job it is to bolster the future of the Giants' pass rush with
Osi Umenyiora
gone and
Justin Tuck
aging. If he's a solid citizen and produces the way he did at Texas A&M, he's going to be a steal. If he's an attitude case who doesn't take to coaching and causes problems, the Giants are going to have to keep looking for long-term solutions at defensive end in the next several drafts. A third-round pick isn't too much to risk on a player with Moore's potential, but it's a pick with which the Giants could have found help elsewhere. So if he does flop, they will regret it.
MOST SURPRISING MOVE
The Eagles pulled the surprise of Day 3, moving up three spots to the top of the fourth round, where they selected USC quarterback Matt Barkley. Most analysts were convinced Kelly would seek a fast, athletic, running quarterback when he finally pulled the trigger on that position, but Barkley was a pro-style pocket passer at USC and doesn't fit the "system" everyone seems to be assuming Kelly is determined to run now that he's in the pros. As you know if you read this blog regularly, I think that's hogwash and that Kelly is smart enough to know that the best way to coach is to find talented players and figure out the best way to coach them -- not come wading in with your own "system" and only look for players who fit it.
Kelly knows Barkley from coaching against him in college, and Barkley is a guy who a year ago was thought of as a possible No. 1 overall pick. If 2012 was just a bad year for him and he ends up being a good NFL quarterback, nobody's going to care that he can't run the read-option. For a fourth-round pick and a seventh-round pick, which is what it cost the Eagles to move up and take him, it's a worthwhile risk. And it leaves Kelly with a lot of options at the most important position on his team as he begins his first offseason as an NFL coach.
The Giants pulled a surprise of their own later in the round, trading up six picks to select Syracuse quarterback
Ryan Nassib
to develop behind
Eli Manning
. The 32-year-old Manning hasn't missed a game since 2004, so it's unlikely Nassib sees the field anytime soon. But the Giants decided it was time to start thinking down the road at the position.
FILE IT AWAY
I liked the Cowboys' first round more than most people did, because I thought they absolutely needed to come out of that round with an offensive lineman, and they did. And while
Travis Frederick
may have been a reach at 31, reaching for an offensive lineman wasn't a bad move for this particular team in a draft in which eight offensive linemen went in the top 20 picks. They traded down from 18 and got the pick that netted Frederick and the third-round pick that netted wide receiver Terrance Williams, and they like that pair better than they liked what was available to them at 18.
But they won't have to look far to remember what might have been. The Giants took Syracuse offensive lineman
Justin Pugh
at 19, which means the Cowboys could have stayed put and picked up a better-regarded lineman than Frederick (though, obviously, not also get Williams in the third). If Pugh turns out to be a great player for the Giants and Frederick flops in Dallas, the Cowboys could end up regretting the Day 1 trade-down in the long run.
April, 29, 2013
4/29/13
10:00
AM ET
Mel Kiper Jr.'s
draft grades

are in. Let's take a look at his assessments of the NFC East's teams.
Philadelphia Eagles: B+
Mel gives the Eagles a B for needs and an A for value, especially liking top pick
Lane Johnson
and second-rounder
Zach Ertz
.
New York Giants: C+
They get a C for needs and a B for value, with Mel downgrading them for failing to address cornerback or linebacker.
Dallas Cowboys: C+
He gave them a B for needs and a C-minus for value. He's consistent with the popular opinion that they could have had first-rounder
Travis Frederick
much later, but he likes the middle- and late-round picks, especially running back
Joseph Randle
and safety
J.J. Wilcox
.
Washington Redskins: C+
They got a B-minus for needs and a C for value, and Mel says he bumped them up a bit because last year's
Robert Griffin III
trade included this year's first-round pick.
My take:
I might have graded the Cowboys and Redskins a bit better -- Dallas because I'm not as down on the Frederick pick as a lot of people are. But I agree on the Eagles and Giants. We'll discuss these in much greater depth in the coming days.
April, 26, 2013
4/26/13
12:26
AM ET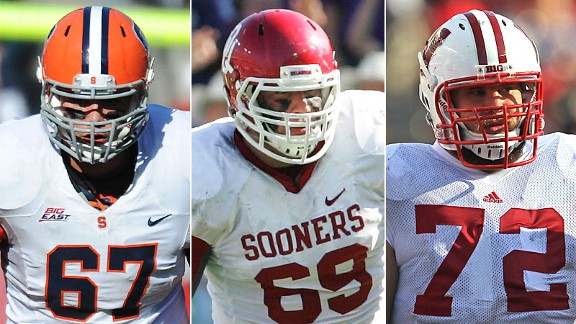 AP Photo, Getty ImagesThe NFC East added offensive linemen Justin Pugh, Lane Johnson and Travis Frederick.
NEW YORK -- Three NFC East teams picked in the first round of the NFL draft Thursday night, and the combined weight of the three players they picked is 922 pounds. Finally, they're paying attention to what's important.
Yes, the
Philadelphia Eagles
,
New York Giants
and
Dallas Cowboys
each picked an offensive lineman in this year's first round. And while that had something to do with the oddity of a first round that included one quarterback, no running backs and nine offensive lineman, it also says a lot about how badly this division as a whole needs to address this long-neglected need.
Tackle
Lane Johnson
, tackle/guard
Justin Pugh
and center/guard
Travis Frederick
, the 2013 first-round picks of the Eagles, Giants and Cowboys, are no cosmic coincidence. They are medicine, ordered with a purpose by teams that have figured out where they're lacking and that they all need to muscle up in the short-term and long-term.
I am of the belief -- and have written at length on this blog -- that one of the main reasons the NFC East is in a down cycle is division-wide offensive line decay. And yes, the division is down. Over the past three seasons, the division's combined record is 97-101 (yes, counting postseason and the Super Bowl). No NFC East team has won 11 games since 2009, which was also the last year in which it fielded more than one playoff team. Two years ago, the Giants won the division with a 9-7 record. This past year, the
Washington Redskins
won it at 10-6. Bleh.
The NFC East has superstar talent at quarterback and running back and wide receiver and pass-rusher. But with the exception of a magical six-game run the Giants made at the end of the 2011 season, excellence has eluded its once-feared teams. And the consistent issue that seems to be holding them back is the offensive line. To wit:
The Giants have basically been getting by with an aging, patchwork group. Former second-round pick
Will Beatty
emerged as a star last year when finally healthy, but veterans
Chris Snee
and
David Diehl
are fading and
Kevin Boothe
and
David Baas
aren't special. Until Thursday night, the Giants hadn't taken a first-round lineman since
Luke Petitgout
in 1999. You can try and hit on free agents and second- and third-rounders for a while, but eventually you need to add some top-end talent to the mix. Enter Pugh, a college tackle who may project as a pro guard and offers versatility in the short-term and a possible long-term answer at any one of several positions.
The Eagles had a fine line in 2011, but four of their five starters missed significant time due to injury in 2012, and they finished 4-12 and changed head coaches. Enter Johnson, this year's No. 4 overall pick, who likely starts at right tackle right away, moving
Todd Herremans
inside to guard and serving as an eventual replacement for left tackle
Jason Peters
.
The Cowboys' neglect of the offensive line had reached epidemic proportions before they took tackle
Tyron Smith
in the first round in 2011, and if you watched them last year you came away thinking they needed to upgrade every one of the starting line positions but his. Enter Frederick, who was a surprise first-rounder, but not as much of a reach as he initially looked. With four tackles and the top two guards gone in the top 11 picks, the Cowboys decided to trade down from 18 and get the guy they wanted at the tail end of the first round. Quibble if you want with the return they got on their trade. And sure, maybe Frederick would have been there when they picked again Friday night at 47. But (a) maybe not, since offensive lineman are going faster than ever and (b) so what? The Cowboys' short-term and long-term needs at offensive line were significant enough that they needed to come away from this year's first round with an upgrade. Frederick is almost certain to be an upgrade over one or more of
Phil Costa
,
Nate Livings
and
Mackenzy Bernadeau
, and the Cowboys were absolutely right to make this need a priority on this night.
The Redskins' line played fine in 2012 and has a superstar in left tackle
Trent Williams
. But a lot of its success has to do with the help it gets from its mobile quarterback. The Redskins remain unsettled at right tackle. They didn't have a first-round pick this year as a result of last year's deal for
Robert Griffin
III, but don't be surprised if they too look to address the line once they start picking Friday and Saturday.
This seems obvious, of course. It's a long-held NFL adage that the best way to build teams is through the lines. Consistent, reliable offensive line play helps you control games and maximize your skill-position talent. Deficient line play helps you squander your skill-position talent, or worse, make it more susceptible to injury. But while it may seem obvious from the outside, the NFC East's teams have let the line play lapse. Thursday was a clear sign that they have realized this and plan to address it moving forward. I don't think these three will be the last offensive linemen taken by NFC East teams in this year's draft, but each is vital to the division's effort to regain its status as one of the toughest in the NFL. Because thanks to the decay of its offensive lines over the past few years, the fact is that it has not been.
March, 31, 2013
3/31/13
11:30
PM ET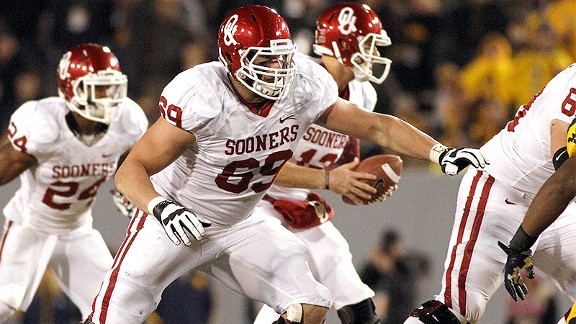 Justin K. Aller/Getty ImagesOklahoma tackle Lane Johnson has excellent leverage and can play all positions on the offensive line.
To help preview who might be on the Dallas Cowboys' board for the NFL draft, ESPNDallas.com has identified five players at five key positions that we'd like to learn more about. Along those lines, we've asked former Cowboys assistant coach Glenn "Stretch" Smith – the official scout of Galloway & Company – to study tape of each player and give his thoughts.
No. 3 offensive lineman: Lane Johnson
Position:
Tackle
Height/weight:
6-foot-6, 303 pounds
School:
Oklahoma
Why he's on the radar:
Left tackle
Tyron Smith
had a good season for the Cowboys last year, but inconsistent play from right tackle
Doug Free
prompted the team to use
Jermey Parnell
. The Cowboys need to upgrade the offensive line, and if Johnson is available in the later half of the first round, he would be a good choice. Johnson played both tackle spots at Oklahoma and multiple positions in high school -- from quarterback to defensive end, so athletic ability isn't an issue.
Projection:
First round
Stretch Truths:
Tall tackle plays with excellent leverage and can play all positions across the line. ... Smart football sense; good punch and power; can reach block; good straight in-line run blocker. ... Has power to sit and stop a bull rush. Also has good balance to recover in pass protection. ... For a big tackle, he can really run, as evidenced by his 4.67 40-yard dash at the NFL scouting combine in Indianapolis. ... Take him if he's there with the 18th pick.
February, 26, 2013
2/26/13
11:28
AM ET
IRVING, Texas – After spending five days in Indianapolis for the NFL scouting combine, I'm wondering about a lot of things, so here's another offseason version of Five Wonders:
PODCAST
Ed Werder joins Richard Durrett and Ian Fitzsimmons to discuss what he took away from the NFL combine and his conversation with Jerry Jones on the penthouse bus.

Listen

Here we go:
• I don't wonder about the Cowboys signing
Anthony Spencer
to a long-term deal before the free-agent market opens. I do wonder if the Cowboys can really place the franchise tag on him for the second straight year. Owner and GM Jerry Jones said the Cowboys have a "reasonable way" in which they can keep Spencer in 2013. By reasonable, I don't believe he's talking about the $10.6 million price tag as much as he is simply just putting the tag on him. If the Cowboys want to tag Spencer, they would have to essentially come up with $30 million in salary cap room because they are over the projected cap by roughly $20 million. They can get there by restructuring a number of contracts, but it pushes out bigger money against the cap in future years. Dallas has to ask itself if he's worth it. The Cowboys are moving to the 4-3, and Spencer will play the right defensive end. I had one AFC personnel man tell me Spencer would go back to six sacks a year in that role in that scheme. Part of what made Spencer successful as a pass-rusher in 2012 was how much he moved around.
•
[+] Enlarge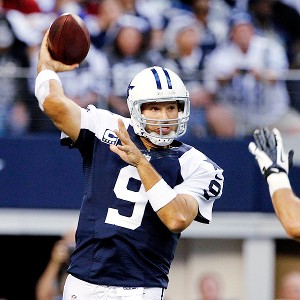 AP Photo/Tim SharpThe Cowboys want to get a deal done with Tony Romo, but for how long?
I wonder if people realize how well
Tony Romo
is thought of in the NFL. Yes, he will put the ball up for grabs too much for the liking of some, but one AFC offensive coordinator said he could see Romo as the highest-paid player in football if he were on the open market. Whenever Romo signs his extension -- be it before or after free agency begins -- I wonder if the Cowboys will make it a six-year deal. In other words, it would be a five-year extension through 2018. Part of the reason for the longer deal would be to help with the salary cap in the early years of the deal. When the
Joe Flacco
deal comes in, I would expect the Cowboys and Romo's agents to get together in real negotiations. During the season, I said it would be a five-year extension for $85 million. Now I would put that figure around $90 million, or $18 million per season. Please remember, though, that a lot of this stuff is funny money.
• It's funny how the combine works for players. Teams constantly say they put more stock in the tape than they do what a guy does in shorts or whatever Under Armour is putting them in nowadays, but then you hear about risers coming out of the week in Indianapolis. Blame the media, or at least the ex-coaches and personnel guys who have media jobs. But I wonder if the performances of two offensive linemen -- North Carolina's
Jonathan Cooper
and Oklahoma's
Lane Johnson
-- take them out of play for the Cowboys at No. 18 overall. Cooper was powerful and could move. Johnson showed good strength and can run as well. The good news is that if these guys rise, other players will fall. I still can't see Alabama's
Chance Warmack
falling to No. 18, but some didn't like what he showed at the combine. To them, I'll steal a line from Randy Galloway: Watch the game.
•
PODCAST
Herm Edwards joins Fitzsimmons & Durrett to discuss the NFL combine and Cowboys' offseason. Edwards says Rod Marinelli is the key to the defense this season, not Monte Kiffin. He also talks about what it would be like to work for Jerry Jones.

Listen

I wonder if Jason Garrett will remain as the playcaller. On Saturday, Jerry Jones said he would be fine if Garrett continued to call the plays in 2013 after he seemed to indicate at the Senior Bowl in January that he wanted a new playcaller. If I'm Garrett, and I understand it's a must-win season after two straight 8-8 campaigns, then I'm riding my own hand and betting on myself. But that does not mean Bill Callahan wouldn't be more involved. He will be. But here's something to remember when Garrett talks about a "collective effort" in creating the game plan. Between series, these coaches are talking all the time about certain plays in certain down and distances, so it's not as if Garrett is just pulling a play out of thin air.
• I'm really wondering if the Cowboys will not cut
Doug Free
before March 12 when they need to get under the cap. It's been assumed all along he would be because of his $10.02 million cap number and the team's need to create room. If the Cowboys were to cut Free now, he would likely be designated a June 1 cut, which means the team would not gain the $7 million benefit until then. That would be enough to pay for their draft picks and college free agents. Maybe it makes sense for the Cowboys to see what they get in free agency and the draft before letting go of Free. The talk of him moving to guard does not make much sense since he's not a power player.
February, 22, 2013
2/22/13
9:00
AM ET
INDIANAPOLIS – With workouts commencing today at the NFL scouting combine, the Cowboys could find themselves in an enviable position in April because their needs seem to match up with the strengths of the draft.
PODCAST
Todd Archer joins Galloway & Company to discuss who the Cowboys should draft in the first round and how far the team can go with Tony Romo at quarterback.

Listen

The Cowboys have what would appear to have early-round draft needs on the defensive and offensive lines, as well as safety.
"We just got out of eight days of draft meetings and preset our board as we come down here and feel this is, at least in my opinion, one of the strongest defensive tackle classes that have come out in a while," Minnesota general manager Rick Spielman said.
There could be as many as a dozen defensive lineman selected in the first round, and the Cowboys have a need with their move to the 4-3 under new coordinator Monte Kiffin. Pass rush is at a premium because Kiffin and defensive line coach Rod Marinelli would rather be able to bring pressure with four players than have to blitz.
On the offensive line, the Cowboys could be looking for tackle, guard and center help and there are players who will fit at all three spots, including Oklahoma's
Lane Johnson
, Alabama's
D.J. Fluker
, North Carolina's
Jonathan Cooper
and Alabama's
Barrett Jones
who could be had in the top three rounds.
Chicago general manager Phil Emery said he sees up to five safeties who can become starters.
"There are five or six starters in this class at safety," Emery said, "and that's rare to me."