Dallas Cowboys:

Lee Roy Jordan
May, 6, 2014
May 6
2:15
PM ET
IRVING, Texas -- The
Dallas Cowboys
signed
Bradie James
on Tuesday so the veteran linebacker could retire with the team that drafted him in the fourth round of the 2003 draft.
James played for the Cowboys from 2003-11 before joining the
Houston Texans
in 2012. He did not play last season.
James started all but three games from 2005-11 at inside linebacker and led the Cowboys in tackles in a six-year span, topping out at 202 in 2008. He also had eight sacks in 2008. He is the sixth-leading tackler in franchise history after Darren Woodson, Lee Roy Jordan, Randy White, Dexter Coakley and Ed "Too Tall" Jones.
The Cowboys made a similar ceremonial move with
Marc Colombo
in 2012. On hand for the announcement was former teammate
Akin Ayodele
.
February, 10, 2014
Feb 10
1:00
PM ET
IRVING, Texas -- NFL Nation Raiders reporter Paul Gutierrez
wrote a story last week about the Pro Football Hall of Fame voting process
and asked fellow reporters for the biggest omissions per team.
I came up with Cliff Harris,
Darren Woodson
, Chuck Howley and Lee Roy Jordan. You might have some other names to include, like a Harvey Martin or Drew Pearson.
The voters have an incredibly difficult job. More difficult than people know. Just about every team has a player not in the Hall of Fame that has a case for enshrinement.
As an all-decade player in the 1970s, with six Pro Bowl selections and a four-time All-Pro pick, I believe Harris is the biggest snub. In 2004, he made it to the final 10 in the voting process but was eliminated on the cut down to six players. If he makes it to Canton, Ohio, it will be as a Senior Committee pick. There are two players in that pool each year, so Harris will have to wait. So too will Howley, the MVP of Super Bowl V, and Jordan.
To me, Woodson should get more consideration for the Hall of Fame. He was a five-time Pro Bowl pick and a three-time All Pro. He was on three Super Bowl winners. He is the Cowboys' all-time leading tackler.
But Woodson had to suffer through some horrendous seasons as the Cowboys moved from Super Bowl contender to afterthought. Just as the Cowboys appeared ready to turn the corner under Bill Parcells, Woodson was forced to retire early because of a back injury in 2004. The Cowboys still haven't replaced him. Think about that for a second.
Woodson was a linebacker at Arizona State and made the transition to safety. For all of the talk of a safety's ability to cover receivers now that the game is so spread out, Woodson was at his best in the slot. He could cover receivers. He could cover tight ends. He was ahead of his time to a degree.
Woodson's game was more than just numbers, which may be why he will not get in the Hall, but he should at least be brought up for debate.
November, 21, 2013
11/21/13
7:04
PM ET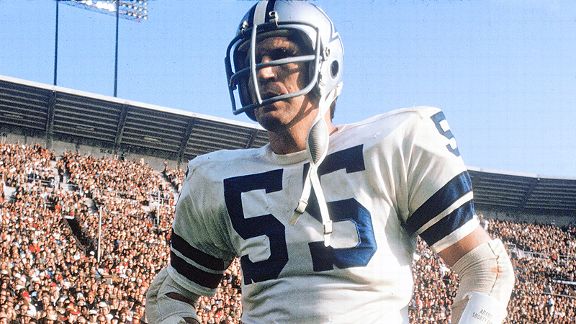 James Flores/Getty ImagesFormer Cowboys linebacker Lee Roy Jordan was a rookie at the time of President Kennedy's death.
The former Cowboys linebacker reflects on the 50-year anniversary of the assassination of President John Fitzgerald Kennedy:
"I came out and got in my car that morning and started to go to the training room and it was all over the news. They're chasing Lee Harvey Oswald downtown. He shot the president. It was just an unbelievable shock and feeling that you had when you hear something like that. I wasn't at [the facility] yet because I had been injured two or three weeks before and I was just going in for rehab and stuff. I was on my way to the training room to get rehab work done on my body. I had punctured a kidney two or three weeks before and was out for the rest of the season.
"Everybody was just in shock that it could happen. Coach [Tom] Landry was the same way. He just couldn't believe this could happen in our country, much less our city.
"We were all so caught up with the tragedy. That's what it was. We were all just in shock I think through the meetings and through practice also. Coach Landry was very calm but I think he was very stressed out by this thing happening here in the city of Dallas. I think emotionally he was disturbed by it but he was calm, which is what you would expect from Coach Landry.
"I didn't make the trip to the game. I had to stay here. I watched it on television but we kept thinking that it would be canceled or they would cancel the entire schedule that week, but that didn't happen. I think there were mixed emotions. Maybe, well, if we go on it might take people's minds off the bad thing that happened here. I still don't know if it was a bad or good thing. I think the commissioner [Pete Rozelle] thought later on he wished he had not made the decision to play that weekend.
"I don't remember them having not talked about it on television. I'm sure it was mentioned that the president had been shot in the city of Dallas, but he was already dead and Jack Ruby, I guess he shot Lee Harvey Oswald by then. It all happened so quick.
"The next few years when we played out of the state in Philadelphia or New York or Los Angeles, they treated us like we had done the assassination. Some not-so-pretty things we had to listen to, the name-calling going on in the stadiums as we'd go on the field and come back with the people at the overhangs of the tunnel. They weren't nice to the Dallas Cowboys. They blamed the city of Dallas and the Cowboys and everything with it. I think once we started winning in '65, '66 and '67, I think it started to take some of that energy out of those people and get them back. Maybe they were like, 'They're not only a good football team, but we need to give them a little respect for that, too.'
"I still think it's such a tragedy and we had to deal with it. I guess we all wished we would've been somewhere else in another state when it happened. That wasn't the case. We couldn't opt out and say we wanted to be somewhere else. We had to go on being with the Dallas Cowboys and living in Dallas and raising our families in Dallas. That was important. We all stuck together and worked hard to overcome the stigma Dallas had for the assassination of the president.
"It was a tough situation. I was a rookie, but I had some really good friends and some really good teammates, so we were able to share it together and not let anyone deal with it alone."
--Jordan, 72, as told to ESPN.com Cowboys reporter Todd Archer
November, 1, 2013
11/01/13
10:50
AM ET
IRVING, Texas --
Sean Lee
was named the NFC's Defensive Player of the Month for October. In various lists he has been mentioned as a midseason Defensive Player of the Year. ESPN's
Louis Riddick
, a former NFL director of player personnel turned ESPN analyst, wondered if Lee should be in the mix for Most Valuable Player.
Lee, the
Dallas Cowboys
' middle linebacker, was typically nonplussed by all the kind words thrown his way.
"I feel like I've got a lot of room to improve," Lee said. "There's been a lot of plays I left on the field. Defensively we're going to have to play better to help our team win if any of us want to be considered in this category."
Lee has been credited with 99 tackles by the coaches. He has four tackles for loss, three quarterback pressures, six pass breakups and a fumble recovery. He is tied with six other players for the most interceptions in the league with four, and only one of two linebackers on the list.
With three more interceptions he would break the team's single-season mark by a linebacker. Lee Roy Jordan had six in 1973 and '75. Chuck Howley had six in 1968. His four picks so far equal a career high.
But Lee knows they don't give out trophies at the midway point of a season.
"And there's only one trophy we care about in this locker room and that's the Super Bowl trophy, obviously," Lee said. "That's going to take a lot of work. Right now we're not even thinking about that. We're thinking game to game and trying to get on top of our division and continue to work."
August, 22, 2013
8/22/13
8:58
PM ET
ARLINGTON, Texas -- One of the reasons why Jason Garrett likes to have a training camp practice at AT&T Stadium is for the current players to mix and mingle with the former players and learn the history of the
Dallas Cowboys
franchise.
Cliff Harris spoke at the dinner following the two-hour practice and was one of six members of the Ring of Honor in attendance, along with Roger Staubach, Lee Roy Jordan, Rayfield Wright, Mel Renfro and
Charles Haley
.
Players representing every era of Cowboys' football were on hand, as well, including Butch Johnson,
Jay Novacek
, Billy Joe DuPree, John Fitzgerald and
Ken Hamlin
.
"I want to get my helmet and go through some of these exercises with some of these guys," said Wright, a Hall-of-Fame offensive tackle who played for the Cowboys from 1967-80.
Wright was looking forward to talking to some of the offensive lineman at the dinner.
"There's just little techniques that you could communicate with some of the young guys," Wright said. "We have the talent, skills and ability. These guys have great talent. They're a lot bigger than we were when I played the game. But they have great talent and if I had the opportunity to sit down and just talk to some of these guys on a personal, one-on-one level, it would be fantastic for me."
August, 6, 2013
8/06/13
9:00
AM ET
OXNARD, Calif. – One preseason game is in the books and four remain, but there are plenty of things to wonder about.
So on it is to our third training camp installment of Five Wonders:
** On the grand schemes of things
Tony Romo
not playing a series against Miami is not that big of a deal. With issues on the offensive line and Romo's lack of offseason work because of the back surgery, the team thought it was wiser to sit the quarterback against the Dolphins. Well, I wonder what they were thinking about in 2010 and '11 when they didn't sit Romo with offensive line issues when he had to play more. In 2010 at San Diego,
Robert Brewster
had to play right tackle with
Marc Colombo
and
Alex Barron
hurt, but Romo played four series. In 2011, the Cowboys made the decision to part ways with center
Andre Gurode
before they played at Minnesota and had undrafted rookie
Kevin Kowalski
start with
Phil Costa
out. It was the first time Romo took a snap from Kowalski all summer. And Kowalski was the third rookie to start that night with
Bill Nagy
and
Tyron Smith
. There was no worry that night either. Again, it's not a huge deal that Romo didn't play against Miami, but it's just notable given what happened in recent history.
** Now that
Larry Allen
has been inducted into the Pro Football Hall of Fame,
Charles Haley
figures to be the next Cowboy to make it. Haley has been a finalist the last few years and the feeling among voters is that the question is "when" not "if" Haley will make it. But I wonder who will be the next Cowboy to take up a lifetime residence in Canton, Ohio. Perhaps Chuck Howley, Lee Roy Jordan, Cliff Harris and Drew Pearson get a look from the Veterans Committee. But what of the more-recent era Cowboys?
Darren Woodson
should gain consideration but the safety position has never been a popular pick among the voters. Woodson was covering slot receivers before it was fashionable for safeties to do so. He was truly ahead of his time in some ways. I'm not sure there is another 90s Era player that will get a look, but Jerry Jones will be in there one day. Maybe soon too.
** Forever, it seems, the Cowboys have found success stories in undrafted free agents: Romo,
Miles Austin
,
Stephen Bowen
and
Dan Bailey
are among the more recent vintage. But I wonder if there will be one undrafted free agent to make the team this year. Really. The leader would appear to be linebacker
Brandon Magee
, who could become a big part of the special teams' units. Even those who haven't seen
Eric Rogers
play a snap seem to think he can be
Keyshawn Johnson
, but the Cal Lutheran product has a lot of work to do in earning a spot. Safety
Jeff Heath
has been an under-the-radar guy and
Jakar Hamilton
, who received $10,000 to sign, has yet to make a mark in camp. There is a lot of time to make a push but right now there isn't a lock yet.
** It's hard to gauge just how interested the Cowboys are in
Brian Waters
. They know he is available, but they haven't really put the full-court press on him just yet. Maybe they wanted to see
Ronald Leary
in a game before going ahead with it. But if they are going to sign Waters, I wonder if it's too late. He did not take part in an offseason program last year and did not sign with a team. He was not with a team this offseason either. What kind of shape is he in? If the Cowboys bring Waters in, it's not for a workout. It's to sign him. He signed with New England in 2011 a week before the season started and ended up in the Pro Bowl. But in players' years, that could be a lifetime ago.
** Let's close with a game involving a 53-man roster projection. I wonder if the final spot or two comes down to a seventh linebacker, fourth running back, a 10th offensive linemen, a sixth wide receiver or a ninth defensive lineman? If that's the case, then Magee,
Phillip Tanner
,
Darrion Weems
,
Anthony Armstrong
,
Tim Benford
, Eric Rogers or a
George Selvie
are fighting for one or two spots right now. Right now, I'm not sure the ninth or 10th offensive lineman is on the roster. Armstrong has had a really good camp and his speed separates him from some others. Selvie could be insurance for
Anthony Spencer
being banged up and helped himself with Sunday's two-sack effort. Tanner also helped his cause. Based on what Tanner, Selvie and Armstrong did against Miami, it looks like the Cowboys will have a decision to make as opposed to trying to find players to keep.
September, 26, 2012
9/26/12
8:00
AM ET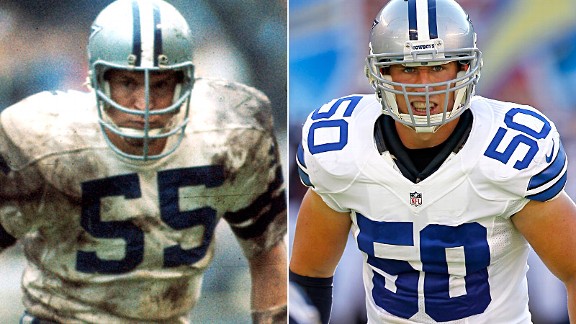 Getty Images/AP PhotoCowboys legend Lee Roy Jordan on Sean Lee: "I see a lot of me in him."
IRVING, Texas -- Every week, Sean Lee's helmet takes a beating. Scrapes, gouges and paint smears cover the front of it after each game.
If you look at pictures of Lee Roy Jordan, you see the same types of scrapes, gouges and -- on the color photos, anyway -- paint smears on his helmet when he played middle linebacker for the Cowboys. His uniform was covered in mud and grass stains. His fingers and hands were -- and are -- beat up.
The somewhat hermetically sealed game of today played on artificial turf has changed some of the look, but not the feel that links Lee to Jordan, the Cowboys' Ring of Honor linebacker.
As Jordan watches Lee, he likes what he sees but isn't so sure about the similarities.
"Well, I'd like to say I do, but he's bigger, stronger and faster than me," Jordan laughed. "But otherwise, I see a lot of me in him."
Read the full column here
.
September, 19, 2012
9/19/12
3:28
PM ET
IRVING, Texas – To say
Sean Lee
was all over the field Sunday at Seattle might be an understatement.
Lee tied a franchise record with 21 tackles against the Seahawks, including 15 solo stops, and if not for
sitting out six snaps after taking a blindside hit
from wide receiver
Golden Tate
, Lee could have had the record all by himself.
On Sept. 26, 1971 – more than 15 years before Lee was born – Lee Roy Jordan made 21 tackles against Philadelphia. Lee's previous high was 19 last year at New England.
"I'm just going out there playing, just play to play trying to make a play, reading my keys and running to the football," Lee said. "When you get in the game and you're just playing, you don't know. You don't keep track of stuff like that."
Tackles are not an official NFL statistic. Lee's 21 tackles came after the coaches' review of the game. The Seattle statisticians credited Lee with 14 tackles from the CenturyLink Field press box.
Eugene Lockhart holds the team's record for tackles in a season with 222 in 1989. After two games, Lee is on pace for 280 tackles.
That's not necessarily a good thing, by the way.
January, 17, 2012
1/17/12
2:30
PM ET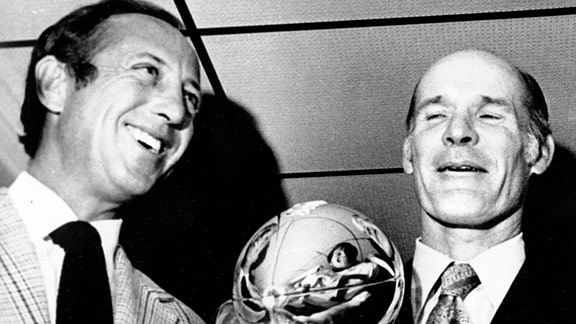 AP PhotoForty years ago, Pete Rozelle handed Tom Landry and the Cowboys their first Super Bowl trophy.
Monday marked the 40th anniversary of the
Dallas Cowboys
' first Super Bowl title.
An event was held at Studio Movie Grill in Dallas to honor the team and promote a book written by former Associated Press sportswriter Jaime Aron, "Breakthrough Boys."
The core of that team was labeled a bunch of underachievers for their failure to win big games in previous seasons, including losing Super Bowl V to the Baltimore Colts.
"We just came back and committed to work harder and be better," said Lee Roy Jordan, a Cowboys linebacker. "After we lost in Super Bowl V, I tell people we didn't lose it, we gave it to them. We had five turnovers, three in the last five minutes or so, but we still lost. But we were committed to come back and do it and we did. We had a lot of ups and downs."
The 1971 season had its share of problems. The season started with a quarterback controversy surrounding Roger Staubach and Craig Morton.
Star running back Duane Thomas was upset he was sent back to the Cowboys after a failed trade with New England. Thomas didn't speak with coach Tom Landry or his teammates for the bulk of the 1971 season.
Of course, there was the season itself. Somehow, the Cowboys managed to turn things around after a team meeting following a loss to the
Chicago Bears
.
The Cowboys won their final seven games to win the NFC East and then allowed just nine points in the postseason, capped with a 24-3 victory over the
Miami Dolphins
in Super Bowl VI.
"When things started to get bad, you forget about your personal issues," Staubach said. "You start thinking about the team issues and we really got it together and started playing together and it had a lot to do with we were 4-3, and if we didn't have the talent we wouldn't have gotten it turned around. Our personal issues became secondary."