Dallas Cowboys:

LeGarrette Blount
December, 20, 2011
12/20/11
10:25
AM ET
By
Bryan Broaddus
| ESPNDallas.com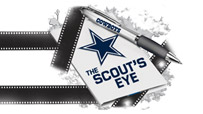 The Cowboys went to Tampa and really took care of the Buccaneers without much difficulty.
It was an easy game to break down without many problems on offense or the busts that we have seen the last two weeks defensively against the Cardinals and Giants. Jason Garrett always reminds us of how important all three phases of the game are in order to assure a victory. In terms of the phases, it was an outstanding game for the Cowboys.
To be honest, I was surprised at how easily the Cowboys were able to win this game. The Buccaneers had shown the ability to run the ball with
LeGarrette Blount
, so that was a potential problem for the defense that allowed physical
Brandon Jacobs
to run through them the previous week in a loss to the Giants. Offensively, the biggest question was whether
Felix Jones
would be able to carry over to this game what he was able to do against the Giants, and he was able to do so with no problems.
The only real offensive breakdown should be put on the play-call sheet of Jason Garrett. That was his decision to throw the ball on third-and-19 from the shadow of his own goal posts. Garrett got greedy and should have just run the ball with
Sammy Morris
, punted and played defense, but he didn't and it cost his team a touchdown.
That series started with a holding call on
Tyron Smith
, which backed the ball up to the Cowboys' 10-yard line. On first-and-20, Garrett tried to throw a screen coming to the right, but
Albert Haynesworth
managed to read the play and get in the way, forcing
Tony Romo
to have to unload it.
On second-and-20, Garrett tried to slam Jones into the line on the right side, but there was nothing doing there for a gain of 1.
On third-and-19 from his own 11-yard line, Garrett should have called another simple run but instead went shotgun with
Miles Austin
wide right,
Laurent Robinson
in the slot left and
Dez Bryant
outside of him.
Jason Witten
was a wing to the right, with Morris next to Romo on his right.
At the snap, Austin drove across the field on a shallow cross, Witten stayed in to block for Romo and took
Da'Quan Bowers
with Morris helping to that side. Robinson ran the deep out, and Bryant headed vertical. Left tackle
Doug Free
was quickly beaten off the snap by
Adrian Clayborn
, who turned the corner as Romo slid to his right then forward. Romo had no idea that Clayborn was behind him until he felt him on his back, thus causing him to drop the ball. Buccaneers linebacker
Dekoda Watson
picked up the ball and headed for the end zone.
It's a defensive touchdown for the Buccaneers and, to be honest, a huge mistake on Garrett for allowing it to happen. I know it sounds critical on my part, but it goes back to Garrett and his ability as a game manager. The only way the Buccaneers were going to score was if the Cowboys' offense turned the ball over and gave Tampa Bay a chance. Garrett did that with that play call.
Romo, Austin break through for first touchdown
In his second game back after his hamstring injury, Miles Austin was once again productive with another touchdown catch. It was Austin's second touchdown in the last two weeks.
[+] Enlarge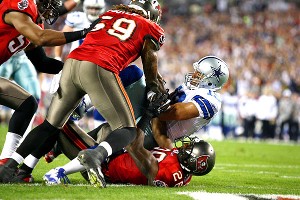 Douglas Jones/US PresswireMiles Austin fought -- and won -- for the Cowboys' first score in Tampa.
His grab against the Buccaneers was typical of what we normally see from him with his ability to play with power. With the Cowboys facing a third-and-goal from the Tampa Bay 8, Garrett went shotgun with three wide receivers in the game, Witten at wing and Jones to the right of Romo. Austin was in the slot left, Robinson wide left and Bryant wide right. Before the snap, Austin was trying to get Romo's attention and finally did. Romo pointed to Austin, making a motion right to left with his hand, then Austin got set. Witten went in motion right to left, then back outside left.
Witten ran vertical through the Tampa zone defense that dropped eight defenders. Austin crossed behind Witten then stopped reading the zone coverage. Romo turned his attention to Jones standing at the 5-yard line. Bryant had no chance on the left side with a corner and safety to his side. Witten curled in the middle of the end zone and got Romo's attention. The three-man rush caused Romo to move forward in the pocket then circle back, and he ran into
Montrae Holland
.
Austin saw Romo start to move then adjusted with him over the middle of the ball and in between the three Buccaneers defenders. Romo saw a window to throw the ball with safety
Sean Jones
driving on the ball from his left. Austin was able to fight off Jones by using his body to shield the ball then roll over to grab the ball from Jones and linebacker
Mason Foster
. Somehow, Austin managed to get the ball into the end zone for the cowboys' first touchdown of the game.
Cowboys contain Blount, get to Freeman
The key defensively for the Cowboys against the Buccaneers was going to be stopping Blount. The front seven for the Cowboys was outstanding in this game, getting off blocks and playing square.
Sean Lissemore
,
Marcus Spears
,
Victor Butler
and
Anthony Spencer
were exceptionally good.
[+] Enlarge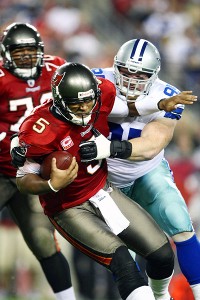 Douglas Jones/US PresswireSean Lissemore got the last of the Cowboys' three sacks on Bucs QB Josh Freeman.
Once the front was able to control Blount, it put a great deal of pressure on quarterback
Josh Freeman
. In my pregame study of the Buccaneers, there was nothing that led me to believe that if they had to pass the ball they would have success. There were too many games where Freeman was not accurate throwing the ball.
Despite how poorly the Cowboys had been playing in the secondary, none of the Buccaneers receivers worried me all that much.
Mike Williams
is a nice player, but Freeman was going to struggle getting him the ball.
After not registering a sack against the Giants, the Cowboys got a couple quickly on back-to-back plays against the Buccaneers.
On first-and-10 on the Tampa Bay 24, Ryan put eight men in the box with safety
Abram Elam
at inside linebacker depth. The Buccaneers were in a regular formation, and Freeman went play-action, faking the handoff to Blount. Outside linebackers Anthony Spencer and
DeMarcus Ware
were off on the snap. Ware was a yard beyond left tackle
Donald Penn
by the time that Freeman was able to make the fake. As Freeman set, Ware had his arms in position to make the sack.
Sean Lee
stepped forward to take on fullback Erik Long with double coverage on the outside of both Tampa wide receivers. Ware brought Freeman to the ground.
It's now second-and-16. The Buccaneers went with three wide receivers and one back. Rob Ryan countered with his nickel package to match.
Orlando Scandrick
was in the slot to the left which is to Freeman's right. Scandrick bluffed presnap like he was going to blitz, then walked back into coverage on
Preston Parker
. At the snap, safety Elam sprinted forward to cover Parker.
Terence Newman
, Elam and
Gerald Sensabaugh
were locked up against two Buccaneers receivers.
In the pocket, Victor Butler dropped into the flat,
Keith Brooking
came hard on the blitz, scraping off the left shoulder of Marcus Spears. Right tackle
Jeremy Trueblood
tried to adjust to Scandrick off the edge but was unable to. Freeman pulled the ball down and tried to sprint to his left but was unable to get away from Scandrick on his back.
Scandrick and Brooking ran down Freeman, giving Scandrick his second sack of the season.
The third and final sack of the game for the Cowboys came with the Cowboys up 24. The Buccaneers had the ball on their own 25 with 6:32 left in the third quarter. The Buccaneers once again put three receivers in the game and flexed tight end
Kellen Winslow
out right. Ryan kept his base personnel on the field to match.
At the snap, Elam blitzed from safety with Brooking in coverage on Winslow. The coverage was man with a free safety in the middle of the field -- all receivers accounted for.
In the pocket, Spears and Spencer ran a twist stunt on the same side as the blitzing Elam. Lee blitzed as well and knocked down. Victor Butler adjusted from rushing from the outside to replace Lee in the middle of the defense. Lissemore outworked Penn to the inside as Freeman tried to look down the field. Lissemore ran straight into Freeman and brought him to the ground for his second sack in the last three weeks.
December, 16, 2011
12/16/11
11:00
PM ET
By
Bryan Broaddus
| ESPNDallas.com
Cowboys' run defense vs. Buccaneers RB LeGarrette Blount:
The run defense for the
Dallas Cowboys
has been very up and down this season. After a week where they struggled against the Giants'
Brandon Jacobs
, the Cowboys get a similar challenge with another physical back in Blount.
There is no doubt in my mind that the
Tampa Bay Buccaneers
will try to run the ball on the Cowboys' front seven to take the pressure off quarterback
Josh Freeman
. Freeman has struggled the most with his accuracy. Having success with Blount running the ball would create better down-and-distance situations for Freeman. It sounds simple, but it's true: When a team is ahead of the chains, it makes the offense work that much better. When teams have been able to keep Freeman in long down-and-distances, he has had his most difficulty.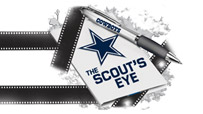 Blount is a punishing runner who pinballs his way through tacklers. He is not explosive or fast, but he is powerful. In the Green Bay game, I counted seven tackles that he broke on his way to a rushing touchdown. It will take more than one man to bring Blount down.
If the Cowboys struggle to get off blocks and don't get defenders to the ball, it will be a long night for this defense, much like it was against the Giants. Look for Rob Ryan to commit early to trying to stop the Buccaneers from running the ball with Blount. If he doesn't, that will take a great deal of pressure off Freeman.
Cowboys WR Miles Austin vs. Buccaneers CB Ronde Barber:
I am looking for this matchup to be a battle out of the slot when Jason Garrett puts three receivers on the field.
Barber is a veteran corner who has had his share of big plays, whether it is in coverage or blitzing out of the slot to make a sack. Barber doesn't have the physical skill to shut down Austin, but he has an advantage because he is very smart and has an outstanding feel for how to position himself en route to defend the ball.
Barber has struggled the most this season with his tackling.
Tony Romo
needs to find ways to get Austin the ball on the move and force Barber to play a physical game. Barber is not a big guy, and when he has to play against a physical receiver, he struggles to match that style.
PODCAST
What's wrong with the Cowboys? Who's to blame? Is Rob Ryan falsely confident? Is it time to mix up the core? Tim MacMahon, Bryan Broadddus and Calvin Watkins discuss the state of the Cowboys.

Listen

The biggest weakness of the Buccaneers' defense is that the secondary struggles to tackle.
Aqib Talib
is the most talented of the cornerbacks and safety
Sean Jones
is physical player, but Barber and safety
Tanard Jackson
struggle to get guys on the ground.
Next to the St. Louis Rams, this was the poorest tackling secondary that I had studied. When you are a poor tackling defense, it leads to big plays. Look for Garrett to use Austin a number of ways out of the slot and on the outside to take advantage of a secondary that will give up space to work.
Cowboys OLB Anthony Spencer vs. Buccaneers RT Jeremy Trueblood:
The Giants visited Cowboys Stadium with an offensive line that was banged up and struggling to protect
Eli Manning
but managed to keep him upright against a Cowboys front that did not do a good enough job of applying any type of pressure or getting off blocks in the running game.
The Cowboys will face a Buccaneers offensive line that is solid at left tackle and right guard but tends to have problems everywhere else. If the Cowboys are going to make any type of real playoff push, they are going to have to get players outside of
DeMarcus Ware
to step up and play at a higher level.
This week, the Cowboys have a winnable matchup on the outside with Spencer against Trueblood, who is a straight-legged player who struggles to move or adjust. Trueblood plays way too tall, and you see defenders drive him back off the ball in the passing game. You also see him playing with little or no power in the running game.
The one player that saves the Buccaneers on the right side is right guard
Davin Joseph
, who in my view is an outstanding player. If the Cowboys are able to attack the middle of the pocket and force Joseph to have to focus inside, it leaves Trueblood on an island with Spencer or whomever Ryan puts to that side. The Cowboys need to have someone step up and this is the side where some success could be had.
June, 22, 2011
6/22/11
8:44
AM ET
ESPN.com's NFL writers rank the top 10 up-and-coming assistant coaches in the league today. Next week: Top players overall.
Seven NFL teams named new head coaches after last season, tapping into a pool that included experienced coordinators and relatively unknown assistants alike. The class of 2011 featured longtime candidates (Leslie Frazier, Ron Rivera). It also included a trusted position coach in Mike Munchak (
Tennessee Titans
) and a couple of relative hotshots in Hue Jackson (
Oakland Raiders
) and Pat Shurmur (
Cleveland Browns
).
Who will comprise the NFL's next batch of head-coaching candidates? That was the question ESPN.com hoped to answer in this week's edition of the offseason Power Rankings. We established one ground rule by eliminating any assistant who has already had a permanent head-coaching job. The idea was to develop a list that focused on the "next wave" of coaching candidates.
No less than 24 NFL assistants received at least one vote, a reflection of both the variables involved in head-coaching searches and the relative lack of national name recognition for all but the most highly regarded assistants.
So in that vein, it was no surprise to see four well-known assistants at the top of our list, headed by
New York Giants
defensive coordinator Perry Fewell -- who placed first or second on six of the eight ballots.
Dallas Cowboys
defensive coordinator Rob Ryan finished second, followed by
New York Jets
offensive coordinator Brian Schottenheimer and Arizona offensive line coach Russ Grimm.
Fewell is an ideal candidate in many ways, having spent time as the
Buffalo Bills
' interim coach in 2009 and leading a substantial turnaround of the Giants' defense last season. Fewell interviewed for four head-coaching jobs last winter, and NFC East blogger Dan Graziano suggested that experience, along with a high profile afforded to coaches in New York, make him "the most likely guy on the list to be a head coach soon."
Just don't bother forwarding his name to AFC South colleague Paul Kuharsky, who couldn't find room for Fewell on his 10-man ballot. Kuharsky noted the Giants' poor performance in Week 2 last season against the
Indianapolis Colts
, during which quarterback
Peyton Manning
threw three touchdowns and cruised to an easy 38-14 victory.
"Certainly I'm letting one game overinfluence my ballot," Kuharsky muttered. "But Fewell's plan for the Giants against the Colts last season was so bad that I could not help but score him down for it. Was he not familiar with how Peyton Manning and Indianapolis operate?"
We can't cover every coach who received votes in this exercise, but let's hit some of the more interesting names that received attention.
Another Ryan?
Deserved or not, Ryan has long been considered a loose cannon. There is little doubt about his schematic prowess, but hiring him would require a confident owner ready to make a leap of faith.
The success of twin brother Rex Ryan with the Jets might have softened the perception of that risk, and collectively we see Rob Ryan on the doorstep of a job.
"Similar to Rex, Rob Ryan is good with X's and O's and has the type of outgoing personality players want to be around," AFC North blogger James Walker said. "I think both are equally important in today's NFL. Both brothers say exactly what's on their mind, and before that scared off a lot of teams. But Rex broke the ice with his success in New York and that could help Rob in the future."
The next generation:
Schottenheimer has turned down more opportunities to interview for head-coaching jobs than he has actually submitted to. He has nixed requests from the
Miami Dolphins
and Bills in recent years, but he did interview for the Jets' job that ultimately went to Ryan. I placed him atop my ballot (he finished No. 3 overall) because I think NFL people have made up their mind that he is the kind of young and innovative assistant who can turn around their franchise. (Think: Cowboys coach Jason Garrett.)
Schottenheimer's pedigree doesn't hurt -- he's the son of longtime NFL coach Marty Schottenheimer -- and I'm not sure how closely teams will dissect the specifics of the Jets' offensive performance. Graziano, on the other hand, thinks Schottenheimer is close to coaching his way out of the golden-child image he cultivated and left him off his ballot.
"Having spent a good amount of time around that team the past couple of years, I just feel like defensive coordinator Mike Pettine is the more likely guy to end up a head coach," Graziano said. "Schottenheimer's under a ton of pressure as Ryan defers the offensive responsibilities to him. I feel like, if the offense has a bad year, he could end up in trouble or even out of a job. And given their youth at quarterback and running back and the uncertainty of their receiver situation, a bad year for the Jets' offense is possible.
"Now, he could be a genius, make chicken salad and be the next hot name eight months from now. But I think there's the potential that he may have already peaked as a hot coaching prospect and that he might not be set up to succeed in New York."
The big fella:
Four years ago, Grimm thought he would be the next
Pittsburgh Steelers
coach. He moved to Arizona after the Steelers selected Mike Tomlin instead, and we view his status as a head-coaching candidate with wide disparity.
AFC West blogger Bill Williamson put Grimm atop his ballot, and AFC East blogger Tim Graham had him No. 2. Kuharsky and I left him off.
Williamson thinks Grimm has moved to "the top of the food chain" largely because most of his "hot-name" contemporaries have already gotten jobs. As well, Graham suggested that it will soon be Grimm's turn because he is still well-regarded throughout the league.
Personally, I couldn't get past Grimm's well-publicized gaffe after interviewing with the
Chicago Bears
, after which he referred to the team owners as the "McClaskey" family. I also agree with NFC West blogger Mike Sando, who ranked Grimm No. 8 and wondered: "Is he still ascending? Grimm seems content coaching the line in Arizona. He has plateaued and doesn't seem to be losing any sleep over it."
Welcome back:
Unless you're a college football fan, you might not have heard of
Jacksonville Jaguars
offensive coordinator Dirk Koetter. He spent six years as the head coach at Arizona State, but has drawn some quiet acclaim for his work with the Jaguars and made a strong impression while interviewing with the
Denver Broncos
last winter.
"In a setting where he won't have to deal with boosters and can shine for being a smart X's and O's guy with strong coaching DNA," Kuharsky said, "I think he'd do far better. He's smart and will interview quite well. He really impressed John Elway and the Broncos before losing out to John Fox's experience. St. Louis wanted him as coordinator, but Jacksonville wouldn't let him go. He's heading into the final year of his contract. How
Blaine Gabbert
develops early on will have a big bearing on Koetter's future."
Secret weapon:
In two years, the
Tampa Bay Buccaneers
have developed quarterback
Josh Freeman
into one of the better starters in the league. The man largely responsible is offensive coordinator Greg Olson, who navigated a disastrous 2009 preseason -- coach Raheem Morris promoted him in the middle of training camp after firing Jeff Jagodzinski -- and NFL teams often seek out coaches with success developing young quarterbacks.
"I think Olson deserves a ton of credit for developing Freeman so quickly," said NFC South blogger Pat Yasinskas. "Freeman threw for 25 touchdowns and six interceptions in his first full season as a starter and carried an incredibly young team to a 10-6 record. I also think people need to look at what Olson did last year with rookie running back
LeGarrette Blount
and rookie receiver
Mike Williams
. He helped make them into instant stars."
Super Bowl entitlement:
The
Green Bay Packers
were the only team to place more than one name in the top 10, as would be expected from a championship team. Assistant head coach/inside linebackers Winston Moss is at No. 6, while safeties coach Darren Perry finished No. 10. I also voted for receivers coach Edgar Bennett, who has moved over from running backs coach and is clearly being groomed for bigger things.
I'll detail my ranking of the Packers' assistants, including why I think so highly of Perry, in a future post for NFC North readers. But we'll say this for now: Moss is a strong leader who has drawn interest from the Raiders, while Perry is a disciple of Packers defensive coordinator Dom Capers and his coveted 3-4 scheme.