Dallas Cowboys:

Manny Johnson
September, 3, 2011
9/03/11
5:17
PM ET
IRVING, Texas -- Perhaps eight of the Cowboys' 26 cuts on Saturday could be back on the practice squad by 11 a.m. Sunday.
The guesses, provided they clear waivers?
QB
Tom Brandstater
, WR
Teddy Williams
, CB
Josh Thomas
, CB
Mario Butler
, FB
Shaun Chapas
, LB
Orie Lemon
, WR Manny Johnson and S
Andrew Sendejo.
Brandstater gets a spot with an eye toward 2012. This is likely Jon Kitna's last year, so why not keep Brandstater around to learn the system, run some scout team with
Stephen McGee
and have a third guy familiar with the surroundings next year? It would not preclude the team drafting a quarterback next year.
At wide receiver and corner, you need guys who can run all day and keep guys on your 53-man roster fresh, so that's why I'm taking two of each.
Thomas and Butler were candidates to make the final roster and you can never have enough cornerbacks, although the Cowboys tested that theory last year by keeping only three on the 53-man roster. Williams brings speed to the wide receiver spot and Johnson knows the system.
With only three inside linebackers on the 53-man roster, Lemon would provide some cover in practice. Without a fullback on the active roster, Chapas could be a call-up at any moment.
With 10 offensive linemen, I'm not sure they need a practice squad guy, but it wouldn't surprise me to see them add a player.
August, 24, 2011
8/24/11
5:36
PM ET
ARLINGTON, Texas -- With
Miles Austin
aggravating his hamstring injury in Tuesday's practice and
Marcus Spears
straining his groin Sunday vs. San Diego, it is highly likely the next time they step on the field will be for the Sept. 11 regular-season opener at the
New York Jets
.
There is no need to rush Austin back for Saturday's game at Minnesota and Spears will also skip the game. The regulars will not see the field in the final preseason game Sept. 1 at Miami.
Hello, Jets.
There is a ray of good news to the absences for some younger players.
Austin's absence will give
Kevin Ogletree
,
Dwayne Harris
,
Jesse Holley,
Manuel Johnson
and
Raymond Radway
more chances to fight for the final three wide receiver spots. Spears' absence will give
Igor Olshansky
a chance to save his job or
Sean Lissemore
and
Clifton Geathers
the chance to win the final defensive line spot.
August, 18, 2011
8/18/11
8:49
AM ET
IRVING, Texas -- A sore hamstring will keep wide receiver
Miles Austin
from practicing today against San Diego at Valley Ranch, according to a source.
Austin hurt the leg on a catch down the middle of the field during a two-minute drill but stayed on through the rest of practice. He has received treatment the last two days and he could return for the Sunday's preseason game vs. the Chargers.
With Austin out,
Kevin Ogletree
would likely move into the starting lineup opposite
Dez Bryant
. Ogletree is in the lead for the No. 3 wide receiver spot but has shown some inconsistency during camp. Rookies
Dwayne Harris
and
Raymond Radway
could get more work to help their chance at earning a roster spot.
Austin's absence also highlights a potential issue should he or Bryant get hurt during the regular season. The receivers on the roster not named Austin or Bryant have 11 career catches with 10 coming from Ogletree and one from Manny Johnson.
July, 27, 2011
7/27/11
9:49
AM ET
SAN ANTONIO -- With
Roy Williams
gone, the Cowboys appear to be short in their wide receiver depth after
Miles Austin
and
Dez Bryant
.
Kevin Ogletree
will get a chance to be the No. 3 wide receiver.
Sam Hurd
could be an option to return. They took
Dwayne Harris
late in the draft and they have
Jesse Holley
, Manny Johnson,
Troy Bergeron
,
Teddy Williams
and some other guys in camp.
Should the Cowboys go out and get a No. 3 wide receiver?
The biggest question is Bryant's health. He missed most of his rookie training camp and all of the preseason with an ankle injury. He broke his ankle at Indianapolis with four games to go. He always seemed to have some nagging injury.
To me, that would be the only reason to get a No. 3 wide out; insurance for Bryant.
But if you're wanting the Cowboys to get a No. 3 wide out because you're not sure about Ogletree, Hurd and so many others, then I think you're off base.
With Austin, Bryant,
Jason Witten
and
Felix Jones
, you're looking at roughly 285-300 receptions among them. A No. 3 wide receiver would get about 30 catches, maybe. Economically speaking, to me, it would not make much sense to go grab a veteran, like a
Lance Moore
,
Steve Breaston
or
Derrick Mason
, for that type of production.
And, yes, I say all this realizing it is a big gamble to rely on Bryant.
December, 30, 2010
12/30/10
11:13
AM ET
IRVING, Texas -- The Cowboys have mainly accomplished-healthy wide receiver and that's
Miles Austin
. His accomplishments have occurred in the last two seasons.
Roy E. Williams is hurting with a slight groin injury and was limited in practice on Wednesday.
What's left is
Sam Hurd
, who missed practice with a headache,
Jesse Holley
,
Teddy Williams
and Manny Johnson have yet to catch a NFL pass.
If Williams is unavailable for Sunday's regular season finale at Philadelphia it would leave little experience at the position.
"We got to see how those guys do," interim coach Jason Garrett said of the injured receivers. "We do have some guys banged up and we'll see how they'll do the next couple of days. We have to be able to manage it like we do every week with different personnel groups. Regardless of what the position is sometimes the runners are limited, the tight ends are limited and in this case it's the receivers and so you got to be able to do it in different ways."
Holley was moved from the practice squad to the active roster for the Vikings game on Oct. 17 and has gotten limited snaps on offense. He's mainly played special teams and is third on the team with 16 tackles in that area.
Johnson has been targeted just once on offense, Dec. 19 vs. Washington, and was inactive last week vs. the
Arizona Cardinals
.
Williams is still learning the position, and though we has moved up to the active roster last week, he was inactive for the Cardinals game.
"I think they're doing well," Garrett said of Holley and Johnson. "Jesse Holley has been a very strong contributor to our special teams and he's grown each and every day as a receiver and Manny had a chance to be active a couple of weeks ago and he continues to grow as a receiver. Those guys just need experience and need practice reps and obviously when we get them in the game those are really worth while to them."
This might be the week to see them.
December, 21, 2010
12/21/10
4:18
PM ET
IRVING, Texas -- The Cowboys have an emergency quarterback plan that doesn't rely on running the Razorback formation every down.
That might not have been the case since
Tony Romo
got hurt until last week.
"We have to evaluate it based on the guys who are active every week," interim coach Jason Garrett said. "Manny Johnson is a contender."
Johnson, the wide receiver promoted off the practice squad last week, is also the answer to a quarterback-related Cowboys trivia question: Who is the only player on the roster who had a 4,000-yard passing season in high school?
Johnson threw for 4,102 yards and 48 touchdowns while leading Gilmer to a 16-0 record and Class 3A Division I state championship in 2004.
December, 15, 2010
12/15/10
11:50
AM ET
IRVING, Texas -- The Cowboys made several moves regarding their receivers corps Wednesday.
Here's the roundup:
*
Kevin Ogletree
was officially placed on injured reserve. He's scheduled to undergo surgery on his right big toe Thursday.
*Manny Johnson, a seventh-round pick out of Oklahoma in 2009, was promoted from the practice squad to replace Ogletree.
*The Cowboys filled the vacancy on the practice squad by signing Troy Bergeron, a former Arena League star who never played college football. Bergeron spent most of this season on the Falcons' practice squad.
*Teddy Williams, the former UT-San Antonio track star who signed with the Cowboys during training camp, has been moved from cornerback to wide receiver. Williams, who has been clocked as fast as 9.9 in the 100 meters, has been on the practice squad all season.
June, 7, 2010
6/07/10
10:19
AM ET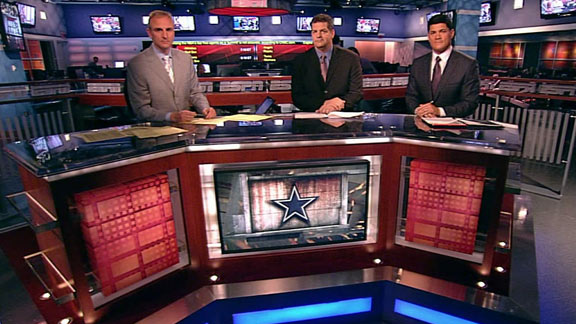 Jerry Jones has gone out of his way this offseason to gush about
Marion Barber
and
Roy Williams
.
It'll be interesting to see what Jerry has to say about those guys next year, when the guaranteed money will be gone from their massive contracts. My guess is it'll go something like this: "I'd like to thank them for their contributions to the Cowboys and wish them the best of luck in the future."
It just doesn't make sense for Jerry to pay multi-millions to aging players when there are guys already on the roster who can do their job at a fraction of the cost. With that in mind, here's what the 2011 depth chart will probably look like at running back and receiver, assuming there is an NFL season next year:
RUNNING BACK:
Felix Jones
,
Tashard Choice
, mid- to late-round pick. If he stays healthy, Felix ought to become the lead horse this season. Choice, who has proven he can be effective with a significant workload, should finally get that chance on a full-time basis after waiting his turn for three seasons. The Cowboys' scouts should be able to find another solid back to groom on the last day of the draft, like they did with Barber and Choice.
RECEIVER:
Miles Austin
,
Dez Bryant
,
Kevin Ogletree
, Manny Johnson, mid- to late-round pick. The Austin-Bryant combo should be one of the league's best. Ogletree is well on his way to carving out a significant role and would give the Cowboys' three dangerous run-after-catch guys in their multi-receiver sets. Johnson, who might have to spend another season on the practice squad, is just a hunch. The Cowboys might not keep
Sam Hurd
this season, much less next year.