Dallas Cowboys:

Marcedes Lewis
February, 8, 2012
2/08/12
11:00
PM ET
This is the fourth installment of a 12-part series breaking down the Cowboys roster. Today we look at tight ends.

[+] Enlarge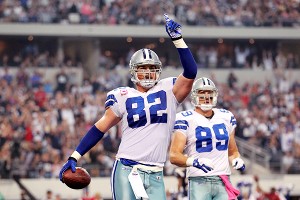 Matthew Emmons/US PresswireJason Witten, who returns for his 10th season, led the Cowboys in catches and receiving yards in 2011.
Players:
Jason Witten
(signed through 2017),
Martellus Bennett
(free agent),
John Phillips
(signed through 2012)
Top free agents:
Martellus Bennett,
Dallas Cowboys
;
John Carlson
,
Seattle Seahawks
;
Jermichael Finley
,
Green Bay Packers
;
Marcedes Lewis
,
Jacksonville Jaguars
;
Visanthe Shiancoe
,
Minnesota Vikings
Top draft prospects:
Coby Fleener, Stanford; Dwayne Allen, Clemson; Orson Charles, Georgia; Ladarius Green, Louisiana-Layayette; Michael Egnew, Missouri
2011 review:
First the good news: Bennett will not return. He didn't like how he was being used in the offense and his locker room and off-the-field antics rubbed some in the organization the wrong way. Now the bad news: Bennett was the Cowboys' best blocking tight end and most athletic. He will find a home. More good news: Witten returns for his 10th season and is in line to have the longest tenure on the team if
Bradie James
and
Terence Newman
don't return. He's a professional and despite not making the Pro Bowl last season, led the team in catches (79) and receiving yards (942). Phillips was average last season, after coming off knee surgery.
Offseason preview:
Free agency isn't the way to go here because the class is top heavy with world-class talent. The draft is a possibility and a mid-to-late round pick could be the answer. Green might be around on the third day and he's worth looking at. The Cowboys want tight ends who can block well and are not afraid to mix it up. Witten is the perfect example of how to do that.
Bryan Broaddus' Scout's Eye:
It's hard to believe that Witten will be playing in his 10th season for the Cowboys. The Cowboys need to work on finding the next tight end who will be reliable and productive like Witten has been. I am not saying that Witten is done, but it would be a nice time to start finding a replacement. It's a shame that Bennett played at a higher level toward the end of the season so other teams would have decent film to watch when he becomes a free agent. Don't fool yourself into thinking that Bennett was this great run blocker because he wasn't. There were times he was good but not as good as he could have been. His career in Dallas will always have me wondering "what if." Phillips should be better than he was in 2011 coming off knee surgery. He is a productive player run or pass. Shaun Chapas was drafted last season, but I don't see the necessary skills. If the Cowboys get an extra pick in the middle of the draft, it could be a good time to look at tight ends.
Need meter (0-5):
4
March, 29, 2011
3/29/11
1:05
PM ET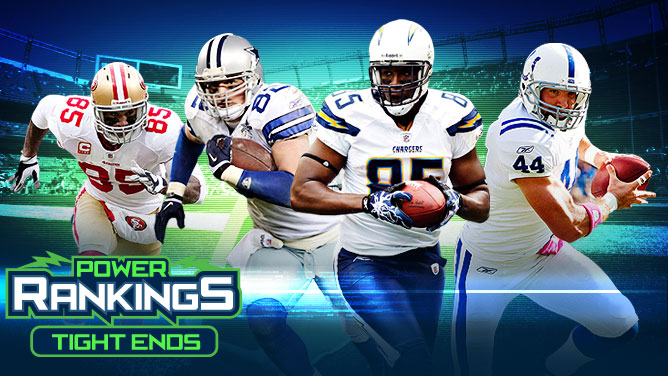 ESPN.com IllustrationDallas' Jason Witten earned the top spot in our voting over San Diego's Antonio Gates.
ESPN.com's NFL writers rank the top 10 tight ends in the league today. Next week: Top 10 coaches.
Antonio Gates
has received the
Adrian Peterson
treatment.
This guy didn't do it this time.
Up from the NFC South rises Pat Yasinskas into the ESPN.com Power Rankings' hot seat. Embrace the heat, my friend. In another airtight positional Power Rankings battle, Dallas'
Jason Witten
edged out Gates by one vote to be crowned the almighty ruler of all NFL tight ends.
How in the name of Kellen Winslow did it happen, San Diego? Talk to Yasinskas.
Yasinskas ranked Atlanta's
Tony Gonzalez
No. 2. He had Witten No. 1 and Gates No. 3. Witten finished with 76 voting points. Gates had 75. No other voter placed Gonzalez higher than fifth. He finished sixth.
Send your cards and letters to Yasinskas, Dallas
. If you must let him know your thoughts, stay classy, San Diego.
Yasinskas reasoned that he sandwiched Gonzalez between Witten and Gates because of Gonzalez's incredible career. Gonzalez, 35, owns every major receiving record by a tight end.
"Yes, he's nearing the end of his career, but this is the best tight end in history," Yasinskas said. "I think that counts for something. Gonzalez still is playing at a high level. He has great chemistry with quarterback
Matt Ryan
and the desire for a Super Bowl ring is keeping Gonzalez going strong."
Here is the rest of the top 10 after Witten and Gates: Indianapolis'
Dallas Clark
(53 points), San Francisco's
Vernon Davis
(50), Washington's
Chris Cooley
(36), Gonzalez (33), Tampa Bay's
Kellen Winslow Jr.
(26), Jacksonville's
Marcedes Lewis
(21), Detroit's
Brandon Pettigrew
(18) and Green Bay's
Jermichael Finley
(15).
Witten and Gates clearly stand out as the game's elite tight ends. Witten was ranked first on four ballots and second on the other four. Gates received the other four first-place votes. He received three second-place votes and Yasinskas' third-place vote.
The only thing that separated Witten and Gates in 2010 was health. Witten, 28, had 94 catches for 1,002 yards and nine touchdowns last season. Gates, 30, was on his way to a brilliant season when it was derailed by nagging ankle and foot injuries. Gates ended up on injured reserve and missed six games. He finished with 50 catches, 782 yards and 10 touchdowns.
Matt Williamson of Scouts Inc. said both Witten and Gates are game-changers.
"Witten to me is the class of the two-way tight ends," Williamson said. "Receiving needs to trump blocking because that is what the league is right now. If someone put Witten first on the list, I can buy that. In terms of doing it all, I think he is the best. … I think he is the best of the two-way guys if you put an equal amount of faith in both receiving and blocking. He is the all-around tight end prototype. If you put more weight on receiving, which I would, you have to give the nod to Gates. He was awesome last year. He was hurt and that was the only negative other than blocking. He played hurt a lot and was great."
Let's dig deeper into the rankings:
Not easy pickings:
Several of our voters were surprised by the difficulty of this process. This is our fourth position in the series. We previously looked at receivers, running backs and pass-rushers. The pass-rushers process was very difficult. This vote was not a cool breeze, either.
This is a very strong league for tight ends these days.
"After a hellish pass-rusher ballot, I thought tight ends would be far easier," AFC South blogger Paul Kuharsky said. "They were just as difficult. There is a great deal of young talent too. I steered clear of first-year guys, but in another season or two, this could be even more brutal to sort through."
Blame injuries:
In addition to the glut of talent, a primary reason this vote was so difficult was the fact that there were major injuries at this position in 2010. In addition to Gates, Clark, Finley and Houston's
Owen Daniels
were injured. That changed the voting landscape.
"I thought it was tough because there are a lot of guys with mitigating circumstances," NFC North blogger Kevin Seifert said.
Clark's injury prompted Yasinskas to rank him 10th. No other voter placed him lower than fourth.
"There's no doubt this guy has had a great career," Yasinskas said. "But I ranked him a little lower than most and that's almost entirely because he missed 10 games last season. Clark is 31 and I'm not sure he'll be the same player going forward."
[+] Enlarge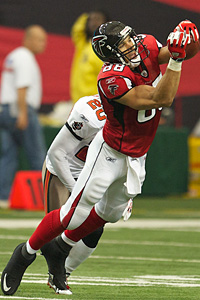 Dale Zanine/US PresswireWill star Falcons tight end Tony Gonzalez finally notch his first playoff win on Sunday?
Not everyone loves Tony G.:
Clearly, Yasinskas believes in Gonzalez. He gets to see him play regularly and thinks he's still an impact player. That's why he ranked him second. But not everyone agrees that the future Hall of Famer is still an elite player. Kuharksy left Gonzalez off his ballot altogether.
"Gonzalez is still an excellent player," Kuharsky said. "But as I struggled to find room for the 10 I felt needed to make the cut, he fell off. In 2010 his numbers suggest he was more quantity than quality. I'm not looking for giant plays from my tight end, but Dallas Clark replacement
Jacob Tamme
matched Gonzo's 9.4 yards a catch, and while Gonzalez's first-down percentage was good (55.7), it was way lower than that of the three top rookies and smaller than that of guys like
Heath Miller
,
Ben Watson
and
Todd Heap
, whom I hardly considered. One final note: As I've got access to Frank Wycheck during three shared radio appearances a week, I asked him for a ballot. I'm sure he admires Gonzalez's body of work. But right now Gonzalez wasn't in Wycheck's top 10 either."
The Davis flip-flop:
The 49ers' immensely talented tight end received a wide range of support. Four voters had him third. Yet, I had him ranked ninth and Yasinskas had him eighth. I like Davis, but I'm not convinced we always see his best effort.
NFC West blogger Mike Sando was among those who voted Davis third. Sando argued that Davis has made an impact despite playing with subpar quarterbacks.
"It's easy to forget about Vernon Davis because he plays for a low-profile team that has struggled," Sando said. "If you've seen the 49ers much, you know Davis makes the huge play better than any tight end in the league. He'll catch touchdown passes for 60 or 70 yards, outrunning even cornerbacks. He remains unrefined and can still improve his all-around game quite a bit, but his 20 touchdown receptions over the past two seasons rank first among tight ends."
This position is in it for the long haul:
I remember a conversation I had with Gates prior to the 2009 season. He was glowing over all the young talent at the position in the NFL. Gates rattled off several young tight ends he expected to have bright careers.
There's no doubt, this is a special time for tight end play. As Gonzalez puts the cap on the most brilliant career by anyone at the position in the history of the game, the position is well stocked for the future.
Five players on the list -- Davis, Winslow, Lewis, Pettigrew and Finley -- are 27 or younger. The only players who are 30 or older on the list are Gonzalez, Clark and Gates.
Oakland's
Zach Miller
and the Jets'
Dustin Keller
, who finished 11th and 12th, respectively, are also young players. Miller is 25 and Keller is 26.
October, 30, 2010
10/30/10
12:02
AM ET
By
Bryan Broaddus
| ESPNDallas.com
Jaguars running back Maurice Jones-Drew vs. Cowboys run defense:
The Jaguars have some offensive talent on their squad at wide receiver and tight end, but their best player is running back Maurice Jones-Drew.
Jones-Drew might be short on height, but he is not short on talent. He is a dynamic ball carrier and possesses the ability to score from anywhere on the field. He is a runner with outstanding physical gifts of balance, power and vision. He is a patient ballcarrier and he will let blocks develop then find a way through the hole.
[+] Enlarge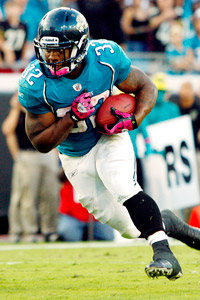 Kim Klement/US PresswireThe Jaguars offense runs through its explosive running back, Maurice Jones-Drew.
The offensive line that he plays behind is not the best one the Cowboys have faced this season, but his ability makes them better as a group. The Jaguars are playing with a new right tackle in
Jordan Black
. With the exception of left tackle
Eugene Monroe
, it's a suspect group overall.
The Cowboys allowed 201 yards rushing last week to the Giants and that went a long way in deciding the outcome of the game. Jones-Drew is a physical ball carrier and his-low-to-the-ground running style makes it difficult to get a solid shot on him. He also is an accomplished pass receiver. The Jaguars like to use him in the red zone matched up against linebackers that can't handle his quickness and elusive moves.
Offensive coordinator Dirk Koetter has studied what the last three opponents have done to the Cowboys in the running game and should tailor a game plan to run the football in a fashion that will give the Cowboys the most trouble. A successful running game starts with Jones-Drew, but it also could open up more opportunities to the tight end and receivers.
*Jaguars defensive end Aaron Kampman vs. Cowboys left tackle Doug Free:
The Jaguars struggle to rush the passer. When they do get pressure, it's usually because of Aaron Kampman providing it.
Kampman originally broke into the league with the
Green Bay Packers
but was a big-ticket signing for the Jaguars in April. Kampman is a high effort and motor guy. He is a relentless pass rusher that is always coming at you. Would not call him a powerful or strong player, but one that uses technique and smarts to his advantage.
He is a similar type of player that Free faced two weeks ago in
Jared Allen
at Minnesota. Kampman uses several different pass rush moves, so Free will need to bring his "A" game. Kampman likes to work wide up the field to the tackle's corner, then slap the tackle's hands to get around the edge. Kampman will do everything in his power to keep the tackle's hands from his body.
If Kampman has a weakness, it's that his lack of strength hurts him in the running game. Teams have had success running the ball to his side because he doesn't have the power to fight off the block. But if he gets the edge and keeps his feet working, he can get down the line and make the tackle. Kampman will usually line up as the right end, but in the nickel, he will move to left end and
Larry Hart
will rush from the other side.
[+] Enlarge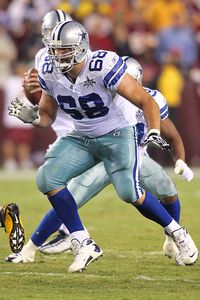 Jeff Fishbein/Icon SMICowboys left tackle Doug Free will have his hands full with Aaron Kampman and the Jaguars' pass rush.
*Jaguars safeties vs. Cowboys tight end Jason Witten:
With the change at quarterback with the Cowboys going to
Jon Kitna
, I have a feeling that tight end Jason Witten is going to become one of Kitna's best friends in this offense.
Kitna is unlike Romo in what he will do with the football. Romo will take chances down the field, while Kitna is more likely to check the ball down or attempt passes that move the chains.
In studying the Jaguars on defense, I did not come away with the impression that they had someone that could effectively match up with Witten. I always talk about Witten as this mismatch player that is too athletic for linebackers to deal with and too big for defensive backs to handle down the field. This Jaguars defense doesn't have anyone that can stay with Witten down after down.
If Kitna knows that, he will be more likely to look Witten's way, especially on third downs and in the red zone, which are two areas that the Jaguars really struggle in.
The Cowboys' offense will be different with Kitna at quarterback because he doesn't have the ability to make the loose or second-chance plays like Romo does. Kitna will be solid presnap and take what the defense will give him from his read. Don't be the bit surprised if Jason Witten plays a big role in the success of the Cowboys on Sunday.
October, 29, 2010
10/29/10
8:00
AM ET
By
Bryan Broaddus
| ESPNDallas.com
The 1-5
Dallas Cowboys
host the 3-4
Jacksonville Jaguars
in a battle of two teams that struggled to defend the run last week in their losses.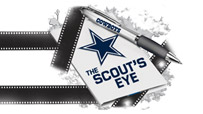 The Cowboys allowed the Giants 201 yards on the ground. The Jaguars allowed the Chiefs to rush for 236.
It's another week and another quality running back that Wade Phillips' squad must face. When you study the Jaguars offense, the one player that stands out is running back
Maurice Jones-Drew
. He is nowhere the height of
Arian Foster
or
Adrian Peterson
, but he runs with the same power and determination of those larger backs.
Jones-Drew has impressive stop-start quickness. He runs with outstanding patience and vision. He does much of his work on his own because his offensive line doesn't always get the type of push that some of the top running teams get in this league.
Jones-Drew is a difficult back to tackle because of his low-to-the-ground running style. It's hard to get a clean hit on him because of his compact body type. Jones-Drew is not afraid to carry the ball inside but does a very nice job of getting it on the edge and around the corner. Quick feet and powerful legs are his trade marks.
Another area that the Cowboys must be concerned with is Jones-Drew's ability to catch the ball. The Jaguars will use him in the red zone, trying to create mismatches with linebackers on Texas routes inside.
If the Cowboys are going to have success on defense this Sunday, controlling Jones-Drew is a must. A repeat of what happened to them last week against the Giants will only create more opportunity for this offense.
Jaguars quarterback
David Garrard
missed last week's game in Kansas City with concussion that he suffered in a Week 6 loss to the Titans. Jacksonville fans have always had a love/hate relationship with their signal-caller. Garrard is 34-34 as a starter, and depending who you were talking to in the Jaguars organization, there were those that believed that this was a make-or-break year for him.
Garrard has had two three-touchdown games this season. In the Jaguars' three wins, Garrard has completed 77 percent of his passes with eight touchdowns and one interception.
Garrard has really shined in his starts in the fourth quarter. His quarterback rating is 114.8 and he has three touchdowns and no interceptions.
When the Jaguars throw the ball, it's usually going in the direction of the two "Mikes" --
Mike Sims-Walker
and
Mike Thomas
. Both are not big-name type of players, but it was interesting to study them getting ready for this game.
I was impressed with the playmaking ability of Thomas, a DeSoto native. He is like Jones-Drew in that he is a short guy, only 5-foot-7 and change, but he has playmaking ability not only on the offensive side of the ball but also as a punt returner. Thomas has 4.30 speed and unbelievable quickness. He is a slippery player with the ball in his hands.
Offensive coordinator Dirk Koetter does a nice job of creating opportunities for Thomas by getting the ball in his hands through screens and reverses. Thomas uses his speed and quickness in his route running as well. Saw one ball where he adjusted very well to a low ball across the middle, but the next time was unable to bring it in.
The Jaguars have a talented tight end in
Marcedes Lewis
. Lewis is a large target that is a nice up-the-field player. He has solid hands and runs very well. The Jaguars will use him out of the backfield, flexed and inline. Lewis has the potential in this game to be a matchup problem for the linebackers and the safeties. Like Thomas, the Jaguars like to get the ball in his hands on the waggle and in the red zone.
*On defense for the Jaguars, there is nothing particularly good that they do. They are ranked near the bottom in most statistical areas. They are 30th in total defense and 31st in points allowed.
The pass rush is poor and they struggle to get consistent pressure on the quarterback. Former Packers defensive end
Aaron Kampman
is really the only bright spot as a pass rusher with four sacks. Kampman is a try-hard guy that plays with big effort and will show a variety of pass rush moves as he works his way to the quarterback.
Kampman will work from both sides but mainly over
Doug Free
. When he switches to the other side in the nickel, rookie
Larry Hart
will take his spot at right end.
Rookie
Tyson Alualu
plays the 3 technique while Terrence Knighton lines up as the 1 in this 4-3 defense. I really do like the motor on Alualu and the way that he keeps coming after you inside. Need to watch the matchup of
Leonard Davis
and
Phil Costa
against Alualu. He plays with nice power and strength but has also shown the ability to use his quickness to be disruptive pushing the pocket inside.
Jon Kitna
is not the most mobile quarterback. He has the most problems when the front of the pocket becomes soft and there is not a wall for him to move forward in.
In the secondary, cornerback
Rashean Mathis
is the best player and is someone that the Cowboys should avoid at all costs.
Mathis played left corner in the Kansas City game last week but then played right corner against the Titans. Mathis will bait you into throws. He gives you a look like his man is open, then drives on the football after the quarterback throws it. He is instinctive and a reader. There were times that he floats in coverage then comes off his man to make a play on the ball in another area.
If the Cowboys on defense are going to struggle to cover tight end Lewis, the Jaguars will struggle to cover
Jason Witten
as well. Was not one bit impressed with the linebackers or safeties in coverage. Kansas City had a great deal of success running waggle and boots to their tight ends, which gave the Jaguars fits. Would not be the least bit surprised if Kitna calls Witten's number several times in this contest, because the Jaguars do not have anyone that can cover Witten.
It will be interesting if offensive coordinator
Jason Garrett
goes with a game plan to try to get his running game going to help Kitna, or does he throw the ball all over Cowboys Stadium on Sunday because of the lack of a pass rush for the Jaguars and some match up problems in the secondary?