Dallas Cowboys:

Marcell Dareus
April, 26, 2012
4/26/12
8:03
PM ET
IRVING, Texas – On Wednesday,
Dallas Cowboys
owner and general manager Jerry Jones said he anticipated some trades early in the first round because the cost of moving up went down thanks to the new collective bargaining agreement.
Jones' hint Wednesday was a reality Thursday when the Cowboys moved from No. 14 to No. 6 to take LSU cornerback Morris Claiborne.
Last year, Atlanta gave
Julio Jones
a four-year, $16.2 million contract. in 2010, Seattle gave tackle
Russell Okung
a six-year, $48.5 million with &29 million guaranteed as the No. 6 pick.
That type of economics made it much more sensible to make a move up.
November, 11, 2011
11/11/11
9:00
AM ET
By
Bryan Broaddus
| ESPNDallas.com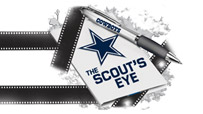 We all play this game in the media where you take the Cowboys' schedule when it comes out and go through it game by game, circling win or loss.
Then when you are done with that you make your prediction for the team's overall record, which is usually wrong. This year I had the Cowboys at 9-7 and not making the playoffs, but the Buffalo game was one that I had circled as a win.
I still believe the Cowboys will defeat the Bills at Cowboys Stadium on Sunday afternoon, but I have a feeling it will be a victory that they will have to fight to get.
Jackson leads versatile Bills offense
Offensively, the Buffalo Bills are led by Ryan Fitzpatrick, who isn't your typical NFL quarterback. He is not the most skillful athlete or passer, but he does a tremendous job of taking the snap and getting rid of the ball quickly.
The Bills' offense is similar to a college offense in the way they get in four- and five-wide receiver sets. They use running backs like C.J. Spiller as a wide receiver or wide receiver David Nelson as a move guy, like an H-back across the formation, and as a blocker.
The strength of this Bills offense is running back Fred Jackson. Jackson is most dangerous when he takes the handoff and attacks the line, then slashes to a hole on the backside.
[+] Enlarge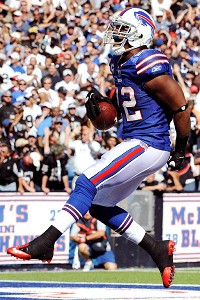 Richard Mackson/US PresswireFred Jackson has been running all over NFL defenses and is the key cog in the Bills' attack.
Jackson is athletic enough to make you miss in the hole. He can spin, cut and dodge defenders with the best of them. I saw plays where defenders had Jackson stopped, but he was able to start, stop, then restart again.
Jackson plays a lot lighter than the 215 pounds he carries. He will bounce the ball to the outside in an instant and has the vision to see where he needs to go and how to get in and out.
Jackson catches the ball with ease. He is used on screens and swings out of the backfield and even split out wide.
There was a nice design of a screen against Washington, where Jackson started his route to the outside from the backfield then planted his outside foot and broke to the middle, which allowed his linemen to set up their blocks. It was an easy throw for Fitzpatrick and a huge gain.
The Bills also can show a college look when they use third quarterback Brad Smith in the "Wildcat" formation. Smith has made a nice career as one of the best kick returners in the NFL, but he can be an effective quarterback throwing and more importantly running the ball out of the shotgun. Cowboys defensive coordinator Rob Ryan has to be careful on third downs with the Bills sneaking Smith into the game to run the scheme.
Receivers are reliable weapons for Fitzpatrick
At wide receiver, I mentioned what Nelson brings to the game with his ability to line up anywhere in the formation. Nelson in my view has the best hands on the team. He catches the ball away from his body and is natural doing it. Nelson is a deceptive route runner, so it looks like he is not running, but he is getting open. His height can make him a mismatch player, so the defensive back who covers him will have to be ready to be physical with him.
If Nelson has the best hands, Stevie Johnson is the best overall receiver when it comes to routes and getting open. Johnson is comfortable whether you play him in press or off coverage. He can get off the jam with nice technique. He's Fitzpatrick's best friend thanks to his ability to adjust to any type of pass that is thrown.
I only saw one drop by Johnson and that came against the Jets when he misplayed a slant. Usually Johnson eats those types of throws up because of the way he can position his body to keep himself between the defender and the ball.
Former Cowboys tight end Scott Chandler has also become a reliable weapon for Fitzpatrick in this offense. Chandler can get up the field, but he lines up more than just inline. The Bills like to flex him outside and try to give him space to operate.
The Cowboys have done a nice job this season when Ryan puts Frank Walker on the tight end. If the Bills try to move Chandler around, look for Walker to try to be right there with him, breathing the same air.
Offensive line misses injured starters
In the games I studied, the Bills' offensive line was struggling to replace injured starters. Andy Levitre was moved from guard to left tackle to replace Demetrius Bell, who has a shoulder problem and hasn't practiced all week. Levitre is not the biggest guy, but he battled the best he could.
Against the Jets last week, Levitre was beaten badly to the inside. He was much better against the Redskins the previous week.
Chad Rinehart was the starter in Levitre's place at guard. He struggled with a man on his nose with power and wasn't all that good as a puller. If Bell is not able to go and Levitre has to play at left tackle, watch the matchup on that left side. Against the Jets, Rinehart failed to adjust to a blitz, twist stunt that caused pressure on Fitzpatrick.
Center Eric Wood is a nice player, as is guard Kraig Urbik. Tackle Erik Pears is a much better pass blocker than run blocker. Pears can be overpowered at times, but his footwork is good.
The ability of Fitzpatrick to get rid of the ball quickly helps this line from giving up pressures and sacks. In the running game, they are not a physical group, but the slightest bit of crease can be taken advantage of by Jackson. It might be hard for Ryan to attack this offense because they like to spread you out. The key to this game will be how physical the Cowboys are with this line.
Defense isn't model of consistency
Defensively, the Bills struggle to get off blocks with any consistency. Rookie Marcell Dareus isn't playing like the explosive player from Alabama I studied on college tape last year. Kelvin Sheppard is a rookie starter from LSU who at times will be good reading the run and filling the hole and fighting the block. He gets into trouble when he doesn't read plays quickly enough.
If the Bills are going to get pressure on an offense in the passing game, it will be when they run twists inside with the defensive tackles in the nickel or inside linebacker cross-blitz stunts.
The Bills have a physical safety in George Wilson who is always around the ball. Wilson is a good tackler and he can cover a tight end. He will also be used as a blitzer off the back side.
Backup safety Bryan Scott is used in a role similar to the one we saw the Cowboys use Barry Church in last week. He will play as a nickel inside linebacker and is much better in coverage than he is against the run, unlike Church, who made his best plays taking on blockers and getting to the ball.
The Cowboys need to take advantage of Scott when he is in the game by running the ball right at him. He doesn't play with the physical style of Church, which hurts the Bills in this area.
In my scouting view, the best defensive player on the Bills is cornerback Terrence McGee. Last week against the Jets, McGee went all over the field covering the Jets' Santonio Holmes. McGee can cover well and does a nice job in the slot. He is solid playing the ball in the air and is a willing hitter.
On the other side, Drayton Florence is not as good as he needs to be and I now understand why the Bills drafted Aaron Williams out of Texas with an early second-round pick. Florence plays way too soft and he will give up routes to the inside. He doesn't do a good job of defending the slant. In the Jets and Giants games, receivers had an easy time getting inside on him.
The Giants' Hakeem Nicks was also able to take him vertically down the field. One other thing noticable about Florence is that he really doesn't like to tackle and he is not that good at it when he gets the chance. Watch for the Cowboys to work the ball to his side of the field and make him play in this game.
In the three games I studied, the Bills had four interceptions. It was amazing the amount of tipped passes they were able to come down with. In the Jets game, Mark Sanchez had one get knocked up in the air off Plaxico Burress that ended up in the defense's hands. Defensive end Alex Carrington tipped a Michael Vick screen that ended up being picked off. On the other two, Sanchez overthrew his man in the end zone, and Chris Kelsay was able to put pressure on Vick to cause a poor, off-balance throw.
Offense will put Cowboys to the test
If the Cowboys are going to win this game, it's going to come down to how well Rob Ryan's crew matches up with the Bills' offense. I believe the Cowboys' offense will be fine, but it's the Bills' offense that I worry about.
The Cowboys have really struggled the last two weeks in run defense when the defensive ends were pushed inside or tied up on blocks. Marcus Spears and Kenyon Coleman will need to play much better than they have the last two weeks.
I don't see the Bills being powerful enough to physically go toe to toe with the Cowboys, but I didn't think that Seattle could, either. Jackson is an outstanding back and is the type of player that will come at you all day. Getting pressure on Fitzpatrick will be tough, but if they don't tackle Jackson, pressure will not matter.
Offensively the Cowboys will make plays against the Bills defense. The key for the Bills is creating turnovers, as it has been in their five victories.
On Sunday afternoon, the Cowboys will need to be the more physical team on both sides of the ball. And I think they will.
November, 10, 2011
11/10/11
9:09
AM ET
IRVING, Texas -- Sorry for the delay, but this week we bring you Mark Gaughan of the Buffalo News in our weekly The Other Side post to break down the Bills' 5-3 start.
Archer -
Jerry Jones has said he regretted firing Chan Gailey after two seasons, how has Gailey gone about turning things around apparently in his second year with the Bills?
Gaughan -
The Bills had been in a decade-long offensive slump before Gailey arrived. They've finished in the bottom eight in the NFL in yards gained eight straight seasons entering this year. ... Gailey has brought a cohesive offensive philosophy and identity to the team, which was sorely lacking under previous coaches. The Bills have aimed to get bigger and more physical on the offensive line. They've changed personnel to reach that end. They have utilized the spread offense. ... But they're not as much of a pass-happy spread as some teams. They've kept a good commitment to run out of the spread. Gailey has adjusted to his personnel, and he has squeezed great production this season out of unheralded players.
Archer -
Fred Jackson
is coming home this week and I don't know the people in Arlington knew he could be this good. How is he doing it?
Gaughan -
Jackson has been underestimated throughout his career because he's not a "speed" back. But don't be mistaken, he is a big-time talent. He's a big man, and he runs with great strength. He has a great ability to get yards after contact. He has incredible vision.
Archer -
How much of a revelation has
Ryan Fitzpatrick
been and are you surprised at the amount of an extension he received?
Gaughan -
You can't knock the results Fitzpatrick has produced since being paired with Gailey. In his first 16 games as a starting QB in Gailey's offense (through the first 3 weeks of this season), Fitzpatrick passed for 3,841 yards, with 32 touchdowns and 18 interceptions. ... His contract extension makes him the 16th highest paid QB in the NFL. It's very similar to the deal Kansas City gave
Matt Cassel
. ... It's the cost of doing business in the NFL.
Archer -
Dave Wannstedt won a Super Bowl here. What has he meant to the Bills defense?
Gaughan -
The Bills defense is improved this season, so there's no doubt he has helped (as have
Marcell Dareus
and
Nick Barnett
). ... Wannstedt is the assistant head coach and inside linebackers coach. He is Gailey's right-hand man and he helps defensive coordinator George Edwards put together the game plan. So he has a ton of input. Edwards calls the defensive plays.
Archer -
Clearly
Scott Chandler
is doing something right. He couldn't get on the field with the Cowboys. Is it a product of the right time and right place for him?
Gaughan -
Everyone would agree there's no shame in the fact Chandler could not beat out
Jason Witten
. Chandler can move pretty well for such a big man (he's 6-7) and he is a better than average blocker at tight end, too. So that has been a huge addition to the Bills' offense, which has not had a tight end of note since 2001. Chandler is a big target and an asset in the red zone.
March, 31, 2011
3/31/11
12:00
AM ET
ESPNDallas.com looks at potential Cowboys picks for the April 28-30 NFL draft.
MARCELL DAREUS
Position:
DE/DT
School:
Alabama
Scouts Inc. ranking:
No. 1 overall
Bio:
All-SEC first-team selection as a junior, his only college season as a full-time starter. Made 34 tackles, including 11 for losses and 4.5 sacks, despite getting double-teamed most of the time. … Had 8.5 tackles for losses and an SEC-leading 6.5 sacks as a sophomore, when he made only four starts. … Was named the most outstanding defensive player in the Crimson Tide's BCS championship win over Texas in 2010. Dareus had a 28-yard interception return for a touchdown, making a spin move to elude a tackler, and knocked Colt McCoy out of the game with a clean hit.
[+] Enlarge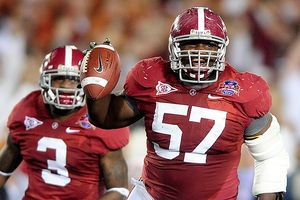 Gary A. Vasquez/US PresswireMarcell Dareus was named the most outstanding defensive player in the Crimson Tide's 2010 BCS championship win over Texas.
Size:
6-3⅛, 319
40-yard dash:
4.94
Arm length:
33⅜
Hand size:
10⅛
225-pound bench press:
24 reps
Vertical jump:
27 inches
Broad jump:
Did not jump at scouting combine.
20-yard shuttle:
4.68
Three-cone drill:
7.83
Broaddus Breakdown (viewed Arkansas, Florida and LSU games):
In the games I viewed, he lined up as a defensive end, but in the NFL I think he is a better fit as a defensive tackle or nose. Have heard him compare himself to Warren Sapp but is about 40 pounds heavier than Sapp was coming out of Miami. … Can see Dareus playing that 1 or 3 technique in a 4-3 or a nose in the 3-4. Outstanding strength at the point of attack and against double-teams. Disruptive player that is always attacking blockers. … Best traits are his quickness and his ability to explode off the snap to get upfield. Does a much better job of playing with his hands than Nick Fairley. There is some "shock" when he fires his hands inside to control the blocker. He will throw blockers around with ease. Upper body strength is more impressive than his lifting numbers would indicate. … More active against than run than Fairley. Will work down the line until he finds a gap to get through or he will meet the ball in the hole. … Physical at the point of attack. Has a real feel for how to play blocks. … You see some impressive COD (change of direction) for a man his size. Can see the ball, stop and redirect to get to the ball carrier. You don't see him get tied up or washed out of the play like others in this draft. … Like Fairley, he will need to do a better job of developing some pass-rush moves. Right now, he is all about brute force and power. He walks blockers backwards. … Still see him as a three-down player pushing the front of the pocket from the inside. Played some nose for Nick Saban and the Crimson Tide in the nickel and was used on some twist stunts getting home against LSU. … Has a real chance to be an impact interior defender for the team that drafts him now. Physical tools are quite impressive.
March, 1, 2011
3/01/11
11:46
AM ET
One thing that was noticed during the national scouting combine is the defensive line talent is a strong group.
Take these names:
Marcell Dareus
,
Nick Fairley
,
Corey Liuget
and
Marvin Austin
. These players can play inside or move to an end spot and become excellent pass rushers and run stoppers.
Jerry Jones didn't rule out a lot of things when he talked about the draft needs of the Cowboys but he did say some linemen could move down in the first round allowing his team to upgrade the position.
In some ways the Cowboys hope
Cam Newton
, the quarterback from Auburn and
Mark Ingram
, the running back from Alabama move up in the draft pushing a player such as Dareus down to the ninth pick.
Improving the defensive line play is almost as important as the offensive line. Yes the secondary needs to be addressed but if you get a quality lineman who can put pressure on the pocket, it makes things easier on the cornerbacks and safeties.
Remember also, there should be a quality safety in the second round. So with the Cowboys letting Gerald Sensabaugh test the market in free agency, it wouldn't be a surprise if Dallas grabbed a strong safety on Day 2 of the draft.
The guys at Scouts Inc. broke down the defensive linemen, specifically those defensive tackle/end players
here
. You have to be an ESPN Insider. Please get one it will make you feel better about yourself.
February, 10, 2011
2/10/11
4:56
PM ET
ESPN.com draft guru Todd McShay no longer project Nebraska CB
Prince Amukamara
to be the Cowboys' first-round pick.
McShay's
third mock draft (Insider)
has the Titans taking Amukamara at No. 8. That leaves the Cowboys to address what McShay deems an even bigger defensive need.
With the ninth overall pick, the
Dallas Cowboys
select ... Wisconsin defensive end
J.J. Watt
.
McShay's take:
The team's most pressing need is for a 5-technique (defensive end) in its 3-4 scheme. The Cowboys are also aging along the offensive line and need some depth/future starters at inside linebacker and safety. Dallas would have a tough call in this scenario, but Watt will continue to fly up boards because of his versatility and nonstop motor. Watt is capable of making an immediate impact on all three downs as a rookie. Finding a player like Watt to generate inside pressure would be a great complement to OLB DeMarcus Ware's edge rushing ability.
Alabama's
Marcell Dareus
would also be a great fit for that need, but McShay has the Browns picking him at No. 6. Another possibility is Cal's
Cameron Jordan
, who McShay projects to go to the Patriots at No. 17.
January, 21, 2011
1/21/11
8:30
AM ET
Welcome to our first mailbag of the offseason, and it might be a long one if there's a lockout. Before we get to the mail, let's address two issues:
Trading Dez Bryant
[+] Enlarge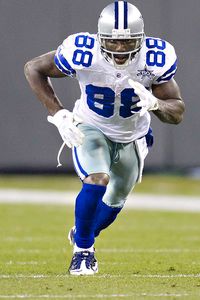 Jeff Hanisch/US PresswireNFL teams are always willing to listen to discussion about players. However, that doesn't mean Dez Bryant is going anywhere.
It's dumb. The Cowboys haven't gotten any offers for Bryant and are not expecting to trade him. Some readers misinterpreted my blog post from a few days ago that the team was trying to trade Bryant. A team source said he would listen to offers for Bryant, but never said he would trade him. Last year, another source -- when asked would he consider bringing outside linebacker
Greg Ellis
back to the Cowboys -- said yes. But it never happened.
NFL teams, the Cowboys included, talk about players all the time and how they would fit. In Ellis' case, it wouldn't work because the coaches felt confident
Anthony Spencer
was going to be fine as the starter and the backup linebackers would provide adequate relief for him if necessary.
In the Bryant case, a hypothetical question about what you could get for him considering the Cowboys' offseason needs was the basis of what was being said. Nobody reported Bryant was on the trade blocks.
The Rooney Rule
Some readers are upset with the Rooney Rule, which forces NFL teams to interview minority candidates. The rule was enacted because NFL teams didn't consider interviewing minorities on a regular basis for head coaching jobs. All minority coaches have ever asked for is a fair chance to become head coaches, and it didn't appear that was happening.
John Wooten, who is the chairman of the Fritz Pollard Alliance, sends NFL teams a list of minority coaches that should be considered for head coaching positions. The other day I found a list from 2008 naming 16 coaches. Of that list, Leslie Frazier, Hue Jackson, Raheem Morris, Ron Rivera and Mike Singletary became head coaches. Former Cowboys receivers coach Ray Sherman is also listed but hasn't gotten a head coaching job. I think the Rooney Rule works, but readers and maybe some of us in the media should ask some more questions before criticizing it.
Enough of the soap box. Let's get to the mailbag.
[+] Enlarge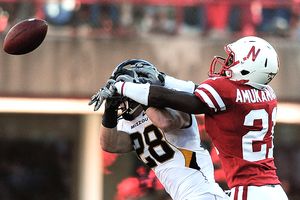 Eric Francis/Getty ImagesWill Nebraska CB Prince Amukamara be there for the taking with the Cowboys' first-round pick (No. 9) in the draft? Mel Kiper Jr. sure thinks so.
Q: Most mock drafts have Da'Quan Bowers, Nick Fairley, Marcell Dareus, Patrick Peterson and Prince Amukamara all going before the Cowboys draft at No. 9. Do you see any possibility in which Carolina would swap picks with Dallas and pick up Blaine Gabbert or Jake Locker at No. 9 -- since that's where they are projected to go -- and the Cowboys pick up an elite defender to fit in nicely with Rob Ryan's new defense? -- Lawrence Torres (Bakersfield, Calif.)
A:
The Cowboys have a chance to get a premium player at No. 9, and I don't believe a trade is necessary. Last season, they traded up to get Bryant, a premium player who fell in the draft for off-the-field issues. Getting an elite pass rusher or safety is the way to go for the Cowboys at No. 9. But if a guy like
Von Miller
, for instance, is gone, then maybe you get Amukamara or somebody else. Remember there are holes on the offensive line, and it's uncertain if the Cowboys will re-sign
Kyle Kosier
as the left guard for 2011. There are many possibilities for a top 10 pick, and the Cowboys can't go wrong here with whoever they select.
Q: Despite accomplishments by Jay Ratliff,I believe that he's a tad overrated. I know that he is a Pro Bowler, but that is more of a popularity contest at this point. I feel that the Cowboys should look at Marcel Darius of Alabama and move Ratliff to defensive end. I've said for three years, he's too small for nose guard. He consistently gets blown off the ball in the run game but his speed would be great at end. Your thoughts? -- Byron (Indianapolis)
A:
That's an interesting take on Ratliff. I thought he was double-teamed plenty of times last season, which is why he didn't get to the quarterback more or create enough pressure in 2010. A move to end might be better for him, and it's something the team tried to do a few years ago. Ratliff didn't seem thrilled with it then, but knowing the team player that he is, a move such as this might sit well with him now. The problem I had with Ratliff was his lack of quarterback pressures and his inconsistency at stopping ball carriers for no gain. Rob Ryan, the new defensive coordinator, might make some position changes or keep things the same but change how certain players do things technique-wise.
Q: Do you feel Felix Jones can be an every-down back? Should the Boys look to draft one? -- Mike T (Syracuse)
A:
It was very interesting to note when
Marion Barber
was healthy toward the end of the season, the Cowboys kept him on the sidelines and Felix Jones remained the starter. Those last four games of the 2010 season might have been an audition for Jones to show he can carry the ball 15-20 times a game. If the Cowboys feel he can, then
Tashard Choice
is the No. 2 and Barber will be released.
Q: Trading Dez Bryant would be a dumb mistake. We all know which of the receivers need to be traded (Roy Williams). -- Andrew Maxwell (Colombia, Maryland)
A:
I'm not sure if you can get anything for Williams. At best, if you cut him, it's a $12.9 million cap hit -- and the Cowboys might be willing to do that. Bryant is not going anywhere. Never said he was. But Williams might. A trade isn't happening, but releasing him is a possibility.
Q: Dallas clearly has the worst secondary in the NFL. Their secondary was clearly the reason for half of their losses. Dave Campo is the secondary coach. It's time for him to hit the road. He clearly does not have a clue how to coach their personnel. The Cowboys never win on third down, and the coach does not know now to get his point across. Wasn't he fired once before? -- Williams McClelland (Port Neches, Texas)
A:
It's easy to blame the coach for the problems with the secondary. In 2009, when
Mike Jenkins
and
Terence Newman
reached the Pro Bowl, Campo was the secondary coach. I think Jenkins had an off year and is poised for a bounce-back season in 2011. Newman might get released in a cost-savings move. There are some in the front office that aren't too happy with him, but Jerry Jones, Stephen Jones and Jason Garrett will make the final call on Newman. I think he'll be here unless the Cowboys decide to get a cornerback in the first round.