Dallas Cowboys:

Marcus Dixon
September, 5, 2010
9/05/10
12:43
PM ET
Another player released by the Cowboys, defensive end
Marcus Dixon
, was signed today by the
New York Jets
.
Dixon said he was disappointed to get cut by the Cowboys, but is excited about New York.
During training camp, Dixon told his roommate
Manuel Johnson
it would be fun to play in New York after watching the HBO series Hard Knocks with the New York Jets.
"I was watching it and said it might be fun to play for Rex [Ryan]," Dixon said of the Jets' coach.
Dixon spent two seasons on the Cowboys' practice squad and was hopeful he could make the 53-man roster in 2010.
But after he was cut -- Cowboys had an abundance of ends in
Jason Hatcher
,
Marcus Spears
,
Igor Olshansky
and
Stephen Bowen
-- the team told Dixon a third year on the practice squad wasn't an option.
September, 3, 2010
9/03/10
7:27
PM ET
Defensive end Marcus Dixon confirmed Friday he was released by the Cowboys.

Dixon spent the last two seasons on the Cowboys' practice squad. After signing with the Cowboys as a free agent in 2008, he battled a back injury before the final preseason game.

Last season, groin and abdominal injuries slowed Dixon's progress.

Dixon is eligible for a third year on the practice squad but wasn't told by the organization if that would be the case this season.
September, 3, 2010
9/03/10
8:25
AM ET
ARLINGTON -- The preseason is over. The Cowboys finished things with a nice 27-25 win over Miami on Thursday night. Numerous players did not dress up for the game, which allowed for several younger and bubble players to show what they could do. At least one last time. We have the highs and the lows of that in our weekly Stock Report.
Stock Up
David Buehler.
Wade Phillips said the kicker passed the test to become the field goal kicker with flying colors on Thursday night. Buehler made four field goals, including the game-winner as time expired, a 31-yarder, to give the Cowboys the win. Buehler was 10-of-11 in the preseason overall.
Stephen McGee.
For those of us who doubted whether or not he could play in this league, we're still wondering. But we know that McGee can contribute a little bit.
Jason Garrett
said you want to see a young quarterback respond in tough times and McGee did. He led one touchdown drive, but he completed 27 of 42 passes for 304 yards. McGee's quarterback rating was 93.8.
Kevin Ogletree.
A lot has been made regarding how many wide receivers will be kept on this roster, Ogletree's development on and off the field is a key issue here. In the preseason finale, Ogletree had six catches for 51 yards. Did a nice job running routes, his only known mistake was not getting out of bounds on a reception near the end of the first half.
Victor Butler.
We never thought the outside linebacker was in trouble. Butler said you never know. That's a good sign because Butler played as if he was going to get sent home. He's played well the entire preseason and it showed on Thursday night. Here's the line for Butler: Six tackles, two sacks, one pass breakup and two forced fumbles. It's safe to say, Butler isn't going anywhere.
Sean Lee.
The Cowboys second round pick struggles in pass coverage, but the coaching staff believes he will get it, at some point this season. Lee makes plays on the ball and that's what gives the team high hopes about his status. Lee finished with four tackles on Thursday, but also had two sacks and two tackles for loss. We're not sure if he's ready for the Nickle linebacker spot, but we do know he will get some playing time in Landover.
Stock Down
Patrick Crayton.
The man didn't play, but with Jerry Jones didn't say Crayton will be with us in September. The DeSoto native is a trusted veteran, but in today's NFL, veterans are kicked to the curb and young players are kept. Crayton asked for a release and the Cowboys are working on a possible trade.
Jason Williams.
Poor Jason Williams. He was called for a pass interference call inside the 20 and he didn't seem to make many plays on the ball. He was credited with one tackle on Thursday. One. The Dolphins ran the ball 16 times and attempted 39 passes. During all of this you would think, Mr. Williams would get his hands on a few people.
Alex Barron.
If
Marc Colombo
is unavailable for the season opener vs. the Redskins, Barron is your starting right tackle. He didn't play well in the final preseason game. He was called for a hold and he allowed a sack. Barron looked slow off the ball and reinforced all the negative stories about him coming from St. Louis when the Cowboys traded for him. We think Barron is better than this.
Montrae Holland.
If
Kyle Kosier
misses the season opener, Holland gets the call. Holland was called for two false starts vs. the Dolphins first-teamers. He's got to play better than this in Landover. Maybe Barron and Holland were going through the motions, with it being the last preseason game, but this was not a positive way to end the preseason.
Marcus Dixon.
Dixon could be headed to the practice squad again. The Cowboys will most likely keep three nose tackles which puts Dixon, a defensive end, off the roster. He needed to make a case for himself and finished with no tackles.
July, 23, 2010
7/23/10
8:30
AM ET
There's a
blog item
out there that the Dolphins might contact the Cowboys regarding defensive end
Marcus Spears
.
The Dolphins lost starting defensive end
Phillip Merling
for the season with an Achilles' injury so there is a need.
However, a source said the Dolphins have not contacted the Cowboys regarding Spears or any of their other defensive ends. Dolphins VP and former Cowboys coach Bill Parcells drafted Spears,
Jason Hatcher
and signed
Stephen Bowen
as a undrafted free agent. Spears thought he might get traded this offseason when the Cowboys offered him a tender contract that was lower than backups Hatcher ($1.759 million) and Bowen ($1.759 million).
Spears, who will make $1.226 million in 2010, said he wants to remain with the Cowboys long-term, but understands if the team wants to give someone else a chance to start at end. Hatcher is going to get more snaps this season and could challenge Spears for a starting spot.
The Cowboys could make a move here because there is a surplus of ends on the roster. The club is high on
Marcus Dixon
, who spent the last two years on the practice squad. Dixon is someone who will get a lot of opportunties to make the 53-man roster.
If the Cowboys do get contacted about Spears or another one of their ends, it will be interesting to see just what the offer will be.
June, 28, 2010
6/28/10
11:59
PM ET
By
Bryan Broaddus
| ESPNDallas.com
Seventh in a series breaking down the Cowboys by position (previous entries):
Roster locks:
Jay Ratliff
,
Igor Olshansky
,
Marcus Spears
,
Stephen Bowen
,
Jason Hatcher
Good bet:
Junior Siavii
On the bubble:
Sean Lissemore
,
Marcus Dixon
Long shots:
Junior Aumavae
,
Lorenzo Washington
[+] Enlarge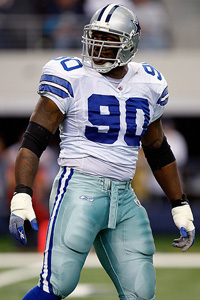 Ronald Martinez/Getty ImagesJay Ratliff is on the small side for a nose tackle, but he's tough to block on both running and passing plays.
Jay Ratliff might not fit the mold of a traditional nose tackle, but the way he plays with leverage, strength and movement causes problems for the majority of centers in the NFL. He's active, he's relentless, he's just darn hard to block. He's just as effective against the run or pass. He's a sideline-to-sideline player. The only knock against him is his size, but he more than makes up for it.
Igor Olshansky is known as a run stuffer, but he's not a bad pass-rusher. He's powerful and has the ability to hold the point of attack. If he has a deficiency, it's struggling with his lateral play, but he's good at the point of attack and moving forward. And the guy gets a push as a pass rusher.
There's nothing flashy about Marcus Spears. He's been steady, but you've always expected more out of the former first-round pick. He has his moments of solid play against the run but doesn't give you much as a pass-rusher. The fact the Cowboys haven't extended his contract gives you a strong clue of what they think about him. They like having him, as long as it's at their price.
Stephen Bowen and Jason Hatcher are very good nickel players, run or pass. They're both good athletes, play with good technique and pursue to the ball very well. They give you something as upfield pass rushers, particularly with Bowen as an inside rusher. They're both playing under one-year tenders and could earn lucrative extensions with continued productive play, but I don't see either challenging for Spears' starting job this season.
Junior Siavii was much better early in the season than late. He showed the ability to give you 10 or 12 good plays, but that's about his limit. He's a try-hard, high-effort guy who holds his ground, but he's not going to make many plays. Bill Parcells would have referred to him as a hold-the-fort player. The Cowboys should eventually try to upgrade at backup nose tackle.
I like the little bit I've seen of Sean Lissemore. He made an impression with his relentlessness during pass-rush drills in minicamp.
January, 22, 2010
1/22/10
3:03
PM ET
WR Jesse Holley, the winner of
Michael Irvin
's reality show Fourth and Long, impressed the Valley Ranch brass enough to stick around a little longer.
Holley is one of three players the Cowboys signed to their reserve/future list today. The others were WR Manuel Johnson and DE Marcus Dixon. All three spent the season on the Cowboys' practice squad.
This essentially means that the Cowboys have the rights to each player and probably plan to have them on the 80-man roster throughout the offseason and training camp.
Holley was assured only an invitation to training camp when he won the reality show. He's earned the right to hang around Valley Ranch.
In fact, Holley and Johnson (a seventh-round pick last year) were two of the names that came out of Jerry Jones' mouth yesterday when he mentioned that the Cowboys didn't need to draft a receiver in April.
UPDATE: The Cowboys also signed WR Titus Ryan, who worked out for the team today, to the reserve/future list. He spent parts of the 2007 and 2008 season with the Saints and Panthers before playing in the CFL last season.
The complete list of players on the Cowboys' reserve/future list:
Travis Bright, G
Marcus Dixon, DE
Herb Donaldson, RB
Marquis Floyd, DB
Jesse Holley, WR
Manuel Johnson, WR
Titus Ryan, WR
Donovan Woods, LB
December, 15, 2009
12/15/09
1:12
PM ET
IRVING -- The Jets signed running back
Chauncey Washington
off the Cowboys practice squad roster on Tuesday. Washington has spent time on the active and practice squad rosters this season for the Cowboys.
Washington had only one special teams tackle.
The current practice squad roster: WR Manuel Johnson, WR Jesse Holley, CB Marquis Floyd, LB
Donovan Woods
, G Travis Bright, TE
Scott Chandler
, DE Marcus Dixon.
The Reserve PUP: T
Robert Brewster
.
Reserve/Injured: LB
Stephen Hodge
, LB
Brandon Williams
.
November, 30, 2009
11/30/09
11:13
AM ET
IRVING -- The Cowboys cut cornerback Jamar Love from the practice squad Monday.
Dallas signed defensive back Marquis Floyd from West Georgia and
Donovan Woods
, a linebacker, from Oklahoma State.
Coach Wade Phillips said the team was looking at Floyd for some time and was able to sign Woods when a practice squad spot opened up when the team lost quarterback Rudy Carpenter to Tampa Bay.
With Carpenter gone it allows the team to give third-string quarterback
Stephen McGee
more reps in practice.
"He was getting the work anyway," Phillips said. "Rudy was getting some but McGee needs a lot of work as far as scout team stuff, so it was hard to have four quarterbacks."
So here is the practice squad roster: WR Manuel Johnson, WR Jesse Holley, CB Marquis Floyd, LB Donovan Woods, G Travis Bright, TE
Scott Chandler
and DE Marcus Dixon.
November, 24, 2009
11/24/09
11:04
AM ET
IRVING -- The
Tampa Bay Buccaneers
signed quarterback Rudy Carpenter from the Cowboys' practice squad. The Bucs needed another quarterback because
Byron Leftwich
went on injured reserve.
Also, former Cowboys cornerback
Mike Mickens
was cut by the Bucs. Mickens was signed to the Cowboys practice squad on Sept. 6 but Tampa Bay picked him up on Nov. 2.
The Cowboys have no plans to replace Carpenter on their practice squad roster this week.
In case you forgot, here's the practice squad: G Travis Bright, TE
Scott Chandler
, DE Marcus Dixon, WR Jesse Holley, WR Manuel Johnson, CB Jamar Love and RB
Chauncey Washington
.