Dallas Cowboys:

Matt Hasselbeck
February, 3, 2014
Feb 3
2:25
PM ET
IRVING, Texas -- It's clear the
Dallas Cowboys
do not have a philosophy when it comes to drafting a quarterback.
The sounds coming from the Senior Bowl two weeks ago were that whenever the Cowboys decide to move on from
Tony Romo
, they will draft a quarterback in the early rounds and play him right way, like the
Seattle Seahawks
did with
Russell Wilson
and the
Cincinnati Bengals
did with
Andy Dalton
, among others.
Since selecting Troy Aikman with the No. 1 overall pick in the 1989 draft, owner and general manager Jerry Jones has drafted three quarterbacks: Bill Musgrave, Quincy Carter and Stephen McGee. He also took Steve Walsh with first-round pick in the 1989 supplemental draft.
Carter was a second-round reach in 2001 but he did help the Cowboys to the playoffs in 2003 under Bill Parcells. McGee was a fourth-round hope in 2009 but he just did not develop.
Two years ago the
Washington Redskins
traded up to take
Robert Griffin III
with the second overall pick. They took
Kirk Cousins
in the fourth round.
Two years later, Cousins is open to a trade, according to ESPN's Adam Schefter.
How does this relate to the Cowboys?
By drafting Cousins and having him play just a little -- four starts, eight appearances -- the Redskins have an opportunity to acquire a pick or picks from a team interested in Cousins. What can they get for Cousins? It only takes one team to believe, but even if they are not high picks they are still picks.
A team can never go wrong in having extra picks, unless you want to look at the Cowboys' draft of 2009 when they had 11 picks and the best pick was either
Victor Butler
(fourth) or
John Phillips
(sixth).
Under Ron Wolf, the
Green Bay Packers
were able turn
Ty Detmer
(1992),
Mark Brunell
(1993),
Matt Hasselbeck
(1998) and
Aaron Brooks
(1999) into six draft picks.
Jones has seen the benefit of drafting a quarterback and then later trading him with Walsh. In 1990, he sent Walsh to the
New Orleans Saints
for first-, third- and second-round picks.
Considering how much Jones likes to wheel and deal it's strange that he has not seen the benefit of drafting a quarterback in order to do some wheeling and dealing down the road if his starting quarterback spot is as secure as it has been since Romo took over in 2006.
September, 4, 2012
9/04/12
9:43
AM ET
In the final 20 days before the start of the regular season, we are counting down the top 20 players in the NFC East. For a full explanation, see this post. And if you want to read any of the other posts that have run since we started this series, you can find them all here, in this link.
No. 1 -- Eli Manning, Giants QB
Manning
This wasn't easy, and the fact that it wasn't easy to pick a two-time Super Bowl MVP quarterback as the best player in the division says a ton about the rest of the players in the division. It was a very tough, close call between Manning and Cowboys linebacker
DeMarcus Ware
for this spot, and I gave more than a passing thought to Eagles running back
LeSean McCoy
, who finished third.
But in the end, Manning deserves the spot. He's earned it by performing with incredible consistency at a high level and in the biggest of spots. He ranks behind only
Peyton Manning
,
Drew Brees
,
Tom Brady
and
Matt Hasselbeck
in passing yards among active quarterbacks, and each of those players has at least a three-year head start on him. He's fifth (behind those same four guys) in touchdown passes among active quarterbacks. Only Peyton Manning, Brady, Brees and
Ben Roethlisberger
among active quarterbacks have engineered more game-winning drives, and only Peyton Manning and Brady have more comeback victories.
So Eli is a top-level quarterback in terms of production (and in spite of a stubborn, lingering reputation to the contrary), but what truly sets him apart as a great player is the way he's performed during the two Super Bowl title runs the Giants have made with him under center. He has a 61.5 career completion percentage, a 17-to-8 touchdown-to-interception ratio in his 11 career playoff games and has led the team from behind to beat Bill Belichick, Brady and the
New England Patriots
in two separate Super Bowls. He's the unquestioned leader of his team, the calming influence which Giants players know they can count on in tough times, a key to his team's uncanny ability to handle adversity and a proven champion without whose individual performance those Super Bowl titles would not have been possible. The best quarterback in the NFC East is the most clutch quarterback in the NFL right now and is the division's best player.
The rest of the rankings:
2. DeMarcus Ware, LB, Cowboys
3. LeSean McCoy, RB, Eagles RB
4.
Trent Cole
, DE, Eagles DE
5.
Jason Pierre-Paul
, DE, Giants
6.
Hakeem Nicks
, WR, Giants
7.
Tony Romo
, QB, Cowboys
8.
Justin Tuck
, DE, Giants
9.
Jason Babin
, DE, Eagles
10.
Victor Cruz
, WR, Giants
11.
London Fletcher
, LB, Redskins
12.
Michael Vick
, QB, Eagles
13.
Tyron Smith
, T, Cowboys
14.
Brian Orakpo
, LB, Redskins
15.
Jason Witten
, TE, Cowboys
16.
Dez Bryant
, WR, Cowboys
17.
DeSean Jackson
, WR, Eagles
18.
Osi Umenyiora
, DE, Giants
19.
Evan Mathis
, G, Eagles
20.
Ahmad Bradshaw
, RB, Giants
February, 14, 2011
2/14/11
9:00
AM ET
Let's kick off our Cowboys Position Series with a look at the most important position on the field: Quarterback. Enjoy.
Players:
Tony Romo
(signed through 2013),
Jon Kitna
(signed through 2011),
Stephen McGee
(signed through 2012),
Chris Greisen
(unrestricted free agent).
[+] Enlarge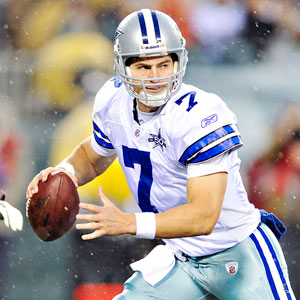 Howard Smith/US PresswireNo. 3 quarterback Stephen McGee found himself under center after Tony Romo and Jon Kitna both got injured. His performance has given the Cowboys hope that they've found their future backup.
Top free agents:
Marc Bulger
,
Baltimore Ravens
,
Peyton Manning
,
Indianapolis Colts
,
Michael Vick
,
Philadelphia Eagles
,
Kerry Collins
,
Tennessee Titans
and
Matt Hasselbeck
,
Seattle Seahawks
.
Top draft prospects:
Blaine Gabbert
, Missouri,
Jake Locker
, Washington,
Cam Newton
, Auburn,
Ryan Mallett
, Arkansas and
Andy Dalton
, TCU.
2010 review:
Tony Romo missed the last 10 games with a broken left collarbone but completed 69.5 percent of his passes. His best game was Week 3 at Houston, where he compiled a 127.6 quarterback rating while throwing for two touchdown passes for 284 yards. He finished the last three weeks of his season with seven touchdowns and five interceptions. Jon Kitna replaced Romo and was a quality replacement. Kitna displayed a strong arm and movement in the pocket, but a late-season injury forced the team to use Stephen McGee, who displayed good poise, in the final two minutes of games at Arizona and Philadelphia. McGee's work has given the Cowboys hope he could be a No. 2 in the future.
Offseason preview:
The way McGee played down the stretch was a positive for his development, but the organization should have moved faster to get him on the field -- especially when the season was out of reach. We understood that Jason Garrett was trying to compile wins, but the development of his team was more important. The Cowboys should draft a quarterback with the hopes of challenging McGee in training camp.
Need meter:
1
Editors note:
The free agent list comes from the NFLPA and certain players could change from unrestricted to restricted based on the new collective bargaining agreement. The college rankings come from our friends at Scouts Inc.
October, 30, 2009
10/30/09
9:49
AM ET
Perennial All-Pro OLB DeMarcus Ware vs. fifth-string LT Damion McIntosh might be the biggest mismatch you'll see in the NFL this season.

But Wade Phillips warns that it won't be easy for Ware or any of the Dallas Cowboys' pass rushers to pad their sack total against the Seattle Seahawks. Quarterback Matt Hasselbeck is well versed in the West Coast offense, so he's not going to hold the ball for long in the pocket.

"It's a lot of five-step drop and get rid of the football," Phillips said. "If you're unblocked, it's hard to get to [the quarterback] at times, with the quarterback making the quick decisions and the receivers running short routes."

Hasselbeck, who is still nursing a rib injury that sidelined him for a couple of weeks, was sacked only twice in his first three games this season. But he did take a beating before the bye week, getting sacked five times in the Seahawks' 27-3 loss to the Arizona Cardinals.
October, 28, 2009
10/28/09
11:11
AM ET
IRVING -- After failing to sack the opposing quarterback during the first two games, the Cowboys defense now has 14 -- including eight in the last two weeks.
The team was getting pressure during those first two games, but they couldn't get any takedowns.

"That's the way it goes," nose guard Jay Ratliff said. "We're doing the necessary things to create pressure and make it difficult for the quarterback to throw, but the sacks weren't showing up on paper. But now, I guess it's showing up a little bit."

The Cowboys had four sacks against Atlanta, which hadn't allowed a sack the previous four weeks. Seattle quarterbacks Matt Hasselbeck and Seneca Wallace have been sacked 15 times this season.
October, 27, 2009
10/27/09
1:03
PM ET
During the longest sackless streak since his rookie season, DeMarcus Ware predicted they'd come in bunches once he finally got one.

Ware was right. He broke a five-game drought, which dated to last season's finale, with two sacks against the Kansas City Chiefs. He followed that up with another two-sack performance against the Atlanta Falcons. Believe it or not, that marked the first time in the perennial Pro Bowl pass rusher's career that he had multi-sack outings in consecutive games.

Don't be surprised if that streak is extended Sunday against the Seattle Seahawks.

Ware had three sacks in the Thanksgiving win over the Seahawks last season, repeatedly blowing by hobbled future Hall of Fame left tackle Walter Jones. That was the last game Jones played before undergoing microfracture surgery on his left knee.

While the 35-year-old Jones continues to rehab, the Seahawks seem to hold weekly auditions at the most important position on the offensive line.
Sean Locklear replaced Jones, but he hasn't played since suffering a high ankle sprain in the second week of the season. Brandon Frye and Kyle Williams got turns, but Frye injured his neck and Williams' poor performance earned a ticket back to the practice squad. It appears that Damion McIntosh will start at left tackle against the Cowboys.

McIntosh signed with the Seahawks two weeks ago. He was unemployed the previous six weeks after being released by the Kansas City Chiefs. So a guy who couldn't play for Kansas City, which has allowed the most sacks in the NFL, will probably be protecting Matt Hasselbeck's blind side.

The smart money is with the new $78 million man in that matchup.