Dallas Cowboys:

Michael Roos
June, 14, 2011
6/14/11
1:00
PM ET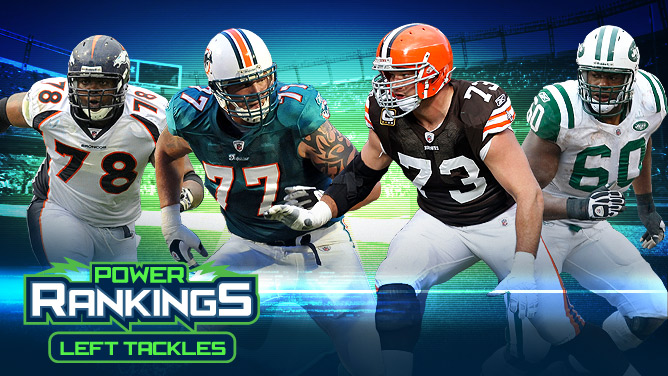 ESPN.com IllustrationOur bloggers say Joe Thomas and Jake Long are the NFL's best left tackles by a wide margin.
ESPN.com ranks the NFL's top 10 at left tackle, one of the most important positions in the league. Next week: Top up-and-coming assistants.
Take a quarter out of your pocket and look at its width. That's basically the difference between the top two left tackles in the ESPN.com Power Rankings.
Cleveland's
Joe Thomas
received 76 points from our eight-person panel of voters. Miami's
Jake Long
received 75. That put them way ahead of the rest of our top 10 list of the NFL's best blindside pass protectors.
Our panel of division bloggers gave Thomas five first-place votes, and Long received three.
"It was pretty much a coin flip for me,'' said NFC East blogger Dan Graziano.
If Graziano's quarter had landed on the other side, we might have had a different outcome. I think the same can be said for some of the other voters. I gave Thomas my top vote only after some strong consideration for Long.
But let's cut to the chase and point out the man who ultimately decided this election. It's AFC South blogger Paul Kuharsky. Every other voter had Thomas and Long in the top two spots. Kuharsky threw things off a bit by putting Long at No. 1 and Tennessee's
Michael Roos
at No. 2. He had Thomas at No. 3.
Let's turn to Kuharsky for his rationale.
"I've seen Long more, which helped him,'' Kuharsky said. "Also, frankly, I knew there could be close to a consensus for Thomas. He's very good. But we're not talking
Orlando Pace
or Jonathan Ogden. The groundswell for Thomas as top left tackle is, in my eyes, more a media creation than the view of players, scouts and coaches. I wanted to note and reflect that.''
Point taken, and I agree that we're not talking the same level as Pace and Ogden -- at least not yet. Thomas and Long are young and it's too early to put them in the category of surefire Hall of Famers. But, aided largely by Kuharsky, Roos did finish No. 6 overall.
Ryan Clady
,
Jordan Gross
and
D'Brickashaw Ferguson
rounded out our top five at Nos. 3, 4 and 5 respectively. After Roos, the rest of the top 10 was filled out by
Jason Peters
(No. 7),
Marcus McNeill
and
Donald Penn
, who tied for No. 8, and
Matt Light
at No. 10.
Let's work our way back toward the top, with one more quick stop at Roos. I had him at No. 8 on my ballot, and James Walker and Kevin Seifert didn't even vote for him. I've had a couple of scouts tell me Roos is a good left tackle, but seemed to take a step backward last season.
Kuharsky heard otherwise.
"I've had a coach and two scouts tell me Roos is as good or better than Thomas and Long,'' Kuharsky said. "I obviously see Roos a lot and think he's quite good, certainly better than he wound up here.''
Roos or ruse? Take your pick, but let's head right back to the top of the voting and back to the argument between Thomas and Long. They were drafted one year apart with Thomas entering the league in 2007 and Long coming in for the 2008 season. Each has made it to the Pro Bowl in every season played.
Kuharsky mentioned the "media creation'' about Thomas. In Cleveland? That's not where you usually turn to find guys to top Power Rankings, so our vote has to say something pretty strong about Thomas. Let's turn to the guy who covers Thomas.
"Thomas has always been focused on doing his job,'' Walker said. "You can't tell whether the Browns are 16-0 or 0-16 with the way he plays, and that's why he's been to four straight Pro Bowls. The NFL has gone the way of speed pass-rushers, and Thomas is the prototype to combat that. He's lean with very good feet and agility, but still strong enough to dominate in the running game. There's really no weakness in his game."
None of our panelists saw a weakness in Long's game.
"I thought Long's run-blocking ability put him a little bit ahead of Thomas,'' Grazianzo said. "I think he's shown improvement every year and is likely to pass Thomas soon if he hasn't already (and for me, these lists are about which guy I'd pick right now, so a guy I think is going to get better is going to get a long look from me). And he earned a bonus point or two from me for playing the last six games of 2010 in a shoulder harness and still being incredible.''
The best news is, these guys are so young we can have this same argument every year for the next decade. Now, let's move on to some other notes about the voting in the Power Rankings for left tackles.
Turn off the Light.
As we mentioned, Light came in at No. 10. That surprised me a bit because he's a big name with three Super Bowl championships and three Pro Bowl selections. I had Light at No. 6 and Walker had him at No. 4. But Light didn't even appear on four ballots, including the one from AFC East representative Tim Graham.
"Matt Light is a quality player, but Stats Inc. blamed him for 10 sacks allowed and four penalties last season, more in each category than his previous two seasons combined,'' Graham said. "I've always thought Light got more recognition simply from being
Tom Brady
's left tackle. Once you name the three or four elite tackles and you rack your brain for the next group, it's easy to understand people sorting through the great quarterbacks and asking, 'Who is so-and-so's left tackle?' Light made the Pro Bowl last year, but as an alternate. Light's reputation also is enhanced by his involvement in the union and being a truly rare species: the gregarious Patriot.''
Also-rans.
Andrew Whitworth
,
Chad Clifton
,
Doug Free
,
Russell Okung
and
Jeff Backus
didn't make the top 10, but each received votes.
"I don't think there are 10 elite or even complete left tackles in the NFL,'' NFC West blogger Mike Sando said. "I list Okung on a very short list of players with the talent and makeup to be elite at that position. Okung hasn't played enough to this point, but I think he'll join that group this season. Listing someone with considerably less ability was the alternative.''
The longest shot.
Somewhere, former Tampa Bay general manager Bruce Allen and coach Jon Gruden are smiling at Penn's name appearing on this list. It's true, they headed the regime that signed Penn as a free agent in 2007 after he was cut by Minnesota in 2006. Then again, they were also the ones who signed Luke Petitgout, and Penn only got a chance to play because Petitgout turned out to be washed up. I used to subscribe to the theory that you needed to use a first-round pick to get a good left tackle. But Penn has shown that's not necessary. In his case, he simply made the most of his shot at playing time and turned it into a $48 million contract as training camp started last year.
October, 8, 2010
10/08/10
12:30
PM ET
By
Bryan Broaddus
| ESPNDallas.com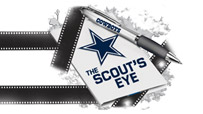 One team is going to leave Cowboys Stadium on Sunday night with three losses and questions moving forward. The other will gain much-needed momentum and the opportunity to build on that.
The
Dallas Cowboys
are coming off a bye week. The
Tennessee Titans
suffered a difficult home loss to Denver in which their defense was able to get six sacks on
Kyle Orton
but couldn't get him on the ground when they needed it the most to close out the game.
The one thing you know about the Titans and Jeff Fisher is that they will be well prepared. Since the league's realignment in 2002, the Titans have been one of the NFL's most successful teams in interconference play with a record of 24-9. Only the Patriots and Colts have a better record during that time period.
When you study the Titans, there are two areas that really stand out on their offense. The first is running back
Chris Johnson
and the second is the offensive tackles,
Michael Roos
and
David Stewart
.
[+] Enlarge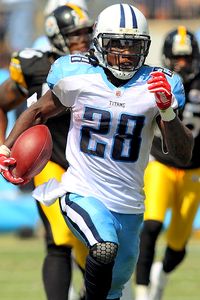 Icon SMIThe Cowboys' defense will have its hands full with the Titan's explosive running back, Chris Johnson.
Johnson is impressive to watch with the ball in his hands. When I worked for the Packers and we played
Barry Sanders
, you always had the feeling that on any carry, no matter where the offense was on the field, there was a chance for a huge play. Johnson has that same game-changing type of ability.
When the Titans run the ball, they like to do it with stretch plays, counters and tosses. Johnson has a real feel for how to find the gaps and holes along the defense, then explode through them.
His timed speed is 4.24 coming out of East Carolina and he is every bit of that. He plays with vision and that stop-and-start quickness.
Johnson can also hurt you as well in the passing game. He does a nice job of catching balls in the flat or inside and getting up the field.
On Wednesday morning, Fisher was asked about the make up of his star running back and his qualities. Fisher spoke of Johnson's ability with the ball in his hands, but if he does have a weakness, I felt like it's his ability to pass protect. Would not be surprised to see the Cowboys try to make him have to pick up some blitzes in this game early. He didn't show the ability to hang in there and be square in pass protection. He's a cut blocker.
When you play a back that has the talent of Johnson, tackling is huge. He will bounce off tackles if you don't wrap him up. If the Cowboys do not tackle well when Johnson has the ball in his hands, it plays right into what the Titans want to do on offense.
The strength of the Titans offensive line is at their tackle spot. Through the first four weeks of the season, this is the best set of tackles that the Cowboys have had to face. Roos and Stewart are good.
Overall, this offensive line is more mobile than they are powerful. They are very good at getting out on the edge and blocking in space. The Titans use a zone blocking scheme but will also pull on counter plays. They are a productive second-level blocking team and do a nice job of staying on their feet and finishing blocks.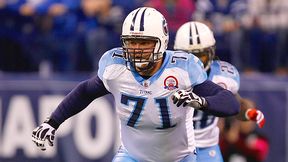 Scott Boehm/Getty ImagesMichael Roos (71) and David Stewart anchor a Titans offensive line that produced the league's top rusher a year ago.
The Cowboys should have an advantage with the matchup at nose when
Jay Ratliff
works against center
Eugene Amano
. Amano will struggle with Ratliff's quickness and power.
Ratliff puts a ton of pressure on the offense because of his ability to attack the pocket. When you play the Titans, you do worry about Johnson in the running game but you also want to attack
Vince Young
up the middle in the pocket. Young does not do a good job when he has to face pressure in his face; it's from the outside where he can avoid and use his legs to escape.
Would not be a bit surprised if the Titans allow Roos and Stewart to handle Ware and Spencer on the outside and try to help inside with guards
Leroy Harris
and
Jake Scott
on Ratliff.
*On defense for the Titans, there are not the names that we have seen in the past like
Albert Haynesworth
,
Jevon Kearse
,
Kyle Vanden Bosch
or
Keith Bulluck
. Instead guys like
Jason Babin
,
Dave Ball
and
Stephen Tulloch
are the players that are the new blood in this eight-ranked Titans defense.
The Titans have different players, but it's still the same aggressive defensive that has always been a staple of Jeff Fisher teams. The Titans are an undersized along the defensive front, but they are very aggressive when it comes to rushing the passer. Wade Phillips calls it relentless and they do a nice job of playing the run on the way to rushing the passer.
The Titans like to bring four-man pressure and they like to work games up front. You will also see twist stunts, corner and slot blitzes.
The player to watch for the Titans up front is defensive tackle
Jason Jones
. Jones is one of those relentless players that Phillips was talking about. Jones is always coming forward, always attacking the offensive linemen. He plays sometimes inside eye of the guard as a one-technique or he will line up outside shoulder of the guard and rush from the three.
Jones has good movement inside, so watch for the Titans to try and match him up inside on
Leonard Davis
, who will struggle with quickness to his outside shoulder.
In the secondary, the Titans have two players that I really like. Cornerback
Cortland Finnegan
and safety
Michael Griffin
are outstanding players.
[+] Enlarge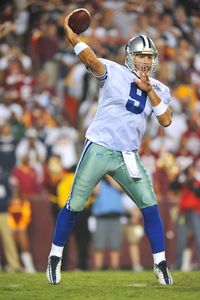 Larry French/Getty ImagesScreen plays will help Tony Romo and the Cowboys' offense counter the aggressive, revamped Tennessee defense.
Finnegan is one of those corners that doesn't give you much room in the route. He is a hard guy to run away from. Finnegan plays with an ease of movement and can be aggressive in the running game.
Griffin is a ball-hawking safety. He had a very nice interception against the Broncos and he is a factor when coming forward in the running game.
The Titans like to play two deep and play man coverage underneath. They will try to get their linebackers in coverage and in help with the secondary. When the ball is thrown or run, they as a group really rally to the ball and the ball carrier.
Look for the Cowboys to try to take advantage of the aggressive nature of the Titans defense. The Broncos and Steelers used screen packages to try to slow down the Titans rush and keep them off balance.
Again, this is not a big front for the Titans, but the Cowboys need to handle their movement and stunting to have success moving the ball on Sunday.