Dallas Cowboys:

Mike Pope
April, 1, 2014
Apr 1
9:00
AM ET
IRVING, Texas -- With the NFL draft five weeks away, it seems like a perfect time to bring back Five Wonders.
On to the wonders:
Melton
• Some of you might wonder if the acquisition of
Henry Melton
takes the
Dallas Cowboys
out of the loop for
Aaron Donald
at No. 16 overall, considering both players would handle the three-technique role in Rod Marinelli's scheme. Here's why you shouldn't wonder. You have to look at the Melton contract as a one-year deal. If he doesn't play to the level where the Cowboys want to exercise their three-year option on him next year, then they would be back in the same situation they were in before signing Melton. The bigger question might be whether Donald makes it to No. 16 overall, but the Cowboys must be prepared to take him if he's there. He is scheduled to visit the Cowboys before the draft. He piqued their interest at the Senior Bowl and did more of it at the NFL scouting combine. There is nothing wrong with taking a player at a position of strength (OK, if they took a tight end in the first round, then that might be overkill but more on that later). Injuries happen and you can never have enough good players.
• I wonder if this is the year the Cowboys look at a quarterback in the middle rounds, even with the signing of
Brandon Weeden
. The last time the Cowboys drafted a quarterback was in 2009 when they took
Stephen McGee
in the fourth round. The Cowboys loved his makeup but he did not develop. It should be noted that
Wade Wilson
is scheduled to attend the pro day of Georgia quarterback
Aaron Murray
. He tore his anterior cruciate ligament in November but is expected to do most of the drills at the pro day. Murray is a second- or third-day selection and a player the Cowboys can have some patience with. He holds Georgia's records in passing yards (13,166) and touchdown passes (121) and has a moxie to his game. With
Tony Romo
,
Kyle Orton
and Weeden, you can argue there won't be enough snaps to go around, but just as was mentioned with Donald, the draft is not just about the current year. It is about future years as well. The Cowboys will go with Romo as long as they can, but Orton is in the final year of his deal, and Weeden's contract did not include any signing bonus.
• I wonder if one of the reasons why the Cowboys say they don't need a veteran wide receiver is in part because of tight end
Gavin Escobar
. The Cowboys can like
Dwayne Harris
and
Cole Beasley
all they want, but there are limitations to their games. But if you add Escobar to that mix, then the Cowboys would be able to roll three players through the snaps if something happened to
Dez Bryant
or
Terrance Williams
. If it were me, I'd still look at a receiver, but the Cowboys are intrigued by the mismatches Escobar can create and are banking on new tight ends coach Mike Pope to develop him. And remember this about new passing game coordinator Scott Linehan. He had
Joseph Fauria
with the
Detroit Lions
last year. He caught just 18 passes for 207 yards, but seven went for touchdowns. Fauria is 6-7 and 255 pounds. Escobar is 6-6 and 249 pounds.
• And now on to the promised talk of a tight end. I wonder if the Cowboys need to find more of a blocking type of tight end? It's not a sign of giving up on Escobar as a hand-in-the-ground tight end, but there are limitations and there will be limitations in the future.
James Hanna
filled in well enough as the No. 2 tight end most of the time to
Jason Witten
, but blocking is not his strong suit and the coaches were not able to design a way to use his speed. The Cowboys kept
Andre Smith
around for a spell last year because of his blocking, but his lack of special teams' play hurt his chances of making the game-day roster. If the Cowboys are to look for more of a blocking tight end, then they will have to live with the fact the player might not help much on special teams.
• I wonder if the Cowboys believe
Martez Wilson
will be able to help them out at defensive end. He signed with the Cowboys last November and was on the field almost immediately, but he did not make much of an impact. He has the physical skills necessary to become a player at 6-4, 252 pounds. He runs well. He has some pop to him. Maybe he just needs more time with Marinelli to develop. He is just 25 and put up three sacks with the
New Orleans Saints
in 2012. The Cowboys liked him in 2011 but not so much as a fit for their 3-4 scheme at the time. It would be a long shot for Wilson to become an every-down player but he could be a situational pass-rusher. Given the state of their defensive line, the Cowboys have to take a look at everybody.
March, 5, 2014
Mar 5
9:00
AM ET
IRVING, Texas – Just as a reminder, Jason Garrett is the head coach of the
Dallas Cowboys
even if he will no longer be as involved in his specialty (offense), while spending more time in the defensive room in 2014.
But owner and general manager Jerry Jones has made it seem as if Garrett has needed training wheels to be a head coach far too often.
Garrett has three former NFL head coaches on his staff in passing game coordinator Scott Linehan (
St. Louis Rams
), defensive coordinator Rod Marinelli (
Detroit Lions
) and offensive coordinator Bill Callahan (
Oakland Raiders
).
He has two more college head coaches on his staff in receivers coach Derek Dooley and assistant head coach/defense Monte Kiffin. Special teams coach Rich Bisaccia interviewed for two head coaching vacancies in the offseason (
Washington Redskins
,
Cleveland Browns
).
"He encourages and welcomes and seeks out the idea of having those experienced head coaches involved," Jones said from at the recent NFL scouting combine. "You add that to Monte Kiffin and we have a staff of resources to Jason that are really impressive. For Jason's future, to have these head coaches, these people who've go the experience in what they're doing, Mike Pope included, this is the greatest way in the world to put into Jason's computer great head coaching experience."
February, 23, 2014
Feb 23
10:00
AM ET
INDIANAPOLIS -- Jason Garrett's background has played a role on the composition of his Dallas coaching staff.
Of the coaches brought in after he took the job on a full-time basis in 2011, offensive coordinator/offensive line coach Bill Callahan, running backs coach Gary Brown, secondary coach Jerome Henderson, linebackers coach Matt Eberflus and assistant offensive line coach Frank Pollack did not have a previous association with Garrett.
New passing game coordinator Scott Linehan worked with Garrett for a year with the
Miami Dolphins
. Derek Dooley got to know Garrett when he was an assistant coach at SMU and worked together for a year with the Dolphins. Garrett spent time with the
Tampa Bay Buccaneers
where he got to know Rod Marinelli, Monte Kiffin and Rich Bisaccia. Assistant secondary coach Joe Baker was Garrett's teammate at Princeton.
Tight ends coach Mike Pope is the latest assistant in which Garrett dipped into his past.
Garrett was a backup quarterback with the
New York Giants
when Pope coached their tight ends.
"He's really as good a coach as I've been around in my career," Garrett said. "I saw him up close and personal with a lot of different guys, established players and young players and he's a great friend. He's a great addition to our staff and [
Jason Witten
] is the kind of guy who's always trying to get better. Each and every day [Witten] comes in he's always looking for ways we can help him, how he can help himself become a better football player. That's why he is the player he is. To add Mike Pope to the mix and having a different perspective on how he gets coaches, I think Witt's really excited and I know Mike Pope is as well."
Pope's main task, however will be to develop
Gavin Escobar
, but Garrett begs to differ slightly.
"I can go in my office right now and pull out his Saturday night tip sheet for the tight ends for four years with the Giants that I would fall asleep with in my bed that was 25 pages long and in Pope's handwriting," Garrett said. "He and I have known each other a long time. He's a great coach. His track record speaks for itself. He's worked with different kinds of tight ends, veteran tight ends. He's worked with young guys, he's developed guys who were college free agents. The fact that we have an investment in Escobar and have a young guy in
James Hanna
, we feel those guys will benefit, but Witt's going to benefit as well."
February, 21, 2014
Feb 21
11:00
AM ET
INDIANAPOLIS --
Dallas Cowboys
coach Jason Garrett preaches the importance of continuity, but his staff has seen nothing but changeover since he took over midway through the 2010 season.

Garrett
Rod Marinelli is his fourth defensive coordinator after Paul Pasqualoni, Rob Ryan and Monte Kiffin. He is on his third wide receivers coach in Derek Dooley. He's on his third tight ends coach in Mike Pope. He's on his second running backs coach. He has had two offensive line coaches.
On the defensive side of the ball, only linebackers coach Matt Eberflus and assistant defensive line coach
Leon Lett
remain from Garrett's first full season in 2011. Secondary coach
Jerome Henderson
arrived in 2012.
Rich Bisaccia, who is entering his second year on the staff, is Garrett's second special teams coordinator.
"I think if you look around the league, staff changes are a part of this league," Garrett said. "Just as there's turnover on your football team with your roster, there's turnover on the coaching staff all around the league. The teams that embrace that, that embrace the change, are the ones with the most success. You always have to be ready with a guy you're thinking about if someone leaves. I think relationships in the past that you had in your career with different coaches, you rely on those and you bring in the right kind of people. Thirty two teams around the league are going through the same kinds of things and there's staff changes everywhere and you have to embrace them and find the positives in them. A new guy coming in, what can he add to our team to make us better? Certainly we're in the process of doing that."
Garrett added Scott Linehan as passing game coordinator, taking away the playcalling duties from Bill Callahan. The
Baltimore Ravens
and
Cleveland Browns
were denied permission in speaking to Callahan this offseason, which the Cowboys acknowledged did not please Callahan.
"We're a team and every decision we make we believe is in the best interest of our football team," Garrett said. "Every decision we make in regards to players and coaches [is that way and] everybody understands that. That's the first thing out of my mouth and everyone has to understand what they're role is after those decisions are made and embrace those roles. We've changed things up a little bit last year. It was a different structure to what we had and now we're going to back to the structure that Bill was comfortable with originally when he was hired. That's just something we all have to embrace. It's going to take a little time to work through that and that's what this offseason is for. You work through the things we did well last year, the things we've got to improve upon and everybody has their role and the responsibility to embrace it and try to become a really close staff and a really close football team."
January, 31, 2014
Jan 31
10:00
AM ET
Cowboys reporters Calvin Watkins and Todd Archer break down the Cowboys, position by position, analyzing what the players did in 2013, what they can do in the future and what the team can do to improve the position in 2014.
Under contract:
Jason Garrett, Scott Linehan, Rod Marinelli, Bill Callahan, Monte Kiffin, Wade Wilson, Gary Brown, Derek Dooley, Mike Pope, Frank Pollack, Keith O'Quinn, Matt Eberflus, Jerome Handerson, Leon Lett, Ben Bloom, Joe Baker, Rich Bisaccia.
A look back:
For the first time since he arrived as an assistant coach in 2007 Jason Garrett did not call the offensive plays. It wasn't Garrett's idea, but he had little choice in the matter. Owner Jerry Jones wanted Bill Callahan to do the job, so that's how it went.
[+] Enlarge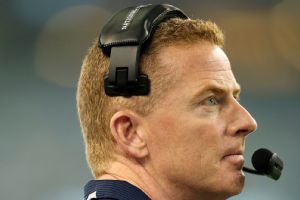 AP Photo/Tom HauckAfter a third straight 8-8 season, Dallas' Jason Garrett made several key changes within his staff.
The Cowboys averaged 27.4 points per game but had their fewest yards in a season since 2005. For the final six games of the season Garrett asserted himself in the process, relaying the plays from Callahan to the quarterback. Garrett maintained Callahan called the plays throughout the season.
Defensively, it was a disaster for Monte Kiffin. The Cowboys' move to the 4-3 could not have gone worse. Injuries depleted the defensive line and took their toll on the linebackers by the end of the season. Players counted on to have big seasons –
DeMarcus Ware
,
Brandon Carr
,
Bruce Carter
,
Morris Claiborne
– didn't and Kiffin was unable to come up with any answers.
The Cowboys allowed the most yards (by a wide margin) and the second-most points in franchise history. Kiffin's return to the NFL after a run with his son, Lane, at Tennessee and Southern Cal, was a flop.
Special-teams coordinator Rich Bisaccia might have had the best season of any assistant coach. The special teams were better across the board in 2013 and he interviewed for the head coaching jobs with the
Washington Redskins
and
Cleveland Browns
.
A look ahead:
Rod Marinelli has replaced Kiffin as defensive coordinator, although the Cowboys cushioned the demotion by naming Kiffin the assistant head coach/defense. Callahan has been replaced as playcaller by Scott Linehan, who is a Garrett confidante.
The Cowboys have denied teams from speaking with Callahan, which has not pleased Callahan and could lead to ill-will on the staff no matter how much the Cowboys try to put a smiley face on the situation. Callahan will return to coaching the offensive line full-time, which pushes Frank Pollack down the line after he did a good job with the group in 2013.
The Cowboys hope Marinelli can be as effective as a coordinator as he was in his three-year run with the
Chicago Bears
. He will need more talent, especially on the defensive line. He will need to be more creative than Kiffin as well. Players play hard for him and believe in his coaching, but the confidence of the entire group was shot last year. Having
Sean Lee
return from injury and players like Ware return to form, will help.
Kiffin will be around but mostly in an advisory role. Tight ends coach Wes Phillips joined the Redskins and was replaced by Mike Pope, a long-time veteran considered one of the best in the NFL. Assistant special-teams coach Chris Boniol also left.
A look out:
The Cowboys have set up an interesting situation on the offensive side of the ball by hiring Linehan and demoting Callahan, but Garrett believes the transition will be smooth because the system remains in place.
But how well will Linehan and Callahan work together? Are there too many people involved in the offense with different agendas? It will make for interesting viewing.
On defense, the move to Marinelli should also be easy because the system remains. He should be more adept at handling the current game than Kiffin, who could not come up with ways to slow spread offenses.
But this year will be all about Garrett, who is entering the final year of his deal. The Cowboys gave him the authority to make the changes on the staff, and it's up to him to make it work. He has been able to keep the players on his side despite three straight 8-8 finishes. They believe in what he says. Now the actions have to back up the words.
Position breakdown:
Quarterbacks
Running backs
Tight ends
Wide receivers
Defensive line
Offensive line
Linebackers
Defensive backs
January, 29, 2014
Jan 29
1:50
PM ET
IRVING, Texas -- With changes on the
Dallas Cowboys
' coaching staff, it's time to update the tracker.
Rod Marinelli is the defensive coordinator but will continue to work with the defensive line. He'll receive more help from Leon Lett and Ben Bloom.
The changes are in bold.
Head coach: Jason Garrett
Passing game coordinator: Scott Linehan
Offensive coordinator/offensive line coach: Bill Callahan
Defensive coordinator: Rod Marinelli
Assistant head coach/defense: Monte Kiffin
Quarterbacks: Wade Wilson
Running backs: Gary Brown
Wide receivers: Derek Dooley
Tight ends: Mike Pope
Assistant offensive line: Frank Pollack
Offensive quality control/wide receivers: Keith O'Quinn
Offensive assistant: Vacant
Defensive line: Rod Marinelli
Linebackers: Matt Eberflus
Secondary: Jerome Henderson
Defensive assistant/defensive line: Leon Lett
Defensive quality control/defensive line: Ben Bloom
Assistant secondary: Joe Baker
Special teams: Rich Bisaccia
Assistant special teams: Vacant
Strength and conditioning: Mike Woicik
Assistant strength and conditioning: Brett Bech
Assistant strength and conditioning: Kendall Smith
January, 28, 2014
Jan 28
10:00
AM ET
Cowboys reporters Calvin Watkins and Todd Archer breakdown the Cowboys, position by position, analyzing what the players did in 2013, what they can do in the future and what the team can do to improve the position in 2014.
Witten
Under contract:
Jason Witten
,
Gavin Escobar
,
James Hanna
A look back:
The final numbers might look off after catching 110 passes in 2012, an NFL record for a tight end, but in some ways Witten had a better season in 2013.
He caught 73 passes for 851 yards and had eight touchdowns. He had to stay in for pass protection more, which contributed to his reception total decreasing, but he averaged 11.7 yards per catch, which was his second highest in the past five seasons. His eight touchdowns were one off a career high and his involvement inside the 20 played a big part in the improvement of the red-zone offense.
Escobar
Hanna
Escobar came in with second-round expectations with the Cowboys moving more to a "12 personnel" offense, but he was unable to unseat Hanna and saw only 197 snaps during the season. Hanna played 311. The Cowboys knew Escobar needed development as a blocker but how much even surprised them. He finished with nine catches for 134 yards and two touchdowns. What he does have is athletic ability and the chance to stretch the seams from his position.
Hanna caught 12 passes for 73 yards and was OK. The coaches were unable to find ways to get him the ball in space where he could use his speed. For a backup, he was fine but Escobar should take some playing time from him in 2014.
A look ahead:
The Cowboys replaced tight ends coach Wes Phillips, who took the same job with the
Washington Redskins
, with veteran
New York Giants
coach Mike Pope, which might qualify as their best move of the short offseason.
Pope has developed tight ends everywhere he has coached and developing Escobar will be his No. 1 task. Witten turns 32 in May and with his ninth Pro Bowl appearance in 11 years does not appear to be slowing down. Pope can help him with the nuances of the game and also challenge him schematically.
Escobar needs to add bulk this offseason and be a weight-room junkie. He has to show a willingness to improve as a blocker. If he doesn't, then the Cowboys will have used a second-round pick on a niche player.
A look out:
There is no doubt the Cowboys will draft a tight end in the second round. OK, we kid. With Witten entering his 12th season and Escobar and Hanna something of a question mark, it is not inconceivable the Cowboys look for help at the position.
They do not need to spend a premium pick or cash on the position. With Witten playing nearly 100 percent of the snaps, the Cowboys have to figure out a way to integrate their two tight end package better and with more options.
They could add more of a blocking tight end. Some at Valley Ranch thought
Andre Smith
could have filled that role in 2013 more. They could look in the middle to late rounds in the draft.
Position breakdown:
Quarterbacks
Running backs
January, 22, 2014
Jan 22
5:09
PM ET
IRVING, Texas -- The
Dallas Cowboys
have hired Mike Pope to be the tight ends coach, replacing Wes Phillips.

Pope spent the past 14 seasons as the
New York Giants
' tight ends coach. He worked with former Cowboys coach Bill Parcells with the Giants and
New England Patriots
, and has spent time with the
Washington Redskins
and
Cincinnati Bengals
.
Phillips left last week to become the Washington Redskins' tight ends coach after coaching tight ends for just one season.
Pope is considered one of the best tight ends coaches in the NFL, and has developed players like Pro Bowlers Mark Bavaro, Ben Coates, Stephen Alexander, Rodney Holman and Jeremy Shockey.
He inherits
Jason Witten
, who is playing in his ninth Pro Bowl,
Gavin Escobar
, a second-round pick in 2013, and
James Hanna
.
Head coach Jason Garrett was a player for the Giants in Pope's second run with the team. Pope has been an assistant coach for 31 years.
"Mike Pope has been one of the great coaches in this league for a long time," Garrett said. "I had the good fortune of being around him for four years, and his influence on me has been significant. He is an outstanding person and a welcome addition to our staff."
January, 20, 2014
Jan 20
8:05
PM ET
MOBILE, Ala.-- The
Dallas Cowboys
have to find a new tight end coach with Wes Phillips leaving to take the same position with the
Washington Redskins
.
The Cowboys are looking at Mike Pope as a replacement. Pope spent 23 seasons with the
New York Giants
as an assistant coach, most recently as a tight ends coach.
There is a connection: Coach Jason Garrett was a backup quarterback with the Giants from 2000 to 2003.
Pope is the only coach whose name is inscribed on all four of the Giants' Super Bowl trophies.
Also, the Cowboys have made Carlos Polk the assistant special teams coach.
Cowboys owner/general manager Jerry Jones said no decision is final but Polk was attending Senior Bowl practices on Monday. Polk, a linebacker, played eight NFL seasons with San Diego and the Cowboys before turning to coaching after the 2008 season.
January, 17, 2014
Jan 17
12:15
PM ET
IRVING, Texas -- The
Dallas Cowboys
will need a new tight ends coach.
Wes Phillips accepted an offer to become the tight ends coach of the
Washington Redskins
one day after interviewing for the position on Jay Gruden's staff.
Phillips had been with the Cowboys since 2007 and finished his first season as tight ends coach. He joined the Cowboys as a quality control coach and worked with wide receivers and special teams. In 2011 he was named an assistant offensive line coach.
That the Cowboys allowed Phillips to interview with a division rival was a sign the Cowboys were ready to find a replacement.
The Cowboys could look in-house for a new coach with Keith O'Quinn, who has helped coach the wide receivers the past few seasons in addition to his offensive quality control work. Another possibility is Mike Pope, the long-time
New York Giants
tight ends coach who was let go this week. Pope is widely regarded as one of the best tight ends coaches in the NFL.