Dallas Cowboys:

Mike Pouncey
November, 23, 2011
11/23/11
2:56
PM ET
By
Bryan Broaddus
| ESPNDallas.com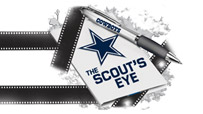 In the NFL, short weeks of game preparation are never easy. It's even more difficult having to play a physical divisional game on the road before an opponent that you see once every four years.
There will be nothing easy about this game against the Dolphins. It's a team that has quality players on both sides of the ball. We should not be fooled by the Dolphins' 3-7 record, because in the games I have studied, this could have very well been a team on a five-game winning streak going into this game.
The Dolphins will give the Cowboys trouble in this game in two areas offensively, wide receiver and running back.
Be wary of Dolphins' Marshall, Bess, Bush, Clay
Wide receiver
Brandon Marshall
can be a physical beast when it comes to having to defend him up the field. He is not afraid of using his body to create separation with the defensive backs. Have seen Marshall get into his route, then take both of his hands and push the defensive back away. Marshall will use his body on the slant to protect the ball.
Matt Moore
likes to try and get him the ball on the move whether that's up the field or on the quick screen. Hard man to bring down when on the move with the ball in his hands. Primary target in the red zone on jump balls or back-shoulder throws.
Terence Newman
and
Orlando Scandrick
will have to be ready for an all-day physical game with Marshall on the outside.
Davone Bess
will play the slot with quickness and the ability to adjust to the ball wherever it is thrown. Bess will need to be watched on third downs because he has a real feel for how to work inside routes and take advantage of coverage that might not be tight.
Running back
Reggie Bush
has proven that he can handle the workload as an every-down back. Bush makes this play-action game go for the Dolphins. Like the way that offensive coordinator Brian Daboll has taken advantage of his skill set with screens and plays on the edge in the passing game.
Bush can run the ball between the tackles, but he is most dangerous when he gets in space. The Cowboys defense has to be careful to not allow Bush to make to loose plays in space. Tackling on Bush will be key this week.
There is one other weapon I want to bring your attention to: fullback
Charles Clay
. We all understand now how important
Tony Fiammetta
is to the Cowboys running the ball. Clay is the same type of player, but he can really hurt you with his ability to get down the field and catch the ball. Clay is a converted tight end that is very athletic. He is a lot like Bess in that you don't cover him, he will make a big play down the field.
Cowboys should target riight side of Dolphins O-line
On the offensive line, the Dolphins have some nice pieces in left tackle
Jake Long
and center
Mike Pouncey
. The weakness of this line is on the right side with tackle
Marc Colombo
and guard
Vernon Carey
. I fully expect Rob Ryan to try and put as much pressure on these two with anything scheme-wise that makes them have to move and adjust. Neither Colombo or Carey move that well, and the more you make them have to do that, the better the chance for successful pressure.
Don't sleep on Dolphins' defensive front, linebackers
I really came away impressed with what the Dolphins' defense is doing scheme-wise and how physical the overall unit plays.
It really starts up front with guys like ends
Randy Starks
and
Jared Odrick
. These are powerful players and they are always working their way up the field, not only defeating single blocks. but handling double teams as well. Nose man
Paul Soliai
is difficult to move, much like what the Cowboys faced with the Jets and 49ers.
But the real strength of this defense is in its linebackers.
Koa Misi
, Carlos Dansby,
Kevin Burnett
and
Cameron Wake
are all outstanding. Misi and Wake are true pressure players. Misi is better against the run, but Wake will be a handful because of his ability to explode off the edge. Misi can get the edge too, but he will fight you more on the rush. Wake will slap, rip all while working his way up the field.
Wake will make
Doug Free
and
Tyron Smith
have to adjust on the move and reset their hands several times. They will need to find a way to anchor down on him.
On the inside, Dansby and Burnett will make plays in the running game. Last week against the Redskins, the Cowboys didn't do a good enough job of handling the linebackers on the second level. If the line has the same kind of problems this week, running the ball will be difficult again.
The Dolphins linebackers run to the ball and they are sure tacklers. If the Cowboys struggle running the ball it will be because these linebackers are going unblocked.
In the games that I was able to study, the Dolphins' front seven make their secondary better. Pressure has really helped this group make plays like they did last week against the Bills.
Safety
Yeremiah Bell
is a hitter. Cornerback
Will Allen
throws his body around. Cornerback
Sean Smith
is a much better cover man than tackler, and corner
Nolan Carroll
will force the run. There will be plays to be made against this secondary if -- and only if -- the Cowboys protection can hold up again Wake, Misi and the veteran
Jason Taylor
.
It's a defense that has found its way since the loss to the Giants and coming off a short week will be a difficult test for the Cowboys.
April, 21, 2011
4/21/11
3:06
PM ET
»
NFC Draft Watch
:
East
|
West
|
North
|
South
»
AFC
:
East
|
West
|
North
|
South
Each Thursday leading up to the NFL draft (April 28-30), the ESPN.com blog network will take a division-by-division look at key aspects of the draft. Today's topic: Dream scenario/Plan B.
Dallas Cowboys

Dream scenario:
If the Cowboys play things the conventional way and sit tight at No. 9, they'll probably be looking at either defensive end
J.J. Watt
or offensive tackle
Tyron Smith
. Either one would provide good value or fill a big need, and the Cowboys would improve. But Dallas owner Jerry Jones doesn't always do things the conventional way. Although trading up to the top five might be difficult, Jones' imagination could heat up if LSU cornerback
Patrick Peterson
makes it past the first five picks. The entire Dallas secondary had a horrible year last season, and Peterson would provide an instant upgrade. Jones might not be able to sit still if he's within striking distance of Peterson.
Plan B:
If there's no chance at Peterson and the Cowboys aren't excited enough about Watt or Smith, they could reach slightly and take Nebraska cornerback
Prince Amukamara
. He's the second-best cornerback in this draft, and most mocks have him going somewhere in the teens. If the Cowboys like the player enough, it wouldn't be much of a reach to just take him. If another team is looking to move up for another player, the Cowboys could drop down a few spots and still have a shot at Amukamara.
Washington Redskins

Dream scenario:
The Redskins, who need a quarterback perhaps more than any other team on the planet, would love nothing more than for something bizarre to suddenly cause
Cam Newton
or
Blaine Gabbert
to start falling. It's not out of the realm of possibility. Carolina's leaning toward Newton but hasn't made a final decision. Even if the Panthers go with Newton, Buffalo could go with linebacker
Von Miller
at No. 3, and the word out of Arizona is the Cardinals probably are looking more for a pass-rusher than a quarterback. That would put the Redskins within striking distance on Gabbert, and general manager Bruce Allen and owner Daniel Snyder could try to move up to grab him. Or they could just take a chance that he'll be available at No. 10.
Plan B:
If Newton and Gabbert are gone, there's no quarterback worthy of the No. 10 pick. Defensive tackle also is a major need, but the Redskins could fill that in free agency. Snyder enjoys making a splash, and if he can't do it with a quarterback, he might do the next-best thing and take a guy who would catch passes from whoever ends up throwing them. With
Santana Moss
as a free agent and not much else in the receiving corps, Alabama's
Julio Jones
could be a very nice consolation prize.
New York Giants

Dream scenario:
The desperate need is at outside linebacker, but the only player who is really a sure thing is Miller, and he almost certainly will be a top-five pick. So the dream ends there and reality sets in, and the other reality is the Giants have big needs on the offensive line, where everyone but guard
Chris Snee
is starting to get old. Florida center/guard
Mike Pouncey
could really solidify the interior of the line, where the need is greatest. Tackles
Gabe Carimi
and
Anthony Castonzo
also could be possibilities as the Giants could consider moving tackle
David Diehl
to guard.
Plan B:
This may sound a bit off the wall because the Giants have decent running backs in
Ahmad Bradshaw
and
Brandon Jacobs
. But what if Alabama's
Mark Ingram
happens to be available? The Giants might have to consider him. He might be better than Bradshaw and Jacobs. Also, along the same lines, don't rule out the possibility of a defensive tackle like Temple's
Muhammad Wilkerson
if he's available. The Giants appear to be in good shape in the middle of the defensive line, but general manager
Jerry Reese
places a high value on having lots of depth, especially in the middle of the defensive line.
Philadelphia Eagles

Dream scenario:
In a perfect world, the Eagles would package their first pick (No. 23 overall) with quarterback
Kevin Kolb
and trade their way into the top five, where they would aim for cornerback Peterson. The Eagles have a desperate need for a cornerback to play opposite
Asante Samuel
, and Peterson is the only sure thing in this draft. But this is not a perfect world. Unless the lockout somehow ends between now and the start of the draft, they're not allowed to trade Kolb. If they stay put, the Eagles have to hope Amukamara somehow falls to them, or they might have to take a chance on Colorado's
Jimmy Smith
, who comes with some background questions.
Plan B:
The right side of the offensive line needs to be upgraded. Most teams stay clear of guards in the first round. But tackles Castonzo,
Nate Solder
and Carimi all could be available when the Eagles pick. Any one of them could step right into the lineup and start.
March, 31, 2011
3/31/11
9:39
AM ET
Florida center
Mike Pouncey
, projected as the best player at his position, is scheduled to visit the Cowboys on April 5.
Pouncey isn't considered a top-10 pick, but with Jerry Jones saying two teams reached out to him to move down in the draft, it's quite possible the Cowboys might leave No. 9 to address the center position.
The tackle spot, however, is more of a pressing need. With
Marc Colombo
on the books for a $2.6 million option bonus -- due 15 days into the new league year (that hasn't started due to the lockout) -- it would seem center might not be a priority.
Andre Gurode
, the current starting center, is coming off a Pro Bowl season but there are some concerns about his long-term health due to his knees.
Here's a snippet of what Scouts Inc. had to say about Pouncey: "Quick first step and gains proper hand placement and initial position. Balanced and always has feet underneath him. Plays with leverage and possesses a strong inline power base to get adequate movement. However, can be stoned and occasionally overpowered by bigger and more massive interior DTs. Displays lateral agility to hook 3-technique or cut off shade from the backside. Works to sustain blocks but needs to do a better job of finishing. Can get down the line quickly when asked to pull. Showed some open-field capabilities but needs to do a better job of adjusting on the move to cover up targets. Makes a smooth transition when climbing to the second level to cover up LBs."
For the complete
report
become a ESPN Insider.
January, 19, 2011
1/19/11
10:34
AM ET
It's the great Randy Galloway's birthday today. Not sure exactly how old he is, but I believe it's still in the double digits.
As a gift, I've decided to give Galloway the one thing he could never get on his own: a clue about what the
Dallas Cowboys
should do with the ninth overall pick in the NFL draft.
Galloway has been wasting ESPN 103.3 airtime – and space in an old-school medium – lobbying for the Cowboys to draft Auburn quarterback
Cam Newton
. This is proof that experience and wisdom aren't always a package deal.
The Cowboys have way too many holes to reach for a developmental quarterback. They have a franchise quarterback still in his prime in
Tony Romo
. You might make the argument that Romo needs the pressure that comes from competition, but that still wouldn't merit spending a first-round pick on a quarterback, especially one who is at least one or two years away from being ready to play in the NFL.
This is a team with glaring holes in the secondary and on the offensive line. They need to address one of those issues in the first round.
The Cowboys' approach with the ninth overall pick should be simple. If one of the elite cornerbacks slips, stay put and pick the guy, whether it's LSU's
Patrick Peterson
or Nebraska's
Prince Amukamara
. Slide them into the starting lineup and send
Terence Newman
packing, picking up significant salary cap space in the process.
If the corners, who are both in the top five on Scouts Inc.'s board, go as early as anticipated, it's time to trade down. Target the mid- to late teens. That's where the value is for offensive linemen.
Colorado tackle
Nate Solder
is the top lineman on Scouts Inc.'s board at No. 14 overall. There is a cluster after him: USC tackle
Tyron Smith
at No. 16, Florida center/guard
Mike Pouncey
at No. 17, Wisconsin tackle
Gabe Carimi
at No. 19 and Boston College tackle
Anthony Castonzo
at No. 22.
It'd be shrewd of Jerry Jones to pick up an extra pick or two, trade down and make one of those guys the first offensive linemen he's ever drafted with a first-round pick.
Drafting Newton? That's a ridiculous idea, even by the gray-hair, harebrained standards of Randy (and Jerry).