Dallas Cowboys:

Mike Singletary
January, 9, 2014
Jan 9
8:00
AM ET
IRVING, Texas -- The
Dallas Cowboys
are not in a search for a head coach. Jason Garrett will be back for his fourth full season in 2014.
The
Tampa Bay Buccaneers
(Lovie Smith) and
Houston Texans
(Bill O'Brien) have landed their guys. The
Washington Redskins
,
Tennessee Titans
,
Cleveland Browns
,
Detroit Lions
and
Minnesota Vikings
are still in the search process.
And they have been elaborate.
The Redskins' list has 11 names, including Cowboys special teams coach Rich Bisaccia. Bisaccia's name has turned up in the Titans' chase too. A lot of the searches have the same names with guys like Jay Gruden, Mike Zimmer, Ken Whisenhunt, Todd Bowles, Jim Caldwell, Dan Quinn and James Franklin.
In 2007, Jerry Jones cast a wide net to find Bill Parcells' successor.
He interviewed 10 coaches, including three from Parcells' staff -- Tony Sparano, Todd Haley and Todd Bowles -- and a former assistant in Gary Gibbs. Unlike the Redskins, he did not interview any assistant from NFC East teams.
Including Wade Phillips, who was Jones' pick, and Garrett, who took over for Phillips in the middle of the 2010 season, eight of the 10 interviewees became head coaches: Sparano with the
Miami Dolphins
, Haley with the
Kansas City Chiefs
, Norv Turner with the
San Diego Chargers
, Ron Rivera with the
Carolina Panthers
, Jim Caldwell with the
Indianapolis Colts
and Mike Singletary with the
San Francisco 49ers
.
Only Bowles and Gibbs have not been named head coaches, although Bowles has a chance in Cleveland or Minnesota.
Of the eight the only two not to take their team to the playoffs are Garrett and Singletary.
In 2010, Jones' search was not as prolific. He liked what Garrett did in taking over for Phillips in finishing 5-3 without
Tony Romo
, who was out with a broken collarbone. Jones interviewed wide receivers coach Ray Sherman and also brought Bowles back for another look.
The job was always going to be Garrett's so Jones did not need to put out a lot of feelers.
Jones could be in the head -oach business in 2015 if things do not go well for the Cowboys. The feeling is that the next search will look more like the one in 2007 than 2010.
December, 9, 2013
12/09/13
4:46
PM ET
CHICAGO -- Welcome to Soldier Field where the
Dallas Cowboys
have a chance to maintain pace with the
Philadelphia Eagles
in the NFC East with a win against the
Chicago Bears
.


On Sunday, the Eagles beat the
Detroit Lions
in a snowstorm, forcing the Cowboys to beat the Bears to maintain first place -- albeit via tiebreaker -- in the NFC East with three games to play.
Attacking on offense:
The conditions could play a factor in Monday night's game with the cold, wind and field conditions. Does that mean the Cowboys will run the ball more?
"I think you go in saying you want to do both," quarterback
Tony Romo
said. "You always want to run the ball, be balanced and attack when you can. We'll take that approach."
The Cowboys have run the ball better in the past three games, averaging 5.2 yards per carry.
DeMarco Murray
has an outside shot at 1,000 yards despite missing two games, but the Cowboys will miss
Lance Dunbar
. He suffered a season-ending knee injury on Thanksgiving after finally showing the change of pace the Cowboys thought they would have all season.
Now the running game will be Murray's. Can he handle the load?
The return of the quarterback:
No, not Romo. We're talking defense and the return of
Sean Lee
.
The middle linebacker missed two games with a hamstring injury and the Cowboys were able to win both games. But Lee is their best play maker. He is the team leader in tackles and interceptions. He is tied for the team lead in tackles for loss.
Against a team where middle linebackers have dominated for years -- Bill George, Dick Butkus, Mike Singletary,
Brian Urlacher
-- Lee will get his chance to show his worth to the Cowboys.
He will be a three-down linebacker and he said the hamstring feels fine. The cold weather will force him to do some extra warming up, but he does not expect it to be an issue.
"I thought we did a great job adapting, guys coming in and playing unbelievably," Lee said. "Hopefully we can build on the success and continue to go forward."
Former teammate, now enemy:
Say hello to Jay Ratliff. Oop.
Jeremiah Ratliff
.
Released by the Cowboys in October, Ratliff signed a one-year deal with the Bears in November and will play in his second game of the season. This has not gone over well with owner and general manager Jerry Jones.
The Cowboys did not believe Ratliff would play this year based on what Ratliff told them. And here he is on the field against the Cowboys in a pivotal December game. Ratliff was a declining player with the Cowboys and was barely a factor last week against the
Minnesota Vikings
.
But you know he will want to be a difference maker tonight.
September, 14, 2011
9/14/11
1:16
PM ET
In this week's installment of Opposing Voice, we talk to Matt Maiocco, who covers the
San Francisco 49ers
for CSNBayArea.com and the television side as well.
Here's our Q&A with Maiocco.
1. Are the 49ers' special teams just that good, or were they lucky on Sunday?
The 49ers certainly can't rely on
Ted Ginn
to bail them out with returns for touchdowns every week like he did in the season-opening win against the Seahawks. Just a week earlier, Ginn had to accept a $1.2 million pay cut just to remain on the roster. And Ginn wasn't even going to be the 49ers' primary kick-returner until the day before the game. That duty was going be the assigned to rookie
Kendall Hunter
. But the 49ers decided to go with Ginn's experience. His 102-yard kick return was exactly what the 49ers needed after Seattle pulled to within 19-17 with four minutes to play. Then, he provided the icing with a 55-yard punt return for a score just 59 seconds later. The 49ers should be improved this season as a whole on special teams based on the hiring of Brad Seely as special teams coordinator.
2. Alex Smith as a quarterback -- getting better?
The thing about Smith is that he has made incremental improvements every season he remained healthy in his career. After spending his first six seasons with defensive head coaches, Smith finally has a head coach who not only has an offensive background but also played quarterback.
Jim Harbaugh
instituted a game plan that did not provide a lot of difficulty for Smith in the opener. Smith completed a bunch of high-percentage passes, connecting on 15 of 20 attempts, for just 124 yards. Smith is getting better, and for the first time he had a coach who will put him in situations where he has a better chance to succeed.
3. What has happened to Michael Crabtree?
Crabtree was going along just fine in his first two NFL seasons — other than a contract stalemate that forced him to miss the first five games of his rookie year. His stats weren't great, but he was producing decent numbers despite being on a team with a bad passing attack. Things took a turn for the worse, however, during the 49ers' offseason workouts at San Jose State when he sustained a left foot fracture. He underwent surgery in July and last week was the first time he practiced. The foot is still very sore, so he played only 13 snaps in the season opener, catching just one pass for 4 yards. Crabtree will probably be limited for a while.
Braylon Edwards
and Joshua Morgan will likely remain as the starting wideouts with Crabtree's contributions coming mostly as a slot receiver until he's healthy enough to push for a starting job.
4. The 49ers had only 2.7 yards per carry. Was it the Seattle defense, or is Frank Gore slowing down?
Because the 49ers offered no real threat with their passing game, Seattle loaded up the box to stop Gore. Of his 22 rushing attempts, Gore was stopped six times for no gain or a loss of yardage. It's difficult to pin much blame on Gore. He simply didn't have any room to run and a 49ers offensive line that prides itself on getting good push was unable to move the Seahawks off the ball.
5. How have the players responded to new coach Jim Harbaugh?
The players weren't too thrilled with the daily three-hour, padded practices during training camp, that's for sure. But there is a level of respect that the players have for Harbaugh because of the fact he played 14 seasons in the NFL. Also, they know this guy can coach. He coaches the finest details. Mike Singletary did very little hands-on coaching. Harbaugh is very involved in practices, blowing his whistle like a drum major and spending a lot of time working with the quarterbacks. He is very demanding, but there is little doubt he has already earned a tremendous amount of respect.
January, 21, 2011
1/21/11
8:30
AM ET
Welcome to our first mailbag of the offseason, and it might be a long one if there's a lockout. Before we get to the mail, let's address two issues:
Trading Dez Bryant
[+] Enlarge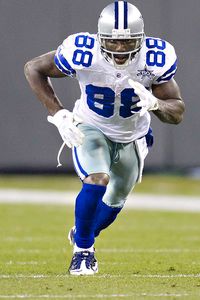 Jeff Hanisch/US PresswireNFL teams are always willing to listen to discussion about players. However, that doesn't mean Dez Bryant is going anywhere.
It's dumb. The Cowboys haven't gotten any offers for Bryant and are not expecting to trade him. Some readers misinterpreted my blog post from a few days ago that the team was trying to trade Bryant. A team source said he would listen to offers for Bryant, but never said he would trade him. Last year, another source -- when asked would he consider bringing outside linebacker
Greg Ellis
back to the Cowboys -- said yes. But it never happened.
NFL teams, the Cowboys included, talk about players all the time and how they would fit. In Ellis' case, it wouldn't work because the coaches felt confident
Anthony Spencer
was going to be fine as the starter and the backup linebackers would provide adequate relief for him if necessary.
In the Bryant case, a hypothetical question about what you could get for him considering the Cowboys' offseason needs was the basis of what was being said. Nobody reported Bryant was on the trade blocks.
The Rooney Rule
Some readers are upset with the Rooney Rule, which forces NFL teams to interview minority candidates. The rule was enacted because NFL teams didn't consider interviewing minorities on a regular basis for head coaching jobs. All minority coaches have ever asked for is a fair chance to become head coaches, and it didn't appear that was happening.
John Wooten, who is the chairman of the Fritz Pollard Alliance, sends NFL teams a list of minority coaches that should be considered for head coaching positions. The other day I found a list from 2008 naming 16 coaches. Of that list, Leslie Frazier, Hue Jackson, Raheem Morris, Ron Rivera and Mike Singletary became head coaches. Former Cowboys receivers coach Ray Sherman is also listed but hasn't gotten a head coaching job. I think the Rooney Rule works, but readers and maybe some of us in the media should ask some more questions before criticizing it.
Enough of the soap box. Let's get to the mailbag.
[+] Enlarge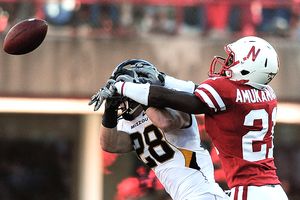 Eric Francis/Getty ImagesWill Nebraska CB Prince Amukamara be there for the taking with the Cowboys' first-round pick (No. 9) in the draft? Mel Kiper Jr. sure thinks so.
Q: Most mock drafts have Da'Quan Bowers, Nick Fairley, Marcell Dareus, Patrick Peterson and Prince Amukamara all going before the Cowboys draft at No. 9. Do you see any possibility in which Carolina would swap picks with Dallas and pick up Blaine Gabbert or Jake Locker at No. 9 -- since that's where they are projected to go -- and the Cowboys pick up an elite defender to fit in nicely with Rob Ryan's new defense? -- Lawrence Torres (Bakersfield, Calif.)
A:
The Cowboys have a chance to get a premium player at No. 9, and I don't believe a trade is necessary. Last season, they traded up to get Bryant, a premium player who fell in the draft for off-the-field issues. Getting an elite pass rusher or safety is the way to go for the Cowboys at No. 9. But if a guy like
Von Miller
, for instance, is gone, then maybe you get Amukamara or somebody else. Remember there are holes on the offensive line, and it's uncertain if the Cowboys will re-sign
Kyle Kosier
as the left guard for 2011. There are many possibilities for a top 10 pick, and the Cowboys can't go wrong here with whoever they select.
Q: Despite accomplishments by Jay Ratliff,I believe that he's a tad overrated. I know that he is a Pro Bowler, but that is more of a popularity contest at this point. I feel that the Cowboys should look at Marcel Darius of Alabama and move Ratliff to defensive end. I've said for three years, he's too small for nose guard. He consistently gets blown off the ball in the run game but his speed would be great at end. Your thoughts? -- Byron (Indianapolis)
A:
That's an interesting take on Ratliff. I thought he was double-teamed plenty of times last season, which is why he didn't get to the quarterback more or create enough pressure in 2010. A move to end might be better for him, and it's something the team tried to do a few years ago. Ratliff didn't seem thrilled with it then, but knowing the team player that he is, a move such as this might sit well with him now. The problem I had with Ratliff was his lack of quarterback pressures and his inconsistency at stopping ball carriers for no gain. Rob Ryan, the new defensive coordinator, might make some position changes or keep things the same but change how certain players do things technique-wise.
Q: Do you feel Felix Jones can be an every-down back? Should the Boys look to draft one? -- Mike T (Syracuse)
A:
It was very interesting to note when
Marion Barber
was healthy toward the end of the season, the Cowboys kept him on the sidelines and Felix Jones remained the starter. Those last four games of the 2010 season might have been an audition for Jones to show he can carry the ball 15-20 times a game. If the Cowboys feel he can, then
Tashard Choice
is the No. 2 and Barber will be released.
Q: Trading Dez Bryant would be a dumb mistake. We all know which of the receivers need to be traded (Roy Williams). -- Andrew Maxwell (Colombia, Maryland)
A:
I'm not sure if you can get anything for Williams. At best, if you cut him, it's a $12.9 million cap hit -- and the Cowboys might be willing to do that. Bryant is not going anywhere. Never said he was. But Williams might. A trade isn't happening, but releasing him is a possibility.
Q: Dallas clearly has the worst secondary in the NFL. Their secondary was clearly the reason for half of their losses. Dave Campo is the secondary coach. It's time for him to hit the road. He clearly does not have a clue how to coach their personnel. The Cowboys never win on third down, and the coach does not know now to get his point across. Wasn't he fired once before? -- Williams McClelland (Port Neches, Texas)
A:
It's easy to blame the coach for the problems with the secondary. In 2009, when
Mike Jenkins
and
Terence Newman
reached the Pro Bowl, Campo was the secondary coach. I think Jenkins had an off year and is poised for a bounce-back season in 2011. Newman might get released in a cost-savings move. There are some in the front office that aren't too happy with him, but Jerry Jones, Stephen Jones and Jason Garrett will make the final call on Newman. I think he'll be here unless the Cowboys decide to get a cornerback in the first round.
April, 8, 2010
4/08/10
1:55
PM ET
By
Matt Mosley
| ESPNDallas.com
For reasons I can't recall, my best friend Danny Terry and I were once called upon to work the sideline for the Miami Dolphins at Texas Stadium. I was 13 at the time and the Cowboys' veteran equipment manager Bucky Buchanan signed us up for duty.
[+] Enlarge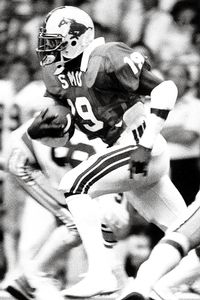 Getty ImagesEric Dickerson and the Pony Express frequently galloped across the Texas Stadium turf during their heyday.
Looking back, I should have been blown away in the presence of coach Don Shula and a young quarterback named Dan Marino. But all I knew about Marino is that he'd fallen short to SMU in the Cotton Bowl.
Offensive tackle Ronnie Lee gave me a practice shirt that day and linebacker Bob Brudzinski provided me with some gloves that I kept for six or seven years.
Before the game, I actually warmed up quarterback Don Strock, who appeared to be older than most of the assistant coaches. We also shagged punts for the late, great Dolphins punter Reggie Roby, a man who would have hit Jerry Jones' new HD screen on a regular basis.
I would end up covering games for a living at Texas Stadium 18 years later, but that wasn't as fun as working the sideline on "Monday Night Football."
Dad always said Texas Stadium was either the hottest or coldest place in the world. And we've endured both extremes. Probably my favorite games to watch at Texas Stadium were between Baylor and SMU in the late 1970s and early 1980s. Baylor had linebacker Mike Singletary and the Mustangs had the Pony Express.
For a brief period of time, we had one of the best college teams in the country and the most recognizable pro team sharing the same home.
Texas Stadium is one of the most iconic structures in the state. And tearing it down is not going to erase the memories.
Oh, one more thing: My first date with my future wife was attending a playoff game between Lake Highlands and Waco High School at Texas Stadium. Perhaps I should have led with that.