Dallas Cowboys:

Mike Williams
February, 19, 2013
2/19/13
11:45
AM ET
There were 31 wide receivers taken in the 2010 NFL draft, with the Cowboys moving up to select
Dez Bryant
out of Oklahoma State with the 24th pick. Looking at the receivers taken in that class and how they've produced, Bryant is emerging as the best of the bunch.
PODCAST
Ben and Skin discuss the hypothetical idea of trading Tony Romo, as outrageous as it sounds, and what impact it would have.

Listen

In three seasons, Bryant leads all the receivers in his class in yards (2,871), catches (200) and touchdowns (27). Denver's
Demaryius Thomas
is closest to him in yards with 2,268 and Tampa Bay's
Mike Williams
is closest in touchdowns with 23.
The Steelers'
Antonio Brown
(2,062 yards and seven touchdowns) has also shown himself to be a dynamic receiverk, and of course you can see the talent in Seattle's
Golden Tate
(1,297 yards and 10 touchdowns). But Bryant's big-play ability, given his increasing understanding of the offense, is making him the cream of the crop.
In terms of becoming one of the best receivers in the game, he's still needs more seasoning before he's mentioned with
Calvin Johnson
,
Larry Fitzgerald
and
Brandon Marshall
.
However, defenses are trying to take him out of game and forcing
Tony Romo
to find other targets. Bryant didn't get as many balls thrown his way as he could have because he was often double-teamed with a safety and a cornerback. Against the
Pittsburgh Steelers
, Bryant had a linebacker drop underneath him in coverage.
Former wide receivers coach Ray Sherman called Bryant a freak in terms of his abilities. Bryant has the best hands on the team and is the most physical receiver of the group.
Miles Austin
is probably more polished because he's played longer, but when it comes time to make big plays, or important plays, Bryant has emerged as a favorite of Romo.
Bryant finished the 2012 season in a three-way tie among receivers for the league lead with five fourth-quarter touchdowns. Minnesota's
Kyle Rudolph
and Marshall also had five fourth-quarter touchdowns.
If the Cowboys can depend on Bryant long term they have an outstanding talent that can become the focal point of the offense.
September, 21, 2012
9/21/12
12:30
PM ET
The revolving door at wide receiver continues for the Buccaneers.
The team just announced it has placed receiver
Sammie Stroughter
on injured reserve and signed receiver
Chris Owusu
.
That comes in a week in which the team signed receivers
Tiquan Underwood
and
Jordan Shipley
and released
Preston Parker
. Stroughter was used as a backup receiver and punt returner in the first two games, but suffered a foot injury.
Owusu comes from San Diego's practice squad after spending the preseason with San Francisco. Owusu was an undrafted free agent out of Stanford this year.
The Bucs are set with
Mike Williams
and
Vincent Jackson
as their starters and are hoping
Arrelious Benn
can stay healthy and be the third receiver, but the Bucs need some of the new guys to step up and provide depth.
September, 20, 2012
9/20/12
2:57
PM ET
IRVING, Texas – For this week's episode from The Other Side we bring in long-time Buccaneers' beat man Rick Stroud of the Tampa Bay Times.
PODCAST
Mike Golic from Mike and Mike joins Coop and Nate to discuss the Cowboys' loss to Seattle, the upcoming matchup with Tampa Bay and more.

Listen

Todd Archer:
What's the biggest difference Greg Schiano has made? When we saw the Bucs last December they seemed, to be polite, disinterested under Raheem Morris?
Rick Stroud:
Schiano has done a great job of changing the culture of the Buccaneers. He developed a reputation for being highly organized and a disciplinarian in 11 seasons at Rutgers. But the Bucs had one of the youngest teams in the NFL last season, coming off a lockout, and they didn't handle their success very well from 2010, when they went 10-6 under Morris.
Schiano has a saying: TBA – Trust, Belief, Accountability. He has weeded out the players who didn't buy in, as evidenced by the release of S
Tanard Jackson
and the trade of TE
Kellen Winslow
and DT
Brian Price
.
That got the players' attention. On the field, he is a stickler for details and a bit of a control freak, quite frankly. Nothing escapes his attention, from the way players must have their 'toes on the line,' during warm-ups to the temperature in meeting rooms.
TA:
What's been the reaction to the kneel-down controversy?
RS:
Surprisingly, it's been split. The Giants and Tom Coughlin obviously didn't like it. Heck, most of the Bucs own players would only respond by saying they do whatever coach asks them to do. But Schiano is a hard-nosed coach who is trying to get his team to play every play hard. Also, he says that tactic has produced four fumbles at Rutgers in the past five years.
A lot of former players have supported Schiano, who says he has no regret about the move. Among them is Herm Edwards. The former Jets and Chiefs head coach may be just as well known for the hero in the Miracle of the Meadowlands. Edwards returned a fumble from Giants QB Joe Pisarcik 26 yards for a touchdown. What you may not have known was that two plays earlier, the Giants attempted a kneel down and the Eagles fired off the ball. That prompted the Giants to decide to call a running play. Edwards agrees with Schiano, so long as the team is only trailing by one score. But since the Miracle in the Meadowlands, teams have developed the 'victory formation,' whereby a receiver or defensive back lines up 10 yards behind the QB in case there is a fumble.
TA:
I think Tampa has been a Tampa-2 team since the leather-helmet era, but has there been a change in scheme with Bill Sheridan as coordinator from the Monte Kiffin/Morris led defenses?
RS:
Yes. The Bucs, like other teams, still play two deep safeties, but nowhere near as much as they used to. Sheridan likes to apply pressure to the quarterback and mixes up coverage and blitzes. He will bring it in a variety of ways -- linebackers through the A-gap, a linebacker and defensive back stacked, corners off the edge and nickel backs in the slot. Almost always, however, there is a single high safety. From a pass defense standpoint, the Bucs have been riddled for 813 yards passing in the first two games. Sheridan blamed the high number of stunts and games he ordered on the defensive front last week against the Giants and said they will have to curtail those. The other change is that the Bucs linebackers come downhill. They're not running laterally. Rookie
Lavonte David
has been an impact player.
TA:
The Bucs added
Vincent Jackson
and
Carl Nicks
in free agency to help
Josh Freeman
(
Dallas Clark
, too, I guess). How much have they helped Freeman and how has he done the first two weeks?
RS:
Jackson, Nicks and Clark have had an instant impact on Freeman's production. Jackson has been targeted 24 times in two games and has nine catches for 175 yards (19.4 avg) and one touchdown. He's also created better looks for WR
Mike Williams
, who has a TD reception in each of the Bucs two games. Nicks has helped in the run game and as a pass protector. Clark caught only one ball in the Bucs win over Carolina, but it was a 33-yarder. Last week, he had four receptions.
TA:
The Cowboys really liked
Mark Barron
but moved up for
Morris Claiborne
instead. How's the rookie safety look?
RS:
Barron has been a quick study and is the big hitter in the secondary the Bucs hoped he would be. His coverage skills are better than advertised and he likely won the game against Carolinawith a late breakup of a pass to
Louis Murphy
that would've gone for a touchdown. Barron is a serious football player who was raised in a pro-style defense under Nick Saban at Alabama. The bright lights of the NFL don't faze him.
December, 14, 2011
12/14/11
10:09
AM ET
IRVING, Texas -- As part of our weekly feature, The Other Side, we check in with Rick Stroud of the St. Pete Times for a look at what has happened in Tampa Bay this season.
Archer - After last year's success a lot of people looked at the Bucs as a team to make the next step. Obviously they haven't. What happened?
Stroud - The Bucs began the season 4-2 and had just beaten the Falcons and Saints before their trip to London to play the
Chicago Bears
Oct. 23. Since then, they have lost seven straight games.
It would be too simplistic to say that the youngest team in the NFL didn't handle a week in London very well, but obviously, they left something overseas.
Injuries have played a factor. DT
Gerald McCoy
tore his right biceps at New Orleans and went on Injured Reserve for the second straight year. He tore his left biceps and missed the final month of his rookie season.
The three technique is such an important position in the Bucs defense, its importance can't be understated. The Bucs really had no good replacement.
Frank Okam
was eventually released and re-signed to the practice squad. The Bucs signed former Bills No. 1 draft pick
John McCargo
, who lasted about two games before going on Injured Reserve. Finally, they claimed
Albert Haynesworth
off waivers.
When you're starting rookies and second year players, there's a big drop off to the undrafted free agents and waiver claims behind them.
Another factor has been the schedule. The Bucs beat one team with a winning record last season – New Orleans. During the second quarter of the season, in which they traveled 14,000 miles, they played San Francisco, New Orleans, Chicago, the Saints, Houston and Green Bay. Four of those teams will win their division.
A lot of the Bucs problems have also been self-inflicted. They're one of the most penalized teams in the NFL. Two weeks ago, coach Raheem Morris ejected DT
Brian Price
after he was flagged for unsportsmanlike conduct, negating a sack against the Panthers.
Last week, the Bucs led Jacksonville 14-0 but turned the ball over seven times and allowed 41 unanswered points. This week, Morris is working on fundamentals like ball security drills.
In concluding, players that were counted on as rookie have found it tough to duplicate those performances. Defenses adjust. The three worst words in the NFL are 'I got it.' There's been a lot of that going on in Tampa Bay this season.
Archer - Is Raheem Morris in trouble?
Stroud - If Morris doesn't win at least one or two games in remaining three, it will be tough for the Glazer family to stick with him. They won't be favored in any of their remaining games against Dallas, Carolina or Atlanta and finishing the season with a 10-game losing streak, 11 out of 12, with no post-season in three years would be hard to ignore.
The Glazer family has only fired two coaches since they took over in 1995 – Tony Dungy and Jon Gruden – and both had tons more success than Morris. But there's a feeling the Bucs don't want to spend money on another high-priced coach, who will likely insist on a big investment in free agents. More likely, if Morris can eek out another win, there will be changes to his coaching staff, like a new offensive coordinator.
Archer - What happened to
Josh Freeman
this year and could Tampa look for a new QB in the draft?
Stroud - No, the Bucs still believe in Josh Freeman. They don't think 2010 was a fluke when he threw 25 touchdowns and only six interceptions. His eight comebacks in the fourth quarter or overtime are the most in the first two seasons of any quarterback in history.
Freeman is only 23, one of the youngest players on the team. And in his defense, players around him have not played well. WR
Mike Williams
, who had 11 TDs as a rookie, has only three this season and been plagued by dropped passes. Of Freeman's 18 interceptions, eight of them were targeted at TE
Kellen Winslow
, which means Freeman is forcing the ball into coverage in a desperate attempt to get a big play.
Freeman also has played with a sprained right thumb and now has a shoulder injury. The Bucs believe that somehow he will learn from all this adversity.
Archer -
Aqib Talib
is a local guy. How has he played and how concerned are the Bucs of his long-term viability with his off-field problems?
Stroud - Talib has played okay when healthy. He has only two interceptions, both returned for touchdowns. He cost the Bucs a chance at a win in London against the Bears when his personal foul penalty cost his team about 90 seconds off the clock trailing by a touchdown.
The off-field problems are an issue. He has one year left on his contract and the organization was split about whether to bring him back after the shooting incident in Garland, Texas. Talib stands trial in March on charges of assault with a deadly weapon. If convicted of any crime, the NFL could suspend him for anywhere from four games to a season. Long-term? It's more like day-to-day.
Archer - The Cowboys secondary is suspect, allowing 100-yard receivers in four straight games. Should Mike Williams be happy?
Stroud - Mike Williams has struggled to match his performance as a rookie when he led all first-year players in receiving yards and touchdowns. He's had a number of dropped passes, as well. Typically, teams keep a safety over the top of Williams. With
Arrelious Benn
likely out with a concussion, it might make the Cowboys' job easier on Williams.
November, 4, 2011
11/04/11
10:44
AM ET
By
Bryan Broaddus
| ESPNDallas.com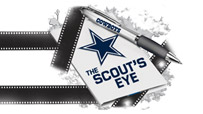 Those of you who think that the Seahawks are going to come into Cowboys Stadium and roll over because of their 2-5 record might be in for a bit of a surprise come Sunday afternoon.
This game has a 2010 Jacksonville feel to it, when the Cowboys clearly overlooked the Jaguars and were embarrassed on their home field 35-17. When you study the Seahawks, their record is misleading because there is some talent on this team and their record should be better.
It's a mistake to compare the the Seahawks to the Rams. St. Louis defensively was a bad football team; Seattle is not.
QB, O-line struggle with pressure
Offensively, there are problems with the third-youngest offensive line in the NFL, but the biggest struggle is at quarterback with
Tarvaris Jackson
. There is no doubt that Jackson has a cannon for an arm, but the problem is that he is not an accurate quarterback. Receivers
Mike Williams
,
Sidney Rice
,
Doug Baldwin
and
Ben Obomanu
really have to work to catch his passes.
[+] Enlarge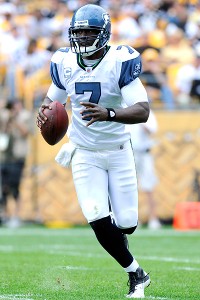 AP Photo/Don WrightA young offensive line does little to improve the accuracy of Seahawks quarterback Tarvaris Jackson.
Jackson is all over the place when he throws the ball. I have seen him throw the out or slant and be dead on the money, but then the next three throws would be nowhere near the receivers.
Offensive coordinator Darrell Bevell likes to move Jackson around in the pocket with designed boots or waggles, but there are plenty of times when you see Jackson moving on his own when the pressure becomes too much. One of the best traits that Jackson has is his ability to scramble and buy the second chance.
There will be times Jackson doesn't make the best decisions. I have seen him throw the ball up for grabs for no reason at all instead of taking a sack and living to fight on the next down.
The pressure that Jackson and even
Charlie Whitehurst
have had to deal with this season can be put at the feet of this offensive line. The Seahawks start two rookies on the right side with guard
John Moffitt
and tackle
James Carpenter
.
Moffitt really struggled on tape. He doesn't sustain well -- run or pass -- and much like his former Wisconsin teammate
Bill Nagy
, when he has to face a rusher who plays with power or strength, it really throws him off.
Carpenter is a large man who is not slow-footed, but he is more of a catch blocker than one who punches and tries to stop the charge of the defender. The Seahawks will try to get him on the edge in the screen game and on the toss sweep as well. Carpenter has had his share of struggles with the inside rush, much like
Tyron Smith
has. For young tackles such as Smith and Carpenter, that's the biggest problem -- always thinking about protecting the outside then having to adjust back inside, which rushers like
DeMarcus Ware
will take advantage of.
The two best offensive linemen for the Seahawks are the left tackle
Russell Okung
and center
Max Unger
.
PODCAST
Official scout of ESPN Dallas Bryan Broaddus previews the Cowboys-Eagles matchup on Sunday.

Listen

Okung is impressive in the way that he tries to finish his blocks. His feet are good and he can adjust to the rush.
Unger was a player who the Cowboys were very interested in drafting three years ago after an outstanding career at Oregon, where he was an All-Pac 10 tackle and center. Unger, like Okung, is good with his feet and is able to adjust to twist stunts and blitzers. Rarely do you see him on the ground, plays on his feet. Good with the reach and cut-off blocks.
RB trio carries load well
The Seahawks have three running backs on the roster and use them all.
Marshawn Lynch
,
Justin Forsett
and
Leon Washington
all get offensive snaps.
Lynch is the main ballcarrier and there is nothing really flashy about the way he does his job. He tries to hammer defenders when they come up for the tackle. Can tell that there are plays in which he gets frustrated because of the lack of blocking that he sometimes receives. Would not call Lynch an explosive back but one that will press the hole and if necessary use his vision to find the hole to the outside to finish the run. Lynch is not the type of back that will run away from you with blazing speed but more of a steady, workman-like runner.
Lynch is a productive pass catcher with outstanding hands. Will see him used in the red zone on screens much like the Cowboys saw last week against the Eagles'
LeSean McCoy
.
Lynch's problem in the games I studied was fumbling the ball. In the Bengals and Giants games, he put the ball on the ground, killing drives for his team.
Washington is a short, explosive ball carrier. Forsett has good hands but doesn't play with the explosiveness of Washington. Washington attacks the hole with suddenness, while Forsett shows more patience.
Safeties shines for Seahawks
While the Seahawks' offense has issues, their defense is far superior to the Rams'. The Seahawks have more skill at safety, corner and pass rusher.
I was really impressed with safeties
Earl Thomas
and
Kam Chancellor
.
[+] Enlarge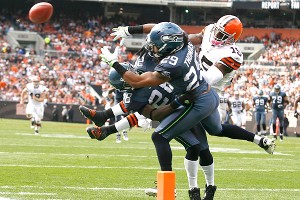 Matt Sullivan/Getty ImagesThe Cowboys likely won't catch Seahawks safety Earl Thomas (29) out of position Sunday.
Thomas shows nice range and catch-up speed to make plays. He is also used as a blitzer in this scheme. He is quick around the corner. Thomas plays assignment sound. You don't see him out of position much.
Chancellor is a physical tackler but doesn't move as well in coverage as Thomas because he is not that quick-footed. Chancellor has struggled some in the passing game. He misplayed a ball in the air against the Giants down the sideline that led to a touchdown, so you don't see him put in those types of situations often.
At corner for the Seahawks,
Richard Sherman
and
Brandon Browner
are the starters. Sherman, a rookie from Stanford, is not the most physical player but has good cover skills. Both corners like to play press coverage and can run with their men.
The Cowboys had trouble last week against the Eagles when they had to fight off the press. I am not saying that these Seattle corners are as good as the Eagles', but they do have height that helps them when they jam receivers at the line. Browner is over 6-foot-3 and Sherman is at 6-foot-2.
Watch for the Seahawks to play with a single high safety and Chancellor down in the box to handle the run. On the outside, these corners will press and make
Dez Bryant
and
Miles Austin
fight for space and hope that their pass rush can get home like the Eagles did last week.
Pass rush can be explosive
The Seahawks have two rushers that can create problems for tackles. Defensive ends
Chris Clemons
and
Raheem Brock
do a nice job. Clemons is a starter that plays the weakside defensive end, so he will flip sides opposite the strength of the Cowboys. Brock will come into the game as a nickel rusher.
Both Clemons and Brock are explosive rushers. Both like to attack the edges, but
Doug Free
and Tyron Smith have to careful when these two try to spin inside on their rush. Last week against the Eagles, the biggest struggles that Free and Smith had was when
Jason Babin
and
Trent Cole
were able to use a spin move. I expect that Clemons and Brock have studied that game, and they will test Free and Smith from the word go.
November, 2, 2011
11/02/11
3:50
PM ET
IRVING, Texas --
Tarvaris Jackson
is no
Michael Vick
.
Marshawn Lynch
is no
LeSean McCoy
.
Sidney Rice
and
Mike Williams
are no
DeSean Jackson
and
Jeremy Maclin
.
But the Cowboys expect Seattle to replicate what Philadelphia did to them last week this Sunday at Cowboys Stadium.
"I think you'll see some of those plays run against us that Philadelphia was able to have success with," defensive end
Marcus Spears
said. "If you've got a blueprint of a great house you probably want to follow it. We've got to figure out how to break into that thing and shut it down. If we do see plays that Philly had, I'm sure we'll be ready for it this time around."
Seattle coach Pete Carroll wasn't so sure his team could do what the Eagles did.
"They're kind of unique in what they have with Michael Vick. Michael's an amazing player," Carroll said. "Right off the bat, he's scrambling around and making some yards, causing some problems for guys, thinking they don't know if he's going to take off and run or sit in the pocket. He found some space and started hitting guys all over the field and, man, the thing just snowballed with the running game. Michael had a great factor in that, as he's always going to have a factor as you defend him. You're thinking about him the whole time and you're trying to design things so he doesn't control the game. They just handed the ball off and made a bunch of yards. They really probably played the game differently than even they expected to where they ran it so effectively against the best rushing defense in the NFL.
"I'd like to think that we could learn something from it, but we might have to get a moped or something for our quarterback to ride around in to be like Michael. We're not as fast as he is."
A moped?
"Well, maybe, that's probably not right," Carroll said. "Call it a Harley or something, all right?"
June, 22, 2011
6/22/11
8:44
AM ET
ESPN.com's NFL writers rank the top 10 up-and-coming assistant coaches in the league today. Next week: Top players overall.
Seven NFL teams named new head coaches after last season, tapping into a pool that included experienced coordinators and relatively unknown assistants alike. The class of 2011 featured longtime candidates (Leslie Frazier, Ron Rivera). It also included a trusted position coach in Mike Munchak (
Tennessee Titans
) and a couple of relative hotshots in Hue Jackson (
Oakland Raiders
) and Pat Shurmur (
Cleveland Browns
).
Who will comprise the NFL's next batch of head-coaching candidates? That was the question ESPN.com hoped to answer in this week's edition of the offseason Power Rankings. We established one ground rule by eliminating any assistant who has already had a permanent head-coaching job. The idea was to develop a list that focused on the "next wave" of coaching candidates.
No less than 24 NFL assistants received at least one vote, a reflection of both the variables involved in head-coaching searches and the relative lack of national name recognition for all but the most highly regarded assistants.
So in that vein, it was no surprise to see four well-known assistants at the top of our list, headed by
New York Giants
defensive coordinator Perry Fewell -- who placed first or second on six of the eight ballots.
Dallas Cowboys
defensive coordinator Rob Ryan finished second, followed by
New York Jets
offensive coordinator Brian Schottenheimer and Arizona offensive line coach Russ Grimm.
Fewell is an ideal candidate in many ways, having spent time as the
Buffalo Bills
' interim coach in 2009 and leading a substantial turnaround of the Giants' defense last season. Fewell interviewed for four head-coaching jobs last winter, and NFC East blogger Dan Graziano suggested that experience, along with a high profile afforded to coaches in New York, make him "the most likely guy on the list to be a head coach soon."
Just don't bother forwarding his name to AFC South colleague Paul Kuharsky, who couldn't find room for Fewell on his 10-man ballot. Kuharsky noted the Giants' poor performance in Week 2 last season against the
Indianapolis Colts
, during which quarterback
Peyton Manning
threw three touchdowns and cruised to an easy 38-14 victory.
"Certainly I'm letting one game overinfluence my ballot," Kuharsky muttered. "But Fewell's plan for the Giants against the Colts last season was so bad that I could not help but score him down for it. Was he not familiar with how Peyton Manning and Indianapolis operate?"
We can't cover every coach who received votes in this exercise, but let's hit some of the more interesting names that received attention.
Another Ryan?
Deserved or not, Ryan has long been considered a loose cannon. There is little doubt about his schematic prowess, but hiring him would require a confident owner ready to make a leap of faith.
The success of twin brother Rex Ryan with the Jets might have softened the perception of that risk, and collectively we see Rob Ryan on the doorstep of a job.
"Similar to Rex, Rob Ryan is good with X's and O's and has the type of outgoing personality players want to be around," AFC North blogger James Walker said. "I think both are equally important in today's NFL. Both brothers say exactly what's on their mind, and before that scared off a lot of teams. But Rex broke the ice with his success in New York and that could help Rob in the future."
The next generation:
Schottenheimer has turned down more opportunities to interview for head-coaching jobs than he has actually submitted to. He has nixed requests from the
Miami Dolphins
and Bills in recent years, but he did interview for the Jets' job that ultimately went to Ryan. I placed him atop my ballot (he finished No. 3 overall) because I think NFL people have made up their mind that he is the kind of young and innovative assistant who can turn around their franchise. (Think: Cowboys coach Jason Garrett.)
Schottenheimer's pedigree doesn't hurt -- he's the son of longtime NFL coach Marty Schottenheimer -- and I'm not sure how closely teams will dissect the specifics of the Jets' offensive performance. Graziano, on the other hand, thinks Schottenheimer is close to coaching his way out of the golden-child image he cultivated and left him off his ballot.
"Having spent a good amount of time around that team the past couple of years, I just feel like defensive coordinator Mike Pettine is the more likely guy to end up a head coach," Graziano said. "Schottenheimer's under a ton of pressure as Ryan defers the offensive responsibilities to him. I feel like, if the offense has a bad year, he could end up in trouble or even out of a job. And given their youth at quarterback and running back and the uncertainty of their receiver situation, a bad year for the Jets' offense is possible.
"Now, he could be a genius, make chicken salad and be the next hot name eight months from now. But I think there's the potential that he may have already peaked as a hot coaching prospect and that he might not be set up to succeed in New York."
The big fella:
Four years ago, Grimm thought he would be the next
Pittsburgh Steelers
coach. He moved to Arizona after the Steelers selected Mike Tomlin instead, and we view his status as a head-coaching candidate with wide disparity.
AFC West blogger Bill Williamson put Grimm atop his ballot, and AFC East blogger Tim Graham had him No. 2. Kuharsky and I left him off.
Williamson thinks Grimm has moved to "the top of the food chain" largely because most of his "hot-name" contemporaries have already gotten jobs. As well, Graham suggested that it will soon be Grimm's turn because he is still well-regarded throughout the league.
Personally, I couldn't get past Grimm's well-publicized gaffe after interviewing with the
Chicago Bears
, after which he referred to the team owners as the "McClaskey" family. I also agree with NFC West blogger Mike Sando, who ranked Grimm No. 8 and wondered: "Is he still ascending? Grimm seems content coaching the line in Arizona. He has plateaued and doesn't seem to be losing any sleep over it."
Welcome back:
Unless you're a college football fan, you might not have heard of
Jacksonville Jaguars
offensive coordinator Dirk Koetter. He spent six years as the head coach at Arizona State, but has drawn some quiet acclaim for his work with the Jaguars and made a strong impression while interviewing with the
Denver Broncos
last winter.
"In a setting where he won't have to deal with boosters and can shine for being a smart X's and O's guy with strong coaching DNA," Kuharsky said, "I think he'd do far better. He's smart and will interview quite well. He really impressed John Elway and the Broncos before losing out to John Fox's experience. St. Louis wanted him as coordinator, but Jacksonville wouldn't let him go. He's heading into the final year of his contract. How
Blaine Gabbert
develops early on will have a big bearing on Koetter's future."
Secret weapon:
In two years, the
Tampa Bay Buccaneers
have developed quarterback
Josh Freeman
into one of the better starters in the league. The man largely responsible is offensive coordinator Greg Olson, who navigated a disastrous 2009 preseason -- coach Raheem Morris promoted him in the middle of training camp after firing Jeff Jagodzinski -- and NFL teams often seek out coaches with success developing young quarterbacks.
"I think Olson deserves a ton of credit for developing Freeman so quickly," said NFC South blogger Pat Yasinskas. "Freeman threw for 25 touchdowns and six interceptions in his first full season as a starter and carried an incredibly young team to a 10-6 record. I also think people need to look at what Olson did last year with rookie running back
LeGarrette Blount
and rookie receiver
Mike Williams
. He helped make them into instant stars."
Super Bowl entitlement:
The
Green Bay Packers
were the only team to place more than one name in the top 10, as would be expected from a championship team. Assistant head coach/inside linebackers Winston Moss is at No. 6, while safeties coach Darren Perry finished No. 10. I also voted for receivers coach Edgar Bennett, who has moved over from running backs coach and is clearly being groomed for bigger things.
I'll detail my ranking of the Packers' assistants, including why I think so highly of Perry, in a future post for NFC North readers. But we'll say this for now: Moss is a strong leader who has drawn interest from the Raiders, while Perry is a disciple of Packers defensive coordinator Dom Capers and his coveted 3-4 scheme.