Dallas Cowboys:

Mike Zimmer
July, 11, 2014
Jul 11
2:00
PM ET
IRVING, Texas -- Part 1 of the
Dallas Cowboys
' Twitter mailbag is ready.
In it we discuss:
The potential of Tyrone Crawford
The potential of the defense overall
The potential of Jason Garrett
The potential of Sean Lee
Away we go:
@toddarcher chances Tyrone Crawford has 7+ sacks this year? Cowboys liked his motor out of Boise State before the injury! #cowboysmail

— James Jacobs (@Texas_Nation84) July 10, 2014
@toddarcher: Everybody wants to heap a pile of expectations on Crawford. Jason Hatcher did it. Tony Romo did it. Jerry Jones did it. The coaches have done it. I'm just not ready to say he will have seven or more sacks in 2014. I think if he had five, that would be a good year. Remember, he is coming off a torn Achilles that cost him the 2013 season and he did not have a sack as a rookie in 2012. He was good, solid, dependable, but he never got the quarterback. He had a good spring, but he also expressed some worry that he was still having pain in his leg even if it is considered normal. A five-sack season would be a good way for Crawford to rebound. If he has seven, the Cowboys will be ecstatic. I'm not saying he doesn't have the potential for that kind of season. I just want to see some more evidence before jumping on an already crowded bandwagon.
@toddarcher Keep hearing about defense being worse. What does history say? How do 32nd-ranked Ds generally do the next season? #cowboysmail

— PJWick23 (@PJWick23) July 10, 2014
@toddarcher: Thankfully the fine folks at bloggingtheboys.com have already looked this up. Generally, they do better. Only one team in the past 19 seasons allowed more yards after giving up the most yards in the NFL. Unfortunately that team was the 2008 Detroit Lions coached by Rod Marinelli, who takes over as Cowboys' defensive coordinator. According to BTB, the average improvement is 827 yards from the previous years. Sixteen of those 19 had more wins the following season, which bodes well for the Cowboys. I think the defense will be better in 2014 because it can't be worse. Well, I know it can be worse, but I think Marinelli will make a positive impact. I think you will see the Cowboys go from No. 32 in yards to the Nos. 20-25 range. Call me crazy.
@toddarcher #cowboysmail Rank Jason Garrett as a NFL head coach? Who is worse?

— Mike in Duncanville (@mikedville) July 10, 2014
@toddarcher: I'm going to take the new head coaches out of the mix, so no Bill O'Brien, Mike Zimmer, Jay Gruden or Mike Pettine. He clearly isn't among the best in the league. I don't think he's the worst either. I've got Jason Garrett as better than Doug Marrone, Gus Bradley, Joe Philbin and Dennis Allen. I think he's better than Jim Caldwell. I think he's better than Marc Trestman. To me, guys like Jeff Fisher and Lovie Smith are overrated, but that is just my opinion. I'd put him in with guys like Ron Rivera, Mike McCoy and Ken Whisenhunt, and, yes, I realize those guys have made the playoffs or a Super Bowl (Whisenhunt). Garrett is in that 18-23 range, to me. Middle of the road. Much like the Cowboys.
@toddarcher Is it time for the team to move on from Sean Lee? #Cowboysmail

— Jason Hamby (@IPAzRGR8) July 7, 2014
@toddarcher: Maybe I'm just being stubborn on this one, but no. Contractually they can't really walk away yet even if they wanted to ... and they don't want to. I realize Lee has had his share of injuries, but he is an impactful player. He has shown too much even with missing so many games. I'm going to take my chances that he will be healthy eventually. I don't doubt he will come back from the torn anterior cruciate ligament. While still a major rehab, it is not as daunting or as uncommon as it was in the past. Lee will do everything he can do be ready. Sometimes this stuff comes down to luck. Maybe all of Lee's bad luck is out of his system and he'll be able to play a full season in 2015 and beyond. I wouldn't want to see him do it elsewhere for another team..
January, 15, 2014
Jan 15
12:45
PM ET
IRVING, Texas -- Mike Zimmer is finally a head coach in the NFL. The
Minnesota Vikings
will reportedly name him their next head coach, and it's about time Zimmer got a shot.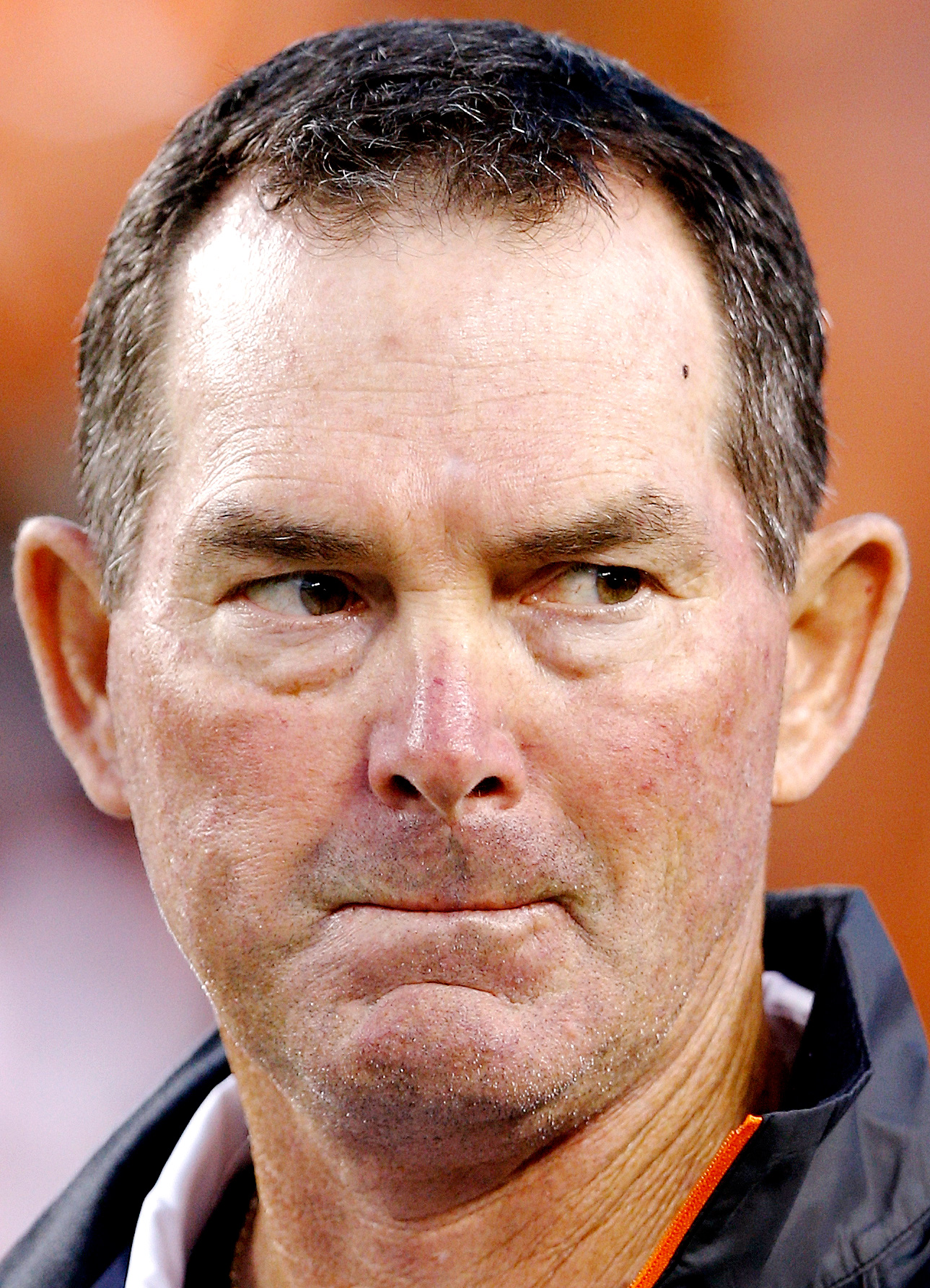 Zimmer
He deserved one a few years ago. Kudos to the Vikings and Rick Spielman for hiring Zimmer, who was a
Dallas Cowboys
' assistant from 1994-06 and still has a home in the area.
But let's put to rest something about the Cowboys running Zimmer off after the 2006 season. They didn't.
If you believe that, then you can never be upset with the notion that Jerry Jones picks the assistant coaches. Never.
After Bill Parcells retired, Jones interviewed 10 candidates. Three were on the staff: Tony Sparano, Todd Haley and Todd Bowles. Zimmer wasn't one of the interviewees.
Jones finally picked Wade Phillips as coach because of Phillips' success in running a 3-4 defense. The Cowboys had just finished their second year running the scheme. Their work in the draft and in free agency was about finding 3-4 players.
Were the Cowboys going to keep Zimmer as the coordinator in 2007 with Phillips running his own defense? Of course not. This was Phillips' defense and Phillips' team. And if they did, then we would have heard more complaints that Jones would not let Phillips hire either coordinator, Zimmer or Jason Garrett, who was actually hired before Phillips.
There is also some revisionist history regarding Sean Payton's tenure here too; that Jones never should have let Payton walk to the
New Orleans Saints
. Was Jones supposed to get rid of Parcells after the 2005 season so he could keep Payton from taking the New Orleans Saints' gig? Of course not.
Now if you want to say Jones should have done more to get Payton after the coach was suspended for a year by the NFL and had a little bit of time as a free agent in 2012, then I'm with you. But in 2006 there was no way of knowing Payton would become what he is today.
Let's bring this back to Zimmer and 2006-07.
Zimmer's expertise had been in the 4-3, but when Parcells wanted to make the switch to the 3-4 in 2005, Zimmer became an expert on it as well. It's part of the reason why he coordinated such strong defenses with Cincinnati and partly why he got the job with the Vikings today.
January, 9, 2014
Jan 9
8:00
AM ET
IRVING, Texas -- The
Dallas Cowboys
are not in a search for a head coach. Jason Garrett will be back for his fourth full season in 2014.
The
Tampa Bay Buccaneers
(Lovie Smith) and
Houston Texans
(Bill O'Brien) have landed their guys. The
Washington Redskins
,
Tennessee Titans
,
Cleveland Browns
,
Detroit Lions
and
Minnesota Vikings
are still in the search process.
And they have been elaborate.
The Redskins' list has 11 names, including Cowboys special teams coach Rich Bisaccia. Bisaccia's name has turned up in the Titans' chase too. A lot of the searches have the same names with guys like Jay Gruden, Mike Zimmer, Ken Whisenhunt, Todd Bowles, Jim Caldwell, Dan Quinn and James Franklin.
In 2007, Jerry Jones cast a wide net to find Bill Parcells' successor.
He interviewed 10 coaches, including three from Parcells' staff -- Tony Sparano, Todd Haley and Todd Bowles -- and a former assistant in Gary Gibbs. Unlike the Redskins, he did not interview any assistant from NFC East teams.
Including Wade Phillips, who was Jones' pick, and Garrett, who took over for Phillips in the middle of the 2010 season, eight of the 10 interviewees became head coaches: Sparano with the
Miami Dolphins
, Haley with the
Kansas City Chiefs
, Norv Turner with the
San Diego Chargers
, Ron Rivera with the
Carolina Panthers
, Jim Caldwell with the
Indianapolis Colts
and Mike Singletary with the
San Francisco 49ers
.
Only Bowles and Gibbs have not been named head coaches, although Bowles has a chance in Cleveland or Minnesota.
Of the eight the only two not to take their team to the playoffs are Garrett and Singletary.
In 2010, Jones' search was not as prolific. He liked what Garrett did in taking over for Phillips in finishing 5-3 without
Tony Romo
, who was out with a broken collarbone. Jones interviewed wide receivers coach Ray Sherman and also brought Bowles back for another look.
The job was always going to be Garrett's so Jones did not need to put out a lot of feelers.
Jones could be in the head -oach business in 2015 if things do not go well for the Cowboys. The feeling is that the next search will look more like the one in 2007 than 2010.
December, 17, 2013
12/17/13
8:00
AM ET
IRVING, Texas -- So many things to wonder, so little time.
It's Five Wonders and we're hitting big topics right off the top.
Away we go:
** I wonder if the Cowboys have a decision to make on
DeMarcus Ware
in the offseason. Ware is set to count $16.003 million against the salary cap in 2014. He has a base salary of $12.25 million. The Cowboys have reworked his contract numerous times over the years, even adding voidable years to it to help with the prorated amounts. They will need to restructure more contracts in the offseason to get under the projected $126.3 million salary cap in 2014. They will also have to cut some high-priced veterans. Perhaps even Ware, which seems shocking in a way. Ware has only six sacks with two games to go. He missed three games because of a quadriceps injury and has not been effective for much of the past month. He was so good in training camp. He made
Tyron Smith
look bad on an almost daily basis. Is it just health? Ware says he is healthy. Is it age? Ware turns 32 next July. The Cowboys have made mistakes with age before. Jay Ratliff comes immediately to mind. Ware is far from Ratliff. He is the right kind of guy. He works hard. He is a good teammate. He plays hurt. Ware has not only missed three games but he is playing only 67.2 percent of the snaps when he does play. It is one thing to commit $16 million to a guy on the cap when he is getting you anywhere from 12 to 18 sacks a season. It's another thing to do it when he is struggling. If the Cowboys released Ware, their all-time leader in sacks, they would save $7.43 million against the cap. Jerry Jones has a hard time with these types of decisions. Could he ask Ware to take a cut in pay? Would Ware accept one?
[+] Enlarge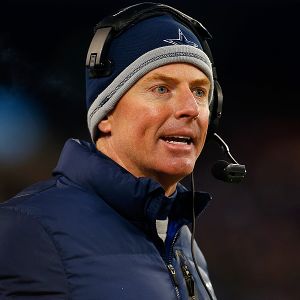 Mike Stobe/Getty ImagesIs Jason Garrett's future in Dallas secure?
** Mike Shanahan won't be the
Washington Redskins
' coach in 2014. Could he join the
Dallas Cowboys
' coach? If Jones decides to part ways with Jason Garrett, then Shanahan's name will be linked to the Cowboys just because he's a name. Same with Jon Gruden. But let's stick with Shanahan here for a moment. Now it's difficult to take Albert Haynesworth's word for much. After all he did stomp on Andre Gurode's head in 2006. But Haynesworth said last week in Washington, D.C., that it is in Shanahan's contract that Daniel Snyder has to limit contact with the players. I can understand why Shanahan would want that in there. It helps him control things more. But I wonder if Shanahan would ever come here because you know Jones would never EVER have that in coach's contract. Jones moved to the background when Bill Parcells was coach but he did not disappear.
** Let's stick with the head coaching theme and the possibility of Garrett's demise. Forget "who" Jerry Jones targets. I wonder "what" kind of coach he targets. Shanahan and Gruden have Super Bowl rings on their résumé, but Jones has said before he does not necessarily want a coach with a championship because he does not believe the coach has the same fire. (Yes, I realize Parcells is an exception.) I wonder if Jones goes for a defensive coach. The offensive personnel figures to be mostly the same in 2014:
Tony Romo
,
Jason Witten
,
Dez Bryant
, Smith,
Travis Frederick
,
DeMarco Murray
,
Terrance Williams
and
Gavin Escobar
. The defense needs the re-tooling. Does Jones go after a defensive coach? There's a lot of work to do there obviously and not as many parts. Who is a building block?
Sean Lee
. The rest you hope can rebound from poor seasons. If Jones goes defense, I wonder if he would go with a first-time coach or a veteran head coach. Would Mike Zimmer be in the mix? Lovie Smith? None of this matters if the Cowboys win their final two games.
** I wonder if Murray's performance over the past month or so is making those at Valley Ranch rethink their thoughts about his long-term future. Murray is 23 yards away from reaching 1,000 yards for the season. He probably should have hit that number against the
Green Bay Packers
if they just ran the ball more. He will get it this week against the Redskins barring something unforeseen and he will do it in just his 13th game of the season having missed two games with a knee injury. That's pretty impressive. He has run harder as the season has gone on but has left yards on the field as well. The prevailing wisdom is that running backs can be found here, there and everywhere and you only commit long term to the
Adrian Peterson
types. Murray is not that kind of back but he has had his best season. He is signed through 2014.
** If the Cowboys lose Sunday and the
Philadelphia Eagles
win, I wonder how the Cowboys approach the season finale against the Eagles. The Cowboys will be out of the playoff chase. In 2005 the Cowboys were eliminated before their finale against the
St. Louis Rams
but Parcells chose to go with his starters and lost 20-10. Many inside the organization wanted to see him start Tony Romo in that finale, but the coach stuck with
Drew Bledsoe
. Not to go all Herm Edwards on you here, but you play to win the game. If you can take a look at a player, then fine. The problem the Cowboys have is they don't have much in the pipeline you would want to see. Maybe
Jermey Parnell
gets a shot at right tackle, but
Doug Free
hasn't done anything to be benched and should be back in 2014. Maybe Escobar takes the bulk of the backup tight end snaps over
James Hanna
. Would that change any perceptions of Escobar as he heads into his second season? Could Williams get the work over
Miles Austin
? Yeah, but that has happened for most of the season.
August, 27, 2013
8/27/13
9:00
AM ET
IRVING, Texas – The Cowboys have one more preseason game to go, Thursday against Houston, but since they're not playing their starters, we're not wondering much about what will happen.
This week's Five Wonders touches on a potential trade decision, Jason Witten's blocking as well as Tony Romo's accuracy.
On to the Wonders:
PODCAST
Stretch Smith joins Galloway and Company to discuss five positive and five negative things he took away from the Cowboys' fourth preseason game.

Listen

** Let's talk trade. Not a big trade, but just something I'm wondering about with the Cowboys as they start the process of trimming the roster and possibly looking at players from other teams. I wonder if the Cowboys could look to move defensive end
Sean Lissemore
. This isn't to say they should trade him or that he has had a poor camp and won't get a spot on the 53-man roster. Lissemore signed a four-year extension with the Cowboys that included $3.17 million in guaranteed money last season. I think he's a good, solid role player. He just might not be the best fit for a 4-3 defense. The Cowboys need help on the offensive line, but to expect major moves at this time of the year is just not realistic. You're talking about acquiring a player like
Ryan Cook
, who was picked up last year from Miami a week before the season for a seventh-round pick. Lissemore's age, friendly contract and ability to play a couple of spots might be able to bring some value in return to the Cowboys where they need it most.
**
Jason Witten
set a record for catches by tight ends in a season with 110 last year. Even more remarkable is the fact that he had only eight catches after the first three games. But I wonder if the Cincinnati game is a sign that things might change in 2013. Of Tony Romo's 18 passes against the Bengals, Witten stayed in pass protection eight times. That's a high percentage. With his backups,
James Hanna
,
Gavin Escobar
and
Dante Rosario
, not known for their blocking perhaps Witten will find himself helping the line more than he has in the past. Over the last five seasons Witten has averaged 92 catches a year. In 2011 he caught 79 passes for 942 yards and five touchdowns. While still a very good season, those are not typical Witten numbers, but I wonder if that is the neighborhood he will be in this year.
**
Tony Romo
is something of a tech-junkie. The quarterback kind, anyway. He likes to tinker with his mechanics the way a golfer tinkers with his swing in an attempt to find a better release point, better footwork, better whatever. Romo has hinted at arm angle changes this summer that have been able to hold up in his work in the preseason. He completed 72 percent of his preseason passes (26 of 36 in three games). And it wasn't like he was throwing a ton of short throws to
Jason Witten
or his running backs. So I'm wondering if Romo will set a career high in completion percentage this season. His previous best for a full season is 66.3% in 2011. He completed 69.5% in five-plus games in 2010 before a broken collarbone ended his season.
Troy Aikman
holds the Cowboys' team record at 69.1% in 1993.
** I wonder if the Cowboys are putting too much faith in
Ronald Leary
. This has nothing to do with Leary's ability to return rather quickly from a knee scope or not. This has to do with Leary having not played in a game yet and the fact that he was an undrafted free agent a year ago who spent most of the season on the practice squad. Leary was decent in his preseason work before needing the surgery but the Cowboys' flirtations with
Brandon Moore
and
Brian Waters
were about Leary, at least to a degree. Leary might be the Cowboys' best option but the bar should be higher than comparing him to
Nate Livings
.
** Through four preseason games the Cowboys have nine takeaways: five interceptions and four fumbles. Last year the Cowboys forced only 16 turnovers on the season. They had nine in their first nine games. I wonder how many games it will take the Cowboys this season to force nine turnovers. The ability to turn the emphasis of taking the ball away into actually taking the ball away is impressive. The Cowboys did similar drills with Rob Ryan, Paul Pasqualoni, Wade Phillips, Brian Stewart and
Mike Zimmer
at defensive coordinator but they were hardly ever able to see the fruits of that work during games. The quarterbacks the Cowboys face in the first four games of the season –
Eli Manning
,
Alex Smith
,
Sam Bradford
and
Philip Rivers
- threw 48 interceptions last season. Smith has thrown just 10 picks in his last 25 starts and is playing for a new coach in Kansas City.
August, 23, 2013
8/23/13
11:00
AM ET
ARLINGTON, Texas -- The
Dallas Cowboys
' starters will play more Saturday than in any of the four other preseason games, and Jason Garrett knows what to expect from the Cincinnati defense: a lot of pressure.
PODCAST
Former TCU and current Bengals quarterback Andy Dalton joins Fitzsimmons and Durrett to discuss the expectations for the Bengals this season, give a prediction for the TCU-LSU game and talk about what it's like having the Hard Knocks cameras follow him.

Listen

Bengals defensive coordinator Mike Zimmer, the former Cowboys assistant, won't have his full complement of players but that doesn't mean he will back down.
"Zim's an aggressive, competitive guy," Garrett said. "He brought it all in the first preseason games. That's just his nature. He's brought it all since I've known him. That's what makes Zim great. You've got to be ready for that stuff."
The Cowboys saw some of that aggressiveness during last year's regular-season meeting at Paul Brown Stadium, which they won 20-19.
Tony Romo
completed only 58.1 percent of his passes and was sacked three times.
The Cowboys will not have a full game plan, but it will be the most involved of the preseason.
"You have to be ready for anything," Garrett said. "One of the things we believe in is hopefully you've structured your offensive and defensive systems in such a way that you don't have to game plan. You can kind of go by your rules to handle all of the different things you may or may not see. So hopefully we will be able to do that as a football team."
Sean Lee
,
DeMarcus Ware
,
Jason Hatcher
,
Brandon Carr
and
Bruce Carter
have seen sparse action in their first two preseason appearances.
"[The Bengals are] a good football team," Lee said. "They're a playoff-caliber team. We had a really tough game against them last year, so we know it's going to be a tough challenge and we're going to have to be ready for it."
December, 11, 2012
12/11/12
12:31
PM ET
IRVING, Texas – The Cowboys had 10 drives in Sunday's win against Cincinnati but they struggled for answers in most of them.
The different zone blitz looks that Bengals defensive coordinator Mike Zimmer gave the Cowboys had them confused. After the Cowboys' first drive, in which
Tony Romo
completed 5-of-6 passes, Romo had only one drive in which he completed more than one pass in the next six drives.
The Cowboys could not block
Geno Atkins
. Every offensive lineman had at least one breakdown in pass protection and they could not get a push up front.
On the eighth drive, which started at the Dallas 2, something started to click. It started with a slant to
Miles Austin
on five-man pressure. It was the first completion the Cowboys had against five-man pressure in the game as they started out 0 for 6. That drive ended with a punt, but it gave the offense a template off which to work on their final two drives.
On the ninth drive, Romo and Austin hooked up again when the Bengals came with five defenders. Romo was hit as he threw it, but he waited just long enough for Austin to clear the second window to make the grab on the run. The Cowboys had 15 yards and a first down. On the next play
Dez Bryant
had his 27-yard touchdown.
It came after Bryant made the wrong route read, going behind the cornerback on his crossing route, but Romo had enough time to wait for Bryant coming across the middle and threaded a throw in which Bryant was able to sprint into the end zone.
On that ninth drive the Cowboys found some success with 11 personnel runs (three wide receivers). On the 10th drive,
DeMarco Murray
was able to get the crucial first down on third and 5 on a 11-personnel run, bouncing to the right against an eight-man box.
Dwayne Harris
did just enough on the corner on the outside for Murray to cut inside to lunge for the first down with a defender on his back.
Romo's second biggest completion of the drive (the first was the third-down throw to
Jason Witten
) came when Zimmer brought five guys on first-and-10 from the Dallas 42 and he waited for a crossing Bryant for 9 yards.
After starting 0 for 6 against five-man pressure, Romo completed three of his final four vs. Zimmer's pressure.
Romo completed 19-of-28 passes against four-man pressure, 2-of-3 against six-man pressure and missed on both of his throws on three-man pressure. He had one goal-line throw.
How was the Cowboys' offense given a chance to make the comeback? The defense finally made plays when it needed to after failing to do so in six previous games.
Rob Ryan's unit has been criticized and deservedly so, injuries or no injuries, but
DeMarcus Ware
and
Anthony Spencer
came up with the two biggest plays in the fourth quarter.
Ware's 3-yard sack of
Andy Dalton
came on third-and-12 when Ryan chose to rush three guys. And everybody hates that, right? Running back
Brian Leonard
did not get a good enough chip on Ware, giving the Pro Bowl linebacker the chance to sprint by right tackle
Andre Smith
and track down Dalton for the first stop.
Spencer's sack came when he lined up at inside linebacker in the dime defense. I wonder if he was there because
Ernie Sims
was hurt. Most of the time when he lined up at inside linebacker in recent weeks, he dropped into an underneath zone. On this third-and-4 play, he was able to beat guard
Kevin Zeitler
up the middle to get into Dalton's face quickly.
Jason Hatcher's play in the final two drives should also be recognized. He had two pressures and drew a holding penalty.
December, 7, 2012
12/07/12
9:21
AM ET
IRVING, Texas – The only players remaining from the Cowboys last trip to Cincinnati are
Jason Witten
and
Tony Romo
, and Romo was the No. 3 quarterback on Nov. 7, 2004.
Witten caught six passes for 97 yards but the Cowboys were trounced 26-3 at Paul Brown Stadium.
"I don't remember anything about it," Witten said.
Because the Bengals are such an unfamiliar foe, Witten said there has been more film study this week than if they were playing a division or even a conference foe.
"I think it's just more detail," Witten said. "You keep turning every page, watch it. You got to stay focused with it. Just get familiar with their scheme and what they're trying to do. They do a good job of pressure, pressure, pressure and then bail everybody out of there. Then (you study) each individual player and how they like to attack it. I think it starts with their front four. They do a good job of getting to the quarterback."
Quarterback Tony Romo said the Bengals have the best front the Cowboys have faced this season. Cincinnati leads the NFL in sacks with 39 and defensive tackle
Geno Atkins
leads the way with 9.5. Thirteen different defenders have recorded at least a half sack. Only five Cowboys have recorded a sack this year.
"You watch every cut up, every game and go through everything you can to exhaust all the options so that you know what to get to and the adjustments to make in the game as to what they're doing and the way they like to do things," Romo said. "(Defensive coordinator Mike Zimmer) has done a great job. They've got a very diverse defense scheme wise. They run a little bit of everything. With the way their guys up front are playing right now it's going to be a very big challenge for us."
December, 6, 2012
12/06/12
9:18
AM ET
IRVING, Texas – For this week's The Other Side segment, we check in with Geoff Hobson of Bengals.com, who has covered the club for more than 20 years.
Todd Archer -
How has
Terence Newman
played in his first year for the Bengals?
He's stayed healthy, which will surprise some Cowboys fan.
Geoff Hobson -
He's been their most durable corner and is having a very solid year starting opposite
Leon Hall
. They have allowed one TD passin their four-game winning streak, and they've held QBs to a 65.2 passer rating. Web sites from profootbalfocus.com to ESPN have graded him highly through the year. He says 70 percent of it is being re-united with Mike Zimmer.
TA -
Let's stick with the former Cowboy theme and move on to Mike Zimmer. The Bengals defense is performing well and Zimmer really seems to have found a home there. How has he done it and do you think he can be a head coach somewhere one day?
GH -
Vintage Zimmer. Tough vs. the run, no screw-ups, no big plays, make them think you're blitzing a lot when you're really not and when you do it is just full barrel. They've given up just five-plus 20 runs and none of 40. He's got his kind of corners, physical, smart, and they think he walks on water. Plus, he's really riding this defensive line. Has to be the best he's ever had. A lot of four-man pressures so he can toy with different coverages.
The guy will be a head coach, I'm convinced. His reputation is just too good around the league and there are just too many teams in trouble. Players love him.
TA -
From afar, how do you see the similarities in the way Mike Brown and Jerry Jones run their teams as the only owner/general manager types in the NFL?
GH -
Pretty damn close in the since both have the final say in football matters and both have refused to relent against withering criticism. The biggest difference is Jerry has other business interests while Mike's only gig is the Bengals. They also have polar opposite views of NFL economics. But they've got more in common than people think. Note neither has naming rights for their stadium.
TA -
We saw
Andy Dalton
excel at TCU and he seems to be doing the same there. Is he a franchise quarterback or a notch just below that level?
GH -
Good question. I think so, but it's hard to say he is right now when he's 0-5 vs. the Ravens and Steelers. But he got them to the playoffs as a rookie and has them in the hunt again, which speaks volumes of his ability and his ample intangibles. To me, he is one in the making with Montana-like bent with brains and touch passing. Just give me a few more fourth-quarter comebacks (five of his 16 wins, which is excellent) and a couple of big AFC North wins. But he's on his way.
TA -
How good is
A.J. Green
?
GH -
He'll be the greatest Bengal who ever touched the ball and the debate will be between him and Hall of Fame left tackle Anthony Munoz for the greatest Bengal ever. He catches everything, from crossing routes to 9 routes. He can run after the catch and he can power up like he's going up on an NBA backboard. Beast is an understatement
January, 6, 2012
1/06/12
11:37
AM ET
IRVING, Texas -- One of Jason Garrett's final messages to the Cowboys' players on Monday was to watch the playoffs and let the feeling burn a little and serve as motivation in the offseason.
If the players take Garrett up on that message, then they will see some familiar faces playing or coaching on wild-card weekend. There are 10 former players among the six teams playing this weekend and five former coaches.
Cincinnati – Mike Zimmer, Pacman Jones,
Dennis Roland
Pittsburgh –
Shaun Suisham
Houston – Wade Phillips, Reggie Herring, Bobby King
New York Giants
–
Chris Canty
. (
Isaiah Stanback
is on the practice squad.)
Detroit –
Bobby Carpenter
,
Leonard Davis
,
Stephen Peterman
New Orleans –
Pat McQuistan
,
Scott Shanle
, Sean Payton
Only Denver and Atlanta do not have former Cowboys players and coaches.
December, 10, 2011
12/10/11
10:30
AM ET
IRVING, Texas --
Eli Manning
will make the 15th start of his career, including playoffs, against the Cowboys on Sunday.
His first win as a pro came on Jan. 2, 2005, when he beat the Cowboys, 28-24, at Giants Stadium. He has seen Mike Zimmer coordinate Cowboys' defenses. He has seen Wade Phillips coordinate Cowboys' defenses.
On Sunday he gets Rob Ryan's defense for the first time.
"I'll just keep looking at it until I get familiar with it and get an idea of what we might see and try to handle everything with their pressures and blitzes," Manning said during the week. "I know we'll have a good plan for the team. The whole situation is a little different having not played Dallas till late this season with a new coordinator."
Manning sees differences in how the Cowboys attack under Ryan.
"I think they do a good job of mixing in different pressures, but it's still a defense that is filled with talent," Manning said. "It starts with their ability to get to the quarterback. When you have
DeMarcus Ware
, [Anthony] Spencer, and [Jay] Ratliff and that front seven's always talented. They do a good job causing problems in the run game and get to the quarterback. You've got to account for those guys and make sure you can get those guys blocked up to give yourself a shot to have more success."
January, 3, 2011
1/03/11
6:27
PM ET
IRVING, Texas -- Jason Garrett praised the job Paul Pasqualoni did as the Cowboys' defensive coordinator in the final eight games, pointing to the circumstances.

But Garrett, who danced around questions about his future as a head coach, did not offer any hints about whether he'd want to keep Pasqualoni as the defensive coordinator.

"When you look at it on the whole, he was put in a difficult situation in the middle of the year and tried to implement some of the changes we wanted to do," Garrett said. "I thought he handled the situation well. I thought our players responded to him.

"I think we need to get better on defense. There is no question about that."

The Cowboys ranked 23rd in the NFL in total defense (351.8 yards per game) and 31st in scoring defense (27.3 points). The yardage totals got worse and the scoring totals only slightly improved in the second half of the season.

However, the Cowboys made major strides in a category strongly emphasized by Garrett. The Cowboys forced 20 turnovers in the second half of the season, twice as many as they forced in the first eight games under Wade Phillips. The Cowboys had four defensive touchdowns in the last eight games and set up several other scores with turnovers.

"We've talked about the importance of turnovers and that being really the most significant stat in football and how turnovers correlate to scoring points and how scoring points correlates to winning," Garrett said. "I thought the defense did an outstanding job really getting the ball from the opposing offense, knocking it out and picking up a fumble like happened the other day or being awfully good at going and getting the ball and intercepting it…. I know that certainly helped us offensively score more points and contribute to winning. So that's an important of it."

Garrett said that it was ultimately his decision to appoint Pasqualoni as the defensive coordinator after Phillips' firing, although he discussed the issue with Jerry Jones. Garrett said that he had not had discussions with Pasqualoni about whether he might continue being the defensive coordinator.

If Garrett does not go with Pasqualoni, there could be several candidates to become the Cowboys' defensive coordinator, depending on decisions made about other coaching staffs around the league.

Miami defensive coordinator Mike Nolan might be a good fit if the Dolphins' staff is fired. Miami assistant head coach/secondary coach Todd Bowles, a recent Cowboys assistant, could also be a candidate. Former Cowboys defensive coordinator Mike Zimmer, who prefers the 4-3 but coached the 3-4 under Bill Parcells, might return to Valley Ranch if the Bengals clean out the coaching staff. Another possibility is trying to recruit former Cowboys defensive line coach Todd Grantham, who has experience as the Browns' defensive coordinator, back from University of Georgia.

Dom Capers would probably be Garrett's first pick, which is why the Cowboys tried to sign him as a consultant in 2008. However, Capers has built a top-five defense in Green Bay and not available due to his contract with the Packers.
January, 12, 2010
1/12/10
4:14
PM ET
Former Cowboys defensive coordinator Mike Zimmer re-signed with the
Cincinnati Bengals
on Tuesday.
There was a thought Zimmer would leave the Bengals for another job after a trying season.
Zimmer's wife, Vikki died on Oct. 8. The Bengals players dedicated the season to her.
Also, former Cowboys defensive coach Paul Pasqualoni was fired by the
Miami Dolphins
on Monday. Pasqualoni was well-liked by several of the current Cowboys players, including outside linebacker
DeMarcus Ware
.