Dallas Cowboys:

mychal kendricks
October, 10, 2012
10/10/12
9:43
AM ET
Not a lot of changes this week to the All-Division Team, which now includes nine Giants, nine Eagles, six Redskins and three Cowboys. The most significant are at quarterback, where the Redskins' concussed rookie lost his spot to the guy I think is playing the position better than anyone else in the league right now, and at outside linebacker, where
Mychal Kendricks
' first bad game as a pro was enough to cost him his spot and force all of you
DeMarcus Ware
fans to find something else to yell at me about this week.
Before we get to the list, the disclaimer that no one will read: This is an All-Division Team
based on overall performance in the season to date
. It is not --
repeat, NOT
merely a position-by-position list of the best Week 5 performances. That's why
Ahmad Bradshaw
isn't on it.
That out of the way, I present this week's edition of the team, with some explanatory notes at the bottom.
Quarterback:
Eli Manning,
New York Giants
(Last week:
Robert Griffin
III)
Running back:
Alfred Morris,
Washington Redskins
(Morris)
Wide receiver:
Victor Cruz
, New York Giants;
DeSean Jackson
,
Philadelphia Eagles
(Cruz, Jackson)
Tight end:
Brent Celek
, Eagles (
Martellus Bennett
)
Fullback:
Darrel Young
, Redskins (Young)
Left tackle:
Trent Williams
, Redskins (Williams)
Left guard:
Evan Mathis
, Eagles (Mathis)
Center:
Will Montgomery
, Redskins (Montgomery)
Right guard:
Chris Snee
, Giants (Snee)
Right tackle:
Todd Herremans
, Eagles (Herremans)
Defensive end:
Jason Pierre-Paul
, Giants;
Jason Babin
, Eagles (Pierre-Paul, Babin)
Defensive tackle:
Cullen Jenkins
, Eagles;
Linval Joseph
, Giants (Jenkins,
Rocky Bernard
)
Outside linebacker:
Ryan Kerrigan
, Redskins; DeMarcus Ware, Dallas Cowboys (Kerrigan, Mychal Kendricks)
Inside linebacker:
Sean Lee
, Cowboys;
DeMeco Ryans
, Eagles (Lee, Ryans)
Cornerback:
Dominique Rodgers-Cromartie
, Eagles,
Brandon Carr
, Cowboys (Rodgers-Cromartie, Carr)
Safety:
Nate Allen
, Eagles,
Antrel Rolle
, Giants (Allen,
Kenny Phillips
)
Kicker:
Lawrence Tynes
, Giants (Tynes)
Punter:
Sav Rocca
, Redskins (Rocca)
Kick returner:
David Wilson
, Giants (Wilson)
Punt returner:
Rueben Randle
, Giants (Randle)
Yes, I consider LeSean McCoy a better running back than Alfred Morris. No, I do not think McCoy is having the better season. Morris has more yards, more yards per carry and more touchdowns. He deserves the spot for now.
Bennett had been holding off Celek for the tight end spot because of his blocking. But Celek's blocking has also been tremendous, and for me he surpassed Bennett this week.
Will Beatty of the Giants is one more very good week away from passing Trent Williams at left tackle, and that's no knock on Williams, who's having a very good year. Beatty is playing that well.
Feel free to help me out at safety. Almost no one's playing that position well. Almost left Phillips in there even though he's out for the foreseeable future with an injury. Weak spot this year in the division.
Got a lot of grief last week for ranking Jenkins over teammate Fletcher Cox at defensive tackle. I think Cox has played well, but I see what I see. Jenkins moves all over the line and does more. I went back and looked it all over again, watched last week's game tape and this week's over to see if I was nuts. And I feel good about the pick.
As ever, I welcome your thoughts.
September, 26, 2012
9/26/12
10:23
AM ET
Yes, we have a change at the quarterback position this week, and that's the position about which everyone seems to get the most excited. But it wasn't that difficult a decision, really. Through three games,
Eli Manning
has 264 more passing yards, a marginally lower completion percentage and one more touchdown that
Robert Griffin III
. He's thrown three interceptions to Griffin's one, but these things happen when you actually throw the ball down the field. He has also taken five fewer sacks. It was close last week and remains close this week, but Manning has surpassed the rookie in terms of overall body of work in 2012.
The tougher call was actually at running back. By now you all should know about the disclaimer that no one ever reads: This is an All-Division Team
based on overall season performance to date
. It is not --
repeat, NOT
-- simply an All-Star team based on the previous week's performance. This is why
Ramses Barden
is not on it.
However, the team's running back is the Giants'
Andre Brown
, who has only played a game and a half. He won out over the Eagles'
LeSean McCoy
and the Redskins'
Alfred Morris
, each of whom has been a starter for all three games this season. Brown's addition to the team would seem to fly directly in the face of the aforementioned disclaimer, and in order for him to make the team I would have to be convinced that his six-quarter performance was more impressive than what Morris and McCoy have done in their 12. Fact is, I was.
Brown has 79 fewer rushing yards than Morris and 77 fewer than McCoy. But his yards-per-carry average of 5.6 is far better than their 4.3 and 4.5. He has three touchdowns, which ties Morris and is two more than McCoy. He has no fumbles, and neither does Morris, but McCoy has two. It was Morris, and not McCoy, who was Brown's closest competition for this week's honor, and the simple fact is that I think Brown has been the better runner this season. It was a difficult call, and with the return of
Ahmad Bradshaw
likely this week, I have to imagine this is Brown's only appearance on this list, but I thought he deserved it based on the overall performance of everyone in the division in the first three weeks of the season. Had either of the other two been performing at a standout level, it would have been impossible for Brown to overtake them after a game and a half. But neither is (and yes, I know you can argue that McCoy's issue is one of limited opportunity), so Brown gets the nod because he has.
Here's the team, which this week includes nine Giants, eight Eagles, five Redskins and five Cowboys, and I have some more observations down at the bottom:
Quarterback:
Eli Manning,
New York Giants
(Last week: Robert Griffin III)
Running back:
Andre Brown, Giants (
LeSean McCoy
)
Wide receiver:
Victor Cruz
, Giants;
Miles Austin
,
Dallas Cowboys
(Cruz,
Hakeem Nicks
)
Tight end:
Martellus Bennett
, Giants (
Brent Celek
)
Fullback:
Darrel Young
,
Washington Redskins
(Young)
Left tackle:
Trent Williams
, Redskins (Williams)
Left guard:
Evan Mathis
,
Philadelphia Eagles
(Mathis)
Center:
Will Montgomery
, Redskins (Montgomery)
Right guard:
Chris Snee
, Giants (Snee)
Right tackle:
Todd Herremans
, Eagles (Herremans)
Defensive end:
Jason Pierre-Paul
, Giants;
Jason Babin
, Eagles (Pierre-Paul,
Jason Hatcher
)
Defensive tackle:
Cullen Jenkins
, Eagles;
Rocky Bernard
, Giants (Bernard,
Fletcher Cox
)
Outside linebacker:
Ryan Kerrigan
, Redskins;
Mychal Kendricks
, Eagles (Kerrigan,
DeMarcus Ware
)
Inside linebacker:
DeMeco Ryans
, Eagles;
Sean Lee
, Cowboys (Ryans, Lee)
Cornerback:
Brandon Carr
, Cowboys;
Dominique Rodgers-Cromartie
, Eagles (Rodgers-Cromartie,
Josh Wilson
)
Safety:
Kenny Phillips
, Giants;
Gerald Sensabaugh
, Cowboys (Phillips, Sensabaugh)
Kicker:
Lawrence Tynes
, Giants (
Billy Cundiff
)
Punter:
Chris Jones
, Cowboys (Jones)
Kick returner:
Brandon Banks
, Redskins (
David Wilson
)
Punt returner:
Damaris Johnson
, Eagles (Brandon Banks)
Carr takes his place at cornerback, supplanting Wilson after Wilson's tough game against Cincinnati. Wilson is actually having a very good season overall, but Carr hasn't had one bad play that I've seen, and he gets good-teammate bonus points for moving over to safety once Barry Church went out. Carr has shut down opposing receivers in all three games, and his work against Tampa Bay's Vincent Jackson on Sunday was his best yet.
Sorry, Jason Hatcher. It might be unfair, but as a 3-4 defensive end you almost have to be over-the-top great to hold off the 4-3 sack artists. Hatcher barely beat out Babin (and fellow 3-4 end Stephen Bowen) last week, but Babin's three-game tape is simply more impressive. Could be because of the difference in the position they play, but dem's the breaks.
On the flip side, Ware hasn't looked like his usual horrifying self yet this season, and while I imagine he'll come back and take his spot, Kendricks deserves this mention for the way he's played consistently as a 4-3 outside linebacker in all three Eagles' games. Along with Ryans, he's a huge part of the reason for this season's defensive improvements.
Bennett has been a monster blocker and has caught a touchdown pass in all three games. Cowboys fans can scoff, and justifiably doubt whether it will continue. But through three games, he's been a difference-maker at tight end for the Giants.
Trent Williams left Sunday's game with a knee injury in the first quarter, which would have opened up this team's left tackle spot if anybody had been close behind him. But no one has been, as tackle continues to be a huge problem division-wide. Will Beatty of the Giants played it the best this week, but that was only one game, and Williams was excellent in the first two.
The kicker decision wasn't easy, as Cundiff continues to hammer touchback after touchback and has made every one of his field goal attempts inside 62 yards. But Tynes is 10-for-10 on field goals, and for me that's better by enough than Cundiff's 5-for-6 to overcome Cundiff's proficiency on kickoffs.
That's what I've got for this week. I welcome your thoughts, as always.
FALLING
[+] Enlarge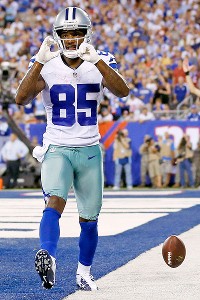 AP Photo/Julio CortezThe New York Giants secondary allowed the Cowboys and receier Kevin Ogletree to have a field day.
1. Giants' secondary.
Tony Romo had a field day in last Wednesday's opener, consistently finding open receivers in the
New York Giants
' defensive backfield. It wasn't
Miles Austin
and
Dez Bryant
doing all the damage, as
Laurent Robinson
Kevin Ogletree had the biggest statistical day and scored two touchdowns. And it wasn't just backup cornerbacks
Michael Coe
and
Justin Tryon
getting burned, as
Corey Webster
was the victim on two of the most important plays. The Giants could get a boost this weekend if
Prince Amukamara
returns from injury, but he's far from proven as an NFL cornerback and they will need to play better overall on the back end going forward.
2. Michael Vick, Philadelphia Eagles quarterback.
Yes, they won. Yes, Vick engineered the game-winning drive (something he didn't do all of last year). But four interceptions in the season opener after an offseason in which you promised everyone from King of Prussia on up to the Mars Rover that you were a new man? It's possible Vick was rusty, but if that's the case he's going to have to shake off the rust extremely soon and show proof of his offseason claims about a newfound devotion to study and detail. We didn't see much of that Sunday.
3. Roy Helu and Evan Royster, Washington Redskins running backs.
This is more about the "rising" of rookie sixth-round pick
Alfred Morris
, who was Washington's starting running back and carried the ball 28 times for 96 yards and two touchdowns. No other Redskins running back got more than two carries in the game. And while Helu still looks as though he could be an option here and there on third downs and in the passing game, for right now this appears to be Morris' job. The Redskins have health concerns about the other two backs, and Morris has played well enough to earn the carries.
RISING
1. Cowboys' defense.
The
Dallas Cowboys
believe they would have won the NFC East last year if they'd been able to cover receivers better, so they spent the bulk of their offseason resources on cornerbacks
Brandon Carr
and
Morris Claiborne
. In the season opener against the Giants, the performance of the Dallas secondary was critical. Not only did they get the Giants' excellent receivers covered with the combination of Carr, Claiborne and
Orlando Scandrick
, but safeties
Barry Church
and
Gerald Sensabaugh
both looked quick and aggressive and made smart plays on the ball. The return of cornerback
Mike Jenkins
from injury, which could come as soon as this Sunday's game in Seattle, will only deepen a position group that the Cowboys believe they have turned from a crippling weakness into a strength.
2. Redskins' secondary.
Lost amid the RG3 hype Sunday was the way the Washington Redskins' defensive backs performed, largely in man coverage. The Redskins don't usually like to isolate their cornerbacks on opposing wide receivers, but a sudden lack of depth at safety and the importance of devoting extra coverage to Saints tight end
Jimmy Graham
made it a necessity.
Josh Wilson
,
Cedric Griffin
and
DeAngelo Hall
were up to the task and covered the New Orleans receivers well all day while the linebackers and safeties did their best to try and slow down Graham. A perceived weakness of the team in the preseason, the secondary deserves praise for its effort in the opener.
3. Dominique Rodgers-Cromartie, Eagles cornerback.
The Eagles' defense was strong overall, and the performances of linebackers
DeMeco Ryans
and
Mychal Kendricks
as well as safeties
Nate Allen
and
Kurt Coleman
are all worthy of mention. But Rodgers-Cromartie is a player on whom lots of folks have their eye in Philadelphia this year. Playing the outside cornerback spot opposite
Nnamdi Asomugha
, Rodgers-Cromartie is going to be tested by opposing quarterbacks. The two interceptions he made Sunday should make them at least think twice.
May, 18, 2012
5/18/12
12:29
PM ET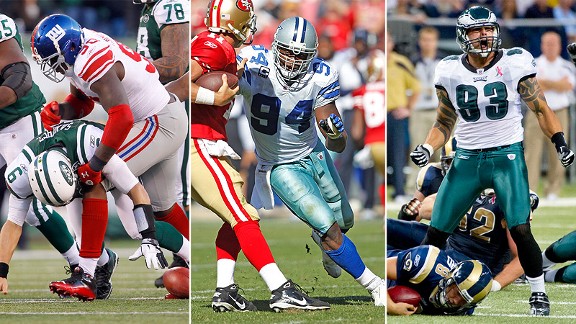 Getty Images, US PresswireJason Pierre-Paul, DeMarcus Ware and Jason Babin had 54 of the NFC East's 181 sacks in 2011.
The 2011 season was not the most, well, beastly season in NFC East history. It was the first time in a full, 16-game season that no team in the division won at least 10 games, and for much of the year the talk around the division was that it wasn't what it used to be.
Buncha baloney if you ask me. Even forgetting for a second that an NFC East team won the Super Bowl, this division still does one very important thing better than any other: rush the passer. The NFC East's 181 sacks led all NFL divisions in 2011, and by quite a bit. (The AFC North, which had three playoff teams, was second with 160). The Eagles tied for the league lead with 50. The Giants tied for third with 48. The Cowboys tied for seventh with 42, and the Redskins tied for 10th with 41.

Look deeper, into the film-based, number-crunching stats from Pro Football Focus -- stats that take into account more than just sacks when evaluating the extent to which teams rushed, hassled and affected opposing quarterbacks, and the division still rules. The Eagles rank No. 1 in PFF's 2011 team rankings, the Cowboys No. 3, the Giants No. 6 and the Redskins No. 9. No division prizes this critical aspect of the game more than the NFC East does, and it shows up in the numbers.
So, as we slug our way through a slow news month in the NFC East, I thought it'd be a good idea to check in on the pass rushes of our four teams and see how they're doing -- what they've done to get better or worse, what their 2012 prospects look like from this far out and yes, how they rank against each other. You guys asked for more polls, and I promised I'd listen, so there's one right here for you to vote on. After you finish reading, of course. I'm addressing them in order of how many sacks they got in 2011, in case you're wondering how I decided. Seemed fair.

Philadelphia Eagles
Key contributors:
DE
Trent Cole
, DE
Jason Babin
, DT
Cullen Jenkins
. PFF ranked Cole the No. 1 overall 4-3 defensive end in the league last year. Babin ranked 10th overall and third in pass rush, finishing third in the league with 18 sacks. Jenkins ranked as the No. 4 pass-rushing defensive tackle, and
Derek Landri
was No. 10. Defensive line coach Jim Washburn and defensive coordinator Juan Castillo, each of whom is entering his second season in his current position with the Eagles, believe the front four is responsible for the pass rush. And while they got a lot of publicity for how wide they like to line up their defensive ends, they like to get pressure from the defensive tackles as well.
Newcomer:
DT
Fletcher Cox
. The Eagles traded up in the first round to pick Cox because they believed he could be an impact pass-rusher from one of those interior spots right away. They need to toughen up against the run, and that will have to be part of Cox's game. But what appealed to them was his ability to get to the passer. Rookie linebacker
Mychal Kendricks
could conceivably factor in here too, but the Eagles don't ask their linebackers to rush very much in the new scheme.
Stock watch:
UP. The addition of Cox, as well as the possible return to full health of
Mike Patterson
and 2010 first-round pick
Brandon Graham
, give the Eagles incredible depth at a position at which they were already very strong in 2011. It's possible they'll rush the passer even better in 2012.

New York Giants
Key contributors:
DE
Jason Pierre-Paul
, DE
Justin Tuck
, DE
Osi Umenyiora
, DE/LB
Mathias Kiwanuka
. No one's roster goes as deep as the Giants' does in terms of star-caliber defensive ends. Pierre-Paul was fourth in the league with 16.5 sacks in just his second NFL season. Umenyiora had nine in just nine games. Tuck turned it on at the end and in the playoffs, and Kiwanuka is a defensive end playing linebacker. The Giants believe a strong pass rush is their heritage and their key to being an annual contender.
Newcomer
: DT
Marvin Austin
. The Giants didn't really bring in anyone this offseason who looks like a 2012 pass-rush contributor, but their 2011 second-round pick missed all of last season due to injury, so we'll call him a newcomer. The Giants would like to get more help from inside.
Linval Joseph
was their best pass-rushing defensive tackle in 2011, according to PFF's rankings. A healthy Austin could be a difference-maker.
Stock watch:
DOWN. Not by much, but a little, because of the loss of reliable, underrated reserve DE
Dave Tollefson
. If Tuck and Umenyiora have injury problems again, or if Umenyiora holds out, they could get kind of thin at defensive end pretty quickly without Tollefson there to fill in this time. Now, this is the Giants, and they'll probably figure it out. The addition of linebacker
Keith Rivers
could allow them to move Kiwanuka back to end in case of injury. But it's worth pointing out that they did lose a somewhat important piece of the pass rush and didn't replace him.

Dallas Cowboys
Key contributors:
LB
DeMarcus Ware
, LB
Anthony Spencer
, DE
Jason Hatcher
, NT
Jay Ratliff
. There's no one like Ware, who rang up another 19.5 sacks in 2011. That's nearly half the team total, and the conventional wisdom says he needs more help. But PFF ranked Spencer its 11th-best 3-4 outside linebacker in the pass rush and Hatcher as its eighth-best 3-4 pass-rushing defensive end. Add in Ratliff, who can generate pressure up the middle, and the Cowboys look better in this area than we tend to think.
Newcomer:
DE
Tyrone Crawford
. Dallas' third-round pick is looked at by many as a project, but as one that can eventually help with the pass rush whether he ends up as a 3-4 end or standing up as an outside linebacker. Whether he can help in 2012 remains a question, but the Cowboys didn't see a first-round or second-round pass-rusher they liked better than Spencer, so they focused on the secondary instead and picked up some down-the-road guys for the pass rush.
Stock watch:
EVEN. They're bringing back basically the same group, and while there's a theory that the improvements at defensive back will help the pass rush by giving it extra time to get sacks, we have yet to see that in action. Spencer must play with more aggressiveness if this unit is to take a step forward into the upper tier with the Eagles and Giants.

Washington Redskins
Key contributors:
LB
Brian Orakpo
, LB
Ryan Kerrigan
, DE
Stephen Bowen
. The Redskins' pass rush is all about those young outside linebackers, and they are fearsome. But with only 16.5 sacks between them in 2011, their numbers have a ways to go to get into the big-time stratosphere we're talking about in the NFC East. PFF did rank Orakpo fifth and Kerrigan ninth among pass-rushing 3-4 OLBs in 2011, so they do a lot of things well in that area. Bowen had six sacks and DE
Adam Carriker
came up with 5.5.
Newcomer:
DE
Jarvis Jenkins
. Just as we did with the Giants, we'll go with a 2011 second-round pick who missed his rookie season due to injury. Jenkins may not be a pass-rusher, but adding him to the defensive line rotation could help free up more room for the linebackers and maybe help the other linemen get to the passer more often as well.
Stock watch:
EVEN. This is really all about how much and how quickly Orakpo and especially Kerrigan continue to develop as elite pass-rushers. They've both shown flashes of incredible raw ability, and they have to continue to hone their craft so they can play at the level of the other pass-rushers in their division. Ware, Cole, Pierre-Paul and the rest of these guys are setting a high bar, and the Redskins know they have to have their own pass-rush monsters if they want to hang with them year in and year out.
April, 28, 2012
4/28/12
8:24
PM ET
»
NFC draft analysis
:
East
|
West
|
North
|
South
»
AFC
:
East
|
West
|
North
|
South
The only NFC East team that didn't trade up in the first round is the one that just won the Super Bowl. That gives you a sense of how hungry the division's other three teams are to catch the
New York Giants
and take their shot at the Lombardi Trophy they were holding up in Indianapolis a few months ago.
The
Washington Redskins
made their trade-up a month early, dealing away three first-round picks and this year's second-rounder in order to secure the man they believe will be their franchise quarterback. The
Dallas Cowboys
made theirs Thursday night, when they decided it was worth spending their first- and second-round picks this year to secure the best defensive player in the draft. And the Eagles made theirs a short time later, when the defensive tackle they wanted, Fletcher Cox, fell further than they expected him to fall and the price to move up and get him became reasonable.
But after the top half of the first round, the NFC East teams' drafts went very different ways. The Cowboys, in need of 2012 help at various places on the roster, oddly began picking project players and unknown safeties. The Redskins made some head-scratchers in the middle rounds before getting workmanlike about their offensive line late. And the Eagles had one of those drafts where everything seemed to be falling their way. Time will tell, of course, and there's no way right now to know how any of these players will perform. But here are some thoughts on how it looks in the very early post-draft light.
BEST MOVE
[+] Enlarge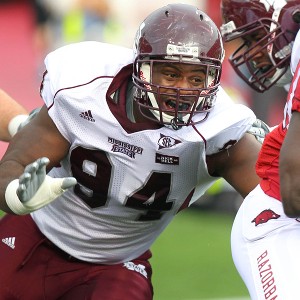 Nelson Chenault/US PresswireThe Eagles were able to move up to get their target, Fletcher Cox, without surrendering high draft picks.
Washington's trade to get quarterback
Robert Griffin III
and Dallas' trade to get
Morris Claiborne
were the headline-grabbers, and I believe that each team will be happy with its first-round pick. But the four high picks the Redskins gave up and the two high picks the Cowboys gave up keep me from labeling either of these the division's "best move" from this year's draft. Washington doesn't have another first-rounder until 2015. And Dallas, which needed help at multiple positions, spent its first two picks on a position they'd already addressed at great cost in free agency. Not enough value in either deal for it to be called a shrewd move.
So I'm giving this to the Eagles' deal to move up and get Cox. Philadelphia arrived at the draft Thursday convinced Cox was the player they wanted, and they believed they might have to move up to No. 6 or 7 to get him. To do that, they likely would have had to surrender at least one of their second-round picks, and they didn't want to pay either of those or their third. Once Cox fell to No. 12, the Eagles were able to move up by surrendering their first-rounder, a fourth-rounder and a seventh-rounder, securing the player they felt was their top target without giving up the picks they wanted to preserve. So while, yes, of course, I consider Griffin and Claiborne better players, I think the Eagles made the best first-round move of any NFC East team -- getting a player who can make a difference for them in the short-term as well as the long-term without handicapping themselves for the draft's second night.
On Friday, the Eagles converted their two second-round picks into a speedy outside linebacker (
Mychal Kendricks
) and a pass-rushing defensive end (
Vinny Curry
) and took the quarterback prospect they wanted (
Nick Foles
) in the third round. That Day 2 haul, compared with what the Cowboys and Redskins were able to get with their Day 2 picks, is what made the Eagles' trade-up the best overall move of the draft in the NFC East.
RISKIEST MOVE
This is a close contest between the two moves that lost out in the first category. It'd be easy to say Griffin, because he cost so much more. But I'm giving this to the Cowboys' trade-up to get Claiborne. It's a tough call, because I think Claiborne may be the best player any NFC East team got in this draft (barely, if at all, ahead of Griffin) and he cost less than Griffin did. But I'm basing this call on the circumstances specific to each team.
The Redskins are taking a big risk, sure, by picking a kid to be their franchise quarterback and telling him they don't have a first-round pick in either of the next two years with which to build around him. But the Redskins had no choice. Their need for Griffin was overwhelming, and they were right to let it overwhelm their priority list for this draft and the next two. Washington hasn't had a franchise quarterback in 20 years, and once they were convinced Griffin could be one, this was a risk worth taking for them.
I do not think, however, that Dallas' need for Claiborne was nearly as great as Washington's need for Griffin. Yes, the Cowboys' secondary was the obvious weak spot of their team last year -- the main reason they fell one game short of the Giants in the division race. But they'd already spent their big free-agent bucks on
Brandon Carr
and had
Mike Jenkins
and
Orlando Scandrick
at cornerback. Does Claiborne have a good chance to be better than any of them? Yes. Could that happen as early as this year? You betcha. But with needs at safety, linebacker, defensive line and offensive line, the Cowboys should have conserved their picks to address multiple needs. They weren't one great cornerback away from being a championship team in 2012, and by trading their top two picks for Claiborne, and then picking project players and reaches the rest of the way, they decided to operate as though that were the case. It's a big risk, and if lingering weaknesses at those other spots do them in this season, they could regret it.
MOST SURPRISING MOVE
Without a doubt, it was the Redskins' selection of Michigan State quarterback
Kirk Cousins
with the seventh pick of the fourth round Saturday. It was Washington's third pick of the draft and the second that had been used on a quarterback. Their reasoning is that quarterback is a vitally important position at which it's impossible to be too deep, and as long as they make it clear to the players involved and to their fan base that Griffin is the starter and Cousins is the backup, it can work. They can develop Cousins in the backup role, have a player they like in reserve in case Griffin gets hurt and perhaps eventually trade him for something of great value in a league in which quarterbacks are the most prized commodities.
FILE IT AWAY
Nobody in this division does the draft better than the Giants, and it'll be worth remembering that the wide receiver (LSU's
Rueben Randle
) they picked at the end of the second round was a player they considered taking at the end of the first. Randle is a dynamic talent who now gets a chance to develop behind brilliant and selfless starting wideouts
Hakeem Nicks
and
Victor Cruz
and with the help of quarterback
Eli Manning
, who has an outstanding record of getting the best out of his receiving targets. Randle could not have been drafted into a better spot for his own development, and he could potentially be an immediate asset for the Giants in the passing game, because he can play the outside spot vacated by free-agent defector
Mario Manningham
and allow Cruz to stay in the slot position from which he exploded onto the scene in 2011. The Giants managed to combine need picks and value picks at almost every turn in this draft, and their second-rounder may turn out to be their biggest prize.