Dallas Cowboys:

Nate Burleson
April, 8, 2014
Apr 8
10:15
AM ET
IRVING, Texas -- Two veteran wide receivers went off the market Monday when
Nate Burleson
and
Jason Avant
signed with the
Cleveland Browns
and
Carolina Panthers
, respectively.
Both were linked to the
Dallas Cowboys
by the media (hello, that's me), but sources indicated the Cowboys had some interest in Burleson, who played for their new passing game coordinator, Scott Linehan, with the
Detroit Lions
. The Cowboys just were not willing to pull the trigger on a deal now, continuing their patient approach in free agency.
Could it mean the Cowboys are as content at wide receiver as owner and general manager Jerry Jones has said?
[+] Enlarge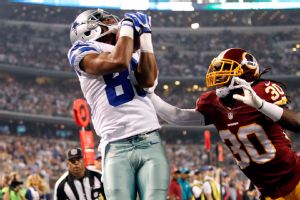 Tim Heitman/USA TODAY SportsTerrance Williams, a 2013 pick, started as the No. 3 receiver and also showed he could handle the No. 2 role. Is Dallas hoping for a repeat in the 2014 draft?
With
Dez Bryant
and
Terrance Williams
, the Cowboys are set at the top two spots.
Dwayne Harris
and
Cole Beasley
would settle in as the No. 3 receiver, splitting the job depending on role. Harris has more big-play ability. Beasley is better in the quick-game routes.
I've long said the Cowboys do not need a true No. 3 receiver over the years because they have tight end
Jason Witten
, and the running backs have always figured prominently in the passing game.
The best performance by a No. 3 receiver for the Cowboys in the past five years has been
Laurent Robinson
, who caught 54 passes for 858 yards and 11 touchdowns in 2011. But mostly the Cowboys need their third receiver to catch anywhere from 30 to 40 passes a season.
Kevin Ogletree
did that in 2012 with 32. Technically Roy Williams might not have been the No. 3 receiver in 2010, but he caught 37 passes. In 2009, Patrick Crayton caught 37 passes for 622 yards and 5 touchdowns.
So you're looking for a No. 3 receiver to catch two or three passes a game when you look at the options available in how the Cowboys have constructed their offense.
But what if Bryant or Williams gets hurt? And there will be injuries. Can Harris be a No. 2 receiver and excel outside? Maybe for a few games. Beasley is just a slot receiver because of his size. That is why I thought Avant or Burleson would have been good fits. Other options remain, such as
Earl Bennett
and even
Miles Austin
, but that would be a long shot.
However, if the Cowboys were not willing to make a play for a free agent Monday, they're not going to get into the market Tuesday.
Last week, I wondered whether
Gavin Escobar
could
be an option as the third receiver.
The Cowboys like his athleticism and saw in glimpses his ability to make plays. His touchdown against the
Philadelphia Eagles
in the season finale was an eye-opener. With the way the tight ends are used these days, Escobar has more receiver skills to him than tight end skills. He needs to get bigger and stronger to be an on-the-line tight end, but that part of his game will never be his strength. His strength will be working the seams and his ability to go get the ball.
But here is a thought: This is considered one of the deeper drafts in memory for wide receivers. Could the Cowboys be looking for their No. 3 receiver, who could be the No. 2 receiver, in the early to middle rounds of the draft?
Williams, a third-rounder last year, caught 44 passes for 736 yards and 5 touchdowns and showed he could handle the No. 2 role when Austin missed games with a hamstring injury. Williams' development played a part in the release of Austin.
If a
Mike Evans
fell, or if a
Marqise Lee
is there in the first round, could they be targets? It sure seems as if the draft is the Cowboys' preferred method to find their No. 3 receiver.
March, 29, 2014
Mar 29
12:00
PM ET
IRVING, Texas -- Part 2 of the
Dallas Cowboys
' Twitter mailbag is ready.
In it we'll discuss the next contract for
Dez Bryant
, adding a receiver in free agency or the draft, how much pressure is on the offense to perform in 2014, and whether the Cowboys will move up in the first round.
If you want to look at Part 1,
click here.
Away we go:
.
March, 28, 2014
Mar 28
12:00
PM ET
IRVING, Texas -- Part 1 of the
Dallas Cowboys
Twitter mailbag is ready. In it we discuss how the offense will look with
Tony Romo
coming off back surgery, who the real general manager of this team is and whether some offensive line help could be coming in the future.
Part 2 will come out on Saturday. Remember if you have questions for me via Twitter (@toddarcher) use the #cowboysmail hashtag.
Away we go:
March, 21, 2014
Mar 21
3:08
PM ET
Miles Austin
is gone and most likely will never play for the
Dallas Cowboys
again.
Hamstring injuries, a huge contract and the emergence of
Dez Bryant
made Austin expendable.
Austin will be missed because he was a veteran receiver who could help the passing game when defenses took Bryant out with tight coverage.
The Cowboys have normally employed veteran receivers to help with a young and talented receiving corps.
Over the years, the Cowboys had
Terrell Owens
and
Terry Glenn
as the vets, with
Sam Hurd
and Austin waiting in the wings. That morphed into
Roy Williams
, Austin, Hurd and Bryant.
And of course last season, there was Austin, Bryant and
Terrance Williams
and
Cole Beasley
.
Now Dallas is without a veteran, and it might be time to grab one in free agency.
The Cowboys are open to signing a veteran free agent, but it has to make financial sense. Team officials are leaning toward not doing anything until after the May 8 NFL draft. There have been talks about signing veteran
Nate Burleson
, who played for Cowboys passing game coordinator, Scott Linehan, while the two were in Detroit.
In four seasons under Linehan, Burleson caught 12 touchdowns and averaged 10.7 yards per game.
He's a perfect fit, at least for now, but other vets such as
Santonio Holmes
,
Jason Avant
,
Robert Meachem
and
Kenny Britt
could be snagged on the free-agent market as well.
Bryant, as coach Jason Garrett likes to say, draws a lot of attention, so it's uncertain if Williams (who will be entering his second season) and Beasley, along with
Dwayne Harris
, can push the passing game along.
Tight end
Jason Witten
also draws attention, but if a veteran wideout is around, it creates better opportunities in the passing game.
Austin was projected to excel with Bryant taken out by defenses, but his injuries didn't allow for any success on a consistent basis.
A healthy veteran could improve the passing game, if the Cowboys decide to pull the trigger on one.
March, 21, 2014
Mar 21
12:00
PM ET
IRVING, Texas -- Part 1 of the
Dallas Cowboys
' Twitter mailbag is ready.
In it, we discuss where the Cowboys go next in free agency after signing
Henry Melton
, Melton's future and if this team needs to build around their younger players. Here's a hint: they are.
Part 2 will be delivered on Saturday. If you have questions, send them to me via Twitter (
@toddarcher
) and use the #cowboysmail hashtag.
Away we go:
February, 20, 2014
Feb 20
8:00
AM ET
INDIANAPOLIS -- When will the
Dallas Cowboys
start making decisions on the future of players?
"Til it's time to get under the cap," executive vice president Stephen Jones said.
Teams do not need to be compliant with the salary cap until March 11, but some teams have already started cutting players to create cap savings, like the
Detroit Lions
did last week in cutting
Louis Delmas
and
Nate Burleson
and the
New Orleans Saints
with
Will Smith
,
Roman Harper
and
Jabari Greer
.
In addition to using the time at this week's NFL scouting combine in Indianapolis to look at draft prospects, the Cowboys will use the time to discuss the futures of players like
DeMarcus Ware
and
Miles Austin
and how they want to pare their salary cap by $20 million-$25 million before the first day of the league year.
Several others could have their contracts restructured, like
Tony Romo
,
Sean Lee
,
Jason Witten
, and others could be cut, like
Justin Durant
, to make room.
"We continue to look at them and we continue to look at what's available out there, what's going to be available out there, and we're looking at a lot of tape with [assistant director of player personnel] Will [McClay] and the pro guys are looking at the tape on all those guys and what's likely to be available in the draft," Jones said. "All these things affect the decision."
February, 14, 2014
Feb 14
1:15
PM ET
IRVING, Texas -- When the
Detroit Lions
released safety
Louis Delmas
and wide receiver
Nate Burleson
on Thursday, most of the attention of
Dallas Cowboys
' fans went to Delmas.
It makes sense. The Cowboys need safety help. Delmas is young, though a bit injury prone. He had a career-high three interceptions in 2013 and was set to make $5.5 million in 2014.
Burleson
When considering any free agent, you always have to factor in cost. There will be a team with more cap space than the Cowboys willing to pay Delmas more. I wouldn't expect the Cowboys to be huge players in the free agent market.
To me, however, Burleson makes more sense.
Let's go with the premise that
Miles Austin
will not be around in 2014. We have talked about that a few hundred times already. The Cowboys have
Dez Bryant
and
Terrance Williams
ready to be their top two wide receivers. They like
Dwayne Harris
and
Cole Beasley
, but both of those players have limitations. They could look at a receiver early in the May draft, like they did in selecting Williams in the third round, but most of the time receivers don't hit the ground running. Williams and Bryant did, however, hit the ground running in their rookie years.
To me, adding a veteran receiver makes sense should the Cowboys lose Bryant, who has had back troubles no matter how minor they have been, or Williams for a good stretch.
Burleson caught 39 passes for 461 yards and a touchdown in nine games last season. He suffered a broken forearm in a car accident when he was attempting to stop a pizza from sliding off the seat. He suffered a broken leg in 2012.
Burleson's
defense
of
Calvin Johnson
last year came at the expense of Bryant before the Cowboys and Lions made some headlines, but it meant little.
He is 32, which might be too long in the tooth, but the connection with Scott Linehan, who is the Cowboys' new passing game coordinator and playcaller, is interesting.
Burleson and Linehan spent five years together with the Lions, and Burleson caught 194 passes for 2,083 yards and 12 touchdowns.
His price might be a lot more palatable to the Cowboys, especially compared to what Delmas should get.
October, 23, 2013
10/23/13
11:07
AM ET
IRVING, Texas – The
Dez Bryant
-
Calvin Johnson
subject will not go away this week.
Bryant started it off on Monday when
he spoke with 103.3 ESPN in Dallas.
"I believe I can do whatever he can do," Bryant said. "I think it's just a pride thing. When it comes to football, just being on the field, it's a mindset and having a mentality. I honestly believe when I'm there, I'll be feeling like there's nothing I can't do. Whatever the coaches ask me to do, I'm going to do it."
On Tuesday
Nate Burleson
came to Johnson's defense
, crediting Bryant but conceding Johnson is better, calling him a "living legend."
"He's not Calvin Johnson," Burleson said. "No way, no how. Sorry Dez. Keep it real."
On a conference call Wednesday, Lions coach Jim Schwartz was asked about the similarities between Bryant and Johnson.
"He's one of the best receivers in the NFL, as is Calvin, and I think that's about the only comparison that you need to make between those two guys," Schwartz said. "Every player is different. Every player has things that they do well and things they do well within the scheme and things like that. And we're going to have our hands full getting Dez Bryant stopped and I'm sure Dallas is working really hard to find a way to get Calvin stopped."
Schwartz sees a different Bryant than the one he prepared for in 2011. Bryant caught three passes for 37 yards and had two touchdowns in the Cowboys' 34-30 loss the Lions at AT&T Stadium.
"He's playing like a veteran player now," Schwartz said. "He's taken the load of the No. 1 receiver. That's a big burden to be the No. 1 receiver. You're going to see attention every week. You're going to see double teams. You're going to see corners rolled to your side and it's a big mental adjustment to go through that and I think that Dez Bryant has done that. He's made big plays for them. He's always been a really strong player, but you just see him maturing as a player and I think that's good for the NFL when you see young players improve like he has."
October, 2, 2011
10/02/11
4:59
PM ET
ARLINGTON, Texas -- The Cowboys had two injuries of note following the 34-30 loss to the
Detroit Lions
on Sunday afternoon at Cowboys Stadium.
Safety
Gerald Sensabaugh
suffered a concussion with 11:31 left in the third quarter. After making a tackle on Lions receiver
Nate Burleson
,
Anthony Spencer
came in to support and accidentally hit Sensabaugh, who did not return.
Sensabaugh said he was dizzy and didn't know much about the game after he left. The Cowboys were leading 27-3 when he left.
Safety
Barry Church
, who replaced Sensabaugh at safety, was also injured. He dislocated his right shoulder with 3:56 to play in the fourth quarter and returned for one play.
Church left Cowboys Stadium with ice on his shoulder.
September, 30, 2011
9/30/11
8:00
AM ET
By
Bryan Broaddus
| ESPNDallas.com
After gutting out a difficult victory over the Redskins, the Cowboys face a new challenge of a short week to prepare to play one of the league's most talented teams in the
Detroit Lions
.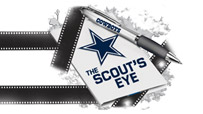 The Lions will present problems on both sides of the ball. If you follow the NFL, we all know the names of
Calvin Johnson
,
Ndamukong Suh
and
Matthew Stafford
, who have helped this team to get off to a fast start. But there is more to it than just those three players.
Detroit defense
The Lions play a true 4-3 front, which will be the first time this season that the Cowboys faced this kind of look. Suh will mainly line up over right guard
Kyle Kosier
and will work across from
Tyron Smith
when the Lions go to a three-man line.
There will be times where Suh will move to the right side, but usually that spot is manned by
Corey Williams
or Sammie Hill. The problem for the Cowboys in that look is that
Bill Nagy
, who struggles with power players now, has to deal with two players that go 320-plus pounds. Nagy's primary weakness is his technique against the down linemen that have size and power.
Kosier will have another set of problems in dealing with Suh, who plays with power and quickness. Suh has outstanding technique as a pass rusher with a wide variety of moves. Kosier has had to deal with power players before in his career, but the way that Suh uses swims, slaps and rips makes him hard to handle because he is playing with this technique as he is working his way to the quarterback.
Most teams like to sub their two down players inside, but the Lions keep their big bodies in the game and will push the front of the pocket then squeeze from the outside with
Kyle Vanden Bosch
and
Cliff Avril
.
The last two weeks
Doug Free
hasn't played some of his better football. I have talked before that I felt that it was more technique problems than any other area. When Free gets in trouble, it's when he is playing over the top of his left foot and he gets overextended. When Free gets overextended, his feet stop and rushers are able to get pressure.
In the Redskins game, it looked like Free was worried about
Brian Orakpo
taking him on the inside rush. This week, Free will line up over Vanden Bosch, who plays in a wide 9 technique and doesn't quit on a play. He is relentless, run or pass.
Free will need to beware of not finishing his blocks against Vanden Bosch, because there will be times where Vanden Bosch looks like he is out of the play but will fight his way back into the picture. Vanden Bosch likes to fight wide and slap the tackles hands down, then work for the corner. Vanden Bosch, like Suh, is able to do this without slowing down or stopping his rush.
Tony Romo
spoke of his receivers having to find a way to win on routes. Guys like
Miles Austin
and
Jason Witten
can win, but it is a little tougher is guys like
Dez Bryant
and
Kevin Ogletree
. They will match up against corners
Chris Houston
and
Aaron Berry
, who like to play press man and be physical at the line of scrimmage.
The Lions played more man coverage against the Bucs than they did against the Vikings. I believe that they will line up and force these Cowboys receivers to beat them off the line. If Romo has to hold the ball against this Lions defense, it will be a struggle for his line. This group can get four-man pressure and it's more intense than what they faced against the 49ers and Redskins.
Where the Vikings and Bucs had some success was running receivers down the field on vertical routes when the Lions did play zone. There also were two nice opportunities for tight ends to make plays against Cover 2 working between the safeties down the field.
The game plan for Garrett against the Lions running the football will be similar to what he had against Washington. He will need to take advantage of how aggressive this front seven will be.
The Vikings had success running the ball against the Lions by getting the ball on the edge but using down or angle blocks to handle the power and quickness of the Lions. Look for the Cowboys to try to shield the Lions from the ball more than trying go toe to toe with them. The Vikings were able to make plays on the edge with
Adrian Peterson
by taking advantage of the way that the Lions chase the ball.
Detroit offense
The challenge for Rob Ryan and his defensive staff in this game will be trying to dial up pressure against Matthew Stafford when he gets in the shotgun. The Lions have had their share of blocking problems, but the answer for those issues has been Stafford's ability to get rid of the football quickly.
Stafford has major weapons with Calvin Johnson and
Brandon Pettigrew
, and the Lions also have a nice screen package with running back
Jahvid Best
, who catches the ball well out of the backfield.
Stafford is an impressive quarterback to study because he never looks like he doesn't know where to go with the ball. He is mobile to a point and can buy time with his ability to move. The trait that is the most impressive about Stafford is his ability to be an accurate passer. Rarely do you see his receivers have to work for the ball. Has touch with the ability to lead his receivers down the field.
Stafford has a real understanding of the strengths of his skill players. Can make all the throws and puts the ball in position that they can go get it.
If there is a knock on Stafford, it has been his ability to stay healthy. When he does not play, the Lions are a very ordinary team on offense even with all the talented players.
If the Cowboys are going to win this game, it won't be about stopping the run but more how they will be able to limit the number of big plays that the Lions can make. Johnson will make his share of plays because he always does no matter how outstanding the coverage is. Stafford knows that he can throw the ball down the field and Johnson will find a way to go get it. If Johnson gets separation, he is going to make the play.
Last week,
Terence Newman
and
Mike Jenkins
played well against the Redskins. They will need a similar effort against Johnson and
Nate Burleson
.
Safeties
Gerald Sensabaugh
and
Abram Elam
will also be a factor in this game, not only because of their responsibilities of helping carry Johnson deep in coverage, but also having to deal with tight end Pettigrew. This is the fourth game where this defense has had to deal with an athletic tight end that can get down the field.
Fred Davis
and Chris Cooley did not kill the Cowboys last week.
The Cowboys have to be careful is putting so much attention to Johnson and allowing Pettigrew or even Burleson to make plays.
If the Lions have a real weakness, it is with this offensive line. Despite their 3-0 record, the Lions have issues at offensive tackle. Longtime veteran left tackle
Jeff Backus
is on his last legs as a pass protector and a run blocker. There is nothing that he really does well anymore. It's not as bad as watching
Marc Colombo
playing last season, but there are some similar traits that you are now seeing.
At right tackle, Gosder Cherilus was replaced in the Minnesota game by Corey Hilliard because he couldn't even get out of his stance to handle the edge. Cherlius once again will be in the starting lineup and it is a road game for the Lions, so keep an eye on him to see if he struggles again.
Through the first three weeks of the season, Ryan has done a nice job with his scheme, in finding those offensive players that will struggle against his pressure players. Look for Ryan to continue to move
DeMarcus Ware
and
Anthony Spencer
around to attempt to make Stafford uncomfortable in the pocket.
March, 10, 2010
3/10/10
8:45
AM ET
There is all this discussion around here about should
Roy E. Williams
be put on notice by the Cowboys.
In two uneventful seasons, Williams hasn't produced. Putting out the numbers again really serves no purpose, because we all know them.
But the man who signs the checks at Valley Ranch, Jerry Jones, talked about if Williams has a sense of urgency regarding his career with the Cowboys and shold he be nervous about his status.
"You don't need to manufacture things to make Roy nervous," Jones said. "Just our situation and as a matter of fact, his ability to handle the things that would make any of us nervous has been impressive to me and it's one of the things I'm encouraged about."
Jones was asked is Williams taking enough heat?
"He's getting that from enough places but his ability to handle that from enough places is a big plus," Jones said. "It's one of the things that I would say the average to a high percentage people and players I've known would have been a more negative reacting than he's been and I think that's a plus. He knows how to make it a positive time and I've seen him do that, if he will continue to work we'll be fine with Roy and he's going to be fine with us."
Is Williams concerned?
Yeah, he is. He knows he has to get better but it takes two people to stay married. The problem with Williams is trust between him and the coaching staff (
Jason Garrett
) and the quarterback (
Tony Romo
). The type of plays run for Williams is also another issue.
These issues must get resolved if 2010 is going to be a productive season.
If the Cowboys bench Williams,
Patrick Crayton
, a solid No. 3 receiver,
Kevin Ogletree
and
Sam Hurd
are the options. You could also say, well the Cowboys should have gotten another wide receiver.
Who was out there?
Brandon Marshall
. It costs you a first round pick and an average salary of about $8 million. That's what
Miles Austin
might get and the Cowboys gave up a first round pick to get Williams two years ago.
Anquan Boldin
. It would have cost you some middle round picks, but Boldin wants to get paid.
Nate Burleson
. You really believe he's better than Williams?
Terrell Owens
. Let's not go there.
Williams isn't going anywhere, his salary, close to $13 million is guaranteed regardless if he's on the roster or not says so. And, the Cowboys believe they can get him fixed.
March, 5, 2010
3/05/10
3:26
PM ET
The first day of free agency is underway and we've seen
Julius Peppers
head to Chicago,
Nate Burleson
and
Kyle Vanden Bosch
sign with Detroit.
What about the Cowboys?
We've been told nothing is happening with the Cowboys right now.
Is that how it should be?
Jerry Jones said the team isn't resting on its laurels despite winning the NFC East and its first playoff game since 1996. He expects the team to add to the roster, but should they?
"If an opportunity presents itself to improve in an area, then we'll be ready to move if we see that opportunity," Stephen Jones said.
The biggest issue for the Cowboys it seems is what to do with some of their veteran players such as
Marion Barber
,
Flozell Adams
and
Ken Hamlin
.