Dallas Cowboys:

nfc east position series
July, 5, 2012
7/05/12
5:50
PM ET
We have been looking at safeties today in our continuing, occasional position-by-position look at each of the teams in the NFC East, and the day concludes with an examination of the
Dallas Cowboys
' safeties.

Projected starters:
Brodney Pool
,
Gerald Sensabaugh
Reserves:
Barry Church
,
Matt Johnson
,
Danny McCray
,
Akwasi Owusu-Ansah
Potential strength:
This is a problem position for the Cowboys, plain and simple. But Sensabaugh played pretty well overall for the Cowboys in 2011, and the upgrades at cornerback this year should allow him to roam a little more freely and make more plays. He had five interceptions and 10 pass break-ups in 2010, but those numbers dropped to two and three, respectively, in the first year under Rob Ryan. He's one of many players the team hopes will benefit from the additions of
Brandon Carr
and
Morris Claiborne
at cornerback.
Potential weakness:
They haven't done much to try and replace
Abram Elam
, who was a bit of a letdown in his one and only season in Dallas. They signed Pool, who played for Ryan in Cleveland, but his spot is anything but secure. He could get a challenge from Church or from fourth-round pick Johnson, whose reputation as a big-time college playmaker convinced the Cowboys to select him well ahead of his consensus projected draft slot. The Cowboys' defense really craves that playmaking type, and it's possible that whoever looks the most active and disruptive in camp and in preseason games could get the start, which could make Pool a late cut.
Keep an eye on:
Church. He's impressed first-year secondary coach
Jerome Henderson
, and he showed a lot of physical ability at the line of scrimmage when he played last year. Pool was signed because the team believed it had a need at that position, but Church could play well enough in training camp to convince them they were wrong about that. Again, his coverage deficiencies are what they are, but the corners are supposed to cover better this year and what the Cowboys want to see out of their safeties is game-changing ability.
June, 22, 2012
6/22/12
6:02
PM ET
Today's team-by-team look at the cornerback position in the NFC East wraps up with a check on the revamped secondary of the
Dallas Cowboys
.
Projected starters:
Brandon Carr
,
Morris Claiborne
Reserves:
Mike Jenkins
,
Orlando Scandrick
,
Mario Butler
,
C.J. Wilson
,
Lionel Smith
[+] Enlarge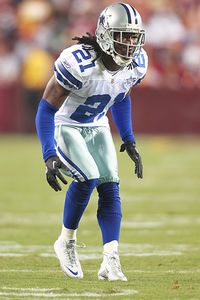 Jeff Fishbein/Icon SMIMike Jenkins is upset about his move to a backup role.
Potential strength:
Sometimes change for change's sake can be a good thing, and that's the Cowboys' hope this year.
Terence Newman
was a major liability last season, and while Jenkins played well when healthy, he really almost never was. So they went out on the free-agent market and signed Carr, and then they used their first-round and second-round picks to move up and select Claiborne, the best cornerback in this year's draft. That pushes a grumpy Jenkins into a backup role and leaves Scandrick where he belongs, at the nickel corner spot. Assuming Claiborne plays the way he played in college right away in the pros, the Cowboys have transformed cornerback from an a significant weakness to a possible strength.
Potential weakness:
Well, Jenkins doesn't seem overly motivated, now does he? He's refused the team's requests to spend any non-mandatory time at the team facility this offseason so they could help him rehab his shoulder. He's asked for a new contract, bristled at the backup role into which he's been forced, and demanded a trade that the team has no intention of making. He's behind in that shoulder rehab, and at this point the Cowboys have no idea whether they'll be able to count on Jenkins at the start of the season. And sure, you can say they're fine because of Carr and Claiborne. But Claiborne's a rookie who has yet to practice as he continues his recovery from wrist surgery, and part of the plan to overhaul cornerback involved having depth at the position. Jenkins needs to be healthy and have his mind right, or else they won't be as strong at cornerback as they need and intend to be.
Keep an eye on:
Smith. An undrafted long shot, for sure, but he's got 4.44 40-yard-dash speed and could open some eyes in training camp. He'll have to make the team with his special teams play, but a guy with that kind of speed at that position could be helpful down the road if he develops.
June, 19, 2012
6/19/12
11:09
AM ET
Another slow offseason day calls for another edition of the NFC East position series -- our position-by-position look at each of the teams in our division. There's no pre-planned order to any of these, so it means little that I've chosen to look at running backs today and to start with the
Dallas Cowboys
.
Projected starters:
RB
DeMarco Murray
, FB
Lawrence Vickers
[+] Enlarge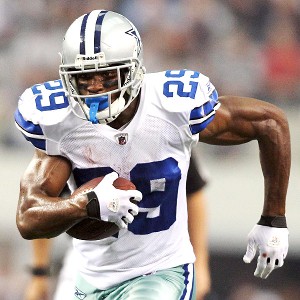 Tim Heitman/US PresswireDeMarco Murray racked up 897 yards in his shortened rookie season.
Reserves:
RB
Felix Jones
, RB
Phillip Tanner
, RB
Lance Dunbar
, RB
Darrell Scott
, FB
Shaun Chapas
Potential strength:
Murray performed like an elite-level workhorse in the seven games he played as a starter before the Giants game in which he broke his ankle. He averaged 114.1 yards per game and 5.96 yards per carry during that seven-game stretch. And Jones, the fifth-year former starter, had two 100-yard games after Murray went down. So they have a high-level starter and an experienced, capable backup, and they believe Vickers will play even better than
Tony Fiammetta
did for them as the lead blocker last season. And Tanner is a good third running back who's shown encouraging flashes and should stick around due to his contributions on special teams. Assuming everyone's healthy, this is a unit capable of big things.
PODCAST
Cowboys FB Lawrence Vickers explains why he's so excited to be a Dallas Cowboy, how long it took Jerry Jones to sign him, the expectations for the upcoming season and more.

Listen

Potential weakness:
Even while he was rolling up all of those yards, Murray scored just two touchdowns last year. And Jones only scored one. The Cowboys had just five rushing touchdowns as a team in 2011. Only the
Cleveland Browns
scored fewer. As good as
Tony Romo
,
Dez Bryant
,
Miles Austin
and
Jason Witten
can be in the red zone, it would help if the running backs posed more of a realistic threat to score at the goal line. Red-zone production is an area in which the Cowboys' running game must be better than it was last year.
Keep an eye on:
The on-field relationship between Murray and Vickers. Murray and Fiammetta made a very productive team last year. The Cowboys believe that had more to do with Murray than it did with the fullback, and they think they've upgraded at fullback. But Murray had an innate sense of where Fiammetta was going to go and what would result in terms of opportunity for him thereafter. Murray said during minicamp that he's getting to know Vickers, and it's unlikely to be a problem. But that chemistry he had with the fullback last year was part of his success, so it's at least worth watching to make sure he finds something similar with the new guy.
June, 18, 2012
6/18/12
2:48
PM ET
Our position-by-position analysis of the teams in the NFC East takes a look this afternoon at the 3-4 defensive line of the
Dallas Cowboys
.
Projected starters:
DE
Jason Hatcher
, NT
Jay Ratliff
, DE
Kenyon Coleman
Reserves:
DE
Marcus Spears
, DE
Sean Lissemore
, NT
Josh Brent
, DE
Tyrone Crawford
, DE
Clifton Geathers
, DT
Rob Callaway
, DE
Ben Bass
[+] Enlarge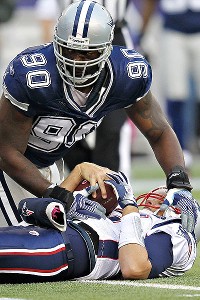 Jim Rogash/Getty ImagesDallas needs to make sure Jay Ratliff does not wear down over the course of the season.
Potential strength:
Ratliff is the line's strength, as he remains one of the league's elite nose tackles and one of the best all-around athletes at the position. There are very few, if any, nose tackles in the league that are as great an asset to the pass rush as Ratliff is, and the Cowboys' goal should be to keep him from wearing down as the season goes along. Part of the problem he and outside linebacker
DeMarcus Ware
had late last year was wear and tear as a result of constant double-teaming and extra attention. That's why Brent, as Ratliff's backup, must become a strength as well. Because it may start making sense to find strategic ways of getting Ratliff on the field on some running downs, at least early in the season.
Potential weakness:
The Cowboys were tied for seventh in the league in sacks last season but 23rd in passing yards allowed. And while a lot of that had to do with a leaky secondary that has been addressed in free agency and in the draft, the guys up front need to find a way to create more consistent pressure on the passer. Hatcher grades out well in the pass rush, and we already addressed Ratliff. But the Cowboys need to find something scarier than Coleman at that other end spot. Spears doesn't appear to be the answer, which is one reason Lissemore is being talked up as an offseason sleeper. He played extremely well in limited action last season, and it remains to be seen how he'll hold up if given more snaps in 2012. He could push Coleman for his spot if he shows the ability to hold up week in and week out.
Keep an eye on:
Crawford. The Cowboys' third-round pick in April's draft is likely a project player who will be groomed to be a pass-rush asset down the road. But there is talent there, and if he takes well to Rob Ryan's coaching and his system, he could be the kind of player who's deployed strategically in certain situations later in the year. The Cowboys would be thrilled if Crawford could make an impact for them in 2012, and while that's not really what he was drafted for, it's not completely out of the question given the opportunity he'll have if his learning curve is short.
June, 9, 2012
6/09/12
10:00
AM ET
Our position-by-position analysis of the four teams in the NFC East continues with a look at the many changes along the
Dallas Cowboys
' offensive line.
Projected starters:
LT
Tyron Smith
, LG
Nate Livings
, C
Phil Costa
, RG
Mackenzy Bernadeau
, RT
Doug Free
Reserves:
C
Kevin Kowalski
, G/C
Bill Nagy
, T
Ronald Leary
, T
Jermey Parnell
, G
David Arkin
[+] Enlarge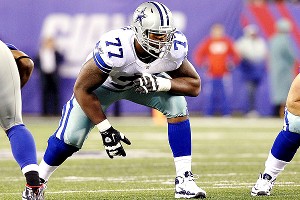 Jim McIsaac/Getty ImagesTyron Smith earned more responsibility for 2012 after shining as a rookie last season.
Potential strength:
The tackles should be a strength. Smith, the 2011 first-round pick, was outstanding at right tackle as a rookie, and the Cowboys have no reason to doubt he can handle the move to the more important left side. They also believe the move back to right tackle could help Free, who struggled at times in his second year on the left. The NFC East features a lot of very good edge rushers, but the Cowboys believe they have the men on the outside of their offensive line to handle it. New offensive line coach Bill Callahan is also viewed by many as an upgrade whose presence should help the tackles and the rest of the offensive line perform better.
PODCAST
Ben and Skin list 15 positive vibes coming out of Cowboys OTAs. Are leaders beginning to emerge in the locker room and become more vocal? Is Dez Bryant poised for a breakout season?

Listen

Potential weakness:
Center still stands out as a problem area. Costa was not very good last year, and there remains a chance he could be replaced by Bernadeau (though he's out for a couple of months following hip surgery) or Nagy. For it to be Nagy, he's going to have to show improved strength over last year. If he does, then from a technique standpoint he's a threat to start at center or either guard spot over the guys listed as projected starters there. Kowalski is also well regarded by the Dallas coaches and front office and could work his way into the mix if Costa does not show improvement.
Keep an eye on:
The offseason competition at guard. The Cowboys signed free agents Bernadeau and Livings thinking they'd be starters, but neither is 100 percent guaranteed a starting spot. Nagy, Arkin and others loom as threats in what coach Jason Garrett has said many times will be a competition in the offseason and in training camp. Garrett's hope is that this competition brings the very best out of all of his players, thereby improving them all and giving him higher-quality choices from which to pick his starters when the time comes. We shall see. The interior of the line was a big problem for quarterback
Tony Romo
(not to mention the running game) in 2011, and it will need to show improvement if the Cowboys are to improve on their 8-8 record.
June, 4, 2012
6/04/12
1:30
PM ET
We continue our position-by-position analysis of the teams in the NFC East with a look at the
Dallas Cowboys
' wide receivers.
Projected starters:
Miles Austin
,
Dez Bryant
Reserves:
Kevin Ogletree
,
Dwayne Harris
,
Andre Holmes
,
Raymond Radway
,
Danny Coale
[+] Enlarge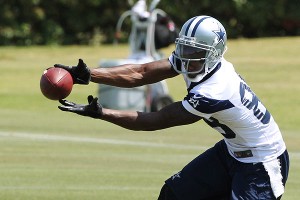 Matthew Emmons/US PresswireDez Bryant has shown potential during his first two seasons but has yet to breakout.
Potential strength:
As I wrote earlier Monday about the Eagles, the Cowboys' strength at wide receiver is that their starters have the potential to be among the very best in the league. Austin struggled with hamstring injuries last year, and Bryant is a third-year player whose first two years have seen plenty of understandable development issues. But if Austin can stay healthy, and if you buy into the old theory about third-year wide receivers taking big steps forward, Cowboys quarterback
Tony Romo
could be picking between two of the best receivers in the NFL on any given play.
Potential weakness:
There has been plenty of concern expressed about that No. 3 receiver spot, which was filled so surprisingly ably by
Laurent Robinson
last year. Unless they find a veteran in the bargain bin as they did last season with Robinson, the Cowboys are going to let the guys on their roster fight it out for that spot. It's a pretty uninspiring group, but Ogletree is probably the favorite as he's the most experienced of the bunch. Harris has earned good reviews for his work in the slot during organized team activities but has struggled on special teams, and that's going to be a factor as well in determining who gets the final wide receiver spots. Coale was an intriguing possibility as a late-round draft pick, but an injury is going to keep him out for most of the offseason program and he may need a year to develop at the NFL level before he can be a reliable No. 3 wide receiver.
Keep an eye on:
Holmes. He seems to be a favorite of Jerry Jones' when Jones speaks publicly about the No. 3 wide receiver situation. He was a scout teamer last year and was an undrafted player out of college, but Jones has a soft spot for those and so, likely, does Romo, who was undrafted himself. Again, if a guy like Holmes can make an impression on special teams, he could put himself in position to get more of an opportunity to show what he can do in the offense. And opportunity may be the only thing one of these guys needs to break through and offer more than is expected of them. If no one does, the Cowboys likely just lean harder on tight end
Jason Witten
as a No. 3 receiver -- something that would be even easier to do if Austin and Bryant play to the top of their abilities.
June, 1, 2012
6/01/12
5:44
PM ET
Our continuing effort at a position-by-position assessment of each team in the NFC East takes us to the
Dallas Cowboys
' linebacker situation.
Projected starters:
OLB
DeMarcus Ware
, OLB
Anthony Spencer
, ILB
Sean Lee
, ILB
Dan Connor
Reserves:
Victor Butler
,
Bruce Carter
,
Alex Albright
,
Orie Lemon
,
Caleb McSurdy
,
Kyle Wilber
Potential strength:
Ware, obviously, remains one of the elite pass-rushers in the NFL and is the strength of the entire defense. When he is playing at his best, the Cowboys almost don't need to augment their pass rush with help from anyone else. Spencer can stay content in his role as a good run-support linebacker who doesn't attack the quarterback regularly, and Lee can roam the field to break up passes or make open-field tackles. The whole thing runs off of Ware, and his second year in Rob Ryan's defense should offer him a chance to showcase even more versatility as he moves from one side of the field to the other to confuse and terrify opposing offenses.
Potential weakness:
Spencer's not a glaring weakness, per se, but he's not the pass-rusher he appeared to be back when the Cowboys were rolling through the end of the 2009 regular season. If he were to step forward as a serious pass-rush threat, it would elevate the Cowboys' defense to a new level and alleviate some pressure on the revamped secondary. But Spencer's had time to show that he's capable of doing that, and he hasn't. So they'll likely have to be content with him being the same player he's been for the past two years -- good, not sensational. Maybe Butler gets more opportunities this year to show what he can do to help the pass rush. But I feel like we said that last year too, right?
Keep an eye on:
Carter. The second-year linebacker could conceivably open the season as the starter next to Lee. The Cowboys signed Connor in part because they weren't sure they could count on Carter to be ready to be a starter this year. But they believe in Carter's ability and think he can ultimately develop into something special. The question is timetable, and the extent to which he'll get a chance to show in training camp and the preseason how healthy he is. If he gets a lot of preseason playing time and does well in it, he has the chance to supplant Connor around the beginning of the season. If not, he'll have to play his way into a starter's role from the backup spot as the season goes along. But once he's ready, the Cowboys expect Carter to be a high-impact player, not just a guy who starts because they don't have anyone else to do it.