Dallas Cowboys:

NFL Nation: 4 Downs
July, 17, 2014
7/17/14
11:00
AM ET
For years the NFC East was one of the best divisions in football, but the four teams are going through different stages of transitions.
The
Philadelphia Eagles
won the division last year in Chip Kelly's first season, but do they have staying power?
Alfred Morris
has eaten up yards on the ground in his first two years with the
Washington Redskins
, but can he do it without Mike Shanahan's system?
The
New York Giants
' offense grew stale under Kevin Gilbride. Can new coordinator Ben McAdoo get
Eli Manning
back to a top level?
The
Dallas Cowboys
' defense was bad in 2013 and have pinned their hopes of improvement on new coordinator Rod Marinelli. Just how much can Marinelli do?
John Keim, Kieran Darcy, Andy Jasner and Todd Archer look at what can be expected from the Redskins, Giants, Eagles and Cowboys with training camp just around the corner.

Will Rod Marinelli improve an already poor defense having lost DeMarcus Ware, Jason Hatcher and Sean Lee?
Todd Archer: I believe the Cowboys will be better with Marinelli serving as defensive coordinator instead of Monte Kiffin in part because it can't be worse. It can't be worse, right? Ware, Hatcher and Lee were part of last season's poor defense and missed time. Lee will be missed the most because of his playmaking ability. Ware's pass rush will be missed even if he had just six sacks in 2013. I believe the Cowboys have Hatcher's replacement in Henry Melton. He might not get 11 sacks, but he'll be fine. Marinelli does not have the talent he had to work with in Chicago, but he is a top coach. He can coax the ability out of these guys. Does that mean the Cowboys will be a top-10 or even top-15 defense? Not really. If they can get in the low to mid 20s, then that's improvement. He is more in-tune with today's game than Kiffin and will be more willing to adjust if necessary. The Cowboys had no answers last season. I think Marinelli will have more answers but not enough pupils to earn an A.
Kieran Darcy:
The Cowboys gave up 6,645 total yards last season -- the most in the NFL, and the most in franchise history. That leaves a whole lot of room for improvement. Looking back, though, Ware was subpar in 2013 anyway. Hatcher had a career-high 11 sacks, but never had more than 4.5 in his previous seven seasons, and he just turned 32. And perhaps
Rolando McClain
can finally live up to his talent and capably replace Lee at middle linebacker? Marinelli did a great job running the
Chicago Bears
' defense from 2010-12. And a change at coordinator often reinvigorates a unit, at least to some degree. Dallas has some very talented players on defense, particularly in the secondary. They should be at least a little better in 2014.
Andy Jasner: It's hard to imagine the Cowboys' defense getting any worse. Well, anything is possible. Four different quarterbacks threw for 400 or more yards in a single game last season. The New Orleans Saints had 40 first downs against the Cowboys' defense in November. Even with some key pieces missing from the defense, they should be improved for one simple reason: work ethic. Marinelli has been part of some bad teams in the past but not because he didn't work hard. Marinelli will instill good habits in his defensive players and improvement throughout the unit will likely be visible. Four years ago in 2010, Marinelli was promoted to defensive coordinator with the Bears. That defense steadily got better as the season moved on. The Cowboys allowed 388 first downs last season, the second-most in NFL history. Even with Ware, Hatcher and Lee, the defense was awful. Good work habits should help across the board.
John Keim: Man, how bad will the Cowboys' defense be if he can't help them improve? Does that mean even more quarterbacks throwing for 400 yards after a record-setting four did a year ago? That was a defense in transition last year, going from a 3-4 to a 4-3 under coordinator Monte Kiffin, who had been out of the NFL since 2008. The problem is, they've lost their most productive players in the front seven. Losing Lee is a huge blow because he was the one of this group who was going to return. Marinelli has done good work as a coordinator in the past and was excellent as Dallas' defensive line coach in 2013, despite needing to use 20 players because of injuries. If the Cowboys stay healthy and their defensive backs respond to different coverages they'll improve. But they have such a long way to go.
@toddarcher the defense is going to be so bad that if they don't score 30 points they won't win! Another miserable year for us cowboys fans!

— Chris Matteson (@chechespopp) July 8, 2014
---

Will the rest of the division figure out Eagles coach Chip Kelly and make him a one-hit wonder?
Archer: The second time around against the Redskins and Giants, the Eagles' offensive performance slipped in 2013. The numbers against the Cowboys were better in the rematch only because the Cowboys were so good in the first meeting. In what was their best showing of 2013, Dallas gave up only 3 points and 278 yards in the first meeting. In the de facto NFC East title game to close the season, the Eagles scored 24 points and put up 366 yards. That's still respectable for a defense, especially one that was as bad as the Cowboys' last season. Kelly is innovative and appears to know how to stay ahead of the curve. He did that at Oregon in the Pac-12. But it will come down to Nick Foles. If he is a franchise quarterback and not a one-hit wonder himself, then the Eagles will struggle. Having LeSean McCoy, Darren Sproles, Jeremy Maclin, Riley Cooper, Zach Ertz and Brent Celek will help Kelly and Foles. With everybody wanting to hand them the division in the offseason, I think it's best to tap the brakes a little.
Darcy:
Prior to the start of last season, Giants coach Tom Coughlin said he and his staff had watched countless hours of tape of Kelly's offense at Oregon, hoping to be as prepared as possible -- and the Giants surely weren't alone in that regard. Yet the Eagles still racked up the second-most yards in the league (6,676), behind only
Peyton Manning
's Broncos. I'm sure coaching staffs -- the Giants' included -- were again hard at work this offseason, dissecting what the Eagles did in Year 1 under Kelly. But there's no reason to believe Kelly won't continue to be successful, with a young quarterback coming off a remarkable season and the NFL's leading rusher last season, LeSean McCoy. If Philadelphia takes a step back, it'll be because
DeSean Jackson
's now in Washington, not because of the coach.
Jasner: Everything seemed to click in Kelly's rookie season as running back LeSean McCoy rushed for a league-high 1,607 yards and quarterback Nick Foles threw 27 touchdowns against just two interceptions. Foles began the season as a backup to Michael Vick, who now plays for the New York Jets. Kelly took his high-powered offense from Oregon and made the seamless transition to the NFL. Kelly did a stellar job of adjusting to defenses last season and there's no reason to believe that won't happen again. The rest of the division has plenty of film on how to stop the Eagles' offense. Doing it is another thing altogether. Don't expect Kelly to be a one-hit wonder. However, repeating the feat is always more challenging with defenses keying in more closely. The Eagles may not put up the same huge numbers in Kelly's second season. With talent such as McCoy, Foles, Jeremy Maclin and Darren Sproles, the Eagles will still be able to score plenty of points.
Keim: I'm assuming Kelly will have some changes for defenses in order to build on what the Eagles accomplished last season. What he can't do is fall in love with his "system" and forget it's the talent that made it work. The tough part is expecting Nick Foles to post similar numbers as in 2013. And you can't minimize the loss of receiver DeSean Jackson, even in terms of his impact on others. That said, I still expect them to be a potent offense. They do a good job manipulating defenses and they still have one of the best all-around players in the NFL in running back LeSean McCoy -- not to mention a terrific line. So even if teams think they've figured out Kelly's offense, I'd expect the Eagles to keep doing well.
@SheridanScribe I don't think so, as a eagles fan I think that division is broken, and we have our full arsenal back minus DJacks

— Chocolate Gladiator (@Willing2GoHamm) July 16, 2014
---

Was Alfred Morris just a product of Mike Shanahan's system and will his effectiveness decrease under Jay Gruden?
Archer: So is he Tatum Bell, Mike Anderson or Reuben Droughns? Is that the question? Those three guys combined for four 1,000-yard seasons under Shanahan and never really performed well again. There is definitely something about the Shanahan system that makes it seem like any back can rush for 1,000 yards. But I think Morris could be more Clinton Portis than those other three. Portis was outstanding in Denver before his trade to Washington. The question, however, with Jay Gruden isn't so much the system as it is his willingness to run the ball enough. The Bengals ran for nearly 1,800 yards last year but it seemed like Gruden went away from the running game in the big moments. When you have a guy like A.J. Green that can be understandable, but is Andy Dalton good enough to carry the show? Now the question is can Robert Griffin III carry the show? The best way to help Griffin is to make sure Morris is a big part of the plan. If Gruden is smart, then he makes Morris the centerpiece of the offense.
Darcy:
It depends on how you measure effectiveness. Morris was second in the NFL in rushing yards in 2012 (1,613), and fourth in 2013 (1,275) -- I wouldn't expect him to be ranked that high this season. Gruden's rep is he likes to pass the ball, he was brought in to continue developing young quarterback Robert Griffin III, and he added a big weapon at wide receiver in DeSean Jackson. That being said, Gruden wasn't averse to running the ball with the Bengals -- in his three years as offensive coordinator in Cincinnati, they were ranked 10th, 17th and eighth in rushing attempts, respectively. Morris averaged 4.8 yards per carry in 2012, 4.6 in 2013, and I'd expect a similar average this year. The question is, how many touches does he get?
Jasner: It shouldn't. Morris racked up 1,275 yards rushing, 4.6 yards per carry, and 7 touchdowns last season. He was selected to the Pro Bowl for the first time and was arguably the Redskins' most consistent offensive player. Gruden will expect Morris to become a complete player with the ability to run block and pass block. Gruden is a meticulous coach whom expects his players to be all-around competitors. Gruden has always leaned heavily on running backs in his system and it would be foolish not to have Morris do the same thing in 2014. Morris has played all 32 games in two seasons, resulting in 2,888 yards rushing and 20 touchdowns. Morris' effectiveness should increase under Gruden as long as he's healthy. When there's an ultra-talented player such as Morris, you give him the football as often as possible.
Keim: I don't think so. Gruden used his backs differently than Washington has with Morris, but in Cincinnati he did not have a similar runner. Nor in Washington does he have a Giovani Bernard (at least not yet anyway; maybe Lache Seastrunk becomes that sort of player in 2014) to take a ton of work away from Morris. The Redskins will use other backs, especially in the pass game. But they kept the run game the same for a reason: They want to feature Morris. He makes the offense go. Last season, Bengals running back BenJarvus Green-Ellis carried the ball 278 times two years ago; that's two more than Morris had in 2013. If healthy, and if the Redskins want to win, then Morris will still be in that 280 carry, 1,300-yard area.
@john_keim Yes. Gruden is notorious in forgetting about the run game. Unless you are a young fast multi purpose back: (See Giovanni B)

— Dan (@dautry88) July 14, 2014
---

Will Eli Manning revert to Pro Bowl form in Year 1 under new offensive coordinator Ben McAdoo?
Archer: Having worked with Aaron Rodgers in Green Bay for two seasons, McAdoo should have the benefit of the doubt with Manning. There is no doubt Manning was bad last season and his 27 interceptions are proof of it. He took too many chances. He didn't get help from his receivers at times. His line didn't help him. His eyes were on the rush a lot. Rodgers has been sacked a lot in Green Bay, but some of that is because he won't take chances. He will eat the ball and move on to the next play. Can Manning do that? if he doesn't, then it will be another long season for the Giants. I believe Manning will have a bounce-back year, but I don't know if it will be Pro Bowl form. It will be good and solid form and that could get the Giants back into the playoffs.
Darcy:
Manning will play better in 2014 than he did in 2013 -- the question is, how much better? And the revamped offensive line is the key to answering that question, not McAdoo. The Giants gave up 40 sacks in 2013 -- twice as many as they did in 2012. That extra pressure had a lot to do with Manning's league-high 27 interceptions.
Geoff Schwartz
should be solid at left guard, and
Chris Snee
-- if healthy -- will get the job done at right guard. But center
J.D. Walton
hasn't played a game in two years, and left tackle
Will Beatty
is still working his way back from a broken leg. Manning sounded re-energized by learning a new offense during organized team activities, but without better protection and a stronger running game, he won't have a Pro Bowl-type season -- no matter what McAdoo calls.
Jasner: Maybe not Pro Bowl form, but it has to be better than last season's debacle with 27 interceptions. Yes, 27. To be fair, Manning had poor pass protection on a week-in and week-out basis. He was never able to locate his rhythm. McAdoo has a reputation of building a strong rapport with his players and that was evident when he was the quarterbacks coach and worked with Aaron Rodgers with the Green Bay Packers. Manning must keep his interception total down and the Giants can't give the ball away 44 times like they did last season. Manning will have more options on offense in 2014 and some early-season success will be a boost to his confidence. This team doesn't resemble the two Super Bowl-winning teams under Manning. Don't expect a Pro Bowl season from Manning, but it should be a whole lot better.
Keim: One thing that hurt Manning, against the Redskins at least, was the defense's familiarity with Kevin Gilbride's system -- and, more important, his tendencies. They had a strong handle on what to expect. My guess is other teams did as well. But it sounds as if McAdoo will focus more on shorter passes which, the Giants have to hope, will help Manning cut down on his interceptions. Yes, he's learning a new system, but Manning is a smart player so I don't think it will hold him back that much. I'm looking for a big bounce-back year from him, but whether he reaches the Pro Bowl will depend on how his line improves and how the questions at receiver are answered. I'm not ready to go that far just yet.
@KieranDarcy pretty close to it, Quick reads, fresh system, and an up-and-coming offensive coach like Ben will light a fire under Eli #nyg

— livingston (@Livzus) July 15, 2014
June, 12, 2014
6/12/14
10:00
AM ET
The NFC East is not what it once was, and there have been plenty of changes in the division.
Since 2010, the NFC East is the only division not to have a team post more than 10 wins in a season.
The
Washington Redskins
hired a new coach in Jay Gruden. The
Dallas Cowboys
and
New York Giants
have added new playcallers. The
Philadelphia Eagles
have added several key free-agent pieces while also saying goodbye to
DeSean Jackson
.
How will these changes impact what happens in the NFC East in 2014?
NFL Nation reporters Phil Sheridan (Eagles), Dan Graziano (Giants), John Keim (Redskins) and Todd Archer (Cowboys) take a look.

Can Jay Gruden and DeSean Jackson help Robert Griffin III regain his form and bring Washington back to the postseason?
Todd Archer: If Gruden can't, he was the wrong hire. Adding Jackson to Pierre Garcon will help. Jackson is a big-play receiver, and in Cincinnati, Gruden was unafraid to take shots down the field with A.J. Green or Marvin Jones. It has been a quiet offseason for RG III compared to last season, when there was so much focus surrounding his rehab from knee surgery, how much he would or would not do, whether he would or would not wear a knee brace, whether he liked Mike Shanahan or Shanahan liked him. For Griffin, it's good that the focus has been on football. This is a critical year for him. If he does not return to form, the Redskins won't return to the playoffs.
Dan Graziano
: I think Jackson will help, as will a less toxic relationship with the coaching staff than RG III had last season. Gruden got a lot out of
Andy Dalton
in Cincinnati, and I think he could work magic with a talent like Griffin, especially with Jackson added to a receiving corps that already includes Garcon and
Jordan Reed
. Griffin remains a great talent who I think will have success long term in the NFL. But I think not enough is being made of the offensive line issues in Washington. The Redskins did not protect the quarterback well in 2013, and I'm not convinced they've done enough to improve the line for this year. If they have, the sky is the limit for that offense. But if they struggle again up front, the young QB could be in for another rough season.
John Keim: They can -- to a degree. But if he regains his form, it'll also be because he's had a full offseason, something he did not have last season, and he'll be playing without the brace on his right knee. He's used the offseason to tweak his mechanics, but he also needs to use it to read defenses quicker, which, in turn, will allow him to use all the new weapons around him. Jackson provides Griffin a consistent big-play target whose presence will make it tough for defenses to stop everyone. If the receivers and tight end Reed stay healthy, there will be mismatches. As for Gruden, his style of coaching might be a better fit for what Griffin wants and needs. He still understands a quarterback's mindset and has a good handle on what Griffin needs.
Phil Sheridan: They can't hurt. But really, this is about Griffin becoming the quarterback he's capable of being. We've all seen the signs that he can be special. It's hard to believe that Mike and Kyle Shanahan were entirely to blame for every hitch in Griffin's progression. That said, he now has a fresh start. He is Shanahan-free. There is an opportunity for him to redefine himself. Will Gruden and Jackson help? They really should. Jackson still has elite speed that puts pressure on every defense charged with covering him. It is up to Griffin to develop a strong connection to his new teammate. There is no reason to suspect that he can't. As for the postseason, the Eagles will not willingly give up the progress they made last season under Chip Kelly. But the NFC East is not exactly the most daunting challenge in the NFL. There will be space for Griffin in the playoffs if he earns it.
@john_keim A no drama, QB-friendly coach & a WR that can take the top off defenses should help both RGlll & team w/form/playoffs #fourdowns

- JP (@1fastdog) June 6, 2014
---

Who will be the best rookie in the division?
Archer: Best or most impactful? It's hard to say a guard will be the best rookie in the division, but I think the Cowboys' top pick, offensive tackle Zack Martin, will be the most impactful. He is the third first-round pick on the line and will be a day-one starter. If he plays well, Tony Romo will have more time, DeMarco Murray will have more room and indirectly the defense will be better because it will be on the field less. But if we're looking for the best, I'd go with Giants wide receiver Odell Beckham Jr. or Eagles wide receiver Josh Huff. They will get plenty of opportunities. If Eli Manning is to bounce back, Beckham will do things Hakeem Nicks didn't do. I think Huff will benefit from playing for Kelly at Oregon and will make a smooth transition into the offense. Why didn't I mention any Redskins? I was underwhelmed by their top three picks and they didn't have a first-rounder thanks to the Griffin trade.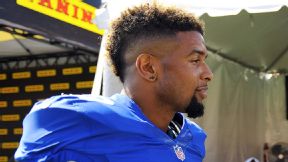 Graziano
: I'll go with Philadelphia's
Jordan Matthews
, because the idea of a 6-foot-3 slot receiver in Kelly's offense is a scary one for defenses to ponder. I considered Beckham of the Giants, but I think he's going to struggle more with press coverage than the Giants anticipate. I considered Demarcus Lawrence of the Cowboys, because SOMEBODY has to rush the passer in Dallas, and opportunity could help Lawrence pile up the sacks. And the easy answer likely would have been Martin. But it's hard to imagine getting to the end of the year and proclaiming a right guard the best rookie in the division. I'm betting on Kelly finding ways for Matthews to shine as the Eagles pile up points again.
Keim: I was all set to pick Matthews because I love the total package there: speed, size, smarts, work ethic. He'll be a good one, but the Eagles also have several weapons, and that could detract from his ability to make an impact. I really like linebacker Marcus Smith in Philadelphia; he and Washington's Trent Murphy will have opportunities, too, as pass-rushers. But the guy I'll go with is Martin. At No. 16, Martin should make the most impact. But his presence gives Dallas one of the best offensive lines in the NFL. Eventually he could shift outside, but Martin should be a solid player up front for many years, and he'll help immediately.
Sheridan: The easy answer is Beckham. He is the only first-round pick in the division who is likely to make a major impact as a rookie. Even if Martin and Smith have good seasons, they won't show up on the stat sheet the way a wide receiver will. That's what makes the dark-horse candidate Matthews, the Eagles' second-round pick. A wide receiver from Vanderbilt, Matthews is likely to start out playing in the slot. The Eagles almost always had three receivers on the field under Kelly last season. If Matthews can earn the playing time, he'll get some exposure.
Odell Beckham! Will be playing in up-tempo offense. Already the best route runner in this draft and new O will surprise def's. #Fourdowns

- Mike (@GiantsfaninTx) June 10, 2014
---

Will Scott Linehan help the Cowboys take advantage of all their weapons on offense?
Archer: On the surface, the Cowboys' offense was not a problem last year. Romo threw 31 touchdown passes in 15 games and was intercepted 10 times. Murray had his first 1,000-yard season and went to the Pro Bowl. Dez Bryant, Tyron Smith and Jason Witten also went to the Pro Bowl. But there were issues. The red zone offense was a lot better, but the third-down offense was awful. It couldn't stay on the field enough. It was too easy for teams to take away Bryant and Witten in the passing game. The Cowboys did not run the ball enough when they had leads in games, like against Green Bay. Linehan inherits a talented group, and he is known for his ability to adjust in-game. If there has been a criticism of this offense, it is that the only answers to double-teams were to throw it to the other guys. They did little to help Bryant and Witten break free. Linehan had to deal with double coverage with Calvin Johnson a ton when he worked in Detroit. Although he threw it a lot with the Lions, he has shown a willingness to run it in the past, be it in Minnesota or St. Louis or even last year with the Lions. Reggie Bush had more than 1,000 yards. Unlike last year's playcaller, Bill Callahan, this will truly be Linehan's show. That will help him break free from Jason Garrett's shadow.
Graziano
: Oh, yeah. The tools Linehan has to work with here are dazzling, when you think about Romo throwing to Bryant,
Terrance Williams
and Witten or handing it off to Murray. The Cowboys are loaded with skill-position talent on offense, and they've made the offensive line better each of the last four years. Behind that talented line, the offense should flourish, especially the passing game. Dallas' defense looks so rotten that the Cowboys and Romo will be forced to play from behind and throw the ball a lot, and I think that's a situation in which Romo, Linehan and the offense will thrive. People forget that for all the acclaim the Eagles' offense got in 2013, the Cowboys scored only three fewer points than Philadelphia did. Offense hasn't been the problem in Dallas for some time, and it'll be far from it in 2014.
Keim: Maybe, but the thing I worry about with Linehan is his tendency to become so pass-heavy. Dallas' offense already relied a lot on throwing the ball, and that seemed to be a problem. The Cowboys averaged only 94 rushing yards per game, but they gained 4.48 per run. That's pretty good. With the line they're building, I would think they'd want to run the ball a bit more, but that goes against Linehan's history. But what I like, possibly, is getting the backs more involved in the passing game (another Linehan staple from his past). That would enable Murray to stretch his game -- and give defenses more to worry about. The Cowboys have the ability to diversify their offense, but Linehan can't just fall in love with the pass.
Sheridan: You would certainly think so, but then you'd have thought all those weapons would have produced a bit more over the last few years. Indeed, you'd think the same of the Detroit Lions, whose offense Linehan was most recently running. The Cowboys did the right thing by drafting to rebuild their offensive line. That would go a long way toward giving Romo the time to do what he does. And that would go a long way toward helping Linehan succeed. The bigger question is whether all those weapons are really as dangerous as they appear. Romo is at the point where many quarterbacks have begun their decline. Witten is 31. Bryant is in his prime, but he needs another wide receiver to draw some of the attention from opposing defenses. Murray had a good 2013, but Linehan wasn't exactly devoted to the running game in Detroit. Until proven otherwise, the Cowboys continue to look like a lot of exciting elements in need of a coherent plan.
@toddarcher #Fourdowns He better take advantage of all the Cowboys offensive weapons because they will need 35+ ppg to be even competitive.

- Noah (@thecoolnoodle) June 10, 2014
---

Who was the better secondary signing: Malcolm Jenkins or Dominique Rodgers-Cromartie?
Archer: In a division with Bryant, Jackson, Garcon, Jeremy Maclin and Riley Cooper, I'm going with Rodgers-Cromartie. I know safeties are the "it" deal now because of what Earl Thomas has done in Seattle, but cornerbacks are more important. Jenkins fills a need the Eagles haven't filled since losing Brian Dawkins. He will bring stability to the secondary, and that will help the front seven. But Rodgers-Cromartie can do more. Cornerback has been a problem for New York because of injury, poor play or both the past few seasons. Rodgers-Cromartie has good length and speed to handle different kinds of receivers. He will gamble, but he is an upgrade at an ultra-important position.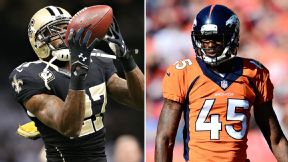 Graziano
: I know all about Rodgers-Cromartie's red flags, concerns about consistency of concentration and effort. And I know there are a lot of fans in Philadelphia who'll say Jenkins because they don't have fond memories of the way Rodgers-Cromartie played there. But all of that said, he's just the better player, and that's why he's my answer. The Giants spent big to get him, but when you look at what cornerbacks are starting to get paid around the league, the deal isn't necessarily going to look crazy a year or two down the road. And if Rodgers-Cromartie plays to his talent level more consistently than he has in previous stops, the Giants won't regret a penny of it. They believe that having him in their program, with early-career mentor
Antrel Rolle
in the same secondary, will keep him focused. And if it does, this will be a no-contest. I like Jenkins fine as a player, but Rodgers-Cromartie will have a greater impact simply because he's better.
Keim: I have questions about both players, although Rodgers-Cromartie is more talented. Jenkins gives the Eagles a versatile safety, someone who can revert to his corner days and cover. He's coming off a solid season but has been inconsistent. As for DRC, he's also on his fourth team -- something few elite corners at age 28 have ever said. Double moves will get him, and he will be beaten deep. But his length and athleticism make him dangerous, and maybe he's found a permanent home. DRC's presence enables the Giants to use Rolle only at safety -- before now, he's played mostly man. They can now use Rolle better when it comes to disguising coverages. By a hair, I'll go with DRC.
Sheridan: As a member in good standing of the Philadelphia sports community, I'm going to have to say Malcolm Jenkins. Not because the safety from New Orleans signed as a free agent with the Eagles but because Rodgers-Cromartie spent two of the most mystifying seasons imaginable here. Jenkins appears to be a smart, tough safety who will help solidify the Eagles' secondary. We'll take that over Rodgers-Cromartie's skill set -- especially because he demonstrated to Eagles fans how useless a skill set can be when its owner is jogging after ball carriers and declining to do anything so demeaning as tackle an opponent.
@SheridanScribe #Eagles Fans have experience with DRC...#Quitter even made Namdi Look Bad #Giants fans watch @MalcolmJenkins with ENVY

- Kevin (@HelloKevinHere) June 10, 2014