Dallas Cowboys:

NFL Nation Says
October, 31, 2013
10/31/13
9:00
AM ET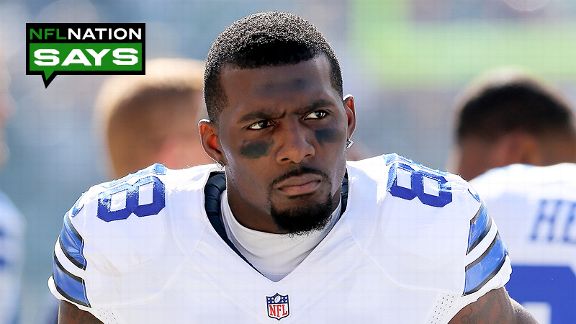 Elsa/Getty ImagesWhat's the best way to handle a player who loses his cool, like Dez Bryant did on Sunday?
Did
Dez Bryant
cross the line Sunday at Ford Field? Did his emotional release on the
Dallas Cowboys
' sideline look worse than it was? Did it distract the Cowboys' focus and contribute to a late collapse in a
31-30 loss
to the
Detroit Lions
? Or is it merely an excuse to cover for the Cowboys' deficiencies?
Reasonable people can disagree on the substantive impact of Bryant's prolonged expression of outrage.
Speaking on ESPN
, former NFL receiver Keyshawn Johnson said Bryant had a right to be upset about the Cowboys' failure to get him the ball in critical situations.
ESPN columnist Jason Whitlock wrote
: "He was clearly out of bounds on Sunday. He was too caught up in the one-on-one duel he was having inside his head between himself and [Lions receiver
Calvin Johnson
.]"
What's indisputable is that sideline outbursts, and even fights among teammates, long have been a part of NFL culture. Coaches often get into the act,
as we saw earlier this season
between the
Green Bay Packers
' Mike McCarthy and quarterback
Aaron Rodgers
, and sometimes it devolves into coach-on-coach crime. (See: Buddy Ryan and Kevin Gilbride, Houston Oilers, circa 1994.)
If you accept the premise they are part of the game, you move on to what might be a more important question: How should they be dealt with in the heat of the moment? Bryant's episode provides instruction on the various possibilities.
Cowboys receivers coach Derek Dooley quickly snapped at Bryant and moved on. Quarterbacks coach Wade Wilson didn't acknowledge him, while head coach Jason Garrett kept Bryant at arms' length while trying to speak with quarterback
Tony Romo
.
Tight end
Jason Witten
lost his cool, matching screams with Bryant, while defensive end
DeMarcus Ware
-- in street clothes because of injury -- quietly stood face-to-face with him.
What's best when a player is out of control? ESPN's NFL Nation tried to find out:
"I've had to calm somebody down before. I think the best way to handle it is just pull him aside and say. 'Yo, calm down, you've got cameras all around, you don't want people to think we've got a problem out here.' I think you have to look at it like if you've got something to say, let's say it without all the extra stuff. Let's deal with it and move on. You've got to keep everybody in the game, no matter what."
--
Denver
safety
Mike Adams
, as told to ESPN.com Broncos reporter Jeff Legwold
---
"Maybe we can get a shot clock on it, right? I don't know. If it becomes the helmets [are] off, then it can be a little destructive, but I can't say enough. I've thrown my helmet plenty of times. I've been nose to nose with coaches plenty of times, with other players. It happens, you know? And again like I said, that's a sign of someone that's invested. I have a bigger problem with people that are detached that are just like, counting butterflies on the side when you're trying to get a win. So, yeah, maybe you shouldn't go on all the time, but honestly I saw the clips, I didn't think it was that big. Now all of a sudden the audio comes out and everybody's like, 'Oh, he's so passionate.' Give the kid a break. He was hot, for a minute. It's just like family. You're around each other every day, all the time, sometimes you need a vent session. [But] sometimes you need to just, hey, L-E-T it, let it go. Move on."
--
Minnesota
defensive end
Jared Allen
, as told to ESPN.com Vikings reporter Ben Goessling
---
"Usually, the guys are comfortable with the other guys. So ... because [we] know the guy's personality, we'll know more about what's going on than the people watching on TV. So just deal with it like any confrontation, whether it's positive or negative. Hand gestures and mouths moving, you can't really hear what's going on. People just see. For us, it's just like any conversation. You just talk to them like a regular person."
--
Chicago
tight end
Martellus Bennett
, as told to ESPN.com Bears reporter Michael C. Wright
---
"You've got to control your emotions. You can't show up your quarterback, but [when] you're passionate about winning sometimes that's going to happen as competitors. That's why you've got to have leaders and guys around to make sure you stay positive and make sure the common goal is winning and helping the team win.
--
Pittsburgh
receiver
Antonio Brown
, as told to ESPN.com Steelers reporter Scott Brown
---
"The most important thing is that you have to cool everybody down and address the issue. There is no reason to get into a bickering or a fighting match with one another, because if you do that, the next series you're up you're still thinking about the problems on the sideline. So the most important thing is calm yourselves down, address the issue -- talk about it, write about it -- and move forward. If you do that and allow that, then it makes the game smoother throughout the course of the game."
--
New England
defensive end
Andre Carter
, as told to ESPN.com Patriots reporter Mike Reiss
---
"We have those all the time. I think people need to understand that happens on every team.
Tom Brady
has had it happen. We have those every game, every team has those guys with a lot of emotions. You just have to know everybody is looking at you and get yourself so that you stay in the game mentally. If you're a leader, you can't make a habit of losing your composure. You can be mad, upset, but you can't get so far out [that] you lose your composure, get yourself out of the game. Because when it's over you still have to go play."
-- Denver cornerback
Chris Harris
, as told to ESPN.com Broncos reporter Jeff Legwold
---
"It's a tough balance between being super passionate about what you do and wanting the ball and wanting to win, but also coming across the right away. ... Sometimes it's like a family that fights. My wife's family, they all sit there and yell at each other every day and then two seconds later they say, 'I love you,' and hug."
--
Green Bay
linebacker
A.J. Hawk
, as told to ESPN.com Packers reporter Rob Demovsky
---
"If he's going to do it, pull him to the side. Don't do it on live TV. I understand being emotional and all that. You got to understand we're all grown men. You've got to respect each other. ... Sometimes it needs to be done, especially on the defensive side. There's a good way to do it and a bad way to do it. When people are listening to you, it's a good thing. If you do it all the time, I don't think people will listen to you."
--
Carolina
defensive end
Charles Johnson
, as told to ESPN.com Panthers reporter David Newton
---

"If he's yelling at me, I'm going to have to tell him something, obviously. But you don't want it to be a big whole thing on the sideline at the same time. You might try to tell him something, but not [something] that could fire him up. You already know that he's fired up."
--
Miami
receiver
Mike Wallace
, as told to ESPN.com Dolphins reporter James Walker
---
"I've been one of those guys. I just think that's a part of the game. It's an emotional game. I think Dez Bryant is a tremendous player. I think he's just a guy that wears his emotion on his sleeve. To a degree, when you're young like that, that's the way you know how to express yourself. I've dealt with those things and still deal with those things today."
--
Philadelphia
cornerback
Cary Williams
, as told to ESPN.com Eagles reporter Phil Sheridan
---