Dallas Cowboys:

Nick Fairley
October, 31, 2013
10/31/13
5:00
PM ET
IRVING, Texas --
Dallas Cowboys
quarterback
Tony Romo
is not on the injury report, but he admitted to some soreness through eight games this season.
Romo had surgery in the offseason to remove a cyst from his back and missed the entire offseason program, organized team activities and minicamp but said it feels fine.
Romo
"Just bruises throughout the season, there are no back issues or anything like that," Romo said. "You end up getting to the midpoint of the season, your shoulders are tight, all the legs, all that stuff, you've got to keep grinding away, keep getting better, and keep staying in the weight room and doing all that good stuff."
In last week's loss to the
Detroit Lions
, Romo was slow to get up after defensive end
Ezekiel Ansah
rolled into him on a 2-yard scramble on the second snap of the game. On the fifth snap in the game, Lions defensive tackle
Nick Fairley
hammered Romo after he let loose of a pass and later in the first quarter Fairley decked Romo from behind after a throw.
Romo completed just 14 of 30 passes for 206 yards. The 46.7 completion percentage was the third-worst of his career in games in which he has started and finished.
After putting up at least 318 yards on offense in the first five weeks, the Cowboys have had less than 300 yards in two of the last three games. They have converted just 13 of their last 41 third-down opportunities. Romo has completed only 56 percent of his passes.
"If you look at the season as a whole you're going to have games that are more difficult. I think we've had two road games, that's a part of it," Romo said. "They've created some good pressure up front. I've thrown away more balls the last two games than I had previously maybe in four or five. That's trying to stay ahead of the chains and things like that. The other part is just executing. We've just got to be better. It all comes into play."
December, 8, 2012
12/08/12
4:54
PM ET
For the second Saturday in a row, a terrible and avoidable real-life tragedy has shaken up the insular fantasy world that is the NFL. Dallas Cowboys nose tackle Josh Brent has been jailed on charges of intoxication manslaughter and teammate Jerry Brown is dead as a result of a one-car accident that happened early Saturday morning in Irving, Texas.
Tim MacMahon has the sad details
as they continue to come in:
Brent, a three-year veteran, was booked in the Irving [Texas] city jail at 4:14 a.m. Saturday morning.

Brown was signed to the Cowboys' practice squad earlier this season. He was also Brent's college teammate at Illinois.

"We are deeply saddened by the news of this accident and the passing of Jerry Brown," Cowboys owner Jerry Jones said in a statement. "At this time, our hearts and prayers and deepest sympathies are with the members of Jerry's family and all of those who knew him and loved him."

The Cowboys are flying to Cincinnati for Sunday's game against the Bengals and had no comment on the accident, other than to say Brent did not make the team's charter. The players were told on the plane just before takeoff of what happened after non-team personnel were asked to go outside.

In June 2009, Brent was sentenced to two years probation and 60 days in jail as part of a plea agreement stemming from a drunken driving arrest in Champaign County, Illinois.
Just awful, and the kind of thing that obviously makes football seem irrelevant. Nose tackle Rob Callaway was promoted from the practice squad and is likely to play Sunday because starter Jay Ratliff is injured and Brent is not with the team. But the real issue here deals with the life of Jerry Brown, which is incomprehensibly over at the age of 25, and the life of Brent, 24, which will never be the same after he apparently made one of the stupidest mistakes an adult human can make -- and made it for at least the second time.
Brent already did time while in college on drunken driving charges, which means the significance of the crime theoretically should have been impressed upon him. Drunken driving is as selfish, avoidable and inexcusable a crime as there is -- especially for high-profile professional athletes, who have myriad other options available to them by the time they decide to go home after having too much to drink. Every single player in the NFL has a "safe rides" program available to him courtesy of the NFL Players Association. Many teams also offer "safe rides" programs, which provide players with a phone number they can call for a ride at any time, anywhere in the United States. And if for some reason a player doesn't want to reach out for help from such a program, he certainly can always call a cab.
The decision to get behind the wheel of a car after you've had too much to drink is flatly irresponsible -- whether you play NFL football or not. But there were a number of NFL drunken driving cases this offseason, including the Giants' David Diehl, the Lions' Nick Fairley and the Jaguars' Justin Blackmon. And although none of those cases resulted in anyone getting injured or killed, this is not the first case in league history that has. It serves as a reminder of why it's so important for the league to make its players aware of the seriousness of the issue, and the number of drunken driving cases the league still deals with serves as a reminder that the message isn't sinking in.
This is an issue that doesn't get treated seriously enough -- by our sports leagues or by our society in general. Even after reading the story of Brent and Brown, people all over Texas and the rest of the United States are going to climb into their cars later tonight after having too much to drink. Some of those people will even be pro athletes with solutions available to them that aren't available to the rest of us. The majority will arrive safely home in spite of their irresponsible decision, and every such success unfortunately makes it more likely that the driver in question will do it again at some point in the future.
The NFL and the NFLPA would do well to make this issue a higher, more public priority going forward than they have in the past. Whether that means working harder to raise awareness, imposing stronger discipline for such violations or some other solution, it needs to be done. What the NFL and its players do gets noticed, and it's even possible that if the league made drunken driving a point of emphasis, the rest of our society would start to take it more seriously. There's nothing to lose by trying harder on this and taking the problem more seriously, and if nothing changes, then what happened Saturday morning in Irving, Texas, is just going to keep happening.
March, 30, 2011
3/30/11
8:00
AM ET
ESPNDallas.com looks at potential Cowboys picks for the April 28-30 NFL draft.
NICK FAIRLEY
Position:
DT
School:
Auburn
Scouts Inc. ranking:
No. 8 overall
Bio:
Won the Lombardi Award and was named the SEC Defensive Player of the Year after setting Auburn single-season records with 24 tackles for losses and 11.5 sacks as a redshirt junior in 2010. … Was a consensus All-American, a finalist for the Nagurski Award and a semifinalist for the Outland Trophy. … Fairley, a junior college transfer, had only one dominant season in major college football. He had only 3.5 tackles for losses and 1.5 sacks as a reserve in 2009, his only other season at Auburn.
[+] Enlarge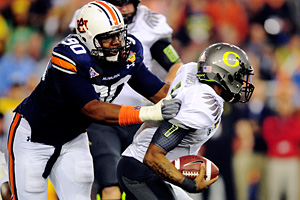 Mark J. Rebilas/US PRESSWIRENick Fairley had only one dominant season at Auburn, but it earned him the Lombardi Award.
Size:
6-3 7/8, 291
40-yard dash:
4.85
Arm length:
34 ¾
Hand size:
9 ¾
225-pound bench reps:
Did not lift at scouting combine.
Vertical jump:
31
Broad jump:
9-5
20-yard shuttle:
4.56
Three-cone drill:
7.14
Broaddus Breakdown (viewed South Carolina, Alabama and Oregon games):
Looks physically like a defensive end more than that of someone that would play over the nose in a 3-4 scheme. Can see why teams that play in a 4-3 scheme would be interested in him as a 3 technique defensive tackle over the guard. … Fairley can be difficult to handle because of his explosiveness off the football. Where he gets in trouble at times is when he comes off the ball upright, tall, and then exposes his numbers to the blockers. … I did not see a wide range of pass rush moves -- overarm or swim was his most productive one. This will be an area that a defensive line coach in the NFL can help him with because he does show quickness and power. … Likes to "bull rush" or overpower blocker with a straight ahead charge. Will fight to become an upfield rusher but needs to do a better job with his hands when he is trying to disengage off blocks. … Gets upfield because of quickness and strength. His technique work will need some serious work. Needs to fire his hands inside and do a better job of controlling the blockers then finding the football. … Can be a load when he gets into position to make a tackle. Type of guy who is physical when he wraps you up and plants ball carriers in the ground. … In the running game, he struggled with linemen who were down around his feet. Did not play the low block with the type of technique that he needs to use. This goes back to playing with his hands. When he keeps his pad level down, he can make plays. … On the goal line against Alabama, he was able to stay low, shoot the gap and trip Mark Ingram before he was able to get started. Had another impressive play when he stood up as an outside linebacker against Alabama in a special defense where he was on the outside then folded back inside, causing a blocking mix-up for the line and backs and getting a clean hit on quarterback Greg McElroy. … The biggest question I have on Fairley is his conditioning. There are large stretches in the games that I viewed where he wasn't even on the field. I now understand when scouts were talking about the plays he takes off. … More of a natural player than a technique sound guy. Interested to see where he ends up in the top 10 but would not take him over Marcell Dareus of Alabama.
February, 20, 2011
2/20/11
10:15
AM ET
Players:
Stephen Bowen
(free agent),
Jason Hatcher
(free agent),
Jay Ratliff
(signed through 2012),
Josh Brent
(signed through 2013),
Igor Olshansky
(signed through 2012),
Marcus Spears
(free agent),
Sean Lissemore
(signed through 2013),
Clifton Geathers
(free agent),
Alex Daniels
(free agent)
Top free agents:
Shaun Ellis
,
New York Jets
;
Ray Edwards
,
Minnesota Vikings
;
Haloti Ngata
,
Baltimore Ravens
;
Mathias Kiwanuka
,
New York Giants
;
Aubrayo Franklin
,
San Francisco 49ers
.
Top draft prospects at defensive tackle:
Nick Fairley
, Auburn;
Marcell Dareus
, Alabama;
Corey Liuget
, Illinois.
Top draft prospects at defensive end:
Da'Quan Bowers
, Clemson;
Robert Quinn
, North Carolina;
Adrian Clayborn
, Iowa.
2010 review:
Jay Ratliff reached the Pro Bowl for the third time but didn't produce the same numbers as last season when he was named All-Pro. But that doesn't mean Ratliff isn't a solid player. In fact, he continues to be one of the top linemen in the game and will remain at nose tackle despite speculation he could move to end because of his size -- or lack thereof. Stephen Bowen and Josh Brent saw time because of injuries and were bright spots last season, and Igor Olshansky was a steady presence, as well.
Offseason preview:
There are three ends -- Marcus Spears, Jason Hatcher and Bowen -- who are free agents, and the Cowboys can't keep them all. One thing they need is an end who can get after the quarterback to take some pressure off Ratliff. Hatcher didn't do enough of that last season when given the chance. Sean Lissemore came on strong toward the end of training camp to earn a spot on the roster, yet an injury didn't allow the Cowboys to see more of him during the regular season. Alex Daniels impressed the coaches with his work on the scout team, and he's hopeful to get a chance to make the active roster in 2011.
Need meter
: (0 to 5) 4
January, 21, 2011
1/21/11
8:30
AM ET
Welcome to our first mailbag of the offseason, and it might be a long one if there's a lockout. Before we get to the mail, let's address two issues:
Trading Dez Bryant
[+] Enlarge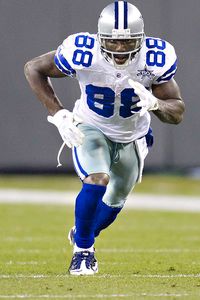 Jeff Hanisch/US PresswireNFL teams are always willing to listen to discussion about players. However, that doesn't mean Dez Bryant is going anywhere.
It's dumb. The Cowboys haven't gotten any offers for Bryant and are not expecting to trade him. Some readers misinterpreted my blog post from a few days ago that the team was trying to trade Bryant. A team source said he would listen to offers for Bryant, but never said he would trade him. Last year, another source -- when asked would he consider bringing outside linebacker
Greg Ellis
back to the Cowboys -- said yes. But it never happened.
NFL teams, the Cowboys included, talk about players all the time and how they would fit. In Ellis' case, it wouldn't work because the coaches felt confident
Anthony Spencer
was going to be fine as the starter and the backup linebackers would provide adequate relief for him if necessary.
In the Bryant case, a hypothetical question about what you could get for him considering the Cowboys' offseason needs was the basis of what was being said. Nobody reported Bryant was on the trade blocks.
The Rooney Rule
Some readers are upset with the Rooney Rule, which forces NFL teams to interview minority candidates. The rule was enacted because NFL teams didn't consider interviewing minorities on a regular basis for head coaching jobs. All minority coaches have ever asked for is a fair chance to become head coaches, and it didn't appear that was happening.
John Wooten, who is the chairman of the Fritz Pollard Alliance, sends NFL teams a list of minority coaches that should be considered for head coaching positions. The other day I found a list from 2008 naming 16 coaches. Of that list, Leslie Frazier, Hue Jackson, Raheem Morris, Ron Rivera and Mike Singletary became head coaches. Former Cowboys receivers coach Ray Sherman is also listed but hasn't gotten a head coaching job. I think the Rooney Rule works, but readers and maybe some of us in the media should ask some more questions before criticizing it.
Enough of the soap box. Let's get to the mailbag.
[+] Enlarge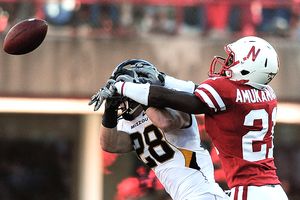 Eric Francis/Getty ImagesWill Nebraska CB Prince Amukamara be there for the taking with the Cowboys' first-round pick (No. 9) in the draft? Mel Kiper Jr. sure thinks so.
Q: Most mock drafts have Da'Quan Bowers, Nick Fairley, Marcell Dareus, Patrick Peterson and Prince Amukamara all going before the Cowboys draft at No. 9. Do you see any possibility in which Carolina would swap picks with Dallas and pick up Blaine Gabbert or Jake Locker at No. 9 -- since that's where they are projected to go -- and the Cowboys pick up an elite defender to fit in nicely with Rob Ryan's new defense? -- Lawrence Torres (Bakersfield, Calif.)
A:
The Cowboys have a chance to get a premium player at No. 9, and I don't believe a trade is necessary. Last season, they traded up to get Bryant, a premium player who fell in the draft for off-the-field issues. Getting an elite pass rusher or safety is the way to go for the Cowboys at No. 9. But if a guy like
Von Miller
, for instance, is gone, then maybe you get Amukamara or somebody else. Remember there are holes on the offensive line, and it's uncertain if the Cowboys will re-sign
Kyle Kosier
as the left guard for 2011. There are many possibilities for a top 10 pick, and the Cowboys can't go wrong here with whoever they select.
Q: Despite accomplishments by Jay Ratliff,I believe that he's a tad overrated. I know that he is a Pro Bowler, but that is more of a popularity contest at this point. I feel that the Cowboys should look at Marcel Darius of Alabama and move Ratliff to defensive end. I've said for three years, he's too small for nose guard. He consistently gets blown off the ball in the run game but his speed would be great at end. Your thoughts? -- Byron (Indianapolis)
A:
That's an interesting take on Ratliff. I thought he was double-teamed plenty of times last season, which is why he didn't get to the quarterback more or create enough pressure in 2010. A move to end might be better for him, and it's something the team tried to do a few years ago. Ratliff didn't seem thrilled with it then, but knowing the team player that he is, a move such as this might sit well with him now. The problem I had with Ratliff was his lack of quarterback pressures and his inconsistency at stopping ball carriers for no gain. Rob Ryan, the new defensive coordinator, might make some position changes or keep things the same but change how certain players do things technique-wise.
Q: Do you feel Felix Jones can be an every-down back? Should the Boys look to draft one? -- Mike T (Syracuse)
A:
It was very interesting to note when
Marion Barber
was healthy toward the end of the season, the Cowboys kept him on the sidelines and Felix Jones remained the starter. Those last four games of the 2010 season might have been an audition for Jones to show he can carry the ball 15-20 times a game. If the Cowboys feel he can, then
Tashard Choice
is the No. 2 and Barber will be released.
Q: Trading Dez Bryant would be a dumb mistake. We all know which of the receivers need to be traded (Roy Williams). -- Andrew Maxwell (Colombia, Maryland)
A:
I'm not sure if you can get anything for Williams. At best, if you cut him, it's a $12.9 million cap hit -- and the Cowboys might be willing to do that. Bryant is not going anywhere. Never said he was. But Williams might. A trade isn't happening, but releasing him is a possibility.
Q: Dallas clearly has the worst secondary in the NFL. Their secondary was clearly the reason for half of their losses. Dave Campo is the secondary coach. It's time for him to hit the road. He clearly does not have a clue how to coach their personnel. The Cowboys never win on third down, and the coach does not know now to get his point across. Wasn't he fired once before? -- Williams McClelland (Port Neches, Texas)
A:
It's easy to blame the coach for the problems with the secondary. In 2009, when
Mike Jenkins
and
Terence Newman
reached the Pro Bowl, Campo was the secondary coach. I think Jenkins had an off year and is poised for a bounce-back season in 2011. Newman might get released in a cost-savings move. There are some in the front office that aren't too happy with him, but Jerry Jones, Stephen Jones and Jason Garrett will make the final call on Newman. I think he'll be here unless the Cowboys decide to get a cornerback in the first round.