Dallas Cowboys:

Peyton Hillis
November, 23, 2013
11/23/13
2:00
PM ET
IRVING, Texas -- The
Dallas Cowboys
have offered up little resistance with their pass defense. They are allowing 313 yards per game through the air, worst in the league.
Eli Manning
started it all off with 450 yards passing in the season opener with four touchdown passes. He was intercepted three times, but he has had his way with the Cowboys at times in his career.
But part of the Giants' resurgence lately has not been with Manning leading the way. It's been with a ball control offense. On a conference call Wednesday Giants coach Tom Coughlin made note of how much the Giants have run the ball in their four-game winning streak: 31, 32, 38 and 24 times.
"That's what they used to do, run the ball and then play-action to pass it," defensive tackle
Nick Hayden
said. "They're just trying to get back to it and being balanced instead of just throwing the ball the whole time."
It's not that the Giants have run it great. They are averaging fewer than 3 yards per carry, but
Andre Brown
,
Brandon Jacobs
and
Peyton Hillis
can be bruising backs. The Cowboys have faced mostly shiftier backs in
LeSean McCoy
,
Reggie Bush
and
Jamaal Charles
.
"Just harder to bring down guys and they can break a lot of tackles," Hayden said. "We've got to be more physical."
And as bad as the pass defense has been, the Cowboys allowed the
New Orleans Saints
to rush for 242 yards in their last game.
"We just got the details, be where we're supposed to be at when we're supposed to be there," defensive tackle
Jason Hatcher
said. "We've been playing with a lot of guys, just here and there filling guys in. We've been banged up, but I'm not the guy to make excuses. We've got to do better. We just have to go out here and concentrate on it and take it one step at a time and we'll be OK."
February, 24, 2013
2/24/13
11:00
AM ET
With the scouting combine heating up, we'll answer a few of your questions in our weekend mailbag.
Q: Even though I hated to see Rob Ryan go I like the thought of playing 4-3 and lining up and playing football. What do you think? Aceboogie (Jacksonville, Fla.)
A:
The only issue I have with the 4-3 defense is whether or not the Cowboys have the personnel to implement it. If the Cowboys lose
Anthony Spencer
in free agency, you have to find a defensive end. Is it
Jason Hatcher
?
Sean Lissemore
?
Tyrone Crawford
? Someone else? The Cowboys don't have a lot of money to play with in free agency after they get under the $121 million salary cap. The other outside linebacker is another issue. Is it
Kyle Wilber
?
Alex Albright
? Someone else? Do you try and bring
Victor Butler
back? Finding players at those two spots are issues, not major ones, but important enough to worry about. Other than those two positions the Cowboys have the talent to move to a 4-3.
Q: As a huge Cowboys fan, it bothers me that we have moved from a focus on the offensive and defensive line to specialty players. If you look at great teams, even of the Cowboys, it starts with the line. Do you think this year will be a focus for the 'Boys during the draft? Herb Bennett (Valdosta, Ga.)
A:
I don't believe the Cowboys have forgotten about the offensive and defensive lines. If you remember last season they signed two guards in free agency, totaling $30 million. It's hard for most NFL teams to find offensive line help. That's just the way it is. But saying that, the Cowboys also need some help in the skill position areas: running backs and safeties are two positions worth improving. The best thing for the Cowboys to do at this stage of their development as a franchise is to draft the best player available. If at No. 18, the best player is a running back, get him and challenge
DeMarco Murray
. If the best player at No. 18 is a defensive end, select him and add more depth to the defensive line. It's not about moving away from the defensive or offensive lines, it's about making your team better.
We have two good questions about the running game this week.
Billy Keele from San Diego asks: "What are the chances of
Peyton Hillis
or
Reggie Bush
coming to Dallas if
Felix Jones
is not signed?" Michael from Maine wants to know: "Can and will Dallas go after
Michael Turner
if he's a free agent? Could he be a big help if Dallas get him.
A: I doubt the Cowboys will go after Hillis or Turner. But Bush is an interesting selection. He can become that third-down back that Felix Jones could never become. Bush can blitz protect on third down and he can catch passes out of the backfield and get up field. Bush is also solid at running off tackle and he's a solid change of pace to Murray. Of course money is an issue when it comes to signing anyone in free agency and it will be difficult for the Cowboys to give big money to Bush. If Bush wants to take less money to become a backup to Murray and take over in case of injury, it might be worth signing him.
February, 15, 2013
2/15/13
2:11
PM ET
IRVING, Texas –
Gary Brown
played eight years in the NFL for three different teams and has two 1,000-yard seasons to his credit.
PODCAST
Ben & Skin discuss the Cowboys assistant coaches' press conference at Valley Ranch.

Listen

His résumé as a player should help him as the Cowboys' new running backs coach.
"Well, I think what happens is it gives you a little bit of reprieve because they know that you've played, but then you have to prove you know what you're talking about," Brown said. "You have to prove that you're there for their best interests and make sure they're the best player, and you try to do that every time you go out there. And hopefully these guys realize that and they go out and have some fun with this."
Brown was the final assistant added to the Cowboys' staff after a five-year run in Cleveland in which he had two 1,000-yard rushers (
Trent Richardson
and
Peyton Hillis
)
"Basically, I just kind of coach the way I wanted to be coached when I was playing," Brown said. "I want to be honest. I want to be fair. I want to work hard and just go out and do the best we can. I'm not that type, screamer, yeller type. I just want to teach and get the guys playing the best they can."
Brown knows enough about
DeMarco Murray
to realize the Cowboys have to figure out ways to keep the third-year runner healthy. He also knows the Cowboys need to have at least two viable options in the backfield.
"I think anytime you want two guys who can produce, and that's any team," Brown said. "That's Cleveland last year, we wanted to have two. In high school we wanted to have two. In college we wanted to have two. You always want to have two, but you want to have that guy that when it's third-and-1 you can count on, when it's time to close the game out you have that guy. We're looking to make DeMarco that guy, and hopefully we can get a second guy to take a little bit of pressure off."
August, 8, 2012
8/08/12
12:15
PM ET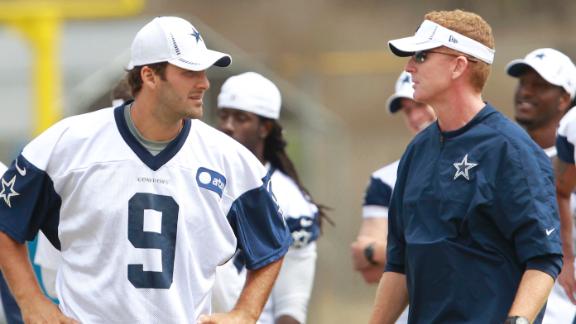 OXNARD, Calif. -- Much was made last year of the performance of
Dallas Cowboys
fullback
Tony Fiammetta
in connection with the breakout performance of running back
DeMarco Murray
. But the Cowboys let Fiammetta go this offseason and replaced him with veteran fullback
Lawrence Vickers
, who blocked for
Arian Foster
and
Ben Tate
last year in Houston and for
Peyton Hillis
the year before that in Cleveland. Vickers is a remarkably fun guy to talk to -- enthusiastic and engaging -- and here's what he told me about Murray when I spoke with him after Cowboys practice Monday:
[+] Enlarge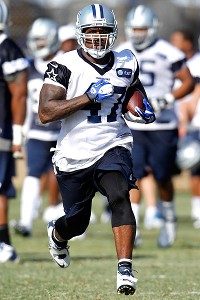 AP Photo/Paul SpinelliFullback Lawrence Vickers will be paving the way for DeMarco Murray this season.
"First of all, he's ambitious. And he's coming in to work. He's got that hard-nosed mentality, but he loves the game. And when you want to be great and you have ambition and goals and dreams and all those things, there's only one way to get there -- work, work, work. And that's what he wants to do. When it's his time to go, he wants to get in there. Everything he's doing, he's trying to do it to the best of his ability."
Vickers said his most important jobs as the fullback in the Cowboys' offense are "to lead by example and to be the eyes of the running back." Then he tried to demonstrate by standing in front of me with his back turned and asking if I could see anything. I could not. I am 5-foot-9, 190 pounds. Vickers is 6-0, 250. More relevantly. Murray is 6-0, 215 and likely cannot see around Vickers, either.
"He has to trust in me in order to go where I'm going," Vickers said. "You have to trust in me that I'm going to go to the right place, because you're following me. We have to be able to trust each other, and that just comes from repetition."
Murray obviously trusted Fiammetta with a great deal of success, so it's not as though running behind a fullback is some kind of new concept for him. But to those who have asked me whether there's anything to fear about Murray switching from Fiammetta to Vickers my answer is: If you met Lawrence Vickers, you wouldn't have to ask.
"I've got no complaints there," Murray told me. "He's a great guy, a great blocker, a smart guy and he gets after it."
Talking to Vickers fired me up. I wanted to go try to run through a defensive line. Fortunately for me, the opportunity did not readily present itself. If it had, I'd have asked Vickers to block for me. He'd probably have done it. He's a different sort of guy. I mentioned to him that the fullback position wasn't really a glory position in the NFL, and he agreed. He just doesn't care.
"I love it," Vickers said. "Because it's a job everybody can't do. So when you're doing something everybody can't do, and you're making it look good, that says a lot about you as a person. I don't need the glory, because at the end of the day, when those guys get in that end zone, when those guys go over to Hawaii, when those guys get in that Hall of Fame ... Emmitt Smith said it best: 'Couldn't do nothing without my fullback.' Not that my guys have to say that about me, but knowing that I was a part of that is enough for me."
June, 7, 2012
6/07/12
2:10
PM ET
IRVING, Texas -- Now that we've gotten over
the ants-in-the-pants episode
with Cowboys fullback
Lawrence Vickers
, we can focus on why the Cowboys signed him and the
Houston Texans
let him go.
Texans running back
Arian Foster
rushed for 1,224 yards and 10 touchdowns last season behind starting fullback Vickers. Foster had seven games with over 100 rushing yards and three games with 30 or more carries. Foster is an elite running back, having rushed for 2,840 yards with 26 touchdowns the last two seasons.
Vickers was released by Houston when the season was over. It was an interesting decision by the Texans, given they signed Vickers to a two-year deal after the 2010 season. But salary-cap concerns forced the franchise to make hard decisions, which also included letting star linebacker
Mario Williams
go in free agency.
"It was a shocker, I was shocked," Vickers said. "I was shocked. Then by Foster getting his (new) deal I would think there's more reason you got somebody that's going to protect him. I guess they just didn't value the position. I guess that's what it is."
It's not like Vickers is a one-hit wonder, either. As Cleveland's fullback in 2010, he led the way for
Peyton Hillis
to rush for a career-high 1,177 yards and 11 touchdowns.
But Vickers hit the free-agent market and signed with Houston for the two-year deal.
After 2011 ended, Vickers was placed on the open market and sought a team that valued the fullback position. Enter the Cowboys, who have always employed a fullback on the roster. When
DeMarco Murray
emerged as a talented force at running back last season, he praised the work of then-fullback
Tony Fiammetta
.
There was a thought Fiammetta would return to the Cowboys, but that changed when Vickers became available.
"That's why I'm here, because they value the position," Vickers said.
With
Felix Jones
,
Phillip Tanner
and Murray as the running backs, Vickers said he has to adjust his game for them and not the other way around. Developing a chemistry with the running back is key to any successful running game when a fullback is involved. Vickers said he has to see the holes just like the running back does, or create one when there's a wall.
"It's just the same approach, even if I was going to be with the same guy," Vickers said. "You approach it the same way, every year. So it never changes, always approach each year the same way as if we're just meeting each other and we've got to get on the right page. Chemistry is a must, even being with somebody two or three years, chemistry is still the same. You're going to have different linemen and you're going to be going against different defenses (with) different things going on."
October, 13, 2011
10/13/11
9:15
AM ET
Five-star question: Will the Patriots tie the NFL record of 14 consecutive games with at least 30 points this week?
No disrespect intended to Rob Ryan or the players he has declared the most talented cast of defenders in the NFL.
This isn't a knock on the Cowboys' defense. It's props for the Patriots' offense. And it's doubt about the Dallas running game.
The only way to hold the Patriots to less than 30 points is to force
Tom Brady
and Co. to spend most of Sunday afternoon on the sideline. Just look at the last time it happened.
Yes, Ryan deserves a ton of credit for coming up with a defensive game plan that confused Brady, causing the Patriots to go only 3-of-11 on third-down conversions. But it was hard for Brady to get into a rhythm while watching the Browns rush for 230 yards and control the ball for more than 38 minutes.
The Browns rode their workhorse that afternoon.
Peyton Hillis
had 184 yards on 29 carries.
Anybody see a workhorse in the Cowboys' backfield? Have any hope that the NFL's No. 30 rushing offense can chew up the clock?