Dallas Cowboys:

Quintin Mikell
October, 21, 2011
10/21/11
9:00
AM ET
By
Bryan Broaddus
| ESPNDallas.com
After two difficult losses against the Lions and the Patriots, the Cowboys face the
St. Louis Rams
in a contest where both teams need a win in the worst way.
The Rams were picked by many as preseason NFC West favorites with
Sam Bradford
at quarterback. Instead they are 0-5 and really not doing anything well on offense or defense.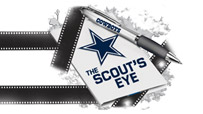 RAMS OFFENSE
The Rams are hurting the most on the offensive line, which is surprising because they have invested high draft picks in tackles Rodger Saffold and
Jason Smith
. Safford is the starter at left tackle and is the best of the Rams' offensive linemen. Smith was drafted with the third overall selection of the 2009 NFL Draft and really hasn't lived up to the billing.
At 6-foot-4 and 318 pounds, Saffold looks a lot longer on tape. Tends to come off the ball high at times and without much bend in the knees. Saffold is a catch blocker more than a puncher. He will place his hands on the rusher then try to steer them away from the ball or up the field. He will do a nice job of running his man up the field.
Smith tends to play without power but can run, which is his way of getting out of trouble. Cowboys rookie right tackle
Tyron Smith
already plays like a better player than Jason Smith, who is going into his third season with the Rams. Of the two St. Louis tackles, Smith is the one that gets the most help from tight ends and backs that stay in the game to block.
The weakest position on the offensive line for the Rams is at right guard.
Harvey Dahl
was signed as a free agent by the Rams from the Falcons on July 31, and the more you study him, the more you feel like that is was money poorly spent.
I am going to be real honest, there is nothing about Dahl's game to like. If you think that the Cowboys have had problems at left guard, the Rams have had it worse with the way that Dahl has played. Dahl will pull and miss. He is not athletic enough to execute the cut-off block or keep his man from overpowering him in the passing game.
I have talked about for weeks how Rob Ryan has done a nice job of identifying the offensive line's weakest link that needs to be attacked to create the best matchups to win. Ryan should take advantage of Dahl several times this game.
The two best players on the Rams offense are Bradford and running back
Steven Jackson
. I have always been a big Bradford supporter. Watching him play down after down, there is no reason to change that thought.
Bradford, who might not play Sunday due to a high ankle sprain, had better offensive talent around him college at Oklahoma. Despite all that, he is able to make all the throws. He is accurate and mobile, but this ankle injury that might limit him from making some plays with his legs.
Bradford has a nice feel in the pocket and is able to slide and move to buy a second chance. The Rams like to run waggles, dragging the tight ends from the opposite side, so it will be interesting with this injury if offensive coordinator Josh McDaniels will still make this part of the game plan.
The Rams are last in the NFL in rushing offense, but if you use the Jason Garrett theory, the Rams run the ball poorly because they are always behind in games and need to pass to try to get back into games. The problems I see again fall more on the offensive line than they do on Jackson.
While I am on the subject of Jackson, our scouting department had a first-round grade on him, but there some medical concerns at the time with a back injury. When it came our time to pick, the
Buffalo Bills
called and wanted to offer us the next year's first-round selection for our pick at that time. The discussion in the draft room at the time were that
Julius Jones
, who we had in the second round, was just as good of a back. Jerry Jones and Bill Parcells agreed and we made the deal with the Bills. For that selection the following year, we drafted
Marcus Spears
.
In looking back in that draft, we made a mistake on Jackson. I believe that we had the right grade on the board, but we had the wrong vision for the player and what he would become in his career.
Jackson is not an explosive player, but he is consistent in the way he attacks. Will try to bounce more balls to the outside than he will take inside. The Rams have some success with him when they get in the gun, then hand the ball to him on the inside.
McDaniels also likes to try and throw him the ball on screens. He will sneak out of the back field, then mesh with the line.
If Jackson does struggle, it is as a pass protector. As much as Ryan likes to bring pressure from all angles, this will be a difficult task for him. As the game develops, watch how many screens that the Rams run and if they use Jackson in pass blocking.
On the outside, the Rams made a deal at the trade deadline for some help.
Brandon Lloyd
joins the squad after a stint with the Broncos. There are a couple of ways to look at this for the Rams. The most important way is that it's another weapon for Bradford on a team that has failed to address the wide receiver position the last two years.
Sure, the Rams have drafted receivers but none that could be a difference maker. Lloyd has that chance and should be ready to hit the ground running in this offense because he was with McDaniels at the Broncos.
The one thing that the Cowboys on defense might not be able to count on is turnovers from the quarterback. Bradford is one of the best in the league at not throwing interceptions.
RAMS DEFENSE
When you study the Rams, it's a defense that appears to be very talent poor. There are two players that really stood out: middle linebacker
James Laurinaitis
and defensive end
Chris Long
.
The Rams drafted defensive end
Robert Quinn
in the first round in 2011, but like tackle Jason Smith, he hasn't made the impact that they had hoped for. When you are playing with 14-year veteran
Al Harris
at corner, your defense is going to have some issues.
Laurinaitis is a very similar to what
Sean Lee
is for the Cowboys. He can run, he reads the play quickly, he reacts and he tackles well. Laurinaitis has a real nose for the ball. He is a sideline to sideline player. He does a nice job in coverage. Did not see an effective blitzer in the early games I studied against the Giants and Ravens.
As a pass rusher, defensive end Chris Long is a relentless player but doesn't play with the rush skill of what the Cowboys offensive tackles have seen the early part of this year. Tyron Smith needs to have a bounce-back game after not being at his best last week. Long will not be able to use power against Smith, which is the one area that gives him the most trouble.
The Cowboys should be able to move the ball on the ground against the Rams' down linemen, who struggle getting off blocks. Again, the key here will be the inside players for the Cowboys, mainly
Montrae Holland
working with
Phil Costa
and
Kyle Kosier
to not allow Laurinaitis to make all the tackles.
I also look for the Cowboys offensively to have some success throwing the ball. The Rams' secondary have struggled with coverage at the corner with Harris and
Justin King
. Against the Ravens, King was beaten badly on several deep, vertical routes that went for touchdowns.
Look for Garrett to test this secondary to try and make some deep throws down the field to try and stretch this Rams defense that has limited range with safeties
Quintin Mikell
and
Craig Dahl
.
July, 27, 2011
7/27/11
6:44
PM ET
SAN ANTONIO – The Cowboys' front office accomplished its primary goal by locking up left tackle
Doug Free
to a long-term deal.
Addressing the safety positions isn't far down the list.
Jerry Jones acknowledged in the middle of last season that the safety play was one of his primary concerns. That is still the case.
Strong safety
Gerald Sensabaugh
, who had three of his career-high five interceptions in the final four games of last season, is an unrestricted free agent with hopes of getting a significant pay raise from his 2010 salary of $1.8 million. Free safety
Alan Ball
, who struggled all season, will most likely return to a reserve cornerback role.
That leaves the Cowboys with four second-year safeties – fourth-round pick
Akwasi Owusu-Ansah
and undrafted
Barry Church
,
Danny McCray
and
Andrew Sendejo
– and some rookie free agents on the active roster. They like Owusu-Ansah's athleticism, but he's a Division II product who spent most of his rookie year on injured reserve. Church is a big hitter with good instincts, but he has below-average speed that might be exposed if he's a starter.
The Cowboys will certainly attempt to acquire some veteran help.
"Obviously, we'd like to improve that position if we can," Cowboys executive vice president Stephen Jones said. "That's one of our priorities. It's obviously something we're working on. We'll see. Whether, it's one or two, I don't know the answer to that. It could be three. You have to see, at the end of the day, whether things are going to work out and what's available and what fits for us. We're still very confident we can get the help there that we need."
The problem is the price. The Cowboys had interest in
Eric Weddle
, but he committed to re-sign with the Chargers, getting a historic contract for a safety in NFL history (five years, $40 million). The Rams gave
Quintin Mikell
a four-year, $28 million deal.
"I think in any market, you have players who in the first part of it, right out of the bag, you see some deals that are big," Jones said. "They all can't make big money at the end of the day. There's salary caps. We knew that would probably happen. I wouldn't say we're surprised. It happens. I think at some point, as it has in the past, those things start to -- after everybody gets their main priorities where they were going to spend money -- then you have your next level and your next level, and those things work themselves out."
The Cowboys have also had conversations with agents for Sensabaugh and
Abram Elam
, who started for Rob Ryan's Browns the last two seasons. There are several potentially more affordable options with starting experience on the market, such as the ex-Jet
Brodney Pool
and former Bear
Danieal Manning
.
The Cowboys' interest in ex-Raider
Michael Huff
, an Irving Nimitz and Texas product, isn't clear. However, Huff is likely to receive a contract in the Weddle/Mikell range, and it doesn't sound as if the Cowboys intend to make that type of investment in a safety.
July, 26, 2011
7/26/11
8:02
AM ET
»
NFC
:
East
|
West
|
North
|
South
»
AFC
:
East
|
West
|
North
|
South
»
Unrestricted FAs
A look at the free-agent priorities for each NFC East team:
New York Giants

1. Figure out which of their own guys to keep.
With
Ahmad Bradshaw
,
Barry Cofield
,
Mathias Kiwanuka
,
Steve Smith
and
Kevin Boss
all set to potentially go free, the Giants have to prioritize and figure out which guys they're keeping. The top priority is probably going to be Bradshaw, an emerging star at running back, and it appears they'll let Cofield walk while trying to bring back Boss. They think the injury situations with Kiwanuka and Smith will help keep those guys' prices reasonable. But before the Giants hit the market, they'll need to get their own free-agent house in order.
2. Get at least one linebacker.
The Giants have ignored this position over the past couple of years, and they seem to believe
Jonathan Goff
can handle the middle linebacker spot. They'd probably be better off moving him back outside and exploring the middle linebacker market, which includes
Stephen Tulloch
,
Barrett Ruud
and
Paul Posluszny
. But if they're set on keeping Goff in the middle, perhaps someone such as
Manny Lawson
or
Nick Barnett
could be a fit. It's one thing not to prioritize a position, but it's another to ignore it completely, and the Giants have been doing that with linebacker, to their detriment.
3. Some offensive line insurance.
There were lots of injuries along the line in New York last season, and although it didn't kill them, it was a potential sign of things to come. The Giants hope
Will Beatty
will soon be ready to take over at left tackle for a declining
David Diehl
, but they must watch out for the health of
Shaun O'Hara
at center. And if they have to cut
Shawn Andrews
to sign some other guys, they'll need to replace him with a tackle who can provide depth.
Top five free agents
: RB Bradshaw, DE/LB Kiwanuka, TE Boss, DT Cofield, WR Smith
Philadelphia Eagles

1. Settle the Kevin Kolb situation
. If they can get the great deal for him that most believe they can (i.e., a first-round pick plus), the Eagles will deal Kolb and look for a reliable backup quarterback who can play if and when
Michael Vick
gets hurt. If they can't get good value for Kolb, they'll probably keep him to serve as said reliable backup. A trade is most likely, but whatever happens, the Eagles will probably settle this soon after the league year begins.
2. Sign a cornerback.
The starting spot opposite
Asante Samuel
is open, and no one on the current roster appears able to fill it. That's why you've heard, and will continue to hear, the Eagles connected with Asomugha. Philadelphia must rank among his most likely destinations at this point. If they don't get him, they'll look down the list at guys such as
Johnathan Joseph
,
Ike Taylor
and
Antonio Cromartie
. And there's a chance they could get a cornerback for Kolb. But they'll get one somewhere.
3. Re-sign Stewart Bradley.
Sure, they could let Bradley go and play
Jamar Chaney
at middle linebacker. Chaney looked, at least, capable in that spot last season and may be the Eagles' future at the position. But if Bradley leaves, the Eagles' problems will be about more than just the alignment of the linebackers. They'll actually be short on bodies and will need to play the free-agent field to find a replacement. Bradley's had injury problems, but when healthy, he's the Eagles' best linebacker and could be a key cog in whatever new defensive alignment Juan Castillo and Jim Washburn are cooking up.
Top five free agents
: LB Bradley, S Mikell, G
Nick Cole
, RB
Jerome Harrison
, CB
Ellis Hobbs
Washington Redskins

1. Fill out the defensive line.
Whether they add a free-agent nose tackle such as
Aubrayo Franklin
or look at defensive end options like Jenkins, the Redskins must figure who their starting defensive linemen are. They like their linebacking corps, and although they also need a cornerback, they love their safeties with
Oshiomogho Atogwe
in the fold next to
LaRon Landry
. But their good, young outside linebackers will need big, space-eating ends in front of them to open up lanes to the passer. And they'll also need to get some sort of pass rush from the line, whether it's from the nose or the ends.
2. Re-sign Santana Moss.
The Redskins are making noise about pursuing a big-time wideout such as
Santonio Holmes
or
Sidney Rice
. But the reality is that it's going to be tough to convince receivers to sign in Washington while they're not viewed as a contender and the quarterback situation remains so cloudy. Moss likes it in Washington. The Redskins like him. And he's a nice guy to have around to help out young receivers
Anthony Armstrong
and
Leonard Hankerson
-- not to mention inexperienced quarterback
John Beck
.
3. Resolve the Donovan McNabb and Albert Haynesworth situations.
They don't want either player on the team anymore, but the question is how to get rid of them. They might be able to dump McNabb for a late-round draft pick, but if they can't, they'll probably just cut him and let him find his next job on his own. Haynesworth has trade value in a league where many 4-3 teams are looking for interior defensive line help. Don't expect the Redskins to cut Haynesworth, because they don't want to do him any favors and they don't want him free to sign with former Tennessee D-line coach Washburn in Philadelphia. If they can't get value for him, don't be surprised if Haynesworth remains on the team all season and has a hard time getting into games.
Top five free agents
: WR Moss, OT
Jammal Brown
, CB
Carlos Rogers
, LB
Rocky McIntosh
, QB
Rex Grossman
July, 25, 2011
7/25/11
1:59
PM ET
The Cowboys guaranteed they would have two glaring holes at safety when they didn't address the position in the draft, giving
Gerald Sensabaugh
some leverage.
PODCAST
What went wrong with the Cowboys' defense last season? Was it lack of talent or poor execution? Tim MacMahon and Skin weigh in.

Listen

However, the depth of the safety pool in free agency should prevent the Cowboys from overpaying, a mistake they've made recently with safeties
Roy Williams
and
Ken Hamlin
.
Sensabaugh has made it clear that he's hoping for a big raise after making $1.8 million last season. He can point to his career-high five interceptions in 2010 as evidence that he's worth much more money. But there are several available safeties who are proven starters that are likely to be in the Cowboys' price range.
We'll skip over
Michael Huff
,
Eric Weddle
and
Quintin Mikell
, who might be good fits for the Cowboys but could be expensive.
Here is how Sensabaugh compares to some free agent safeties who might be more affordable, with the 2010 numbers from Stats Inc.:
Gerald Sensabaugh
Age:
28
Previous team:
Cowboys
2010 stats:
69 tackles, five interceptions, two sacks, no forced fumbles, no fumble recoveries, 10 passes defensed. Opponents completed 26-of-48 passes for 413 yards and one touchdown against him (54.2 completion percentage, 8.6 yards per attempt).
Roman Harper
Age:
28
Previous team:
Saints
2010 stats:
93 tackles, one interception, three sacks, six forced fumbles, one fumble recovery, eight passes defensed. Opponents completed 19-of-35 passes for 158 yards and no touchdowns against him (54.3 completion percentage, 4.5 yards per attempt).
Abram Elam
Age:
29
Previous team:
Browns
2010 stats:
77 tackles, two interceptions, two sacks, two forced fumbles, two fumble recoveries, 10 passes defensed. Opponents completed 20-of-41 for 309 yards and three touchdowns against him (48.8 completion percentage, 7.5 yards per attempt).
Dawan Landry
Age:
28
Previous team:
Ravens
2010 stats:
108 tackles, no interceptions, one sack, one forced fumble, one fumble recovery, four passes defensed. Opponents completed 24-of-50 for 330 yards and four touchdowns (48.0 completion percentage, 6.6 yards per attempt).
Danieal Manning
Age:
28
Previous team:
Bears
2010 stats:
72 tackles, one interception, no sacks, no forced fumbles, no fumble recoveries, seven passes defensed. Opponents completed 23-of-47 passes for 325 yards and two touchdowns against him (48.9 completion percentage, 6.9 yards per attempt).
Brodney Pool
Age:
27
Previous team:
Jets
2010 stats:
50 tackles, one interception, one sack, one forced fumble, one fumble recovery, 11 passes defensed. Opponents completed 13-of-30 passes for 156 yards and no touchdowns (43.3 completion percentage, 5.2 yards per attempt).
Deon Grant
Age:
31
Previous team:
Giants
2010 stats:
59 tackles, three interceptions, one sack, two forced fumbles, three fumble recoveries, 10 passes defensed. Opponents completed 30-of-50 passes for 378 yards and two touchdowns against him (60.0 completion percentage, 7.6 yards per attempt).
July, 21, 2011
7/21/11
10:00
AM ET
The lockout could end at some point this weekend. Maybe today.
We hope.
In terms of the Cowboys, this team needs help at several positions, and safety is the biggest issue for this team coming out of the lockout.
The two starting safeties from 2010,
Gerald Sensabaugh
and
Alan Ball
were inconsistent last year.
Ball was tied for the league lead with seven touchdowns allowed. Sensabaugh, while tied with
Terence Newman
for the team-lead with five interceptions, struggled at the start of the season. Sensabaugh probably tried to compensate for Ball's weakness.
Ball is being moved back to his natural position of corner and Sensabaugh is an unrestricted free agent. While Sensabaugh would like a fair market deal, finding the right fit in a scheme is important to him.
The Cowboys have some players on their roster who might take over one of the safety spots:
Danny McCray
,
Barry Church
,
Akwasi Owusu-Ansah
and
Andrew Sendejo
. Yet those players are unproven.
The free agent market is where the team most likely will get at least one of the two safety spots filled.
A debate rages as to who is the best safety on the market.
Sensabaugh is out there and played 929 snaps last season.
Danieal Manning
didn't allow a touchdown last season, according to Pro Football Focus, and out of 925 defensive snaps quarterbacks had a 59.7 quarterback rating against him when throwing in his direction.
There are others such as Quintin Mikell, in which offenses averaged 11.7 yards per catch against him,
Michael Huff
, who gave up three touchdowns out of 1,009 snaps,
Eric Weddle
, who allowed 12.7 yards per catch and
Abram Elam
the former Cowboys special teamer. Let's not forget
Dawan Landry
and
Brodney Pool
.
Manning and Elam might have a slight edge over the other safeties on the market. Manning can also return kicks, and Elam has played for new defensive coordinator Rob Ryan, when he was in Cleveland. Huff might be too expensive, especially with the Cowboys trying to lock up left tackle
Doug Free
long-term and getting under the $120 million salary cap. The other safeties futures are uncertain.
The Cowboys could go with a veteran at the free safety spot and then get one of the young players, Church possibly, to play strong safety. It seems Ryan would like to blitz more this season, and expects it to come from different spots on the field, and that includes sending corners and safeties.
Last year, the Cowboys pass rush struggled to take some pressure off the secondary. It left corners such as
Mike Jenkins
and Newman in vulnerable situations. If Ryan can fix the front seven, then maybe adding a younger player at strong safety will be Ok.
But this market for safeties is pretty strong and while the team does need to take care of the left tackle and left guard positions, they can't afford to mess up at safety.
July, 1, 2011
7/01/11
1:00
AM ET
The final installment of our free agent series looks at strong safety
Abram Elam
, who was with the Cowboys in 2006. Elam finished the 2010 season with Cleveland and could be someone the Cowboys look at when the labor issues settle.
Enjoy.
[+] Enlarge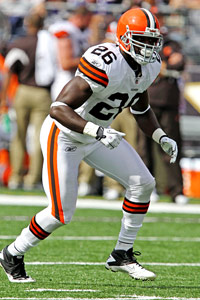 Mitch Stringer/US PresswireIf Gerald Sensabaugh doesn't stick around, the Cowboys could target Abram Elam.
ABRAM ELAM, SS,
CLEVELAND
Why him?
He's played for defensive coordinator Rob Ryan, and the front office and scouts know how he's improved his game from when he first entered the league. Elam was credited with 63 solo tackles, according to the Cleveland coaches' stats, and had 10 pass breakups, two interceptions and two forced fumbles. Elam is good against the run and can cover tight ends if needed. The biggest name among the free agents who play strong safety is
Gerald Sensabaugh
of the Cowboys. Sensabaugh is looking for a big contract, something the Cowboys might not be willing to pay. The team likes Sensabaugh but was slightly frustrated with his lack of coverage skills in 2010. There also seemed to be some communication issues in the secondary, and there was the brief skirmish with
Terence Newman
last year. The two quickly got over the incident. If the Cowboys pass on Sensabaugh, Elam appears to be one of their guys.
Is there anybody else?
Quite a few names. The Cowboys could try to keep Sensabaugh. If not, the Eagles' Quintin Mikell is an interesting option, as is the Jets'
Brodney Pool
. From a financial standpoint, Baltimore's
Dawan Landry
and Sensabaugh are the most expensive selections on the market, followed by Mickell, Elam and Pool. The Ravens could re-sign Landry quickly once the market opens, leaving the others to entertain other teams.
Key stat:
Sensabaugh was tied for the Cowboys team lead with five interceptions last season.
March, 7, 2011
3/07/11
7:30
AM ET
A pair of accomplished safeties found new homes last week without even an invitation to visit Valley Ranch.
PODCAST
Business in the NFL is changing in big ways; can the Cowboys keep their head above water or will they be drowned in financial trouble? Ben and Skin weigh in.

Listen

Cowboys fans can feel free to panic after O.J. Atogwe and
Bob Sanders
went off the market, but it's probably premature. There will be safeties available in free agency capable of filling the glaring void in the Dallas secondary, assuming that there is free agency this offseason.
It's tough to blame the Cowboys for not taking a risk on Sanders, whose terrific career has been derailed by injuries. He's been healthy enough to play in only nine games in three seasons since being named the NFL's defensive player of the year.
I don't quite understand the Cowboys' lack of interest in Atogwe for the second consecutive season. He's a safety who is reliable against the run and pass and has a track record of forcing turnovers. However, even if the Cowboys were in pursuit of the soon-to-be 30-year-old, they probably would have been outbid by the Redskins. Danny Snyder, a man known to overpay in the free-agent market, gave Atogwe a five-year, $26 million contract.
If the Cowboys don't sign a safety, they deserve to be ripped for ignoring Atogwe. But that's not the case if they sign any of the following six players:
Michael Huff
,
Quintin Mikell
,
Eric Weddle
,
Danieal Manning
,
Dawan Landry
or
Brodney Pool
.
Just a hunch, but the Cowboys might have their hopes set on Huff, an Irving Nimitz and Texas product who has started to live up to his potential as a top-10 pick after a few disappointing seasons at the beginning of his career. Rob Ryan was the Raiders' defensive coordinator when they drafted Huff seventh overall in 2006.
Huff, 28, is an elite coverage safety with a knack for blitzing. He'd be a tremendous upgrade over
Alan Ball
.
Perhaps Huff could be paired with
Gerald Sensabaugh
, although the Cowboys aren't going to give the strong safety the lucrative long-term deal he wants in free agency. Maybe the Cowboys find their second starting safety in the draft.
Anybody who watched the Cowboys play last season knows that improving at safety ranks atop the offseason priorities. The fact that they were spectators while a couple of big-name safeties changed addresses shouldn't prevent them from addressing the problem.
February, 23, 2011
2/23/11
8:00
AM ET
Players:
Alan Ball
(free agent),
Gerald Sensabaugh
(free agent),
Barry Church
(signed through 2012),
Danny McCray
(signed through 2012),
Akwasi Owusu-Ansah
(signed through 2013),
Andrew Sendejo
(signed through 2011)
Top free agents:
Michael Huff
,
Oakland Raiders
; O.J. Atogwe,
St. Louis Rams
;
Bob Sanders
,
Indianapolis Colts
;
Roman Harper
,
New Orleans Saints
;
Quintin Mikell
,
Philadelphia Eagles
;
Danieal Manning
,
Chicago Bears
;
Dawan Landry
,
Baltimore Ravens
[+] Enlarge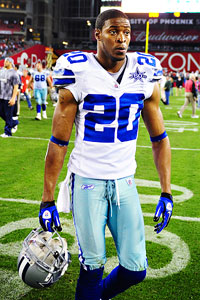 Mark J. Rebilas/US PresswireDon't expect safety Alan Ball to be a starter next season, if he's even on the Cowboys' roster in 2011.
Top draft prospects:
Rahim Moore
, UCLA;
Quinton Carter
, Oklahoma;
DeAndre McDaniel
, Clemson;
Robert Sands
, West Virginia;
Jaiquawn Jarrett
, Temple.
2010 review:
To put it simply, this position was a problem. The Cowboys made a major misevaluation with Alan Ball, who doesn't have the instincts or tackling ability to be a starting free safety for a decent NFL defense. Gerald Sensabaugh was a disappointment for most of the season, although he finished strong by making four of his five interceptions in the last six games. He was not a factor against the run or an intimidating presence in the middle of the field. Barry Church and Danny McCray didn't perform well enough in limited playing time to make a case to contend for a starting job. Akwasi Owusu-Ansah, who missed much of camp due to shoulder surgery and was placed on injured reserve with an ankle injury, essentially had a redshirt season.
Offseason preview:
The Cowboys have to find at least one, and preferably two, new starting safeties. If Ball is on the roster next season, it'll be as a backup and core special teams player. There is a chance that Sensabaugh could return as a starter, but the Cowboys won't give him the lucrative long-term deal he's looking for in free agency. It would behoove the Cowboys to be aggressive in free agency, but they haven't set up a visit with O.J. Atogwe, who is available to sign immediately after being released by the Rams this week. There are no safeties who are projected as top-10 picks, so don't expect the Cowboys to draft one in the first round. They should be able to find a starter in the second or third round.
Need meter:
(1-to-5) 5
January, 3, 2010
1/03/10
1:45
PM ET
ARLINGTON, Texas -- We'll take a look at one key matchup from both sides of the ball in the NFC East championship game.
Dallas Cowboys NT Jay Ratliff vs. Philadelphia Eagles C Nick Cole:
Eagles center
Jamaal Jackson
tore a knee ligament last week, so Cole had to slide over from right guard. He'll have his hands full with Ratliff, a Pro Bowler for the second consecutive season.
Ratliff is simply too quick for Cole (6-0, 350) to handle without help. Even with the guards doubling Ratliff, he ought to be able to shoot the gaps and wreak havoc in the Eagles' backfield.
In the nickel and dime packages, Wade Phillips will try to get Ratliff matched up with backup right guard
Max Jean-Gilles
(6-3, 358), who will also be overmatched by Ratliff's explosiveness.
Of course, Ratliff gave the Eagles problems with their offensive line was healthy. He had eight tackles, two sacks and two quarterback pressures during the Cowboys' Nov. 8 win in Philadelphia. Expect a similar performance in the regular-season finale.
Cowboys TE Jason Witten vs. Eagles SS Quintin Mikell:
Witten has feasted against one-on-one coverage the last five games, taking advantage of the attention defenses are forced to pay WR
Miles Austin
.
Witten has three 100-yard outings in the last five games after not having any in the 10 weeks. He can consistently get open against man coverage in the middle of the field and has been able to make plays in the seam, something that didn't happen for him as he was the focal point for opposing defenses the first two-thirds of the season.
But Mikell is better than the strong safeties for the Raiders, Giants and Redskins, the teams Witten torched for 100 yards. Opponents have completed only 50 percent of their passes against Mikell, according to Stats, Inc.
Witten has to have more success than that to force Philadelphia to reconsider rolling coverage toward Austin.