Dallas Cowboys:

Reaction to Wade Phillips firing
November, 8, 2010
11/08/10
4:01
PM ET
IRVING, Texas -- Cowboys wide receiver
Miles Austin
said owner and general manager Jerry Jones makes the coaching decisions and that it's up to players to get the job done on the field no matter who is coaching.
PODCAST
SI's Jerome Bettis thinks Wade Phillips' firing was inevitable and he talks about Bill Cowher as a potential candidate.

Listen

"We have to do our jobs to the best of our ability," Austin said.
Asked if changing to
Jason Garrett
will give this team a shot in the arm, Austin said he hoped so.
"Right now we're 1-7," Austin said. "We definitely need to get going. Hopefully, it changes things for the better. It's nothing us as players can really control. We have to go in and play our best."
Austin didn't want to comment on whether a change was necessary, saying it wasn't up to the players.
"My job is to go in and be a receiver for the team and not stir anything up," Austin said.
November, 8, 2010
11/08/10
3:55
PM ET
IRVING, Texas -- Cowboys kicker
David Buehler
said he was "in shock" when told of the firing of Wade Phillips just before facing the media on Monday afternoon.
PODCAST
Chris Mortensen thinks Green Bay's domination of Dallas forced Jerry Jones to make a decision about Wade Phillips. Mortensen expects the Cowboys' next coach to have a strong personality.

Listen

"I'm just in shock," Buehler said. "It sucks and that's the way the NFL is. You see the business side of it through these decisions. Obviously, I don't want to see anybody go. It's hard, but that's the way it is. That's the way the cookie crumbles."
Buehler said if he had his way, Phillips would still be the head coach. But the kicker is committed to doing his job.
"I know what I have to do," Buehler said. "It's different from the rest of the guys. Me and [punter Mat] McBriar have a different job. I have to go about it no matter who the head coach is."
November, 8, 2010
11/08/10
3:17
PM ET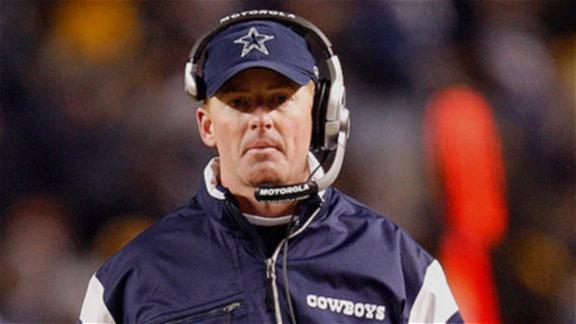 IRVING, Texas -- Cowboys quarterback
Jon Kitna
, like many of his teammates on Monday, seemed surprised by the news that Wade Phillips is out as head coach and offensive coordinator
Jason Garrett
is the interim coach.
But he said he believes Garrett has some of the tools needed to be a head coach in the NFL.
PODCAST
ESPNDallas.com's Calvin Watkins reacts to the Cowboys' dismissal of Wade Phillips and talks about what comes next for Jerry Jones and company.

Listen

"He certainly has the makeup of it, the right demanor and things like that," Kitna said. "He's got strong convictions, which I think you need as a head coach. He has them."
Kitna said he hopes the move can serve as a much-needed wake-up call for a 1-7 team.
"We've got eight weeks left and it will be a pretty miserable eight weeks to experience what we experienced the last four weeks," Kitna said. "Hopefully it does. That remains to be seen."
Kitna said he could only speak for himself when asked if the team quit on Phillips.
"To try to say that this person quit or that person quit, I think that's disrespectful," Kitna said. "As for me, that's just not in my nature. But I can't speak for everybody."
Kitna acknowledged that he's disappointed the team finds itself at the bottom of the NFC East.
"I don't know that surprise is the right word because you know the nature of this game and that you don't get to pick up where you left off the previous season," Kitna said. "But I would say very disappointed that we find ourselves here."