Dallas Cowboys:

Rich Seubert
November, 13, 2010
11/13/10
8:00
AM ET
By
Bryan Broaddus
| ESPNDallas.com
A look at the key matchups for Sunday's Cowboys-Giants game:
Cowboys cornerback Mike Jenkins vs. Giants wide receiver Hakeem Nicks:
The Giants have three outstanding receivers, but with
Steve Smith
being ruled out for Sunday's game, the main focus for the Cowboys now turns to Hakeem Nicks and his matchup with Mike Jenkins.
In the locker room on Friday, several of the media members were hanging around the lockers of
Orlando Scandrick
and
Gerald Sensabaugh
talking about how offenses attack defenses. Sensabaugh brought up the point that when you give up plays on defense especially in coverage, you are more likely to see offenses try and attack the same area or weakness.
[+] Enlarge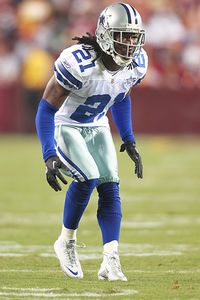 Jeff Fishbein/Icon SMICowboys cornerback Mike Jenkins will have a battle on his hands Sunday with Giants receiver Hakeem Nicks.
Anyone who has watched Jenkins play this season knows that he has struggled in coverage, but there have been times where he has been in outstanding position and, whether it was a good throw or an adjusting catch, he has struggled to finish the plays. The Giants are well aware of Jenkins' struggles and will attack him with Nicks.
When you study Nicks, you come away with the thought of what a nice vertical player he is. He can cover some ground in his routes and he can adjust to the ball at any point. Nicks will adjust his routes for back-shoulder throws and he is a weapon in the red zone.
Jenkins knows that he will have a battle on his hands but some early success could go a long way in giving him confidence to continue to carry the fight to Nicks. Jenkins has the skill to match Nicks. Now Jenkins just needs to go out put everything behind him and find the way to finish the play against a talented receiver.
*Cowboys run defense vs. Giants running backs Ahmad Bradshaw and Brandon Jacobs:
The last time these two teams met in October, the Giants physically dominated the Cowboys by running the ball 37 times for 200 yards. Ahmad Bradshaw and Brandon Jacobs are powerful backs that run downhill at you and, if given a head of steam, are difficult to bring to the ground.
The biggest problem the Cowboys have had in the running game this season is shedding blocks. If you don't play with your hands and don't use leverage to work to free yourself from blocks, offenses can move the ball with ease.
The Giants are banged up along the offensive line on the left side, but that will not keep them from running the football. Left tackle
Shawn Andrews
has stepped in for
David Diehl
and has done an impressive job of creating push at the point of attack. He is a big man that plays light on his feet. The normal left guard,
Rich Seubert
, has moved to center to replace the injured Shaun O'Hara. There is nothing pretty about the way that Seubert,
Chris Snee
or
Kareem McKenzie
looks physically, but they use their bodies to lean on defenders and create lanes for these backs to run through. Rarely do you see these linemen on the ground and the way they finish blocks is quite impressive.
The front seven for the Cowboys cannot allow the Giants to control and mash them for 6 to 7 yards a running play and stay ahead of the chains. If the Giants do have an offensive weakness, and a slight one, it's on third down. The Cowboys need to keep pressure on the Giants to have to convert as many third downs as possible in hopes of getting off the field.
*Cowboys running backs vs. Giants defense in blitz pickup:
On the 13th play of the Cowboys-Giants game in October, linebacker
Michael Boley
came on a straight inside blitz that might have ended the season for quarterback
Tony Romo
. It was a missed assignment by fullback
Chris Gronkowski
that caused Romo's broken collarbone.
Cowboys quarterback
Jon Kitna
has been sacked nine times in three games and taken numerous other hits. He is nowhere near as mobile as Romo and protection needs to be planned for him. The Cowboys cannot struggle with assignments when the Giants decide to bring pressure in the form of linebacker or safety blitzes.
Defensive coordinator Perry Fewell likes to bring different looks and packages into a game. He will match up his personnel to take advantage of certain situations. The Cowboys running backs have to be aware when they get in passing situations and they are responsible to pick up the extra rusher. In the game last week,
Felix Jones
missed an assignment and got his quarterback hit.
Of the three running backs on the Cowboys roster,
Tashard Choice
is the weaker than Jones and Barber in protection. Don't be surprised if Fewell tries to take advantage of these backs when calling defenses because of the struggles that they have had in blitz pickup cleanly getting their men.
November, 12, 2010
11/12/10
9:02
AM ET
By
Bryan Broaddus
| ESPNDallas.com
This season's second game of this longtime series takes a new twist.
Jason Garrett
takes over for a departed Wade Phillips, who was unable to deliver the hopes and dreams of a Cowboys Super Bowl in the home stadium. Garrett out front has appeared to alter the culture of the franchise that struggled with issues throughout this 1-7 start to the season.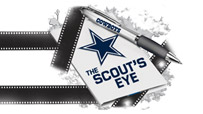 Make no mistake about it, the Giants are the last team the Cowboys need to be facing right now. When I study this squad, the first thing that comes to mind is how physical they are on offense. This is not a pretty offensive line in the way they sustain their blocks, and it's not a group of running backs that are fleet afoot, but they beat up on you. If you are not ready to handle that, they can make you look poor playing defense.
The one advantage that the Cowboys have is that beating along the front is fresh in there minds. The Giants were able to rush the ball for 200 yards in the last meeting between the two clubs.
Ahmad Bradshaw
and
Brandon Jacobs
both are down hill runners and provide little relief for those in their path.
Bradshaw is the perfect back in this offense for Kevin Gilbride because this line likes to push and shove opponents around the field.
Shawn Andrews
has been added to the mix and he will play at left tackle this week for
David Diehl
, who hurt his hip blocking for an extra point.
Kevin Boothe
moves inside to left guard off the physically unable to perform list and
Rich Seubert
moves from left guard to center to play for the underrated Shaun O'Hara.
The Giants wear you out with the size they bring at you at the point of attack.
Kevin Boss
and fullback
Bear Pascoe
are difficult to separate from once they get their hands on you.
The receiving crew has been super productive not only this season but games in the past against the Cowboys.
Steve Smith
was hurt in practice on Thursday and has shown up questionable on the injury report, which would be a huge break for the Cowboys. He has been a killer in the last three meetings with 25 catches for 345 yards and two touchdowns.
Hakeem Nicks
has had his share of production as well. Three of his 11 catches against the Cowboys have been for touchdowns. He has 14 catches for 20 yards or more this season.
Offensively, the one player who can derail the Giants or keep them on the track is the quarterback
Eli Manning
. With this offense, Manning doesn't need to be great but steady works nicely. This team has the ability to run the football effectively and with purpose. The tight ends are dependable and the receivers are some of the best in the league. Manning just needs to be steady and not make the mistakes that have plagued him in years past.
It will be interesting to see how the Cowboys attack Manning to make him feel rushed. Will you see more zone coverage against these receivers that appear to eat up man coverage?
If the Cowboys are going to have any success on defense on Sunday, it will take a huge effort. If they don't match the physical play of the Giants offense, then this will be a difficult opening trip to the new Meadowlands Stadium.
At the halfway mark, the Giants have the top-ranked defense in the NFL. It's not by luck or playing against weak opponents, but a complete and total team effort of using talent and scheme to physically handle opponents each week.
Its starts up front with defensive ends
Osi Umenyiora
and
Justin Tuck
. Defensive coordinator Perry Fewell likes to give you different looks up front and the Giants do a nice job of working Umenyiora and Tuck around the defensive front to create different mismatches. The pass rush has been outstanding this season for the Giants and it's helped them in the secondary as well.
Cornerback
Terrell Thomas
and
Corey Webster
both do a nice job in zone coverage of playing their responsibilities but have been equally as good when playing in man. There is not much room in this Giants secondary because of their ability to play tight and stay in route position, but the safety help has been solid too.
Antrel Rolle
has been an outstanding free agent signing for the Giants and
Kenny Phillips
can play up or back to help in the running game or work deep with these corners and offer support. When the Giants go to their nickel package, it's
Aaron Ross
that comes into the game.
Of the three Giants linebackers,
Michael Boley
is the one that can really run. Boley plays all over the field and he has the speed to be an effective blitzer as the Cowboys learned in the first meeting with the Giants. Longtime Tennessee inside linebacker
Keith Bulluck
now plays the strong outside linebacker and is a hard guy to move in the running game. It's been his physical play that has helped the Giants control the opponents' running game. The inside three of
Jonathan Goff
at middle linebacker and defensive tackles
Chris Canty
and
Barry Cofield
play with more power than quickness.
It will be a difficult task for the Cowboys to run the ball against this front and we all know the pitfalls if this turns into a passing game for them. The Giants on defense will put a great deal of pressure on the Cowboys and challenge their ability to move the football.
Jason Garrett has to be smart mixing his play calls and not allowing Fewell to put his defense in attack mode.
The strength of this Cowboys offense has been its receivers and their ability to make plays. Protect and get the ball into your playmakers' hands.
Miles Austin
, Roy Williams and
Dez Bryant
can put pressure on the Giants secondary.
Again, the Giants don't give you much room back there but when given the opportunity, they need to convert on the chances they have.
Jason Witten
is going to have to play well. When Fewell puts coverage to the outside, it's Witten working against linebackers that allows
Jon Kitna
an opportunity to deliver the football for a positive play.
If the Cowboys have to consistently play behind the chains, this offense will suffer too many three-and-outs, which puts their defense in harm's way. Garrett needs to be aggressive, but he needs to put his players in the best possible situations to make plays.
More importantly, he needs to find a way to have his team play a physical game on both sides of the ball. They will need to match the intensity of their opponent this week down after down. If not, this Giants team will put a physical beating on them.