Dallas Cowboys:

Roman Harper
February, 20, 2014
Feb 20
8:00
AM ET
INDIANAPOLIS -- When will the
Dallas Cowboys
start making decisions on the future of players?
"Til it's time to get under the cap," executive vice president Stephen Jones said.
Teams do not need to be compliant with the salary cap until March 11, but some teams have already started cutting players to create cap savings, like the
Detroit Lions
did last week in cutting
Louis Delmas
and
Nate Burleson
and the
New Orleans Saints
with
Will Smith
,
Roman Harper
and
Jabari Greer
.
In addition to using the time at this week's NFL scouting combine in Indianapolis to look at draft prospects, the Cowboys will use the time to discuss the futures of players like
DeMarcus Ware
and
Miles Austin
and how they want to pare their salary cap by $20 million-$25 million before the first day of the league year.
Several others could have their contracts restructured, like
Tony Romo
,
Sean Lee
,
Jason Witten
, and others could be cut, like
Justin Durant
, to make room.
"We continue to look at them and we continue to look at what's available out there, what's going to be available out there, and we're looking at a lot of tape with [assistant director of player personnel] Will [McClay] and the pro guys are looking at the tape on all those guys and what's likely to be available in the draft," Jones said. "All these things affect the decision."
July, 25, 2011
7/25/11
1:59
PM ET
The Cowboys guaranteed they would have two glaring holes at safety when they didn't address the position in the draft, giving
Gerald Sensabaugh
some leverage.
PODCAST
What went wrong with the Cowboys' defense last season? Was it lack of talent or poor execution? Tim MacMahon and Skin weigh in.

Listen

However, the depth of the safety pool in free agency should prevent the Cowboys from overpaying, a mistake they've made recently with safeties
Roy Williams
and
Ken Hamlin
.
Sensabaugh has made it clear that he's hoping for a big raise after making $1.8 million last season. He can point to his career-high five interceptions in 2010 as evidence that he's worth much more money. But there are several available safeties who are proven starters that are likely to be in the Cowboys' price range.
We'll skip over
Michael Huff
,
Eric Weddle
and
Quintin Mikell
, who might be good fits for the Cowboys but could be expensive.
Here is how Sensabaugh compares to some free agent safeties who might be more affordable, with the 2010 numbers from Stats Inc.:
Gerald Sensabaugh
Age:
28
Previous team:
Cowboys
2010 stats:
69 tackles, five interceptions, two sacks, no forced fumbles, no fumble recoveries, 10 passes defensed. Opponents completed 26-of-48 passes for 413 yards and one touchdown against him (54.2 completion percentage, 8.6 yards per attempt).
Roman Harper
Age:
28
Previous team:
Saints
2010 stats:
93 tackles, one interception, three sacks, six forced fumbles, one fumble recovery, eight passes defensed. Opponents completed 19-of-35 passes for 158 yards and no touchdowns against him (54.3 completion percentage, 4.5 yards per attempt).
Abram Elam
Age:
29
Previous team:
Browns
2010 stats:
77 tackles, two interceptions, two sacks, two forced fumbles, two fumble recoveries, 10 passes defensed. Opponents completed 20-of-41 for 309 yards and three touchdowns against him (48.8 completion percentage, 7.5 yards per attempt).
Dawan Landry
Age:
28
Previous team:
Ravens
2010 stats:
108 tackles, no interceptions, one sack, one forced fumble, one fumble recovery, four passes defensed. Opponents completed 24-of-50 for 330 yards and four touchdowns (48.0 completion percentage, 6.6 yards per attempt).
Danieal Manning
Age:
28
Previous team:
Bears
2010 stats:
72 tackles, one interception, no sacks, no forced fumbles, no fumble recoveries, seven passes defensed. Opponents completed 23-of-47 passes for 325 yards and two touchdowns against him (48.9 completion percentage, 6.9 yards per attempt).
Brodney Pool
Age:
27
Previous team:
Jets
2010 stats:
50 tackles, one interception, one sack, one forced fumble, one fumble recovery, 11 passes defensed. Opponents completed 13-of-30 passes for 156 yards and no touchdowns (43.3 completion percentage, 5.2 yards per attempt).
Deon Grant
Age:
31
Previous team:
Giants
2010 stats:
59 tackles, three interceptions, one sack, two forced fumbles, three fumble recoveries, 10 passes defensed. Opponents completed 30-of-50 passes for 378 yards and two touchdowns against him (60.0 completion percentage, 7.6 yards per attempt).
February, 23, 2011
2/23/11
8:00
AM ET
Players:
Alan Ball
(free agent),
Gerald Sensabaugh
(free agent),
Barry Church
(signed through 2012),
Danny McCray
(signed through 2012),
Akwasi Owusu-Ansah
(signed through 2013),
Andrew Sendejo
(signed through 2011)
Top free agents:
Michael Huff
,
Oakland Raiders
; O.J. Atogwe,
St. Louis Rams
;
Bob Sanders
,
Indianapolis Colts
;
Roman Harper
,
New Orleans Saints
;
Quintin Mikell
,
Philadelphia Eagles
;
Danieal Manning
,
Chicago Bears
;
Dawan Landry
,
Baltimore Ravens
[+] Enlarge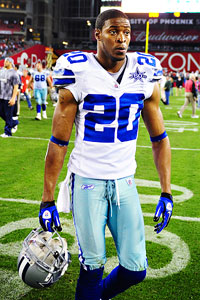 Mark J. Rebilas/US PresswireDon't expect safety Alan Ball to be a starter next season, if he's even on the Cowboys' roster in 2011.
Top draft prospects:
Rahim Moore
, UCLA;
Quinton Carter
, Oklahoma;
DeAndre McDaniel
, Clemson;
Robert Sands
, West Virginia;
Jaiquawn Jarrett
, Temple.
2010 review:
To put it simply, this position was a problem. The Cowboys made a major misevaluation with Alan Ball, who doesn't have the instincts or tackling ability to be a starting free safety for a decent NFL defense. Gerald Sensabaugh was a disappointment for most of the season, although he finished strong by making four of his five interceptions in the last six games. He was not a factor against the run or an intimidating presence in the middle of the field. Barry Church and Danny McCray didn't perform well enough in limited playing time to make a case to contend for a starting job. Akwasi Owusu-Ansah, who missed much of camp due to shoulder surgery and was placed on injured reserve with an ankle injury, essentially had a redshirt season.
Offseason preview:
The Cowboys have to find at least one, and preferably two, new starting safeties. If Ball is on the roster next season, it'll be as a backup and core special teams player. There is a chance that Sensabaugh could return as a starter, but the Cowboys won't give him the lucrative long-term deal he's looking for in free agency. It would behoove the Cowboys to be aggressive in free agency, but they haven't set up a visit with O.J. Atogwe, who is available to sign immediately after being released by the Rams this week. There are no safeties who are projected as top-10 picks, so don't expect the Cowboys to draft one in the first round. They should be able to find a starter in the second or third round.
Need meter:
(1-to-5) 5
November, 30, 2010
11/30/10
12:02
AM ET
By
Bryan Broaddus
| ESPNDallas.com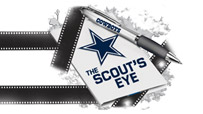 On a weekly basis, an NFL game usually comes down to five plays that are the difference between winning and losing. Coaches always say that it wasn't that one turnover, missed field goal or missed tackle that got their team beat that day but a combination of plays that cost them the game.
To Jason Garrett and his squad, it's a bottom line league. You are measured by wins and losses. The Cowboys had just as much of a chance to win that game against the Saints as they did to lose it. Some plays went in their direction as others didn't.
The pass to Roy Williams on third-and-6 with 3:46 left in the fourth quarter was a prime example of that. Williams had given his teammates everything he had that day as a pass catcher and blocker, but this is the play that everybody remembers.
On this play, Williams lines up wide left with
Jason Witten
inline as the tight end to the left.
Miles Austin
is in the slot to the right with
Dez Bryant
outside of him. Saints safety
Malcolm Jenkins
is in the middle of the field. The Saints had done a nice job of mixing coverage in this game, playing with two safeties on the hash to take away the receivers on the outside but also playing some single safety.
PODCAST
Dallas Cowboys wide receiver Roy Williams jumps on The Ben and Skin Show to discuss his Thanksgiving day fumble.

Listen

At the snap, Cornerback
Patrick Robinson
lunges at Williams, who he jammed earlier in the game with a similar technique. Robinson takes a jab at Williams then begins to retreat. Williams takes an outside release and with perfect technique, swims inside Robinson (something that Bryant needs to learn how to do). Williams has Robinson beat as the cornerback falls to the ground.
Jenkins, seeing what has happened, comes flying from the middle of the field to try to play Williams. As Williams works inside, Jenkins overshoots him by a wide margin. Williams, in clean air, takes the ball from Kitna on the Saints 49 with Jenkins outside the numbers on the Saints 42.
As Williams works his way up the field, he is between the hashes on the 38 with Austin blocking
Tracy Porter
to his right. Williams transfers the ball from his right hand on the Saints 35 to his left hand. Jenkins is now in full sprint and reaches Williams at the Saints 19, catching him and using his momentum to pull the ball away from Williams as they both fall to the ground on the Saints 10.
It was a heck of a play by the Saints safety. What is usual about the play was that earlier in the quarter, Williams catches a similar pass with Robinson ripping at the ball and covers it up with both hands to secure the play.
* When the Saints took the ball with 3:03 left in the game on their own 11, there had to be a thought among the Cowboys defenders that they could make a stop and close out this game.
On the previous drive, the Cowboys forced a three-and-out with tremendous pressure on
Drew Brees
and some of the tightest coverage that the secondary and linebackers had played all day. But just the opposite happened with the game on the line.
On first-and-10,
Marques Colston
runs vertically from the slot then breaks to the outside. Nickel back
Orlando Scandrick
is in man coverage on the play and in good position. Defensive coordinator Paul Pasqualoni rushes four against the Saints, who kept tight end
David Thomas
to help block. Brees has to move forward in the pocket, then to the right as he lobs the ball to Colston, who is able to make a high adjusting catch.
First-and-10 from the Saints 33,
Devery Henderson
nods inside then heads vertical. Strong safety
Gerald Sensabaugh
is level with cornerback
Terence Newman
on the route when he should have had more depth. Newman is able to rally to make knock the ball out of Henderson's hands on the play.
[+] Enlarge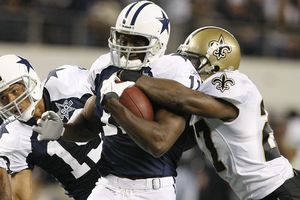 AP Photo/Waco Tribune-Herald/Jose YauSaints safety Malcolm Jenkins made a game-changing play when he tracked down Roy Williams and stripped the ball.
Second-and-10, Brees feels pressure from outside linebacker
Anthony Spencer
, who over runs right tackle Jon Stinchcomb. Brees tries to move forward but throws the ball too high to Thomas, who is working against
Keith Brooking
on the coverage.
Third-and-10,
Robert Meachem
on the outside against Newman in coverage. Meachem heads vertical then again, nods to the inside, causing Newman to pause slightly. Newman then has to turn and run with the 4.39 Meachem. The pause buys Meachem the separation that he needs to get by Newman.
Alan Ball
is the safety to that side, but he is held in position watching Thomas work against Brooking.
At first, I thought Newman was sitting on the sticks playing the route for the first down. Meachem's route was outstanding and the throw from Brees was even better.
The Saints now have the ball on the Cowboys 12. Out of the huddle, receiver
Lance Moore
lines to the right. Cornerback
Mike Jenkins
goes with him. Moore then motions right to left with Jenkins as well. At the snap, Moore starts left, then breaks inside. Jenkins, not sure, gets caught trying to adjust. Sensabaugh tries to drop and help but can't get there.
Jenkins tries to grab Moore and pull himself into position, then tries to play the ball with his off hand. But the throw from Brees was perfect with no chance to make the play at the end of the game-winning drive.
* Throughout the season, if you have followed The Scout's Eye, you have seen me comment on the problems with the Cowboys running game and second-level blocking. On the fourth-and-1 play that Barber was stopped on, second-level blocking played a major role in the Cowboys having to turn the ball over to the Saints.
On the play,
Jon Kitna
tosses the ball going right to Barber with right tackle
Marc Colombo
in front trying to get to first support. As Colombo is working outside, safety
Roman Harper
comes forward and cut him down at the legs, creating a pile and causing Barber to have to jump. That causes him to lose his momentum going forward, but to Barber's credit, he struggles forward and to the edge trying to gain the line.
From the inside, center
Andre Gurode
is trying to work front side or to his right and cut off linebacker
Jo-Lonn Dunbar
. Dunbar works away from the attempted block by Gurode, who ends up on the ground, and is able to work down the line of scrimmage. Barber gets to the edge but is met by Dunbar who is able to make the tackle for no gain, giving the ball to the Saints and stopping the Cowboys drive without any points to show for it.
Once again, when problems arise in the running game for the Cowboys, it's usually when players are not secured at the point of attack or a defender was left unblocked. That has happened quite a bit in 2010.
November, 25, 2010
11/25/10
12:37
PM ET
By
Bryan Broaddus
| ESPNDallas.com
The key matchups for this afternoon's Saints-Cowboys game:
*Cowboys secondary vs. Saints QB Drew Brees:
Coming into last week's game against the Lions, quarterback
Shaun Hill
did nothing to make me believe that he would press the ball down the field against this Cowboys secondary. Everything that Hill was doing was short and in the middle of the defense.
This week the Cowboys face one of the most productive quarterbacks in the NFL since 2006. Drew Brees has been outstanding in taking Sean Payton's offense to a whole new level. He is the perfect quarterback for this system because of his ability to be accurate, to get rid of the ball quickly and to be able to throw on the move.
When you study Brees, his most impressive trait is his ability to be accurate. There are plenty of plays where the defensive backs have his receivers covered and there is little separation, but Brees is able to fit the ball into a tight window and allow his receivers to make yards after the catch.
When these two teams met last December, it was the Cowboys secondary that played well in the nickel.
The Saints will play with three receivers and two tight ends that can all catch the ball. Brees likes to try and look the defenders off with his eyes when he begins his drop. Brees is outstanding at pulling defenders away from where he is going with the football.
Defensive coordinator Paul Pasqualoni has played more zone coverage in the last two weeks trying to help his secondary but needs to find a way to get some form of pressure on Brees. That might be difficult against the Saints, who are second-best in the league protecting their quarterback.
*Cowboys TE Jason Witten vs, Saints SS Roman Harper:
The Saints come into this contest as the second-ranked defense in the NFL against the pass. Despite that ranking, there are some plays to be made against them.
In studying corners
Jabari Greer
and
Tracy Porter
, the Seahawks were able to make some plays on the double move against them.
Miles Austin
hit them with the same move to opening the scoring for the Cowboys in December.
If the Saints are able lock it down on the outside, watch tight end Jason Witten. The Saints are in the middle of the pack when it comes to rushing the passer and the scheme might not require Witten to stay in and help with protection. Saints safety Roman Harper likes to hang around the line of scrimmage and play the run, while
Malcolm Jenkins
is more of a cover guy and plays the role of a true free safety.
Jenkins will also draw coverage of Witten, because to play Witten, you have to be physical and have to have the ability to run with him. Harper played Witten last year and it was a physical game between the two.
Jon Kitna
has done an excellent job of getting the ball down the field and into the hands of his receivers. Where Witten has helped him is with routes to the outside going away from the defenders.
Saints defensive coordinator Gregg Williams might be forced to use Jenkins on the outside against Austin or Bryant and that leaves Witten one-on-one with Harper and a match up the Cowboys could try and work.
*Cowboys DEs Jason Hatcher and Stephen Bowen vs. Saints RT Jon Stinchcomb:
The strength of this Saints offensive line is inside with the guards
Carl Nicks
and
Jahri Evans
. Where they struggle is at the center spot with
Jonathan Goodwin
and tackle Jon Stinchcomb.
Last year when these two teams met, it was
Jermon Bushrod
that had the most problems with
DeMarcus Ware
. In studying Bushrod, he is playing much better and is not the weak link of the offensive line. Stinchcomb doesn't play with much power at all and there are times where he is driven into the backfield when he takes his pass set or while trying to get push at the point of attack.
After last year's meeting, Sean Payton said that his coaches would need to think of different ways to help their tackles in pass protection. The Saints have a fullback on the roster in
Heath Evans
and also use tight end
Dave Thomas
in that role.
The Saints coaching staff is well aware of what Ware did to them last season and might try to make sure that doesn't happen again. They will try and help Stinchcomb with a back to that side in the passing game.
Regardless of who is lined up over Stinchcomb, they need to take advantage of him in the running game setting the edge or in the passing game by closing the pocket to the right side on Brees and not allowing him to get outside and throw the football.
November, 24, 2010
11/24/10
9:05
PM ET
By
Bryan Broaddus
| ESPNDallas.com
Thanksgiving Day begins a stretch for the Cowboys where they play three of the top-rated quarterbacks in the NFL in consecutive weeks as they try to dig themselves out of this hole that has become the 2010 season.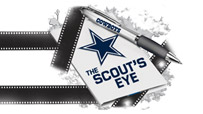 Since Wade Phillips was replaced as the head coach by Jason Garrett, the Cowboys have done a much better job of consistently making plays in all three phases of their games.
The running game, which struggled for the majority of the season, has shown signs of improvement in the last two weeks against the Giants and Lions. It has not been a dominant unit but as a whole is doing a much better job of running with a purpose. The balance is due to the offense playing with a lead or the game in a manageable position.
The secondary has been helped with defensive coordinator Paul Pasqualoni relying more on a zone-coverage scheme, replacing the man scheme that exposed the defensive backs to big plays when the pass rush was unable to get home. Pasqualoni is focusing more on sound principles than the high-risk and pressure style of Phillips.
Quarterback
Jon Kitna
has been more than adequate leading an offense that is in the process of developing one of the most exciting and explosive players in rookie receiver
Dez Bryant
. The Saints have been a middle-of-the-pack team when it comes to rushing the passer but are ranked second in the NFL is pass defense.
In studying the last game the Saints played against Seattle, cornerback
Jabari Greer
was beaten badly on two long completions, one on a "stutter-go" or double move. In the contest that these two clubs played last season,
Miles Austin
scored on a similar move to get the Cowboys on the scoreboard first.
Both
Tracy Porter
and Greer are aggressive corners but they can afford to play this way because the safety play of
Malcolm Jenkins
and
Roman Harper
has been outstanding. Harper likes to play close to the line and get in on the action while Jenkins is more of a true free safety.
The matchup with Harper and tight end
Jason Witten
will be interesting. To play Witten, you have to be physical and have strength but be able to run with him. Harper has those types of traits when you talk about safety play.
On the offensive side of the ball, the Saints have one of the most explosive attacks that you will ever see. Sean Payton does an outstanding job of using all of his players in this attack.
Quarterback
Drew Brees
is deadly accurate throwing the ball to a talented group of receivers led by
Marques Colston
. The Saints like to run a three-receiver package with Colston in the slot,
Devery Henderson
and
Robert Meachem
on the outside. On third downs, watch
Lance Moore
. He seems to be a favorite target of Brees when he needs a play.
Speaking of players to watch, tight end
David Thomas
is an interesting player. He really stands out when you are studying tape. The Saints like to line him up in the backfield, inline and outside. He really plays the role of what
John Phillips
did for the Cowboys last season. Thomas is not as stiff of an athlete as Phillips and requires the defense's attention anytime he is in the game. He can get down the field, work short or in the flat.
This week could mark the return of running back
Reggie Bush
to the Saints lineup. Bush is one of the most dynamic players in the NFL today, but how will his game conditioning be after such a long layoff?
The numbers say that the Saints are ranked 26th in the league running the ball, but rookie
Chris Ivory
is a player that I would love to have on my team. He is a physical load with the ball in his hands. He runs with power and brute force. If he can line you up in his sights, he will punish you.
The guards for the Saints are the best players along the offensive line.
Carl Nicks
and
Jahri Evans
are outstanding. Center
Jonathan Goodwin
is able to be a marginal player because these guards are so good.
If the Cowboys are going to attack an area of the Saints, it should be Jon Stinchcomb at right tackle. Stinchcomb is not as strong in the running game and will give ground in the passing game.
Jermon Bushrod
at left tackle is who the Cowboys went at last season, but he appears to be playing better in both the run and pass.
After the game last season, Payton spoke of his team's inability to protect in the game when it needed to the most. There is no doubt in my mind that the Saints will do all they can to help their tackles in this game against
DeMarcus Ware
and
Anthony Spencer
.
When these two teams met last season, the one area that really stood out for the Cowboys was their ability to make plays in their nickel defense. There is going to be a tremendous amount of pressure on the Cowboys secondary in this game.
Mike Jenkins
,
Terence Newman
and
Orlando Scandrick
will need to be at their best if the Cowboys are going to be successful in this game.