Dallas Cowboys:

Ron Rivera
January, 30, 2014
Jan 30
9:00
AM ET
IRVING, Texas – On Tuesday the
Carolina Panthers
handed coach Ron Rivera a three-year contract extension through 2017. According to reports he will make between $4-$5 million a year.

Rivera

Garrett
The point of this post isn't to suggest Jason Garrett, who is entering the final year of his contract as
Dallas Cowboys
head coach, should receive an extension. I believe Jerry Jones makes a good point about "lame duck," status when he said at the Senior Bowl he's seen plenty of coaches not get it done when they have multiple years on their contracts.
For those who believe the coach lacks authority when he is on the last year of his deal, I'd remind them that this is the Cowboys and we know where most of the authority lies. Despite three straight 8-8 finishes and painful Week 17 losses that kept them from making the postseason, Garrett has maintained the locker room.
Has it been perfect? Absolutely not. But it's not perfect anywhere. Players on the most successful teams will find a way to complain about the coach, just as any employee in any field will find a way to complain about a boss. It's just the way it is.
The point of this post is to use Rivera as an example for Garrett to emulate, albeit perhaps a year too late.
Entering 2013 Rivera had a 13-22 record as Panthers coach. In his first year, Carolina started 2-8 and finished 6-10. In 2012, the Panthers started 1-6 but finished 7-9, winning their final four games. In 2013, the Panthers were 1-3 and heading nowhere.
Rivera, who interviewed for the Cowboys' head coaching job in 2007, kept things together, the Panthers started to win, then they started to believe and finished 12-4 and made the playoffs.
He went from the hot seat – remember he was working under a new general manager – to earning a three-year extension.
Cam Newton
made the Pro Bowl.
Steve Smith
remains a top-flight receiver.
Luke Kuechly
is a terrific linebacker. Defensive lineman
Greg Hardy
had a career-high 15 sacks.
Little was expected of the Panthers. They were No. 23 in the ESPN Power Rankings in the preseason and finished the regular season at No. 3. The Cowboys started the year at No. 20 in the rankings and finished No. 17.
Little should be expected of the Cowboys in 2014, although we know somehow Jerry Jones will believe they will be contenders by the time training camp kicks off in Oxnard, Calif. Expectations will be raised by the return of injured players like
Sean Lee
and
Tony Romo
, the improvement from a
Dez Bryant
and
DeMarco Murray
and the excitement of new draft picks.
But if Garrett is looking for hope for his personal cause, something he would never admit to publicly, then what happened to Rivera offers him a chance.
January, 9, 2014
Jan 9
8:00
AM ET
IRVING, Texas -- The
Dallas Cowboys
are not in a search for a head coach. Jason Garrett will be back for his fourth full season in 2014.
The
Tampa Bay Buccaneers
(Lovie Smith) and
Houston Texans
(Bill O'Brien) have landed their guys. The
Washington Redskins
,
Tennessee Titans
,
Cleveland Browns
,
Detroit Lions
and
Minnesota Vikings
are still in the search process.
And they have been elaborate.
The Redskins' list has 11 names, including Cowboys special teams coach Rich Bisaccia. Bisaccia's name has turned up in the Titans' chase too. A lot of the searches have the same names with guys like Jay Gruden, Mike Zimmer, Ken Whisenhunt, Todd Bowles, Jim Caldwell, Dan Quinn and James Franklin.
In 2007, Jerry Jones cast a wide net to find Bill Parcells' successor.
He interviewed 10 coaches, including three from Parcells' staff -- Tony Sparano, Todd Haley and Todd Bowles -- and a former assistant in Gary Gibbs. Unlike the Redskins, he did not interview any assistant from NFC East teams.
Including Wade Phillips, who was Jones' pick, and Garrett, who took over for Phillips in the middle of the 2010 season, eight of the 10 interviewees became head coaches: Sparano with the
Miami Dolphins
, Haley with the
Kansas City Chiefs
, Norv Turner with the
San Diego Chargers
, Ron Rivera with the
Carolina Panthers
, Jim Caldwell with the
Indianapolis Colts
and Mike Singletary with the
San Francisco 49ers
.
Only Bowles and Gibbs have not been named head coaches, although Bowles has a chance in Cleveland or Minnesota.
Of the eight the only two not to take their team to the playoffs are Garrett and Singletary.
In 2010, Jones' search was not as prolific. He liked what Garrett did in taking over for Phillips in finishing 5-3 without
Tony Romo
, who was out with a broken collarbone. Jones interviewed wide receivers coach Ray Sherman and also brought Bowles back for another look.
The job was always going to be Garrett's so Jones did not need to put out a lot of feelers.
Jones could be in the head -oach business in 2015 if things do not go well for the Cowboys. The feeling is that the next search will look more like the one in 2007 than 2010.
June, 22, 2011
6/22/11
8:44
AM ET
ESPN.com's NFL writers rank the top 10 up-and-coming assistant coaches in the league today. Next week: Top players overall.
Seven NFL teams named new head coaches after last season, tapping into a pool that included experienced coordinators and relatively unknown assistants alike. The class of 2011 featured longtime candidates (Leslie Frazier, Ron Rivera). It also included a trusted position coach in Mike Munchak (
Tennessee Titans
) and a couple of relative hotshots in Hue Jackson (
Oakland Raiders
) and Pat Shurmur (
Cleveland Browns
).
Who will comprise the NFL's next batch of head-coaching candidates? That was the question ESPN.com hoped to answer in this week's edition of the offseason Power Rankings. We established one ground rule by eliminating any assistant who has already had a permanent head-coaching job. The idea was to develop a list that focused on the "next wave" of coaching candidates.
No less than 24 NFL assistants received at least one vote, a reflection of both the variables involved in head-coaching searches and the relative lack of national name recognition for all but the most highly regarded assistants.
So in that vein, it was no surprise to see four well-known assistants at the top of our list, headed by
New York Giants
defensive coordinator Perry Fewell -- who placed first or second on six of the eight ballots.
Dallas Cowboys
defensive coordinator Rob Ryan finished second, followed by
New York Jets
offensive coordinator Brian Schottenheimer and Arizona offensive line coach Russ Grimm.
Fewell is an ideal candidate in many ways, having spent time as the
Buffalo Bills
' interim coach in 2009 and leading a substantial turnaround of the Giants' defense last season. Fewell interviewed for four head-coaching jobs last winter, and NFC East blogger Dan Graziano suggested that experience, along with a high profile afforded to coaches in New York, make him "the most likely guy on the list to be a head coach soon."
Just don't bother forwarding his name to AFC South colleague Paul Kuharsky, who couldn't find room for Fewell on his 10-man ballot. Kuharsky noted the Giants' poor performance in Week 2 last season against the
Indianapolis Colts
, during which quarterback
Peyton Manning
threw three touchdowns and cruised to an easy 38-14 victory.
"Certainly I'm letting one game overinfluence my ballot," Kuharsky muttered. "But Fewell's plan for the Giants against the Colts last season was so bad that I could not help but score him down for it. Was he not familiar with how Peyton Manning and Indianapolis operate?"
We can't cover every coach who received votes in this exercise, but let's hit some of the more interesting names that received attention.
Another Ryan?
Deserved or not, Ryan has long been considered a loose cannon. There is little doubt about his schematic prowess, but hiring him would require a confident owner ready to make a leap of faith.
The success of twin brother Rex Ryan with the Jets might have softened the perception of that risk, and collectively we see Rob Ryan on the doorstep of a job.
"Similar to Rex, Rob Ryan is good with X's and O's and has the type of outgoing personality players want to be around," AFC North blogger James Walker said. "I think both are equally important in today's NFL. Both brothers say exactly what's on their mind, and before that scared off a lot of teams. But Rex broke the ice with his success in New York and that could help Rob in the future."
The next generation:
Schottenheimer has turned down more opportunities to interview for head-coaching jobs than he has actually submitted to. He has nixed requests from the
Miami Dolphins
and Bills in recent years, but he did interview for the Jets' job that ultimately went to Ryan. I placed him atop my ballot (he finished No. 3 overall) because I think NFL people have made up their mind that he is the kind of young and innovative assistant who can turn around their franchise. (Think: Cowboys coach Jason Garrett.)
Schottenheimer's pedigree doesn't hurt -- he's the son of longtime NFL coach Marty Schottenheimer -- and I'm not sure how closely teams will dissect the specifics of the Jets' offensive performance. Graziano, on the other hand, thinks Schottenheimer is close to coaching his way out of the golden-child image he cultivated and left him off his ballot.
"Having spent a good amount of time around that team the past couple of years, I just feel like defensive coordinator Mike Pettine is the more likely guy to end up a head coach," Graziano said. "Schottenheimer's under a ton of pressure as Ryan defers the offensive responsibilities to him. I feel like, if the offense has a bad year, he could end up in trouble or even out of a job. And given their youth at quarterback and running back and the uncertainty of their receiver situation, a bad year for the Jets' offense is possible.
"Now, he could be a genius, make chicken salad and be the next hot name eight months from now. But I think there's the potential that he may have already peaked as a hot coaching prospect and that he might not be set up to succeed in New York."
The big fella:
Four years ago, Grimm thought he would be the next
Pittsburgh Steelers
coach. He moved to Arizona after the Steelers selected Mike Tomlin instead, and we view his status as a head-coaching candidate with wide disparity.
AFC West blogger Bill Williamson put Grimm atop his ballot, and AFC East blogger Tim Graham had him No. 2. Kuharsky and I left him off.
Williamson thinks Grimm has moved to "the top of the food chain" largely because most of his "hot-name" contemporaries have already gotten jobs. As well, Graham suggested that it will soon be Grimm's turn because he is still well-regarded throughout the league.
Personally, I couldn't get past Grimm's well-publicized gaffe after interviewing with the
Chicago Bears
, after which he referred to the team owners as the "McClaskey" family. I also agree with NFC West blogger Mike Sando, who ranked Grimm No. 8 and wondered: "Is he still ascending? Grimm seems content coaching the line in Arizona. He has plateaued and doesn't seem to be losing any sleep over it."
Welcome back:
Unless you're a college football fan, you might not have heard of
Jacksonville Jaguars
offensive coordinator Dirk Koetter. He spent six years as the head coach at Arizona State, but has drawn some quiet acclaim for his work with the Jaguars and made a strong impression while interviewing with the
Denver Broncos
last winter.
"In a setting where he won't have to deal with boosters and can shine for being a smart X's and O's guy with strong coaching DNA," Kuharsky said, "I think he'd do far better. He's smart and will interview quite well. He really impressed John Elway and the Broncos before losing out to John Fox's experience. St. Louis wanted him as coordinator, but Jacksonville wouldn't let him go. He's heading into the final year of his contract. How
Blaine Gabbert
develops early on will have a big bearing on Koetter's future."
Secret weapon:
In two years, the
Tampa Bay Buccaneers
have developed quarterback
Josh Freeman
into one of the better starters in the league. The man largely responsible is offensive coordinator Greg Olson, who navigated a disastrous 2009 preseason -- coach Raheem Morris promoted him in the middle of training camp after firing Jeff Jagodzinski -- and NFL teams often seek out coaches with success developing young quarterbacks.
"I think Olson deserves a ton of credit for developing Freeman so quickly," said NFC South blogger Pat Yasinskas. "Freeman threw for 25 touchdowns and six interceptions in his first full season as a starter and carried an incredibly young team to a 10-6 record. I also think people need to look at what Olson did last year with rookie running back
LeGarrette Blount
and rookie receiver
Mike Williams
. He helped make them into instant stars."
Super Bowl entitlement:
The
Green Bay Packers
were the only team to place more than one name in the top 10, as would be expected from a championship team. Assistant head coach/inside linebackers Winston Moss is at No. 6, while safeties coach Darren Perry finished No. 10. I also voted for receivers coach Edgar Bennett, who has moved over from running backs coach and is clearly being groomed for bigger things.
I'll detail my ranking of the Packers' assistants, including why I think so highly of Perry, in a future post for NFC North readers. But we'll say this for now: Moss is a strong leader who has drawn interest from the Raiders, while Perry is a disciple of Packers defensive coordinator Dom Capers and his coveted 3-4 scheme.
January, 21, 2011
1/21/11
8:30
AM ET
Welcome to our first mailbag of the offseason, and it might be a long one if there's a lockout. Before we get to the mail, let's address two issues:
Trading Dez Bryant
[+] Enlarge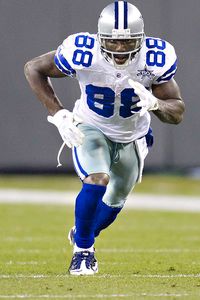 Jeff Hanisch/US PresswireNFL teams are always willing to listen to discussion about players. However, that doesn't mean Dez Bryant is going anywhere.
It's dumb. The Cowboys haven't gotten any offers for Bryant and are not expecting to trade him. Some readers misinterpreted my blog post from a few days ago that the team was trying to trade Bryant. A team source said he would listen to offers for Bryant, but never said he would trade him. Last year, another source -- when asked would he consider bringing outside linebacker
Greg Ellis
back to the Cowboys -- said yes. But it never happened.
NFL teams, the Cowboys included, talk about players all the time and how they would fit. In Ellis' case, it wouldn't work because the coaches felt confident
Anthony Spencer
was going to be fine as the starter and the backup linebackers would provide adequate relief for him if necessary.
In the Bryant case, a hypothetical question about what you could get for him considering the Cowboys' offseason needs was the basis of what was being said. Nobody reported Bryant was on the trade blocks.
The Rooney Rule
Some readers are upset with the Rooney Rule, which forces NFL teams to interview minority candidates. The rule was enacted because NFL teams didn't consider interviewing minorities on a regular basis for head coaching jobs. All minority coaches have ever asked for is a fair chance to become head coaches, and it didn't appear that was happening.
John Wooten, who is the chairman of the Fritz Pollard Alliance, sends NFL teams a list of minority coaches that should be considered for head coaching positions. The other day I found a list from 2008 naming 16 coaches. Of that list, Leslie Frazier, Hue Jackson, Raheem Morris, Ron Rivera and Mike Singletary became head coaches. Former Cowboys receivers coach Ray Sherman is also listed but hasn't gotten a head coaching job. I think the Rooney Rule works, but readers and maybe some of us in the media should ask some more questions before criticizing it.
Enough of the soap box. Let's get to the mailbag.
[+] Enlarge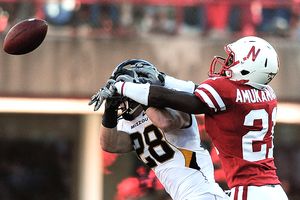 Eric Francis/Getty ImagesWill Nebraska CB Prince Amukamara be there for the taking with the Cowboys' first-round pick (No. 9) in the draft? Mel Kiper Jr. sure thinks so.
Q: Most mock drafts have Da'Quan Bowers, Nick Fairley, Marcell Dareus, Patrick Peterson and Prince Amukamara all going before the Cowboys draft at No. 9. Do you see any possibility in which Carolina would swap picks with Dallas and pick up Blaine Gabbert or Jake Locker at No. 9 -- since that's where they are projected to go -- and the Cowboys pick up an elite defender to fit in nicely with Rob Ryan's new defense? -- Lawrence Torres (Bakersfield, Calif.)
A:
The Cowboys have a chance to get a premium player at No. 9, and I don't believe a trade is necessary. Last season, they traded up to get Bryant, a premium player who fell in the draft for off-the-field issues. Getting an elite pass rusher or safety is the way to go for the Cowboys at No. 9. But if a guy like
Von Miller
, for instance, is gone, then maybe you get Amukamara or somebody else. Remember there are holes on the offensive line, and it's uncertain if the Cowboys will re-sign
Kyle Kosier
as the left guard for 2011. There are many possibilities for a top 10 pick, and the Cowboys can't go wrong here with whoever they select.
Q: Despite accomplishments by Jay Ratliff,I believe that he's a tad overrated. I know that he is a Pro Bowler, but that is more of a popularity contest at this point. I feel that the Cowboys should look at Marcel Darius of Alabama and move Ratliff to defensive end. I've said for three years, he's too small for nose guard. He consistently gets blown off the ball in the run game but his speed would be great at end. Your thoughts? -- Byron (Indianapolis)
A:
That's an interesting take on Ratliff. I thought he was double-teamed plenty of times last season, which is why he didn't get to the quarterback more or create enough pressure in 2010. A move to end might be better for him, and it's something the team tried to do a few years ago. Ratliff didn't seem thrilled with it then, but knowing the team player that he is, a move such as this might sit well with him now. The problem I had with Ratliff was his lack of quarterback pressures and his inconsistency at stopping ball carriers for no gain. Rob Ryan, the new defensive coordinator, might make some position changes or keep things the same but change how certain players do things technique-wise.
Q: Do you feel Felix Jones can be an every-down back? Should the Boys look to draft one? -- Mike T (Syracuse)
A:
It was very interesting to note when
Marion Barber
was healthy toward the end of the season, the Cowboys kept him on the sidelines and Felix Jones remained the starter. Those last four games of the 2010 season might have been an audition for Jones to show he can carry the ball 15-20 times a game. If the Cowboys feel he can, then
Tashard Choice
is the No. 2 and Barber will be released.
Q: Trading Dez Bryant would be a dumb mistake. We all know which of the receivers need to be traded (Roy Williams). -- Andrew Maxwell (Colombia, Maryland)
A:
I'm not sure if you can get anything for Williams. At best, if you cut him, it's a $12.9 million cap hit -- and the Cowboys might be willing to do that. Bryant is not going anywhere. Never said he was. But Williams might. A trade isn't happening, but releasing him is a possibility.
Q: Dallas clearly has the worst secondary in the NFL. Their secondary was clearly the reason for half of their losses. Dave Campo is the secondary coach. It's time for him to hit the road. He clearly does not have a clue how to coach their personnel. The Cowboys never win on third down, and the coach does not know now to get his point across. Wasn't he fired once before? -- Williams McClelland (Port Neches, Texas)
A:
It's easy to blame the coach for the problems with the secondary. In 2009, when
Mike Jenkins
and
Terence Newman
reached the Pro Bowl, Campo was the secondary coach. I think Jenkins had an off year and is poised for a bounce-back season in 2011. Newman might get released in a cost-savings move. There are some in the front office that aren't too happy with him, but Jerry Jones, Stephen Jones and Jason Garrett will make the final call on Newman. I think he'll be here unless the Cowboys decide to get a cornerback in the first round.
November, 29, 2010
11/29/10
9:12
AM ET
Norv Turner won his 100th game (including playoffs) on Sunday. Jason Garrett should call to congratulate his mentor.

And then Garrett should pick Turner's brain about the Colts.

Nobody knows how to beat the Colts like Turner's Chargers. San Diego's dominance in Indianapolis on Sunday night marked the fifth time in six meetings that they beat Peyton Manning and Co.

Jerry Jones almost hired Turner in 2007. He would have brought Ron Rivera, whose defense forced five turnovers and scored two touchdowns in the rout over the Colts, with him as defensive coordinator.

The Cowboys can still benefit from the expertise of Turner and Rivera, at least this week. All Garrett has to do is call an old friend.