Dallas Cowboys:

Ronde Barber
July, 28, 2013
7/28/13
10:00
AM ET
OXNARD, Calif. –
Keyshawn Johnson
knows how good Monte Kiffin and Rod Marinelli can be after spending time with them in Tampa Bay.
He has a Super Bowl ring to prove it.
As Johnson, the former Cowboys wide receiver and current ESPN analyst, looks at the Cowboys defense, he's not so sure the move from the 3-4 to the 4-3 will go seamlessly.
"I think they have two great defensive minds in Kiffin and Rod Marinelli, but there's no
Warren Sapp
running out there," Johnsons said. "There's no
John Lynch
.
DeMarcus Ware
could be better than
Simeon Rice
. But can
Bruce Carter
be as good as
Derrick Brooks
? I don't think so. Can anyone in the secondary be
Ronde Barber
?"
The scheme is good, but Johnson believes the players matter.
I think it's a little bit of both but you have to have players," Johnson said. "That's the bottom line. If you don't have that instinct and that guy, it doesn't matter. Everyone else tries to duplicate the Tampa 2 scheme that they ran and Monte did for 15 years when his defense was in the Top 10 every year. But there's no
Hardy Nickerson
running around here? Is (Sean) Lee as good as Hardy Nickerson was?
July, 19, 2013
7/19/13
1:23
PM ET
OXNARD, Calif. --
Will Allen
is entering his 10th season and the Cowboys are his third team.
Brandon Magee
is an undrafted rookie.
They will arrive today in Oxnard not via the Cowboys' charter flight, but by car because they have been in Southern California working out prior to the start of training camp. Despite their different resumes, they have the same feeling of anticipation.
PODCAST
Mark Schlereth joins Ian Fitzsimmons and Ted Emrich to discuss the Cowboys and their place in the NFC East.

Listen

"You want to have that feeling and that's what football is all about," Allen said. "It's about to be real. It's about to happen. You get that little bit of anxiety and it's exciting."
Allen's first camp was in 2004 with Tampa Bay. The Buccaneers trained in Orlando.
"It was hot as crap," Allen said. "I was a young rookie trying to figure it all out and it was fun and I learned a lot, but it's all a blur right now. I remember being really hot."
Allen and Magee don't have to worry about that in Oxnard, where the high temperature for the next week is 70 degrees. Magee had been working out at Arizona State, where he said temperatures topped out at 115 degrees.
"That's a walk in the park, weather-wise," Magee said of the Oxnard weather. "But I know practice is going to be a lot harder."
Allen and Magee share the same agent, Blake Baratz, and the veteran has passed on some sage words to the rookie the way the veterans in Tampa Bay, like
Derrick Brooks
,
Ronde Barber
and
Ryan Nece
did for him in Orlando.
"Will has been a big influence one me," Magee said. "He told me a little bit about what training camp is like, but I didn't want to know too much. During the OTAs and the mandatory minicamp he was on me about practice, how you're supposed to practice, how you're not supposed to hit people, how to study the game and keep your body healthy. He's been a big help to me."
Allen, who signed a one-year deal with the Cowboys in the offseason as a free agent, will likely be with the first-team defense for the first practice next to
Barry Church
. Magee, who was guaranteed $70,000 as an undrafted free agent, will be fighting for a chance to make the team.
"It's a great opportunity and it makes you a little bit more motivated and a little more determined," Allen said. "I don't let it distract me. I just want to stay focused day to day."
Magee said he constantly carries with him the pain of not being drafted, but knows he will have to make his mark every day. Part of the reason he signed with the Cowboys was their track record with undrafted free agents, such as
Tony Romo
,
Miles Austin
, Church and
Alex Albright
.
"Everybody knows it's harder for undrafted guys to make the team than drafted guys, but the Cowboys make it pretty equal for both to make the team," Magee said. "I'm just happy for the opportunity, and when I get out there I can show maybe I can be the next Tony Romo in that group."
June, 10, 2013
6/10/13
4:11
PM ET
The
Dallas Cowboys
have $9.7 million in salary-cap space to sign their remaining draft picks without contracts and potential free agents.
PODCAST
ESPN NFL Insider John Clayton joins Fitzsimmons & Durrett to discuss the Cowboys and Tony Romo missing OTAs.

Listen

Here are five free agents with the potential to join the Cowboys in case of injury:
Laurent Robinson.
He's on the market because of health issues. He didn't recover from a concussion last season while in Jacksonville, but Cowboys officials are more concerned about an ankle injury. When Robinson played with the Cowboys in 2011, he caught 54 passes for 858 yards and 11 touchdowns. The Cowboys couldn't afford him when he hit the free-agent market, but if something happens to one of their receivers, they can pick him up for the veteran minimum now.
Winston Justice.
The Cowboys expressed interest in the right tackle but were able to get
Doug Free
to accept a pay cut to stay with the team. If the Cowboys want a veteran tackle, Justice is available. His salary demands were a little high a few weeks ago, but he could lower them as the season nears.
Cedric Benson.
The Cowboys drafted
Joseph Randle
in the fifth round to complement
DeMarco Murray
, who has battled injuries the past two seasons, and serve as an insurance policy if Murray is injured again. Benson has endured some off-field issues, but he could be a nice pickup in case of injury.
Sedrick Ellis.
Health and age are concerns with the projected starters on the Cowboys' defensive line. Ellis would be a nice signing in case one of the tackles,
Jay Ratliff
or
Jason Hatcher
, goes down. Ellis has drawn interest from several teams, so his availability is a question mark.
Anthony Hargrove
is also on the roster, is somebody who can play defensive end and tackle, and provides the team with veteran depth.
Ronde Barber.
He's retired and headed to television, but with inexperience at the Cowboys' safety position, maybe he'll return. Barber knows the Tampa 2 defense and is a veteran whom defensive coordinator Monte Kiffin trusts. It would be for only one season, and pairing him with
Barry Church
could be seen as a positive.
April, 7, 2013
4/07/13
12:44
PM ET
We're down to two for the national championship in college basketball and while we think about who wins between Michigan and Louisville, let's review our weekend mailbag.
Enjoy.
PODCAST
ESPN Insider Ed Werder joins Fitzsimmons & Durrett to discuss Tony Romo's contract extension and what needs to happen for Romo to lead the Cowboys to a championship.

Listen

Q: To: Mr. Cool Cat Watkins, with Doug Free being worth $7 million dollars is there any tackles on the market right now that we could sign and instantly upgrade the line? Eric Winston or Branden Albert are available or is that not a possibility? If not a tackle who should we sign if any? Long time reader first time writer. Brandon Fuller (Malibu, Calif.)
A:
Based on what Free did last season, no he's not worth his contract and he most likely will get offered a paycut. If he refuses, then expect the Cowboys to move on. As much as they like Free he struggled last season under offensive coordinator Bill Callahan. The team wants Free to become more aggressive, a player who attacks defenders and too many times he failed to do that. He almost lost his starting job in 2012 and did play well on the backend of the year. When you evaluate his entire season, you begin to wonder if he's worth coming back. Albert was franchised, so it will cost you too much to give up to get him back from a financial and draft pick standpoint. Winston is a nice pickup, however, why get a veteran player. Stick with the draft and get a younger player to build with
Tyron Smith
on the other side.
Q: Calvin, is it "Set-in-Stone", that Anthony Spencer will be the starting defensive end? Maybe they can get a quality 4-3 DE in free agency or the draft. This will keep Spencer at OLB. Derrick (New Port Richey, Fla.)
A:
Spencer is going to be the starting defensive end because he's more effective at that spot than playing outside linebacker in a 4-3. Monte Kiffin's defensive line warrants pass rushers at all four spots and this is where Spencer comes in. Spencer played a 4-3 defensive end in college and making the move back to it isn't a problem.
Q: I see that Ronde Barber is a free agent. What is the likelihood that we could nab him, before or after the draft? I have seen Ronde excel in that Tampa 2 and be a big ballhawk. He could help out with teaching the scheme to other players as well as produce turnovers in a limited role. I'm not sold on Kenny Vaccaro should Dallas draft him. So why not bolster the safety spot with a proven guy that can still produce and bring leadership and championship experience to a secondary that could clearly use it while we figure out what we have in Matt Johnson and Barry Church? This provided he comes cheap of course. Clayton Hice (Oklahoma City)
A:
Clayton, you answered your own questions here: "provided he comes cheap of course." Barber, a solid player on the backside of his career, isn't coming on the cheap. It's ok if the Cowboys keep younger players at certain positions, especially safety. What has veteran players gotten them over the years? I do like what
Gerald Sensabaugh
provided them at times, but he didn't make enough plays on the ball. The Cowboys have Johnson, who displayed playmaking skills in college. So why not give him an opportunity?
March, 5, 2013
3/05/13
1:00
PM ET
We continue our 10-part series breaking down the Cowboys' free-agency needs, position-by-position:
Defensive backs

Who's on the roster:
CB-
Brandon Carr
, S-
Barry Church
, CB-
Morris Claiborne
, S-
Matt Johnson
, CB-
Sterling Moore
, S-
Micah Pellerin
, CB-
Orlando Scandrick
, CB-
Brandon Underwood
.
Analysis:
The cornerback spot is secure with Carr, Claiborne and Scandrick manning the top spots. The safety position got thin with the release of
Gerald Sensabaugh
. However, the Cowboys return Church, but he's coming off a torn Achilles injury. Johnson missed the entire 2012 season with a hamstring injury and there are high hopes for his ability to play in 2013.
Cowboys free agents:
RFA: S-
Danny McCray
; UFA: CB-
Michael Coe
, S-
Eric Frampton
, CB-
Mike Jenkins
and S-
Charlie Peprah
.
NFL free agents of interest:
CB-
Stanford Routt
, S-
Ronde Barber
, S-
William Moore
and S-
O.J. Atogwe
.
PODCAST
ESPN Dallas' Todd Archer joins Fitzsimmons & Durrett to discuss the Cowboys cutting Gerald Sensabaugh in a salary cap move.

Listen

Need meter: 3.
The Cowboys don't have much money to play with in free agency. And with the money and draft picks invested at corner in the last two seasons, they won't go after a highly-regarded corner such as
Quentin Jammer
. However, safety could be a different story. Barber has played in the Tampa 2 system before and might be an interesting pickup. There was interest in Atogwe a few years ago; might the Cowboys offer him a two-year deal to play strong safety? The Cowboys will bring McCray back as a backup safety/special teams ace. Peprah and Frampton, both in-season pickups in 2012, are two valued players whom the Cowboys should discuss keeping. If that happens, it's doubtful the Cowboys go outside to sign a safety.
January, 10, 2013
1/10/13
5:08
PM ET
IRVING, Texas -- From 1996 to 2008, Monte Kiffin ran one of the best defenses in the NFL, finishing in the top 10 in total defense in 11 of his 13 years.
PODCAST
Galloway & Company discuss the possibility of Monte Kiffin replacing Rob Ryan as the Cowboys defensive coordinator.

Listen

The Buccaneers' trademark was the ability to make game-changing plays with game-changing players, like
Derrick Brooks
,
Warren Sapp
,
John Lynch
,
Simeon Rice
and
Ronde Barber
.
In Kiffin's 13 years as Tampa's defensive coordinator, the Buccaneers averaged 39 sacks, 19 interceptions and 12 fumble recoveries a season.
Since Jerry Jones took over the Cowboys in 1989, the Cowboys have had only three seasons in which they had more than 19 picks, five seasons in which they had more than 12 fumble recoveries and six seasons in which they had more than 39 sacks. Four of those sack seasons came after the switch to the 3-4 and the arrival of
DeMarcus Ware
.
For far too long, the Cowboys have not been able to take the ball away on defense, regardless of who the coordinator was. They didn't do it under Rob Ryan and couldn't do it under Wade Phillips or Bill Parcells.
Turnovers and sacks change games.
Points matter most.
The Bucs allowed more than 300 points in a season three times with Kiffin as coordinator (and that's taking into account returns for touchdowns). Since Jones took over the Cowboys, they have allowed more than 300 points in a season 15 times.
Kiffin has not coordinated an NFL defense in four years. He will be 73 in February.
If he turns out to be the Cowboys' next defensive coordinator, the only numbers Jones will care about will be interceptions, fumbles and sacks and points allowed; not age.
September, 25, 2012
9/25/12
10:22
AM ET
IRVING, Texas -- Sometimes when reviewing a game, you see things that are not as bad as you thought. In this week's "A Look Back," that was not the case for the Cowboys offense against Tampa Bay. It was just bad.
The run blocking: There's a reason why the Cowboys had only 38 yards on the ground. There were no holes for
DeMarco Murray
to run. Heck, there were no places where he could make it up as he went. The Tampa Bay defensive line just dominated up front, and it wasn't a case of one guy breaking down here and another guy breaking down on the next play. All five linemen had a hand in the poor running. Fullback
Lawrence Vickers
added little help as well.
On a delay run that looked promising, Murray had some room but
Mackenzy Bernadeau
got stuffed at the line and could not get to the second level. If Bernadeau gets there, it's a big run. Center
Ryan Cook
had a hard time getting off the line and to the linebackers because of all the slanting done by the Bucs up front.
Throwing more effectively could have loosened things up, but the pass protection wasn't much better.
Tampa Bay brought five or more rushers 16 times, but none of the four sacks of
Tony Romo
came off Bucs' pressure. Three came on four-man rushes and one came on a three-man rush when
Michael Bennett
bulled
Jason Witten
and
Doug Free
was looking to his left. I don't know what the line call was, but the Bucs had three guys on the line. Bennett is lined up outside of Witten at the snap. At some point common sense should kick in and Free should know he needs to help Witten. He didn't and Romo was sacked.
Romo was hit 11 times out of 39 pass attempts. He was sacked four times and scrambled once.
Let's talk about the one running play that did work: Murray's 11-yard touchdown run. This was blocked perfectly.
Tyron Smith
smothered
Adrian Clayborn
at the line. Witten dominated
Brandon McDonald
.
Miles Austin
got just enough of a rushing
Ronde Barber
to push him by Murray.
Kevin Ogletree
locked up
Eric Wright
.
The only player to touch Murray on the play was Austin.
Who says we can't be positive?
Defensively, it's hard not to be positive with that kind of game. Maybe
Josh Freeman
had something to do with it, but the Cowboys were aggressive. Just maybe not as aggressive as you would think
I had the Cowboys for nine rushes of five or more in the game. They had seven five-man pressures in each of the first two games. So Rob Ryan called two more blitzes. Both of DeMarcus Ware's sacks came on five-man or more rushes.
How aggressive were the Cowboys outside? They lined up in press coverage 38 times out of 53 snaps. The jams provided by
Mike Jenkins
,
Morris Claiborne
,
Brandon Carr
and
Orlando Scandrick
just threw the Bucs wide receivers off. They could not beat the jam. Even Vincent Jackson's only catch -- a 29 yarder -- came on a contested play by Scandrick.
Bruce Carter
is a quick learner. On Tampa Bay's only touchdown he never put his eyes on tight end
Luke Stocker
and was sucked in by the play-action fake, giving Josh Freeman an easy throw for a score in the first quarter. In the second quarter he perfectly read a Freeman throw to fullback
Erik Lorig
, who was sliding through the line, and made the stop for no yards on a big third and 3.
December, 17, 2011
12/17/11
10:30
AM ET
TAMPA, Fla. -- Tampa Bay cornerback
Ronde Barber
must look around at his current teammates and say, 'Who are these guys?
In his 15th season, Barber is by far the most tenured player on the NFL's youngest team. He is the link to the Buccaneers' glory years when he,
Warren Sapp
,
John Lynch
and
Derrick Brooks
were savaging offenses for a long time under coordinator Monte Kiffin.
Barber has started more consecutive games (196) than any cornerback in NFL history. He has played in 221 straight games, the second-longest streak in the league among active players. He is Tampa Bay's all-time leader in interceptions with 43 and leads the team this year with three.
"I'm going to keep going to at least these three games and then see what's next," Barber said. "I'm not sure how long I could go. As long as they want me and as long as I want them and I can still do it and I'm still productive, I'll keep doing it."
Tampa Bay's seven-game losing streak has bothered him, but not to the point where it will drive him out of the game.
"I try not to get emotional about the record or what not," Barber said. "Obviously it comes into play. It's definitely food for thought, but I've been coming to work and it's been like this a lot … I'm choosing to continue to play. It pays the bills and feeds my family. I appreciate that. It's meticulous. I've got a lot of work to do week in and week out and I enjoy that on Sundays with wins. It's been a little frustrating not seeing the rewards of it this season, but it doesn't change my manner and approach to what I do."
December, 16, 2011
12/16/11
11:00
PM ET
By
Bryan Broaddus
| ESPNDallas.com
Cowboys' run defense vs. Buccaneers RB LeGarrette Blount:
The run defense for the
Dallas Cowboys
has been very up and down this season. After a week where they struggled against the Giants'
Brandon Jacobs
, the Cowboys get a similar challenge with another physical back in Blount.
There is no doubt in my mind that the
Tampa Bay Buccaneers
will try to run the ball on the Cowboys' front seven to take the pressure off quarterback
Josh Freeman
. Freeman has struggled the most with his accuracy. Having success with Blount running the ball would create better down-and-distance situations for Freeman. It sounds simple, but it's true: When a team is ahead of the chains, it makes the offense work that much better. When teams have been able to keep Freeman in long down-and-distances, he has had his most difficulty.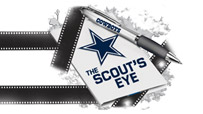 Blount is a punishing runner who pinballs his way through tacklers. He is not explosive or fast, but he is powerful. In the Green Bay game, I counted seven tackles that he broke on his way to a rushing touchdown. It will take more than one man to bring Blount down.
If the Cowboys struggle to get off blocks and don't get defenders to the ball, it will be a long night for this defense, much like it was against the Giants. Look for Rob Ryan to commit early to trying to stop the Buccaneers from running the ball with Blount. If he doesn't, that will take a great deal of pressure off Freeman.
Cowboys WR Miles Austin vs. Buccaneers CB Ronde Barber:
I am looking for this matchup to be a battle out of the slot when Jason Garrett puts three receivers on the field.
Barber is a veteran corner who has had his share of big plays, whether it is in coverage or blitzing out of the slot to make a sack. Barber doesn't have the physical skill to shut down Austin, but he has an advantage because he is very smart and has an outstanding feel for how to position himself en route to defend the ball.
Barber has struggled the most this season with his tackling.
Tony Romo
needs to find ways to get Austin the ball on the move and force Barber to play a physical game. Barber is not a big guy, and when he has to play against a physical receiver, he struggles to match that style.
PODCAST
What's wrong with the Cowboys? Who's to blame? Is Rob Ryan falsely confident? Is it time to mix up the core? Tim MacMahon, Bryan Broadddus and Calvin Watkins discuss the state of the Cowboys.

Listen

The biggest weakness of the Buccaneers' defense is that the secondary struggles to tackle.
Aqib Talib
is the most talented of the cornerbacks and safety
Sean Jones
is physical player, but Barber and safety
Tanard Jackson
struggle to get guys on the ground.
Next to the St. Louis Rams, this was the poorest tackling secondary that I had studied. When you are a poor tackling defense, it leads to big plays. Look for Garrett to use Austin a number of ways out of the slot and on the outside to take advantage of a secondary that will give up space to work.
Cowboys OLB Anthony Spencer vs. Buccaneers RT Jeremy Trueblood:
The Giants visited Cowboys Stadium with an offensive line that was banged up and struggling to protect
Eli Manning
but managed to keep him upright against a Cowboys front that did not do a good enough job of applying any type of pressure or getting off blocks in the running game.
The Cowboys will face a Buccaneers offensive line that is solid at left tackle and right guard but tends to have problems everywhere else. If the Cowboys are going to make any type of real playoff push, they are going to have to get players outside of
DeMarcus Ware
to step up and play at a higher level.
This week, the Cowboys have a winnable matchup on the outside with Spencer against Trueblood, who is a straight-legged player who struggles to move or adjust. Trueblood plays way too tall, and you see defenders drive him back off the ball in the passing game. You also see him playing with little or no power in the running game.
The one player that saves the Buccaneers on the right side is right guard
Davin Joseph
, who in my view is an outstanding player. If the Cowboys are able to attack the middle of the pocket and force Joseph to have to focus inside, it leaves Trueblood on an island with Spencer or whomever Ryan puts to that side. The Cowboys need to have someone step up and this is the side where some success could be had.