Dallas Cowboys:

Ryan Nassib
April, 29, 2013
4/29/13
10:30
AM ET
»
NFC draft analysis
:
East
|
West
|
North
|
South
»
AFC
:
East
|
West
|
North
|
South
The draft started off heavy in the NFC East, as the three teams with first-round picks this year used them on offensive linemen. And while there were a few little surprises and treats along the way, it never really got hot. All four of the division's teams had workmanlike drafts that balanced need and value and didn't stray into any of the juicy storylines. No
Manti Te'o
,
Geno Smith
or
Tyrann Mathieu
for us.
PODCAST
Chuck Cooperstein, Matt Mosley and Glenn "Stretch" Smith discuss the Cowboys' draft picks and who was influencing Jerry Jones' decisions.

Listen

There was a trade-down in the first round, as the
Dallas Cowboys
moved out of a No. 18 spot they didn't like and still managed to get their first-round offensive lineman, while adding a third-rounder to the mix. There were two trade-ups in the fourth round, as the
Philadelphia Eagles
and the
New York Giants
maneuvered to add quarterbacks in surprising moves. And there were the
Washington Redskins
, without a first-rounder but fine with it because they have
Robert Griffin III
, who waited it out and got two talented safeties in the late rounds for a secondary that needs rebuilding.
We'll be breaking this all down for days and weeks and months, but here's a quick early look at the way the 2013 draft went in the NFC East.
BEST MOVE
In the absence of any earth-shaking moves in the early rounds by NFC East teams, I'm going to have to go with the Eagles taking tackle
Lane Johnson
at No. 4. They probably could have traded down and out of the pick, but this was a draft in which six offensive linemen went in the first 11 picks, and the value of the third-best tackle with the fourth pick was worth hanging in there. After what happened to their offensive line with injuries in 2012, the Eagles were wise to load up there, taking an athletic player who can start at right tackle right away and maybe move to left tackle down the road once
Jason Peters
is done. It also helps that Johnson is the kind of lineman who can move. If Chip Kelly plans to run a lot of read-option, or even a lot of bubble screens, Johnson's ability to get out and block at the second level is going to be a big help.
Also considered: The Eagles' trade-up for quarterback
Matt Barkley
at the top of the fourth round. ... The Redskins' getting two quality safeties in the fourth and sixth rounds in
Phillip Thomas
and
Bacarri Rambo
. ... The Cowboys trading down in the first round and getting wide receiver
Terrance Williams
with the third-round pick they added in that deal.
RISKIEST MOVE
[+] Enlarge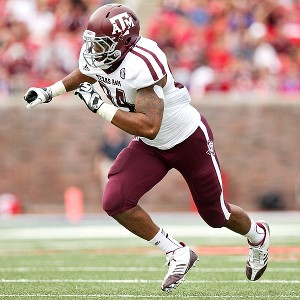 Thomas Campbell/US PresswireDamontre Moore put up impressive numbers at Texas A&M, but he has to disspell concerns over his work ethic and attitude at the next level.
There weren't any real big risks taken by NFC East teams with their most valuable picks in the first and second rounds, I didn't think. So I'm going with defensive end
Damontre Moore
, who went to the Giants in the third round. Moore is a big-time talent with big-time production numbers in college -- 12.5 sacks last year, 26.5 over the past three. But there are good reasons a player as good as he is was still there at pick No. 81, and in Moore's case those reasons include a marijuana bust and a reputation as a young man who struggles with attitude and work ethic.
Now, Moore is just 20 years old, and it's wrong to assume anyone that age will always be what he has been so far. But Moore is the player from this draft whose job it is to bolster the future of the Giants' pass rush with
Osi Umenyiora
gone and
Justin Tuck
aging. If he's a solid citizen and produces the way he did at Texas A&M, he's going to be a steal. If he's an attitude case who doesn't take to coaching and causes problems, the Giants are going to have to keep looking for long-term solutions at defensive end in the next several drafts. A third-round pick isn't too much to risk on a player with Moore's potential, but it's a pick with which the Giants could have found help elsewhere. So if he does flop, they will regret it.
MOST SURPRISING MOVE
The Eagles pulled the surprise of Day 3, moving up three spots to the top of the fourth round, where they selected USC quarterback Matt Barkley. Most analysts were convinced Kelly would seek a fast, athletic, running quarterback when he finally pulled the trigger on that position, but Barkley was a pro-style pocket passer at USC and doesn't fit the "system" everyone seems to be assuming Kelly is determined to run now that he's in the pros. As you know if you read this blog regularly, I think that's hogwash and that Kelly is smart enough to know that the best way to coach is to find talented players and figure out the best way to coach them -- not come wading in with your own "system" and only look for players who fit it.
Kelly knows Barkley from coaching against him in college, and Barkley is a guy who a year ago was thought of as a possible No. 1 overall pick. If 2012 was just a bad year for him and he ends up being a good NFL quarterback, nobody's going to care that he can't run the read-option. For a fourth-round pick and a seventh-round pick, which is what it cost the Eagles to move up and take him, it's a worthwhile risk. And it leaves Kelly with a lot of options at the most important position on his team as he begins his first offseason as an NFL coach.
The Giants pulled a surprise of their own later in the round, trading up six picks to select Syracuse quarterback
Ryan Nassib
to develop behind
Eli Manning
. The 32-year-old Manning hasn't missed a game since 2004, so it's unlikely Nassib sees the field anytime soon. But the Giants decided it was time to start thinking down the road at the position.
FILE IT AWAY
I liked the Cowboys' first round more than most people did, because I thought they absolutely needed to come out of that round with an offensive lineman, and they did. And while
Travis Frederick
may have been a reach at 31, reaching for an offensive lineman wasn't a bad move for this particular team in a draft in which eight offensive linemen went in the top 20 picks. They traded down from 18 and got the pick that netted Frederick and the third-round pick that netted wide receiver Terrance Williams, and they like that pair better than they liked what was available to them at 18.
But they won't have to look far to remember what might have been. The Giants took Syracuse offensive lineman
Justin Pugh
at 19, which means the Cowboys could have stayed put and picked up a better-regarded lineman than Frederick (though, obviously, not also get Williams in the third). If Pugh turns out to be a great player for the Giants and Frederick flops in Dallas, the Cowboys could end up regretting the Day 1 trade-down in the long run.
April, 29, 2013
4/29/13
9:06
AM ET
IRVING, Texas – The Cowboys draft is over but not forgotten, so there's no time like now than to wonder about things that did and did not happen.
On to 5 Wonders:
** If the Cowboys are going to be a predominantly two-tight end team, like they say they are, then I wonder if they should have taken Notre Dame's
Tyler Eifert
at No. 18 and risked the chance that
Travis Frederick
would be there at No. 47. If they had gone that route, they would have had the best tight end and best center in the draft with their top two picks. The Cowboys had their eyes on
Justin Pugh
with the No. 31 pick, but he went to the
New York Giants
at No. 19. They felt Frederick was the final offensive lineman in the draft capable of being a Day 1 starter and did not want to risk losing him or waiting until the second round. That's a draft for need, which is OK at that point, but Eifert will be somebody worth watching for the next few years.

** I wonder if the Cowboys will alter how they will evaluate defensive lineman after what happened with
Sharrif Floyd
. He was among the top-10 players on their board, perhaps the highest rated defensive player, and he was staring them in the face with the 18th pick. And they passed on him. Then you hear about the kid's arm length and lack of sacks. Well, those were things everybody knew before the draft. What it came down to was scheme fit and Floyd wasn't deemed to fit in what the Cowboys wanted in 4-3 tackles. Had they stuck with the 3-4, then I can almost guarantee they would have selected him. If a player is not a scheme fit, then he just can't be that high on their draft board.
** I wonder if Jerry Jones understands how even in points of praise he can also hurt. Take
Tony Romo
as an example. On Friday, Jones said Romo played a part in the selections of
Gavin Escobar
and
Terrance Williams
in the second and third rounds. Jones was attempting to show Romo was all-in. Well, what about the current players on the roster at those positions. Should they now think Romo didn't like them as much? And then Jones said part of the quarterback's new megadeal meant he had to spend "Peyton Manning time" at the facility. For those who questioned Romo's commitment, that was all they needed to further their belief that Romo was not fully vested when Romo has always been a "football junkie."
PODCAST
Did Jerry Jones call out Tony Romo? Fitzsimmons & Durrett react to exclusive audio of Jones talking about the quarterback's increased role, who will be calling plays for the Cowboys and the Peyton Manning-like time he anticipates Romo putting in.

Listen

**Over the last two years every team in the NFC East has looked at a quarterback-of-the-future/present in the draft. Washington did it last year with
Robert Griffin
III and also took
Kirk Cousins
. Philadelphia traded up for the top pick of the fourth round to take
Matt Barkley
a year after they took
Nick Foles
. The New York Giants grabbed
Ryan Nassib
in the fourth round. And the Cowboys chose to pass on the position. Again. Romo turned 33 recently.
Kyle Orton
is signed through 2014. I wonder if next year is the year the Cowboys look to the quarterback position. No, I do. Really. I had no problem with the club not taking a QB this year, but had Barkley, Nassib and
Tyler Wilson
dropped to them in the fourth round, I wonder if they would have pulled the trigger this year. Since they passed on
Landry Jones
, I think we know he wasn't their guy. Is it too early to think about A.J. McCarron or Aaron Murray or any other QB? And, yes, I realize Johnny Manziel could be draft eligible. A quick aside: For those wondering why the Cowboys didn't go after Tyler Bray, think about it. His coach, Derek Dooley, is on this staff now. Don't you think the team would need to know all (stress all) there would be to know? And if the kid panned out at Tennessee, then Dooley would still be the Vols coach.
** I hope
Marcus Lattimore
turns into a great success. His story would be a terrific inspiration for everybody. But he wasn't what the Cowboys needed. I wonder if people realize San Francisco was able to take a flier on Lattimore, who is coming back from a horrific knee injury, because it had so many picks. The Niners had the opportunity to offer up a redshirt year for Lattimore. The Cowboys, who entered the draft with six picks and added one through a trade with the Niners, didn't. They needed a running back to help right now and they got
Joseph Randle
in the fifth round. If Lattimore becomes a star, then good for San Francisco but I would not use that as a knock on how the Cowboys ran their draft.
April, 27, 2013
4/27/13
8:04
PM ET
IRVING, Texas -- With
Matt Barkley
,
Ryan Nassib
,
Tyler Wilson
and
Landry Jones
available in the fourth round Saturday, it looked like the Cowboys could have had to chance to do something they don't do often and draft a quarterback.
By the time they picked at No. 114, only Jones was available and he went to Pittsburgh with the next pick.
Barkley went No. 98 to Philadelphia, Nassib went to the
New York Giants
at No. 110 and Wilson went to Oakland at No. 112.
The last quarterback the Cowboys drafted was
Stephen McGee
(fourth round) in 2009. Since 1990 the Cowboys have drafted only three quarterbacks:
Bill Musgrave
(1991),
Quincy Carter
(2001) and McGee.
The Cowboys have
Tony Romo
, who turned 33 earlier in the week,
Kyle Orton
and
Nick Stephens
on the roster and agreed to a deal with undrafted rookie
Dalton Williams
on Saturday.
"I think every team wants to develop a quarterback," coach Jason Garrett said. "You want a guy coming along. We feel really good about the quarterbacks we have on the roster right now and what their roles are. If one of those top guys had fallen further we would've had another conversation about it. We felt those guys were good players and maybe good value but maybe not for us where we were picking."
April, 9, 2013
4/09/13
1:00
PM ET
The
Dallas Cowboys
signed
Tony Romo
to a seven-year contract extension worth $119.5 million, giving the team security at the position for the next four to five years.
But does that mean the Cowboys won't draft a quarterback for the future? Or that the Cowboys won't draft a quarterback this year?
The Cowboys have drafted 28 quarterbacks in franchise history, producing two Hall of Famers -- Roger Staubach and
Troy Aikman
. They have drafted two in the first round -- Craig Morton and Aikman -- and three total since Aikman retired in 2000.
One of the quarterbacks drafted since Aikman's retirement,
Isaiah Stanback
, was moved to wide receiver.
The Cowboys don't have an immediate need for a quarterback, but Romo will be 33 in Week 1 and backup
Kyle Orton
(30) is signed only through 2014.
The quarterback class is considered weak this year, but there are some intriguing names projected to go in the second and third rounds.
Ryan Nassib
,
EJ Manuel
,
Tyler Wilson
,
Mike Glennon
,
Landry Jones
and
Tyler Bray
are all projected to go in the middle rounds.
The perception is the Cowboys don't need a quarterback because they locked up Romo and have other areas of need (offensive and defensive line, safety and running back). But there's nothing wrong with adding to the position with young talent.
Stephen McGee
was a fourth-round pick in 2009 who was groomed to be a No. 2, but he never developed.
You could blame McGee or the coaching staff for the lack of progress.
Since 2000, NFL teams have drafted 14 quarterbacks in the fourth round, with the most notable names being Orton and
David Garrard
.
However, notable second-round selections since 2000 are
Andy Dalton
,
Colin Kaepernick
,
Kevin Kolb
and
Drew Brees
. Brees has won a Super Bowl and Kaepernick played in one this year.
Quality quarterbacks can be found in the early portions of the draft and even the middle rounds --
Russell Wilson
and
Matt Schaub
were third-round picks -- but making that commitment to the future is key for any NFL team.
While the Cowboys do have other needs, getting a quarterback this April could make just as strong a statement as giving Romo $55 million guaranteed.
March, 21, 2013
3/21/13
11:30
PM ET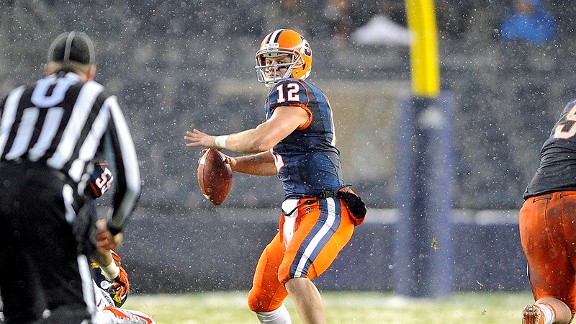 Rich Barnes/USA TODAY SportsSyracuse's Ryan Nassib is an accurate passer who has drawn comparisons to Andy Dalton.
To help preview who might be on the Dallas Cowboys' board for the NFL draft, ESPNDallas.com has identified five players at five key positions that we'd like to learn more about. Along those lines, we've asked former Cowboys assistant coach Glenn "Stretch" Smith – the official scout of Galloway & Company – to study tape of each player and give his thoughts.
Height/weight:
6-foot-2, 227 pounds
School:
Syracuse
Why he's on the radar:
At some point, the Cowboys need to draft a quarterback to develop behind
Tony Romo
and perhaps eventually replace him. Nassib will probably go higher than the Cowboys would feel comfortable picking a quarterback in this draft, but he could be an option if he slides. He's an accurate passer with decent arm strength who has been compared to Cincinnati's
Andy Dalton
. He's considered to have impeccable intangibles, so he'd fit Jason Garrett's "right kind of guy mold."
Projection:
Second round
Stretch Truths:
Big, strong, physical quarterback who can make all the deep throws. ... Has a strong enough arm to push the ball outside the numbers with zip. ... Ran the 40 in 5.06 seconds. ... Has heavy feet and is not a threat to carry the football. Moves adequately in the pocket with some short-area agility. ... Smart player who has played in a pro-style offense.