Dallas Cowboys:

Ryan Shazier
July, 8, 2014
Jul 8
9:00
AM ET
IRVING, Texas -- In order to break out of their 8-8 doldrums, the
Dallas Cowboys
will need a lot to go right in 2014.
This week we take a best-case, worst-case look at five offensive and defensive players that will go a long way toward shaping the Cowboys' season.
Bruce Carter
Carter
Best-case: He finally reaches his potential
So much was expected of Carter when the Cowboys moved to the 4-3 scheme last year. He seemed to have the speed and athleticism to handle the weakside linebacker spot. Although he had a career-high 122 tackles, he struggled in 2013. He had only four tackles for loss, no interceptions and after two sacks in the first two games he didn't record another one the rest of the season. Carter has not faced a bigger year in his career. He is set to be a free agent after the season. After playing well in 11 starts in 2012 before suffering an elbow injury, he was viewed as part of the future core. Now he's not. The Cowboys were going to draft
Ryan Shazier
in the first round if the
Pittsburgh Steelers
didn't scoop him up with the 15th pick. Carter's job description is changing under new coordinator Rod Marinelli. He will be protected by the 3-technique (lining up on the outside shoulder of a guard) at all times, which will keep him free from offensive linemen and give him better access to roam sideline to sideline. There is no doubting Carter's athleticism. He is one of the strongest players at his position. He can run with tight ends and backs. There is something there to develop, but time is running out. If he hits his potential, the Cowboys have a chance and Carter can work his way back into the future core.
Worst-case: Same as it ever was
If players aren't getting better, they're getting worse. If Carter is the same player in 2014 as he was in 2013, then that will severely limit the defense. He has to be a playmaker on a defense that does not look to have a lot of them, especially along the defensive front. What drove the coaches and those around Valley Ranch nuts last year was the indifference Carter seemed to show when he played poorly. That's part of the reason he was benched against the
San Diego Chargers
and was pushed by
Ernie Sims
for playing time. The coaches see a physical specimen capable of doing everything necessary. Does Carter have the innate football sense? The Cowboys have changed how they drop in coverages to give the linebackers the chance to eye the quarterback more. That should allow Carter to use his athleticism. Much of the offseason has been about building up Carter for the coaches. They want to challenge him more. They know how important he is to the scheme. If that doesn't work and Carter's seeming indifference doesn't improve, then they have no chance. He does not have to become a fire-breather, but he has to show a little smoke.
May, 30, 2014
May 30
10:00
AM ET
IRVING, Texas – Part 1 of the
Dallas Cowboys
' Twitter mailbag is ready.
In it we discuss life without
Sean Lee
, life without
Brian Waters
, life almost with
Ryan Shazier
, life in a zone defense and life with Scott Linehan.
Away we go:
May, 23, 2014
May 23
9:00
AM ET
IRVING, Texas -- The Dallas Cowboys have not had a flashy offseason by any stretch. Saying goodbye to the franchise's all-time leader in sacks,
DeMarcus Ware
, has been the headliner, and the team did not make a real bid to keep last year's leader in sacks,
Jason Hatcher
.
I offered up an
offseason wrap-up on Thursday
, and the ESPN Insiders have put their touches on the offseason. While Mike Sando, Bill Polian, Matt Williamson, Louis Riddick and Field Yates combined to give the Cowboys a passing grade, only two teams did worse: the Carolina Panthers (C-minus) and Indianapolis Colts (D).
To read the league-wide grades

, you have to be an Insider, but here is what Sando wrote about the Cowboys' offseason:
Analysis: The Cowboys had very little salary-cap flexibility through questionable long-term planning. They lost Ware as a result and appear to be no better off on defense, which could keep Dallas in a category with Washington among teams forced to win high-scoring games to contend.



[+] Enlarge

AP Photo/James D SmithThe Cowboys need a healthy season from pass-rusher Anthony Spencer.

"They really did not do enough to aid a defense that is just bereft of playmakers, especially on the front," Polian said.

Yates gave the Cowboys a B grade and lauded their discipline, but he did not offer an enthusiastic endorsement. The other graders weren't as positive. The GM consulted for this piece gave the Cowboys a C and lamented their lack of an edge pass-rusher. The GM pointed to Anthony Spencer's suspect health and said he thought Dallas would have preferred using its first-round pick on Ryan Shazier, who came off the board one spot earlier.

"They will have to outscore people with a 34-year-old quarterback coming off back surgery," the GM said.

The Cowboys' decision to draft an offensive lineman in the first round went over well. Williamson called Zack Martin the last piece of the offensive puzzle for Dallas. Riddick also loved that pick, but he still gave the Cowboys a C-minus.

"They followed their board and beat that whole drum on that," Riddick said. "Their expectations for Demarcus Lawrence in the second round are higher than what mine are, but other than that, the defense still has major problems at safety, they are banking on Sean Lee being healthy at linebacker and there are too many problem areas overall."
My analysis of the analysis:
The Cowboys could have kept Ware by restructuring his contract again, but did not want to kick the salary-cap can down the street again. They also could have made him an offer in the
Terrell Suggs
neighborhood ($16 million guaranteed) but never made a proposal. They were simply ready to move on.
In essence they traded
Henry Melton
for Hatcher. Melton is younger but coming back from an ACL tear. If he can come back, then that signing was better than keeping Hatcher, who turns 32 in July and had one great season.
Despite the supposed salary-cap constraints, they could have gone after
Julius Peppers
and
Jared Allen
and paid them big money. That might have made the Insiders happy, but it would have hamstrung their abilities to keep
Tyron Smith
and
Dez Bryant
. That's an easy call to make, so they went after low-cost, low-risk signings like
Jeremy Mincey
,
Terrell McClain
and
Amobi Okoye
. Will any of them play better than Ware in 2013? That is their hope.
The Insiders also did not recognize the coaching changes. How much better will Rod Marinelli be than Monte Kiffin? I'd say that is a plus. I think Scott Linehan will be better than Bill Callahan on the offensive side of the ball. That is a plus.
The Cowboys could not answer all of their offseason questions, but they did have a "smart" offseason, and in the NFC East they should be able to compete.
May, 8, 2014
May 8
4:00
PM ET
IRVING, Texas -- If the past is any indicator, the
Dallas Cowboys
will make their draft selections from players that were among their national visitors.
In the past nine years, the only top picks not to visit the Cowboys were
DeMarcus Ware
(2005) and
Morris Claiborne
(2012).
Last year, five picks --
Travis Frederick
,
Terrance Williams
,
J.J. Wilcox
,
B.W. Webb
and
Joseph Randle
-- met with the coaches, scouts, medical staff and front-office personnel before the draft.
Here are the 25 known visitors to Valley Ranch before the draft.
Keep this list handy over the next three days:
.
May, 6, 2014
May 6
9:30
AM ET
IRVING, Texas -- With the draft finally within site, unless there is some sort of rain delay, it's time for Five Wonders to return.
We'll keep them focused on the draft.
** I wonder if the Cowboys are in never-never land with the 16th pick when it comes to first-round defensive linemen. That's what an 8-8 finish will do for you. You're stuck right in the middle and have to do too much to move up significantly and won't get enough (some of the time) to move down big either. After
Jadeveon Clowney
and
Khalil Mack
, there is a drop-off on right defensive ends.
Anthony Barr
is a project and somebody I believe the Cowboys would pick at No. 16. Will he be there at No. 16? The rest of the options available, like a
Kony Ealy
,
Scott Crichton
,
Kareem Martin
or
Demarcus Lawrence
look more like second-round picks. That's why I think if the Cowboys move up it's only a couple of spots for a specific player. The more likely option is to move back where they'd have better choices at the right value. Now if only some team would be willing to move up.
** I wonder what the reaction of people who live in the best-player-available world would be if the Cowboys took North Carolina tight end
Eric Ebron
in the first round. If Ebron is there at No. 16 and is the best player, then the Cowboys must take him, right? If you live in the best-player-available world in which there is no gray area, then Ebron is your guy. Hooray. But after taking
Gavin Escobar
in the second round last year and seeing
Jason Witten
make another Pro Bowl in 2013, do the Cowboys need a first-round tight end? You might hate the word "need" but I don't. Need has become the four-letter word in draft circles. If they take Ebron, they are saying the Escobar pick was a mistake and Witten is on his final legs. Ebron is a terrific talent, but the Cowboys can't pick him. I do think, however, the Cowboys would take a tight end (more of a blocker than receiver) later on in the draft.
** I wonder how much scheme versatility will factor into the Cowboys' decision making Thursday-Saturday. The elephant in the room is that Jason Garrett must win now. He is in the final year of his contract. If he doesn't win, then Jerry Jones doesn't have to fire him. He just needs to pick a new coach. But let's say Jerry falls in love with a coach who has a 3-4 background or an offensive coach who wants to bring in a 3-4 coordinator. Can the Cowboys make the switch again? They felt they had the tools to move from a 3-4 to a 4-3 somewhat seamlessly and we saw how that worked in 2013. If the Cowboys picked
Aaron Donald
in the first round, then would he fit in a 3-4 scheme next year? He doesn't look like a 3-4 player. It is a fatalistic view to have going into a draft, but the Cowboys could find some defensive prospects that offer versatility in a 3-4 or 4-3, like Barr, Ealy, Lawrence and possibly
Ryan Shazier
.

**I wonder if third round is the area in which the Cowboys target an offensive lineman. Of the linemen not named
Zack Martin
who visited Valley Ranch before the draft, almost all of them are in that Rounds 3-4 neighborhood like
Gabe Jackson
,
Trai Turner
,
Jack Mewhort
and
Billy Turner
. To be clear, in just about every mock I've been asked to participate in, I have the Cowboys taking Martin at No. 16. If they go offense there, I think they need (there's that word again) to go defense with the second- and third-round picks, provided the grades match up. I'm breaking all ties in the defense's favor. I'll add this note: The last middle-round (Rounds 3-5) offensive lineman to pan out for the Cowboys was
Doug Free
(fourth round) back in 2007. And it took him well into his third season to get on the field. Since then the Cowboys have missed on
Robert Brewster
(third, 2009) and
David Arkin
(fourth, 2011). I'll give them partial credit for
Sam Young
(sixth, 2010) since he's still in the league. Their best middle-round offensive lineman in the last 10 years has been
Stephen Peterman
(third, 2004) and his playing time came with the
Detroit Lions
after he was cut.
**I wonder if the extra time in the draft has led teams to overanalyze things. The
New Orleans Saints
attempted to bust up the boredom by spending some time in Las Vegas. Some other teams took a week's break earlier in the process. The Cowboys altered their schedule some but not that much. Too often we hear teams talk about the importance of watching the players play and not putting as much stock into the combine or pro days. And every year there are guys that come out of nowhere, like Pitt quarterback
Tom Savage
, and small-school gems, like
Pierre Desir
. Maybe they will be great finds. Who knows really? The extra time served up plenty of interest, which the NFL craves, and allowed for more mock drafts than ever before, but did it really serve the teams well? We'll find out in a couple of years.
April, 25, 2014
Apr 25
9:30
AM ET
Each day over the next 10 days, we will focus on one position in the NFL draft by highlighting a prospect in Rounds 2-7 who might be a fit for the Dallas Cowboys. With so much attention placed on the first round in mock drafts, "Beyond the first round" focuses on lesser-publicized options beyond the first 32 picks. Today we look at outside linebackers.
[+] Enlarge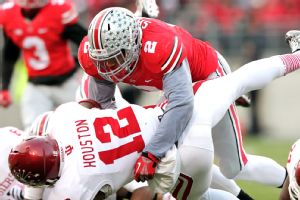 AP Photo/Jay LaPreteNFL draft prospect Ryan Shazier has earned the reputation for being a steady playmaker.
Second round –
Ryan Shazier
(Ohio State): He was among the Cowboys' national visitors leading up to the draft and has the build to be a weakside linebacker in their 4-3 scheme. He can run and cover, which are the top attributes of the Will in this system. He can get swallowed up by offensive linemen at times, but he is also a playmaker with 44.5 tackles for loss.
Third round –
Telvin Smith
(Florida State): Like Shazier, he can run. He was timed at 4.49 seconds in the 40. He is not afraid of contact, but he has a hard time getting off blockers. He looks more like a safety and does a good job in coverage. He's quick at reading screens and does a nice job on running backs out of the backfield.
Fourth round –
Kevin Pierre-Louis
(Boston College): If you're sensing a trend, he can run, too. He ran a 4.51 in the 40. As a senior he had 108 tackles, 10.5 tackles for loss and six sacks for the Eagles. As a freshman he teamed inside with
Luke Kuechly
and started all four years. He could be a big special-teams contributor.
Fifth round –
Christian Kirksey
(Iowa): He had at least 95 tackles in each of his final three seasons with the Hawkeyes. It should be noted that he was a two-year captain and that's a trait the Cowboys like in players. He can get to the quarterback and is not lost when he is in space, however, he is at his best when he is coming toward the line of scrimmage.
Sixth round –
Howard Jones
(Shepherd): Like Shazier, he visited Valley Ranch before the draft. He has all of the physical traits you want (6-2, 235 pounds) and he can move. But he has not played at a high level of football. He could be a defensive end but needs to add weight. The level of competition will be an issue, but held up at the NFLPA All-Star Game.
Seventh round –
Devon Kennard
(Southern Cal): He might be more of a 3-4 outside linebacker with nine sacks last year for the Trojans. He played middle linebacker and defensive end for Monte Kiffin at USC. He has had some injury troubles. His father, Derek, played for the Cowboys from 1994-96.
April, 11, 2014
Apr 11
9:00
AM ET
IRVING, Texas -- Once again we had a ton of questions in Wednesday's chat and I couldn't get to them all, so let's pull out some leftovers to answer right now.
First a leftover question: What's better warmed up – spaghetti or chicken lo mein? I'm going spaghetti. I think I'd go with the lo mein cold.
Away we go:
Blake Tyler (Nashville):
I think we all agree that Tony is best when the play breaks down and he can move and find his guy down the field. Big plays. I know this sounds crazy but is there any way with a better line in front of him that it takes away some of our big play ability? The offense just didn't look that explosive last year.
Todd Archer:
You sort of sound like Jerry Jones when he said if there is a quarterback that doesn't need protection as much it's Romo, but I don't want to pin that on you. I hear what you're saying, but I think the big plays were down because the offense changed. They were not as aggressive as in the past down the field. Was that Romo protecting the ball or himself? Perhaps. Was it the new playcaller in Bill Callahan? Perhaps. I'd much rather have my quarterback be able to go through his reads and make plays that way than rely on him to create when things breaking down. Romo has done that sort of thing so many times that it seems second nature, but you don't want to live off that. I wonder if he had a hard time trusting the protection because things broke down in the past that he was getting rid of the ball too early sometimes. Just a though.
Marco (Houston):
If Donald is gone at 16 and Ealy is available do you think the Boys would settle or trade down?
Todd Archer:
I'm not sure how high the Cowboys are on
Kony Ealy
. They might see him more as a left defensive end so that takes him down a peg. As good as he looks and as good as the numbers suggest, you want more plays. He made a lot but something just seemed missing. I think there might be better players available at No. 16 at other positions that make the Cowboys go elsewhere and trading down is always an option. I've said this before, but in order to trade down the Cowboys have to hope there is someone there that another team wants to trade up to get. They must be prepared to make a pick at No. 16.
Ray (From Southside):
Any updates on to who the 30 players will be for pre-draft visits and for Dallas day??
Todd Archer:
The names that I know of so far are
Anthony Barr
,
Demarcus Lawrence
,
Jimmie Ward
,
Ryan Shazier
and
Aaron Donald
. They usually don't use all of their 30 visits at the outset with the chance they can add two or three guys later in the process. For the Cowboys it matters who comes to Valley Ranch. In the last nine drafts the only two top picks not to visit were
DeMarcus Ware
and
Morris Claiborne
. Last year they ended up drafting four players who visited and signing a couple of undrafted free agents as well. Dallas Day is another important tool and with so many seventh-round picks, the Cowboys will be able to lock in on their priority free agents. I'm working on a list of Dallas Day guys, so stay tuned for that, but Jackson Jeffcoat is not one of them despite growing up in Plano. Since the family moved to Colorado, I guess he can't be in the mix.
Cullen Calabria (Paris, TX):
Linehan's RB's combined for over a 100 receptions last year Bush had 50+ and so did Bell? Can we expect similar things this year? Because Murray only has 1 rec TD in his career which I blame on play calling more than him.
Todd Archer:
I wouldn't expect 100 catches from the running backs here but that's not a slight on
DeMarco Murray
,
Lance Dunbar
or
Joseph Randle
. It's more about the construction of the Cowboys' offense. The Lions don't have
Jason Witten
, so there were more balls for Bush and Bell to catch. They don't have a
Terrance Williams
as a No. 2 receiver either. Murray caught 53 passes last year, so I think he'll be in that range again. As a group Cowboys runners caught 72 passes in 2013. I can see that going to 85 or so if Dunbar can stay healthy. I wouldn't get carried away with Murray's lack of TD catches. I think that's more of a product of having guys like
Dez Bryant
, Witten,
Miles Austin
and Williams around here lately.
April, 10, 2014
Apr 10
9:50
AM ET
IRVING, Texas -- The
Dallas Cowboys
have signed three defensive players in free agency, but that does not mean they have fixed the woes on that side of the ball in the offseason.
Among the national visitors to the Cowboys next week for pre-draft visits are UCLA outside linebacker
Anthony Barr
, Pitt defensive tackle
Aaron Donald
, Ohio State linebacker
Ryan Shazier
, Boise State defensive end
Demarcus Lawrence
and Northern Illinois safety
Jimmie Ward
, according to sources.
Teams are allowed 30 national visitors leading up to the draft. They do not work out, but they meet with coaches and scouts and are put to the test mentally. The Cowboys can have an unlimited number of players work out at their Dallas day session on April 17 that includes players from local colleges or who played high school football in the area.
Donald has been linked to the Cowboys since an impressive showing at the Senior Bowl in January. He met with coaches at the NFL scouting combine in Indianapolis in February and will come to Valley Ranch as well. Donald might be the perfect fit as a 3-technique in Rod Marinelli's defense.
The Cowboys signed
Henry Melton
as a free agent, but it does not take them out of the bidding for Donald, who had 11 sacks and 28.5 tackles last season. Melton's contract is essentially a one-year deal. If he does not perform at a high level, the Cowboys can walk away from the final three years of the contract by not exercising the option.
Barr had 23.5 sacks in his last two years at UCLA and was a first-team All-Pac-12 pick. He played mostly linebacker, but his ability to rush the passer has some teams wondering if he can be a full-time defensive end. It is possible he could play strongside linebacker and move to defensive end in passing situations.
Shazier has phenomenal athleticism and can cover tight ends and running backs. With
Bruce Carter
in the final year of his deal, Shazier could provide excellent insurance or perhaps force Carter to move to the strongside linebacker spot. Shazier had 143 tackles last year for Ohio State and 44.5 tackles for loss in his career.
Lawrence led the Mountain West with 10.5 sacks in 2013 and had 20.5 tackles for loss. At 6-foot-3, 251 pounds, he is more of a defensive end than outside linebacker with long arms and deceptive strength.
Ward is one of the top safeties in the draft and could be a first-round pick. He had 95 tackles, seven interceptions and 10 pass deflections last season, but he is also coming off foot surgery. The Cowboys have not looked at the veteran safety market in free agency for somebody to play alongside
Barry Church
. They have said they like what they have in last year's third-rounder,
J.J. Wilcox
, as well as
Jeff Heath
and
Matt Johnson
, who has yet to play in his first two years because of injuries.
In recent history, the Cowboys have shown a preference for selecting players who visited Valley Ranch before the draft. Last year,
Travis Frederick
,
Terrance Williams
, Wilcox,
B.W. Webb
and
Joseph Randle
were among the pre-draft visitors they selected. Since 2005, the only top picks not to visit the Cowboys before the draft were
DeMarcus Ware
(2005) and
Morris Claiborne
(2012).