April, 25, 2013
4/25/13
4:15
PM ET
It's kinda silly that we're talking about this, but
Dallas Cowboys
owner/general manager Jerry Jones' visit to the George W. Bush Presidential Center opening on the SMU campus today shouldn't be considered a big deal.
PODCAST
Ed Werder joins Fitzsimmons & Durrett live from Kansas City to discuss Jerry Jones' attendance at the Bush Library on NFL draft day, what he expects the Chiefs to do with the No. 1 pick and tell a funny tale about Bill Clinton and Jerry Jones.

Listen

It's a huge deal that the center opened and Jones, considered one of the most powerful people in Dallas/Fort Worth, should be there, especially when he's had the Bush family attend games.
You could say that Jones should be at Valley Ranch all day waiting by the phone in case it rings.
Guess what?
Jones has a flip phone and it could buzz with a call from an NFL team, or his son -- executive vice president Stephen Jones -- could reach him to talk about a potential deal in tonight's draft.
But to say Jones shouldn't attend the opening today isn't fair.
If a deal needed to go down, Stephen Jones could handle it. And if he needed more information, Jerry Jones could have stepped away to talk. Any trade can't go down officially until tonight anyway, so there's no rush.
Last year, St. Louis contacted the Cowboys on Thursday afternoon about a trade. By the evening, the Cowboys had agreed to move up and eventually selected
Morris Claiborne
, the best corner in the 2012 draft class.
Jones is a public figure and goes to various events. While the Dallas Cowboys are his moneymaker, he shouldn't be ripped for attending an historical event in Dallas.
April, 25, 2013
4/25/13
2:30
PM ET
Jerry Jones' dedication to being the general manager of the Dallas Cowboys has never been more evident.
[+] Enlarge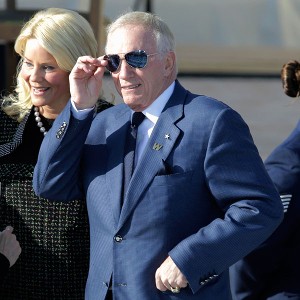 AP Photo/David J. PhillipDallas Cowboys owner/GM Jerry Jones attended the dedication of the George W. Bush Presidential Center on the SMU campus on Thursday morning.
The man is managing to carve out time for the NFL draft during such a hectic time in his schedule!
Geez, Jerry probably didn't even get to go to the after-party following this morning's dedication of the George W. Bush Presidential Center on SMU's campus.
It was pretty poor timing for a high-profile event to be held in Jerry's neck of the woods. Heck, he probably had to stop celebrating a little early the previous night, when Jerry was on hand for the official announcement that the first real college football championship game would be played in his $1.2 billion football palace.
What focus it must take for Jerry to retreat to the Valley Ranch war room during such a fascinating time!
There's not another NFL GM important enough to get invited to the Bush shindig. Then again, there's not another NFL GM who would be caught dead socializing on the day of the draft. Or another NFL GM who would keep his job after delivering one playoff win in four presidential terms.
PODCAST
Ed Werder joins Fitzsimmons & Durrett live from Kansas City to discuss Jerry Jones' attendance at the Bush Library on NFL draft day, what he expects the Chiefs to do with the No. 1 pick and tell a funny tale about Bill Clinton and Jerry Jones.

Listen

Such is life with Jerry, who refuses to give up the GM gig despite it ranking somewhere between pizza spokesman and panties salesman on his long list of part-time jobs.
The good news for Cowboys fans: Head coach Jason Garrett, personnel chief Tom Ciskowski and a bunch of scouts and coaches have made the draft their top priority for weeks or months.
And they'll get to talk to Jerry last, so they can trump any ideas W offered about what to do with the 18th overall pick.
March, 27, 2013
3/27/13
8:52
PM ET
UNIVERSITY PARK, Texas -- There were numerous NFL scouts and one head coach, Rex Ryan of the
New York Jets
, at SMU's pro day. Here's our observations from Wednesday's events:
*One of the biggest surprises of the day was
Cincinnati Bengals
defensive line coach Jay Hayes and Ryan working out defensive end
Margus Hunt
at outside linebacker. The coaches had Hunt drop back in deep coverage to intercept passes. Hunt said he didn't drop back much last season at SMU, but thought he performed well in the drill. Hunt didn't run the 40 or bench press but measured at 6-8 and 283 pounds and has a 82 1/2 inch wingspan. He did other position drills, such as pass rush and the cones, and looked quick and showed a good burst. Hunt said he'll attend the Cowboys' Dallas Day coming up next month. Hunt added he's got some workouts planned with some NFL teams.
*Toward the end of the workout, most if not all of the NFL scouts in attendance marveled at a kicker. Two Cowboys' scouts, led by Henry Sroka, took charge of the kicking workout of Jose Carlos Maltos. He measured at 5-9, 201 pounds. Maltos made kicks of 35, 40 and 45 yards against the wind at Ford Stadium. He also made a 56 yarder, with Sroka as the holder, with the wind. He made a hurry up 35 yard field goal attempt into the wind. He also did a good job on kickoffs. He send one kick 10-yards deep, against the wind, into the end zone and two others of five and two yards deep. Maltos has an interesting story. A few years ago, Maltos tried to enroll at SMU but coach June Jones told him to attend junior college then comeback for admission. It seems now, Maltos is going to play professionally.
*Quarterback Kyle Padron is someone who could be a camp quarterback for the Cowboys. Padron, 6-3, 220 pounds, was invited to Dallas Day. Padron has a good arm and can grasp an offense pretty quick. Padron throws a sharp ball but needs to prove to NFL teams he's got the arm strength to make deep throws.
*Defensive lineman Aaron Davis impressed the scouts with his bench press. He lifted 225 pounds 34 times. Davis is 6-2 3/8 and 291 pounds. His arm length is 32 inches and his wingspan is 76 7/8. Davis displayed some speed as well. He ran a 4.75 and a 4.76 in the 40. In the pass rush drills, Davis was smooth and didn't seem to have any problems.
*Ja' Gared Davis, an outside linebacker, didn't do well on the bench presses. He lifted 225 pounds just 14 times. He's got to improve that moving forward, because NFL teams want strong, quick outside linebackers. Davis, 6-0, 238 pounds, has a 78 1/2 wingspan.
*Among the NFL teams in attendance: Houston, New York Jets, Cincinnati, Pittsburgh, Indianapolis, Seattle, Oakland, Jacksonville and New Orleans. ... Former Washington State, Texas A&M< Pittsburgh and Mississippi State coach Jackie Sherrill was in attendance. ... The SMU wide receivers put forth some slow 40 times. Austin Fuller: 4.90 and 4.78 and
Darius Johnson
, a slot receiver, whom June Jones likes, ran 4.68 and 4.59. ... Keep an eye out for fullback
Zach Line
. He ran an impressive 4.70 and 4.65 for a fullback.
April, 5, 2012
4/05/12
9:15
AM ET
The Cowboys' Dallas Day kicks off today at Valley Ranch with several area players getting a chance to talk with team officials.
SMU guard
Josh LeRibeus
, a 6-3, 312 pounder and TCU defensive end
Braylon Broughton
, 6-4, 255, will visit the complex.
LeRibeus missed his junior season for academic reasons but played his senior season.
Here's the scouting report
on him from NFL.com. Our guys at
Scouts Inc. have this report
.
Broughton improved his stock among NFL teams with a strong effort at TCU's Pro Day. He ran a 4.5 40 and has the size and power to maybe get drafted in the middle-to-late rounds.
Broughton also visited the
Detroit Lions
.
April, 24, 2010
4/24/10
9:04
PM ET
The Cowboys signed the following undrafted free agents following the end of the NFL draft on Saturday:
Chris Gronkowski
, fullback/tight end, Arizona
Phil Costa
, center, Maryland
Matt Nichols
, quarterback, Eastern Washington
Chet Teofilo
, guard, Cal
Lonyae Miller
, running back, Fresno State
Barry Church
, safety, Toledo
Terrell Hudgins
, wide receiver, Elon
Will Barker
, tackle, Virginia
Bryan McCann
, cornerback, SMU
Mike Tepper
, guard, Cal
Cowboys owner Jerry Jones indicated the team might sign up to 16 undrafted free agents.
April, 8, 2010
4/08/10
1:55
PM ET
By
Matt Mosley
| ESPNDallas.com
For reasons I can't recall, my best friend Danny Terry and I were once called upon to work the sideline for the Miami Dolphins at Texas Stadium. I was 13 at the time and the Cowboys' veteran equipment manager Bucky Buchanan signed us up for duty.
[+] Enlarge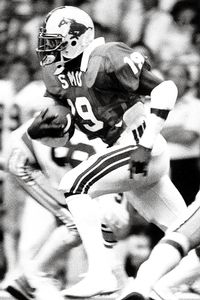 Getty ImagesEric Dickerson and the Pony Express frequently galloped across the Texas Stadium turf during their heyday.
Looking back, I should have been blown away in the presence of coach Don Shula and a young quarterback named Dan Marino. But all I knew about Marino is that he'd fallen short to SMU in the Cotton Bowl.
Offensive tackle Ronnie Lee gave me a practice shirt that day and linebacker Bob Brudzinski provided me with some gloves that I kept for six or seven years.
Before the game, I actually warmed up quarterback Don Strock, who appeared to be older than most of the assistant coaches. We also shagged punts for the late, great Dolphins punter Reggie Roby, a man who would have hit Jerry Jones' new HD screen on a regular basis.
I would end up covering games for a living at Texas Stadium 18 years later, but that wasn't as fun as working the sideline on "Monday Night Football."
Dad always said Texas Stadium was either the hottest or coldest place in the world. And we've endured both extremes. Probably my favorite games to watch at Texas Stadium were between Baylor and SMU in the late 1970s and early 1980s. Baylor had linebacker Mike Singletary and the Mustangs had the Pony Express.
For a brief period of time, we had one of the best college teams in the country and the most recognizable pro team sharing the same home.
Texas Stadium is one of the most iconic structures in the state. And tearing it down is not going to erase the memories.
Oh, one more thing: My first date with my future wife was attending a playoff game between Lake Highlands and Waco High School at Texas Stadium. Perhaps I should have led with that.
February, 8, 2010
2/08/10
9:43
PM ET
Former
SMU
and Cowboys linebacker
Justin Rogers
was cut by the
Kansas City Chiefs
on Monday.
Rogers played in only one game for Kansas City in 2009. He played in 31 games with Dallas (2007-08) before joining the Chiefs.