Dallas Cowboys:

Stephen Tulloch
March, 9, 2012
3/09/12
8:54
AM ET
»
AFC Free-Agency Primer
:
East
|
West
|
North
|
South
»
NFC
:
East
|
West
|
North
|
South
Free agency begins Tuesday at 4 p.m. ET
Dallas Cowboys

Key free agents:
WR
Laurent Robinson
, S
Abram Elam
, LB
Keith Brooking
, LB
Anthony Spencer
(franchise)
Where they stand:
Dallas needs serious help in the secondary and will have to decide whether it wants Elam back at safety while it pursues at least one cornerback. The Cowboys are expected to release
Terence Newman
, and they could look to add depth at that position and a new starter. Franchising Spencer indicates that while they would like to improve their pass rush, they won't be players in the
Mario Williams
market. Expect their free-agent focus to be on defensive backs and possibly some upgrades on the interior of the offensive line. They would like Robinson back as their No. 3 receiver, but if he's going to get No. 2 receiver-type offers, they'll likely let him walk.
What to expect:
The top two cornerback targets are likely Kansas City's
Brandon Carr
and Tennessee's
Cortland Finnegan
. You can't rule out Dallas making a play for Saints guard
Carl Nicks
, who'd be a huge help to their offensive line. But someone like Baltimore's
Ben Grubbs
is likely to be more attainable financially. What the Cowboys really need on the line is a center, but it's not a great market for those unless they can get their hands on Houston's
Chris Myers
. The Cowboys likely will hunt for some second-tier safeties and inside linebackers to add depth, then target defensive back again early in the draft.
New York Giants

Key free agents
: WR
Mario Manningham
, OT
Kareem McKenzie
, CB
Aaron Ross
, CB
Terrell Thomas
, LB
Jonathan Goff
, P
Steve Weatherford
(franchise).
Where they stand:
The Super Bowl champs must get their own cap situation in order first, as they project to be about $7.25 million over the projected cap. That may mean tough cuts of people like
Brandon Jacobs
or
David Diehl
, or it may just mean some contract restructuring (like the big one they apparently
just did
with Eli Manning). Regardless, don't expect the Giants to spend big to keep Manningham or Ross. They're likely to bring back Thomas on a team-favorable deal as a result of the knee injury that cost him the entire 2011 season, and they'll probably let McKenzie walk and try to replace him internally (which favors Diehl's chances of sticking around).
What to expect:
Just like last year, don't expect the Giants to be big-game hunters. They like to grow their own replacements. If Manningham leaves, they won't go after the top wide receivers but might try to find a bargain or two to supplement the young players from whom they're expecting more production next season. They could find a midlevel safety if they don't bring back
Deon Grant
, and if Jacobs leaves they'll probably bring in a veteran running back or two to compete in training camp with their youngsters. They liked
Ronnie Brown
last year as a possible
Ahmad Bradshaw
replacement when Bradshaw was a pending free agent, so there's a name to watch for if you want one.
Philadelphia Eagles

Key free agents:
G Evan Mathis, DT
Trevor Laws
, DT
Antonio Dixon
(restricted), WR
DeSean Jackson
(franchise), QB
Vince Young
Where they stand:
Other than Mathis, whom they're working to try and re-sign before he his the market, the Eagles don't have many internal free-agent issues to worry about. They franchised Jackson because they're not ready to give him a long-term deal just yet. He's a candidate for a trade, but it would have to be a very nice offer. If they traded him, they'd hunt for a wide receiver, but they may do so anyway -- just at a lower level (think
Plaxico Burress
). The interior of the defensive line is in fairly good hands with
Cullen Jenkins
and
Mike Patterson
as starters, but they could stand to add depth to that rotation. And while they signed
Trent Edwards
a couple of weeks ago, they'll keep looking for a better veteran backup quarterback option with Young sure to be gone.
What to expect:
Do not -- I repeat, do not -- expect the Eagles to be the same kind of player they were in free agency a year ago. Andy Reid made it very clear several times during the 2011 offseason and season that last year was unique, and the Eagles don't like to do business that way in general. They do need linebackers, and they have the cap room to play on guys like
Stephen Tulloch
or
Curtis Lofton
or even, if they wanted to get really nutty,
London Fletcher
. But while you can expect them to add a veteran or two at the position, don't be surprised if they sit out the higher-priced auctions this time around.
Washington Redskins

Key free agents:
S
LaRon Landry
, LB London Fletcher, DE
Adam Carriker
, TE
Fred Davis
(franchise), QB
Rex Grossman
Where they stand:
Mike Shanahan said in December that Fletcher was a priority, but he remains unsigned with less than a week to go before free agency. Presumably, they'd still like to lock him up before he hits the market. If they can't, they'll have to replace a major on-field and off-field presence. Carriker is likely to be back, but the Fletcher situation has to be settled first. Landry likely is gone unless he wants to take a low-base, high-incentive deal to stay. The Redskins are sick of not knowing whether he'll be able to take the field from week to week. Grossman could return, but only as a backup to whatever quarterback upgrade they find.
What to expect:
The Redskins could have more than $40 million in cap room with which to maneuver in free agency, and they're going to need it. They need a quarterback, of course, and if they can't make the trade with the Rams to move up to No. 2 in the draft and pick
Robert Griffin III
, they'll look at
Peyton Manning
and
Kyle Orton
and possibly
Matt Flynn
, though he doesn't appear to be high on their list. What Shanahan really wants is a true playmaking No. 1 wide receiver, which is why the Redskins have their eyes on
Vincent Jackson
and
Marques Colston
, who are at the very top end of that market. They'll be able to outbid almost anyone for those guys if they want to, but they may have to get quarterback figured out first if they want to persuade one of them to take their offer over similar ones. They'll also hunt for help on the offensive line and in the secondary, as they need depth in both places.
November, 8, 2011
11/08/11
6:22
PM ET
ARLINGTON, Texas -- After every game, we seemingly always spend a couple of days talking about this play or that play and how it affected a Cowboys' win or loss.
Well, the Cowboys are 4-4 at the midway point of the season and there have been more of a handful of plays that already have shaped their season.
The list only will get longer in the second half.
For now, though, the Cowboys are probably right where they deserve to be as we enter the second half of the season.
They should've beaten the New York Jets and Detroit, games they ultimately lost. And they should've lost to San Francisco and Washington, games they stole at the end.
PODCAST
ESPNDallas.com's Tim MacMahon joins Galloway & Company to hand out midseason grades for the Cowboys.

Listen

That said, here's a look at some of the plays that have played a role in the Cowboys' season.
A couple were probably obvious to you, while a couple others may have surprised you.
They're all important.
All you have to do is think how different the season would be, if these plays hadn't occurred.
---
5. Rookie Leaves Mark
OPPONENT:
St. Louis
SCORE:
0-0, Tied
SITUATION:
First-and-10 from the Dallas 9 with 9:47 left in the first quarter.
PLAY:
DeMarco Murray finds a big hole in the middle of the line, makes a nifty move on the safety and sprints 91 yards down the left sideline for a touchdown. It's the second-longest TD run in franchise history and propels him to a 253-yard day -- the most in franchise history.
4. Connection Burns Skins
OPPONENT:
Washington
SCORE:
16-15, Washington
SITUATION:
Third-and-21 from Dallas 30 with 2:20 left in the fourth quarter
PLAY:
Tony Romo eludes pressure and finds Dez Bryant downfield for a 30-yard gain after a leaping catch and run by Bryant. The play gets an additional 15 yards because DeAngelo Hall grabs Bryant's facemask as he tackles him, moving the ball to the Washington 25 and setting up Dan Bailey's game-winning field goal.
3. Romo's Pick Tips Scales
OPPONENT:
Detroit
SCORE:
30-27, Dallas
SITUATION:
First-and-10 from Dallas 20 with 4:22 left in the fourth quarter
PLAY:
Tony Romo, pressured by Ndamukong Suh, heaved a pass off his back foot to Jason Witten, who was 25 yard downfield. Stephen Tulloch tipped the underthrown pass in the air before intercepting it.
2. Bailey To The Rescue
OPPONENT:
San Francisco
SCORE:
24-24, Tied
SITUATION:
Fourth-and-four from San Francisco 30 with :04 left in the fourth quarter
PLAY:
Bailey missed a 21-yard attempt earlier in the game. The Cowboys didn't call on him again until the final play of regulation, when they needed him to convert 48-yard with Candlestick Park's tricky winds to send the game into overtime. He delivered, then sunk the 49ers in overtime as the Cowboys avoided an 0-2 start.
1. Opening Stumble
OPPONENT:
New York Jets
SCORE:
24-17, Dallas
SITUATION:
Third-and-2 from NY Jets 2 with 9:12 left in the fourth quarter
PLAY:
A touchdown probably clinches the game, and a field goal makes it difficult for the Jets to win. The only thing Romo can't do is turn the ball over. After not finding a receiver, Romo scrambled and tried to dive into the end zone. Romo tried to cover the ball up, but it was poked free and the Jets recovered.
October, 4, 2011
10/04/11
8:00
AM ET
By
Bryan Broaddus
| ESPNDallas.com
As happy as the Cowboys were last Monday night with their victory over the Redskins is as sick as they feel right now with this loss to the Lions.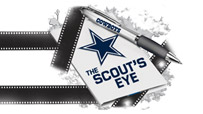 Life in the NFL is really week to week. You line up, you play and you get the result. Many will feel that the result the Cowboys received Sunday might not be fair, but to it is one that they must live with going forward into this upcoming bye. I have experienced firsthand what a results business this really is.
For 60 minutes, coaches and players execute to the best of their ability. The team that executes the best usually finds the result in their favor, but teams that make critical mistakes throughout the contest will be left to answer the tough questions. On this day, the Cowboys are that team.
Here are some of my thoughts from this loss:
DEFENSIVE OVERVIEW
The challenge for Rob Ryan's defense was going to be how well they would deal with a Lions offense that was led by one of the true rising stars in the league, wide receiver
Calvin Johnson
.
In my film evaluation of Johnson, you saw a player that possessed rare height, weight and speed for the position with an unbelievable ability to make plays despite drawing the majority of attention from opposing defensive backs. Johnson is the most dangerous with his ability to play the ball at its highest point.
With 14:15 left in the fourth quarter and the Cowboys holding a 13-point lead with the ball on the Cowboys 24, Johnson lined up slot left with
Nate Burleson
outside left. Rookie
Titus Young
was lined up wide right. Quarterback
Matthew Stafford
was in the shotgun formation.
The Cowboys are in a Cover 3 look with a single safety, but at the snap of the ball, roll to a Cover 2 look with a deep middle drop from Mike linebacker
Sean Lee
. Safety
Barry Church
is now pedaling to the outside, nickel corner
Alan Ball
is in the slot and puts his hands up to try to slow Johnson down, Johnson avoids Ball with an outside move then heads vertical, Ball doesn't touch him.
Church now picks up Johnson at the goal line, and Johnson proceeds to give Church a shove to buy separation in the route. The shove was so hard that Church gets knocked back two yards, but he gets no call. Now Church tries to fight back to gain position, but Johnson has already turned his body to adjust for the ball.
On same side of the field, cornerback
Mike Jenkins
sees what is happening to Church and drops his coverage on Burleson to adjust on Johnson. The Cowboys only rush three, which is easily picked up by the Lions. Stafford with plenty of time is able to throw a pass the perfect distance and height to allow Johnson to catch it at the highest point.
On the coverage, Church tries to scramble back to put a body on Johnson but is behind him. Jenkins on the dead sprint has too much momentum and as he leaps in the air goes right past Johnson and ends up behind him as well. All Johnson has to do is catch is the ball without any difficulty for the touchdown making the score 30-24.
GOAL-LINE SITUATION
With 1:48 on the clock and the Cowboys clinging to a 30-27 lead in the fourth, the Lions are facing a third-and-goal from the 4. The Lions go empty backfield and the Cowboys counter with their dime package.
At the snap of the ball, tight end
Brandon Pettigrew
comes off the line to be doubled by
Frank Walker
and
Danny McCray
. Walker physically grabs Pettigrew to try to hold him from getting into his route and is successful in the five-yard zone. McCray is not helping at all as Walker continues to fight him, as he now is carried into the end zone.
The official is allowing this play to go on until Walker and Pettigrew get two yards into the end zone and past the five-yard zone and is forced to make the call on Walker for defensive holding.
With the ball now on the 2 and a first down for the Lions, Johnson lines up wide right against
Terence Newman
, who is truly on an island one-on-one against Johnson. At the snap, Johnson makes a slight move inside to get Newman to feel like he is running the slant, which gets Newman to step with him, then works to the outside. Johnson manages to once again use his body to position on Newman, who is behind him.
Again, another perfect pass from Stafford, who gets the ball to the highest point, and Johnson brings it in without any problem for the go-ahead points for the Lions.
OFFENSIVE OVERVIEW
The more I studied the tape last week, the more I believed that it was going to be difficult for the Cowboys to score points, especially with the shape of the receiving from a medical and mental standpoint.
To the credit of the offensive line, they were able to find a way to protect
Tony Romo
, and the receivers were able to make enough plays to build a sizeable lead. This game fell apart for the Cowboys with Romo's three interceptions in the second half.
With the score Cowboys 27-3 and 10:30 left in the third quarter, the Cowboys had a first down from their own 27. Coach Jason Garrett goes with two tight ends with
Dez Bryant
out wide right. Corner
Chris Houston
is in off coverage, and the Lions have nine men in the box.
At the snap of the ball, Romo makes a play-action fake and tight end
Martellus Bennett
is on the line to the right. Bennet arc releases up the field and clears the linebacker and is on the safety. On the outside, Bryant starts up the field and runs a 13-yard curl against Houston, who is playing inside technique, and is not open on the play. Linebacker
Bobby Carpenter
is on the same side as Bryant and bites on the play-action then begins to drop to the curl area.
After the play-action fake, Romo's eyes are now looking at Bennett, who is about to clear safety
Louis Delmas
, who is now moving to help Houston with Bryant. At first it looks like Romo is watching to see what Bennett was going to do in route. Romo, seeing the safety in the middle, now decides to throw the ball to Bryant on the outside despite good coverage by Houston.
Carpenter is now in position to intercept the ball that is thrown without any pace and convert it into a pick six.
SECOND INTERCEPTION
Dallas is leading 27-10 with 6:10 remaining in the third quarter with the ball near midfield. Receiver
Laurent Robinson
is lined up wide right against Houston. Robinson wasn't 100 percent after banging his knee after a catch a couple of minutes earlier.
On the previous slant routes that Robinson ran, he was able to run them against off coverage or free access. This time Houston was lined up in press coverage. At the snap, Robinson tries to sell the hard outside move but takes too many steps and really isn't quick enough. Houston is not buying the moves at all and still maintains inside leverage.
Romo takes a peek at
Jason Witten
in the middle of the field, holding the ball a little longer than normal for a slant. Robinson now is struggling to get inside on Houston, who is not giving any ground. Romo throws the ball to the spot that he thinks that Robinson will be at in route.
Again, too much movement and not enough quickness. Houston is in position to make the interception, which leaves Robinson in the position where he has to fight to try to knock the ball down. Houston makes an outstanding play on the ball and now works his way down the sideline for the Lions' second pick six for the Lions, cutting the deficit to 10 points with plenty of time to play.
THIRD INTERCEPTION
With 4:20 left in the game and the Cowboys with the ball on their own 20 and holding onto a 30-27 lead, Romo sends Bryant wide left and Robinson to the right. Witten is on the line to the right with
John Phillips
and
Felix Jones
in the backfield in an offset I-formation. Lions safety
John Wendling
is lined up as the free safety in the middle of the field.
At the snap, Wendling sprints to his left to help on coverage with Robinson. Mike linebacker
Stephen Tulloch
is in man coverage with Witten as he works off the ball.
The Cowboys have six blockers to handle the Lions' four rushers. At the left tackle,
Doug Free
is on Lions defensive end
Kyle Vanden Bosch
, who has had a very quiet game to that point. Vanden Bosch now bull-rushes Free, carrying him into the backfield. Romo feels Vanden Bosch rushing inside to the right of Free and tries to adjust back to the left side to avoid the defensive end. Free can't adjust fast enough.
Romo has his eyes down the field, seeing no safety help in the middle and his tight end matched up against the middle linebacker. Witten is able to clear Tulloch and get some separation. Romo now is moving to try to get the ball to Witten, but he can't get anything on the throw because of the pressure from Vanden Bosch. Romo, having to move, can't set his feet.
Romo tries to get the ball to Witten, but it's underthrown and Tulloch is able to adjust to the pass to grab the interception. That leads to the Lions' game-winning drive.
October, 2, 2011
10/02/11
5:02
PM ET
[+] Enlarge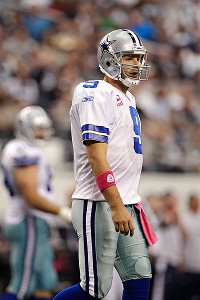 AP Photo/Tony GutierrezTony Romo recognized after the loss to Detroit that he didn't do a good job of protecting the ball.
ARLINGTON, Texas -- As he did following the season-opening loss to the
New York Jets
on Sept. 11,
Tony Romo
took the responsibility for the Cowboys' 34-30 loss to Detroit on Sunday.
After a nearly flawless first half, Romo was intercepted three times and had two returned for touchdowns (
Bobby Carpenter
,
Chris Houston
) which started Detroit's comeback from a 27-3 deficit.
Romo's final pick set up the Lions' game-winning touchdown on a pass from
Matthew Stafford
to
Calvin Johnson
with 1:39 to play.
"The game turns obviously on turnovers," Romo said. "It is the most important stat there is in a game. That's why you protect the ball. It's my No. 1 job and I didn't do a well enough job of that today. For a lot of the game we did. I'm not taking anything away from them. They made a play when they had to. I shouldn't have allowed them to have that chance."
On his last turnover Romo tried to loop the pass over linebacker
Stephen Tulloch
to tight end
Jason Witten
on first down with 4:13 to play and the Cowboys holding a 33-30 lead.
"My feet I didn't feel quite as set as they need to be to push it down as far as it needed to be," Romo said. "I want to watch the tape to see what it was. It's disappointing because he was coming open past all the linebackers and there's no safety help to that side. I wish I could have that throw back and just throw it further."
Romo, who took a pain-killing injection for the second straight week because of a fractured rib, finished with 331 yards on 34-of-47 passing with three touchdowns and a passer rating of 86.4.
"Each game is different," Romo said when asked if this loss was similar to the one against the Jets. "Today is just tough because we were in a position to win. I'm not going to try to figure out in exact terms the feel of it. I just know the turnovers matter. And when we have a lead like that, that is really the most important aspect of it. I'll look at why that happened and get it corrected."
July, 26, 2011
7/26/11
8:02
AM ET
»
NFC
:
East
|
West
|
North
|
South
»
AFC
:
East
|
West
|
North
|
South
»
Unrestricted FAs
A look at the free-agent priorities for each NFC East team:
New York Giants

1. Figure out which of their own guys to keep.
With
Ahmad Bradshaw
,
Barry Cofield
,
Mathias Kiwanuka
,
Steve Smith
and
Kevin Boss
all set to potentially go free, the Giants have to prioritize and figure out which guys they're keeping. The top priority is probably going to be Bradshaw, an emerging star at running back, and it appears they'll let Cofield walk while trying to bring back Boss. They think the injury situations with Kiwanuka and Smith will help keep those guys' prices reasonable. But before the Giants hit the market, they'll need to get their own free-agent house in order.
2. Get at least one linebacker.
The Giants have ignored this position over the past couple of years, and they seem to believe
Jonathan Goff
can handle the middle linebacker spot. They'd probably be better off moving him back outside and exploring the middle linebacker market, which includes
Stephen Tulloch
,
Barrett Ruud
and
Paul Posluszny
. But if they're set on keeping Goff in the middle, perhaps someone such as
Manny Lawson
or
Nick Barnett
could be a fit. It's one thing not to prioritize a position, but it's another to ignore it completely, and the Giants have been doing that with linebacker, to their detriment.
3. Some offensive line insurance.
There were lots of injuries along the line in New York last season, and although it didn't kill them, it was a potential sign of things to come. The Giants hope
Will Beatty
will soon be ready to take over at left tackle for a declining
David Diehl
, but they must watch out for the health of
Shaun O'Hara
at center. And if they have to cut
Shawn Andrews
to sign some other guys, they'll need to replace him with a tackle who can provide depth.
Top five free agents
: RB Bradshaw, DE/LB Kiwanuka, TE Boss, DT Cofield, WR Smith
Philadelphia Eagles

1. Settle the Kevin Kolb situation
. If they can get the great deal for him that most believe they can (i.e., a first-round pick plus), the Eagles will deal Kolb and look for a reliable backup quarterback who can play if and when
Michael Vick
gets hurt. If they can't get good value for Kolb, they'll probably keep him to serve as said reliable backup. A trade is most likely, but whatever happens, the Eagles will probably settle this soon after the league year begins.
2. Sign a cornerback.
The starting spot opposite
Asante Samuel
is open, and no one on the current roster appears able to fill it. That's why you've heard, and will continue to hear, the Eagles connected with Asomugha. Philadelphia must rank among his most likely destinations at this point. If they don't get him, they'll look down the list at guys such as
Johnathan Joseph
,
Ike Taylor
and
Antonio Cromartie
. And there's a chance they could get a cornerback for Kolb. But they'll get one somewhere.
3. Re-sign Stewart Bradley.
Sure, they could let Bradley go and play
Jamar Chaney
at middle linebacker. Chaney looked, at least, capable in that spot last season and may be the Eagles' future at the position. But if Bradley leaves, the Eagles' problems will be about more than just the alignment of the linebackers. They'll actually be short on bodies and will need to play the free-agent field to find a replacement. Bradley's had injury problems, but when healthy, he's the Eagles' best linebacker and could be a key cog in whatever new defensive alignment Juan Castillo and Jim Washburn are cooking up.
Top five free agents
: LB Bradley, S Mikell, G
Nick Cole
, RB
Jerome Harrison
, CB
Ellis Hobbs
Washington Redskins

1. Fill out the defensive line.
Whether they add a free-agent nose tackle such as
Aubrayo Franklin
or look at defensive end options like Jenkins, the Redskins must figure who their starting defensive linemen are. They like their linebacking corps, and although they also need a cornerback, they love their safeties with
Oshiomogho Atogwe
in the fold next to
LaRon Landry
. But their good, young outside linebackers will need big, space-eating ends in front of them to open up lanes to the passer. And they'll also need to get some sort of pass rush from the line, whether it's from the nose or the ends.
2. Re-sign Santana Moss.
The Redskins are making noise about pursuing a big-time wideout such as
Santonio Holmes
or
Sidney Rice
. But the reality is that it's going to be tough to convince receivers to sign in Washington while they're not viewed as a contender and the quarterback situation remains so cloudy. Moss likes it in Washington. The Redskins like him. And he's a nice guy to have around to help out young receivers
Anthony Armstrong
and
Leonard Hankerson
-- not to mention inexperienced quarterback
John Beck
.
3. Resolve the Donovan McNabb and Albert Haynesworth situations.
They don't want either player on the team anymore, but the question is how to get rid of them. They might be able to dump McNabb for a late-round draft pick, but if they can't, they'll probably just cut him and let him find his next job on his own. Haynesworth has trade value in a league where many 4-3 teams are looking for interior defensive line help. Don't expect the Redskins to cut Haynesworth, because they don't want to do him any favors and they don't want him free to sign with former Tennessee D-line coach Washburn in Philadelphia. If they can't get value for him, don't be surprised if Haynesworth remains on the team all season and has a hard time getting into games.
Top five free agents
: WR Moss, OT
Jammal Brown
, CB
Carlos Rogers
, LB
Rocky McIntosh
, QB
Rex Grossman
October, 8, 2010
10/08/10
12:30
PM ET
By
Bryan Broaddus
| ESPNDallas.com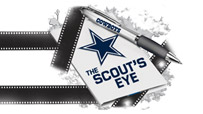 One team is going to leave Cowboys Stadium on Sunday night with three losses and questions moving forward. The other will gain much-needed momentum and the opportunity to build on that.
The
Dallas Cowboys
are coming off a bye week. The
Tennessee Titans
suffered a difficult home loss to Denver in which their defense was able to get six sacks on
Kyle Orton
but couldn't get him on the ground when they needed it the most to close out the game.
The one thing you know about the Titans and Jeff Fisher is that they will be well prepared. Since the league's realignment in 2002, the Titans have been one of the NFL's most successful teams in interconference play with a record of 24-9. Only the Patriots and Colts have a better record during that time period.
When you study the Titans, there are two areas that really stand out on their offense. The first is running back
Chris Johnson
and the second is the offensive tackles,
Michael Roos
and
David Stewart
.
[+] Enlarge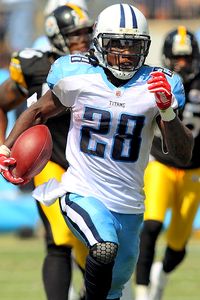 Icon SMIThe Cowboys' defense will have its hands full with the Titan's explosive running back, Chris Johnson.
Johnson is impressive to watch with the ball in his hands. When I worked for the Packers and we played
Barry Sanders
, you always had the feeling that on any carry, no matter where the offense was on the field, there was a chance for a huge play. Johnson has that same game-changing type of ability.
When the Titans run the ball, they like to do it with stretch plays, counters and tosses. Johnson has a real feel for how to find the gaps and holes along the defense, then explode through them.
His timed speed is 4.24 coming out of East Carolina and he is every bit of that. He plays with vision and that stop-and-start quickness.
Johnson can also hurt you as well in the passing game. He does a nice job of catching balls in the flat or inside and getting up the field.
On Wednesday morning, Fisher was asked about the make up of his star running back and his qualities. Fisher spoke of Johnson's ability with the ball in his hands, but if he does have a weakness, I felt like it's his ability to pass protect. Would not be surprised to see the Cowboys try to make him have to pick up some blitzes in this game early. He didn't show the ability to hang in there and be square in pass protection. He's a cut blocker.
When you play a back that has the talent of Johnson, tackling is huge. He will bounce off tackles if you don't wrap him up. If the Cowboys do not tackle well when Johnson has the ball in his hands, it plays right into what the Titans want to do on offense.
The strength of the Titans offensive line is at their tackle spot. Through the first four weeks of the season, this is the best set of tackles that the Cowboys have had to face. Roos and Stewart are good.
Overall, this offensive line is more mobile than they are powerful. They are very good at getting out on the edge and blocking in space. The Titans use a zone blocking scheme but will also pull on counter plays. They are a productive second-level blocking team and do a nice job of staying on their feet and finishing blocks.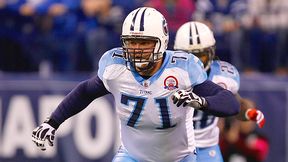 Scott Boehm/Getty ImagesMichael Roos (71) and David Stewart anchor a Titans offensive line that produced the league's top rusher a year ago.
The Cowboys should have an advantage with the matchup at nose when
Jay Ratliff
works against center
Eugene Amano
. Amano will struggle with Ratliff's quickness and power.
Ratliff puts a ton of pressure on the offense because of his ability to attack the pocket. When you play the Titans, you do worry about Johnson in the running game but you also want to attack
Vince Young
up the middle in the pocket. Young does not do a good job when he has to face pressure in his face; it's from the outside where he can avoid and use his legs to escape.
Would not be a bit surprised if the Titans allow Roos and Stewart to handle Ware and Spencer on the outside and try to help inside with guards
Leroy Harris
and
Jake Scott
on Ratliff.
*On defense for the Titans, there are not the names that we have seen in the past like
Albert Haynesworth
,
Jevon Kearse
,
Kyle Vanden Bosch
or
Keith Bulluck
. Instead guys like
Jason Babin
,
Dave Ball
and
Stephen Tulloch
are the players that are the new blood in this eight-ranked Titans defense.
The Titans have different players, but it's still the same aggressive defensive that has always been a staple of Jeff Fisher teams. The Titans are an undersized along the defensive front, but they are very aggressive when it comes to rushing the passer. Wade Phillips calls it relentless and they do a nice job of playing the run on the way to rushing the passer.
The Titans like to bring four-man pressure and they like to work games up front. You will also see twist stunts, corner and slot blitzes.
The player to watch for the Titans up front is defensive tackle
Jason Jones
. Jones is one of those relentless players that Phillips was talking about. Jones is always coming forward, always attacking the offensive linemen. He plays sometimes inside eye of the guard as a one-technique or he will line up outside shoulder of the guard and rush from the three.
Jones has good movement inside, so watch for the Titans to try and match him up inside on
Leonard Davis
, who will struggle with quickness to his outside shoulder.
In the secondary, the Titans have two players that I really like. Cornerback
Cortland Finnegan
and safety
Michael Griffin
are outstanding players.
[+] Enlarge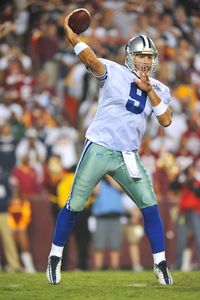 Larry French/Getty ImagesScreen plays will help Tony Romo and the Cowboys' offense counter the aggressive, revamped Tennessee defense.
Finnegan is one of those corners that doesn't give you much room in the route. He is a hard guy to run away from. Finnegan plays with an ease of movement and can be aggressive in the running game.
Griffin is a ball-hawking safety. He had a very nice interception against the Broncos and he is a factor when coming forward in the running game.
The Titans like to play two deep and play man coverage underneath. They will try to get their linebackers in coverage and in help with the secondary. When the ball is thrown or run, they as a group really rally to the ball and the ball carrier.
Look for the Cowboys to try to take advantage of the aggressive nature of the Titans defense. The Broncos and Steelers used screen packages to try to slow down the Titans rush and keep them off balance.
Again, this is not a big front for the Titans, but the Cowboys need to handle their movement and stunting to have success moving the ball on Sunday.