Dallas Cowboys:

Stephon Gilmore
June, 13, 2012
6/13/12
4:13
PM ET
IRVING, Texas -- The Cowboys have signed four of their seven draft picks this week and hope to have safety
Matt Johnson
in the fold by Thursday.
That would leave first-rounder
Morris Claiborne
and fourth-rounder
Kyle Wilber
as the final two unsigned draft picks.
Getting Claiborne, the No. 6 overall pick, under wraps might take a little longer.
Only two of the top-10 picks in the first round have signed deals, in part because of offset language that would free a team from the full obligation of guaranteed money should that player sign with another team if he is cut in the future.
"That's probably what is holding everybody up because the money is the money," executive vice president Stephen Jones said of the lack of early first-round signings. "I think everyone wants to be consistent at the end of the day. I think that is what is holding everything up, see what is going to be the flavor of the day."
Claiborne's agent, Bus Cook, would not want offset language in the deal because it would allow his client to essentially double dip. For example, if Claiborne is due $2 million in 2015 and signs with another team for $1 million after being cut, then the Cowboys would only be on the hook for $1 million.
The Cowboys' top pick last year,
Tyron Smith
, who was the No. 9 overall pick, does not have offset language in his contract. Neither do Carolina's
Luke Kuechly
and Buffalo's
Stephon Gilmore
, who were the Nos. 9 and 10 picks this year.
Claiborne is in line to receive a similar four-year deal that last year's. No. 6 pick,
Julio Jones
, received from Atlanta ($16.2 million).
"There are some details to work through, that's what we're doing," Jones said. "But I don't see any reason to be alarmed or concerned."
April, 10, 2012
4/10/12
12:29
PM ET
When the Cowboys pick at No. 14 in the first round, there will be a host of players the team will choose from.
Dallas could pick a cornerback, guard, safety or pass rusher.
What type of player will the Cowboys get at No. 14?
Last year,
Tyron Smith
was the ninth overall selection. Owner/general manager Jerry Jones wanted a player who could make an impact. Smith started 16 games at right tackle and when the season was over it was announced he would move to left tackle for the 2012 season.
This year?
ESPN's Todd McShay breaks down prospective prospects into tiers, and he's got the Cowboys at No. 14 selecting from the third tier of players.
You have to be an
ESPN Insider to read it
but here's a sampling of the players Dallas should be looking at:
Ryan Tannehill
, QB;
Quinton Coples
, DE;
Michael Brockers
, DT;
David DeCastro
, G;
Stephon Gilmore
, CB.
There are 12 players McShay has between picks 10-20 (the third tier).
It's a good list of players, which begs another question: Should the Cowboys remain at No. 14 or trade down?
March, 15, 2012
3/15/12
12:00
AM ET
The fourth installment in our draft series looks at South Carolina cornerback Stephon Gilmore.
Scouts Inc. ranks:
No. 4 cornerback, No. 44 overall
Bio:
Started all 40 games in three seasons at South Carolina, declaring for the draft after his junior year. Finished his college career with 176 tackles (14 for losses), eight interceptions, seven sacks, four forced fumbles and four fumble recoveries. First-team All-SEC selection in 2010, when he led the Gamecocks with 79 tackles, including six for losses. Played quarterback in high school.
[+] Enlarge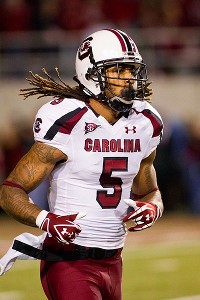 Beth Hall/US PresswireSouth Carolina's Stephon Gilmore is an explosive player that started all 40 games he played with the Gamecocks.
Size:
6-foot-0 ¼, 190 pounds
40-yard dash:
4.40
Vertical jump:
36 inches
Broad jump:
10-foot-3
20-yard shuttle:
3.94 seconds
Three-cone drill:
6.61 seconds
Broaddus Breakdown (viewed Arkansas, Florida and Clemson games):
Lined up at left corner for the Gamecocks but also played in the slot and even some safety in certain schemes. … Is an explosive player that moves with ease. Has outstanding, quick feet and reactions. When he sees it, he goes. … Nice job of driving on the slant against Arkansas in a goal line situation. Good position in routes, doesn't allow much separation. … Has the size and quickness to give receivers fits when working down the field. Nice tight coverage. There is no wasted motion in the way he plays. … Has the skill level to try and bait the quarterback into making a throw his direction. Will lay back and make the quarterback feel he has a window, then break on the ball. … Plays with nice technique in the way he defends passes with his hands and arms. Tends to peek in the backfield at the quarterback during his pedal. Plays with feel on the receivers in route. … Can be physical when he is asked to play press, man coverage. Will get his hands on his man, then run with him. … As for his ball skills, only saw one opportunity where he dropped a sure interception. Would not say that he has the ball skills of a
Morris Claiborne
from watching his combine workout and would also not call him a physical tackler like
Dre' Kirkpatrick
, but he will attempt to wrap up his man in the open field. Will go low on ball carriers, too. … There are two areas where you do see physical play. One is in the press coverage on receivers. The second is when he comes off the edge as a blitzer. He has a real feel for how to do this. In the Florida game, did a really nice job of beating the running back's block around the corner and hitting Scott Brantley in the back, which resulted in a sack and fumble. Later in the season against Clemson, came on the same blitz and caused an incomplete pass when he hit the quarterback from the blind side. … Is a very natural player in the way he moves and reacts. His 3.94 20-yard shuttle at the combine is a great example of his lateral quickness and footwork. Very well could be the second cornerback on a lot of teams' boards, but I have him behind Claiborne and Kirkpatrick.
January, 16, 2012
1/16/12
12:43
AM ET
The Cowboys have too many holes to fill with significant free agency investments and early draft picks. They need to aggressively address their priorities and bargain shop or count on young players to step up in the other need spots.

The priorities are clear: cornerback and the interior offensive line.
There is only one undoubtedly elite player just entering his prime at those positions available in free agency. That's why Pro Bowl guard
Carl Nicks
, who is expected to leave the Saints and happened to play for new offensive coordinator/offensive line coach Bill Callahan at Nebraska, should be the Cowboys' top target.
The best corners in free agency – Atlanta's
Brent Grimes
, Tennessee's
Cortland Finnegan
and San Francisco's
Carlos Rogers
– are in their late 20s or beyond. The Cowboys are dealing with the downside of paying big money to a cornerback at that stage of his career with
Terence Newman
. That's a hole they need to fill via the draft.
[+] Enlarge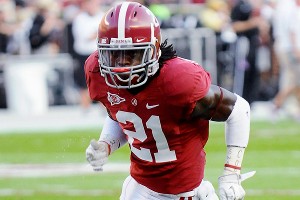 Kelly Lambert/US PresswireAlabama cornerback Dre Kirkpatrick would be a perfect fit for the Cowboys, even if they have to trade up from the No. 14 spot to get him.
Owner/general manager Jerry Jones, who made
Leonard Davis
one of the richest guards in NFL history only to cut him a few seasons later, has said he wants to stop the trend of paying top dollar for offensive linemen in free agency. Nicks is worth being an exception, especially given the Cowboys' glaring need. He's a dominant player who is only 26 years old, so the Cowboys would be purchasing his entire prime.
What would Nicks cost? Just look at what the Saints pay their other Pro Bowl guard to get an idea.
Jahri Evans
has a seven-year, $56.7 million deal.
That would eat up a major chunk of the estimated $17 million the Cowboys are expected to have under the salary cap after they take care of housekeeping issues such as cutting Newman. If the Cowboys re-sign receiver
Laurent Robinson
, it likely would mean Nicks would be the lone surefire starter they sign in free agency.
So the Cowboys better find a cornerback in the draft. But that doesn't necessarily mean they need to reach for one in the first round.
It'd be ideal if Alabama's Dre Kirkpatrick, the kind of big, physical cornerback the Cowboys want, is available with the 14th overall pick. He'd probably be worth trading up a few spots.
But a lot of bad picks are made when teams get locked into one position in the first round. If another player is clearly the best player on the board when the Cowboys are on the clock, get that guy, even if it's Stanford guard David DeCastro and Nicks is already signed. If that happens, the Cowboys' interior line suddenly goes from a glaring weakness to a major strength, no matter who beats out
Phil Costa
for the starting center job.
There should be quality corners, such South Carolina's Stephon Gilmore and Virginia's Chase Minnifield, available in the second round.
Safety, defensive end and outside linebacker are other need positions for the Cowboys. If the Cowboys find long-term solutions at those spots over the next year, it'll probably be young players already on the roster:
Barry Church
,
Sean Lissemore
and
Victor Butler
, although Alabama OLB Courtney Upshaw is also a first-round possibility. The Cowboys would be wise to create as much competition at those spots as possible with low-risk, short-term free agents and/or mid- or late-round draft picks.
But the Cowboys can't afford to fail to address their two biggest needs, a process that should start with a 6-foot-5, 343-pound solution.